Zucchini noodles topped with a creamy avocado sauce and seared scallops. No dairy, no preservatives, no added sugars, and absolutely delicious!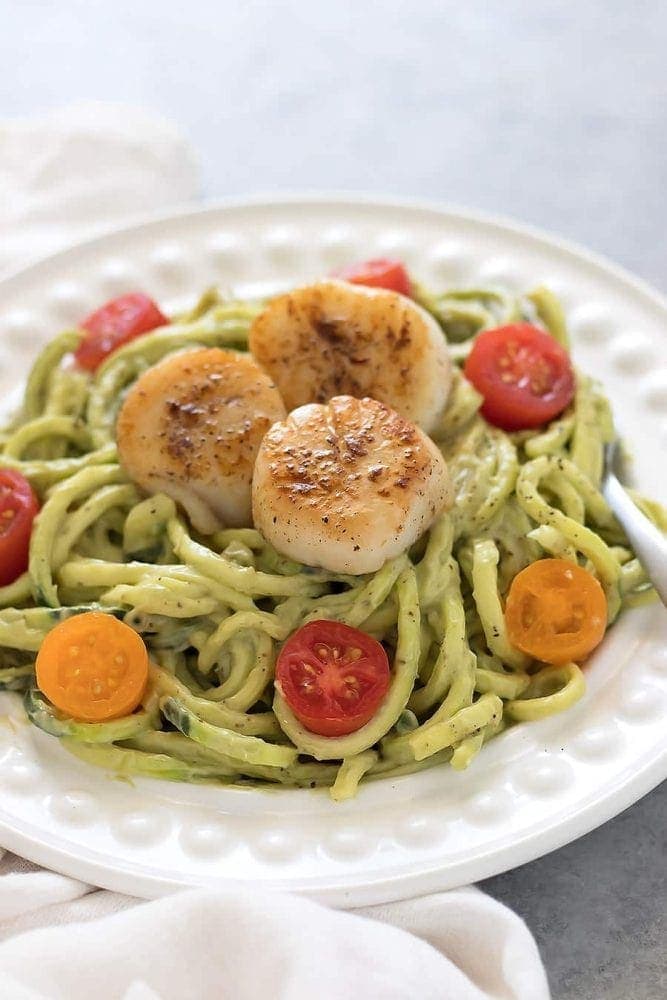 You guys, this recipe was so light and flavorful. I can't wait to make it again! In case you haven't noticed, I love seafood. From salmon to mahi mahi, fish tacos, and shrimp, I could probably survive in a deserted island.
Yeah right.
I had a few avocados that were about to go bad. Instead of making a simple guacamole like I always do, I decided to change things up today and make an avocado SAUCE! YES! All I did was throw avocado in a food processor along with avocado oil, garlic, lemon juice, basil, and salt. Blend that sucker up and add cracked pepper on top. YUMMMMMM. I'm an avocado freak so maybe I'm biased. After that, I added the sauce to spiralized zoodles and topped it with seared scallops.
It took about 15 minutes tops from beginning to end!
If you are making salsas or sauces or simply prepping ingredients, a food processor is a must have! It chops and blends so quickly, saving you so much time!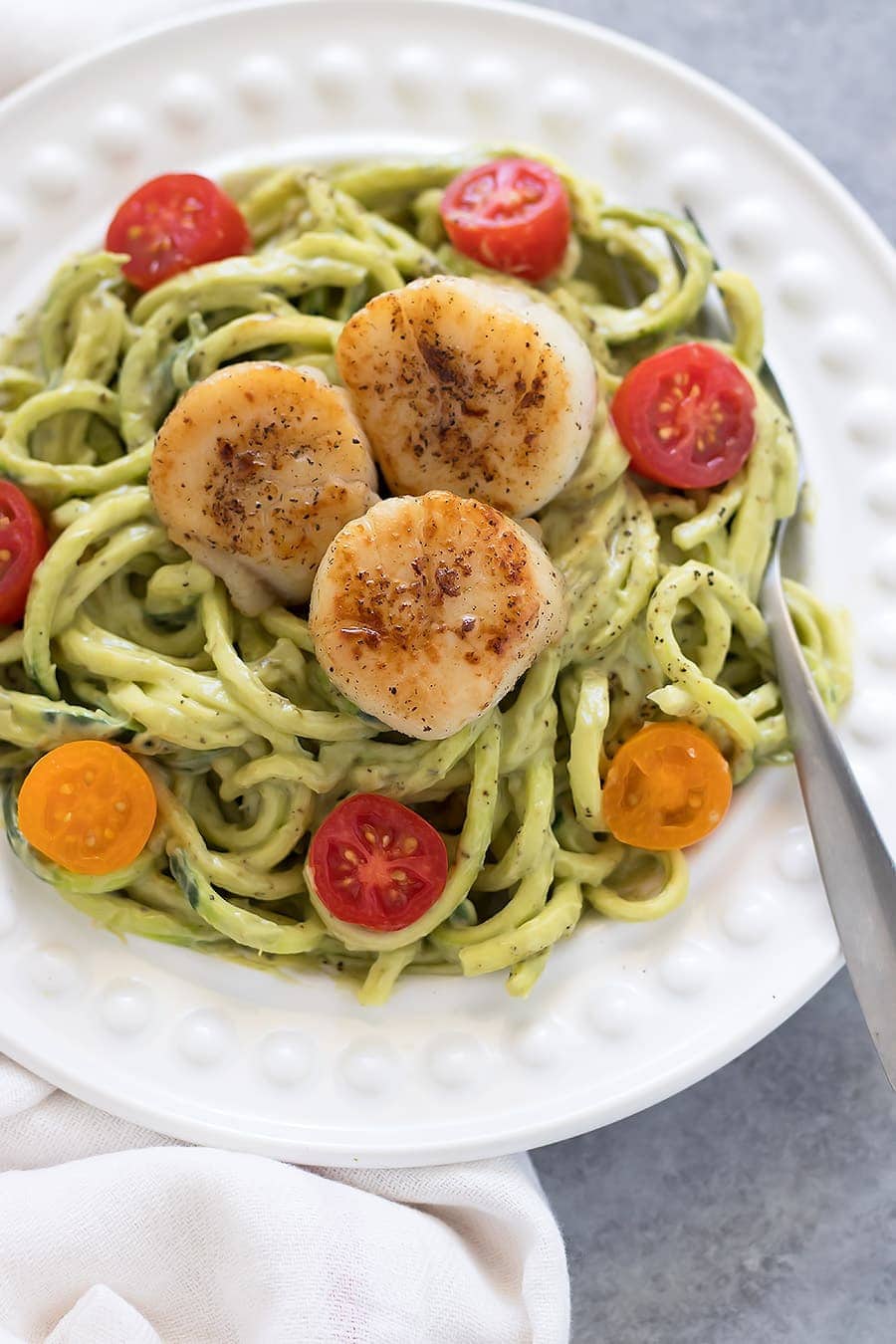 Btw, you should totally get a Inspiralizer to make the zucchini noodles. I know there are a lot of other versions out there but I promise you, this one is so compact and easy to clean/store, you will LOVE it. My favorite part about the Inspiralizer is that there are no pieces to lose! All the blades are intact and the suction plates really do stick to the counter. It really has been the best investment to make fun veggie spirals! Don't be afraid of making this on a weeknight. It's definitely NOT time consuming and your family will think you are quite the pro in the kitchen! Win win!
I hope you make this and LOVE it!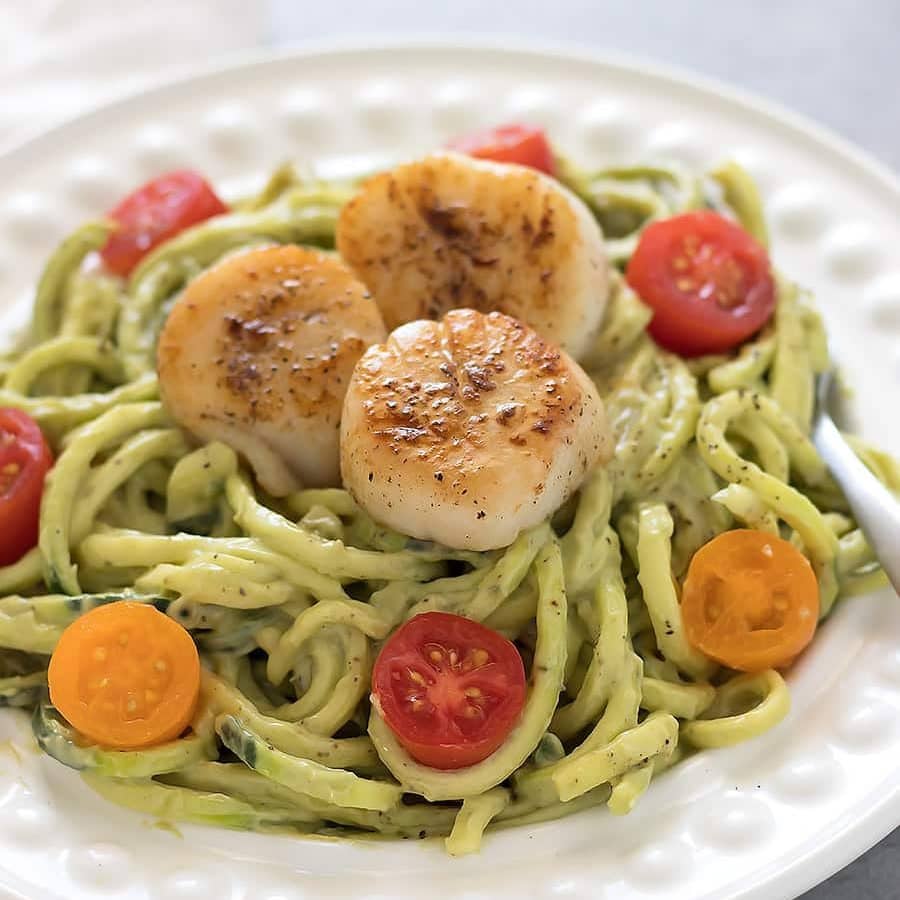 Seared Scallops on Zucchini Noodles with Avocado Sauce
Zucchini noodles topped with a creamy avocado sauce and seared scallops. No dairy, no preservatives, no added sugars, and absolutely delicious!
Ingredients
AVOCADO SAUCE
2 avocados ripe, halved, seeded, peeled
1/2 cup fresh basil leaves
2 garlic cloves
2 tablespoons lemon juice
salt and pepper to taste
4 tablespoons olive oil (or avocado oil)
ZUCCHINI NOODLES + SEARED SCALLOPS
2 medium zucchini spiralized + dried with paper towels
1/2 cup cherry tomatoes halved
6 large scallops patted dry
salt and pepper to taste
Instructions
In a food processor, add avocados, basil leaves, garlic cloves, lemon juice, salt and pepper to taste. While blending, slowly add in the olive oil until all is smooth, creamy, and well combined. Set aside.

Generously season the scallops with salt and pepper. In a skillet, cook the scallops for 2 to 3 minutes per side or until opaque and cooked through. Set aside.

In a hot skillet, add zucchini noodles and sauté for 2-3 minutes. You don't want them to lose their crunch so don't salt them nor cook them longer than 5 minutes tops. Remove from heat immediately and transfer to a bowl.

Pour the avocado sauce over the zucchini noodles in the bowl and toss to coat. Divide the noodles between two plates, top each with three scallops, cherry tomatoes and enjoy!
Nutrition
Serving: 1 servingCalories: 421 kcalCarbohydrates: 15.6 gProtein: 19.5 gFat: 33.8 gSaturated Fat: 4.3 gCholesterol: 30 mgSodium: 171 mgPotassium: 998 mgFiber: 4.1 gSugar: 5.4 gCalcium: 60 mgIron: 1.8 mg
Looking for other sauce ideas?
Arugula Pesto
Avocado Dill Dressing