I'll be honest, I hate soup as a kid. HATED.
Whenever my mom would say she was making sopa de pollo for me because I was sick, it felt like punishment. Homemade chicken soup was boring to me.
That was until I became an adult and learned to appreciate it in all its glory. Now I love all types of soup like Cuban Black Bean Soup, Crema de Malanga, and Chicharos (Cuban Split Pea Soup).
This Cuban chicken soup with malanga warms you up on a chilly day. When you're sick, it soothes your soul. It's the perfect comfort food for just about any day of the year.
What is Sopa de Pollo?
Sopa de pollo [pronounced soh-pah deh poh-yoh] translates to chicken soup.
Sopa de pollo is a classic Cuban chicken soup with noodles. On the other hand, I've also seen recipes call it caldo de pollo which is more of a Latin American chicken soup with veggies and no noodles.
Today, I bring you my Cuban mom's fail-proof sopa de pollo recipe so you can also make it from scratch.
Let me show you how to make it!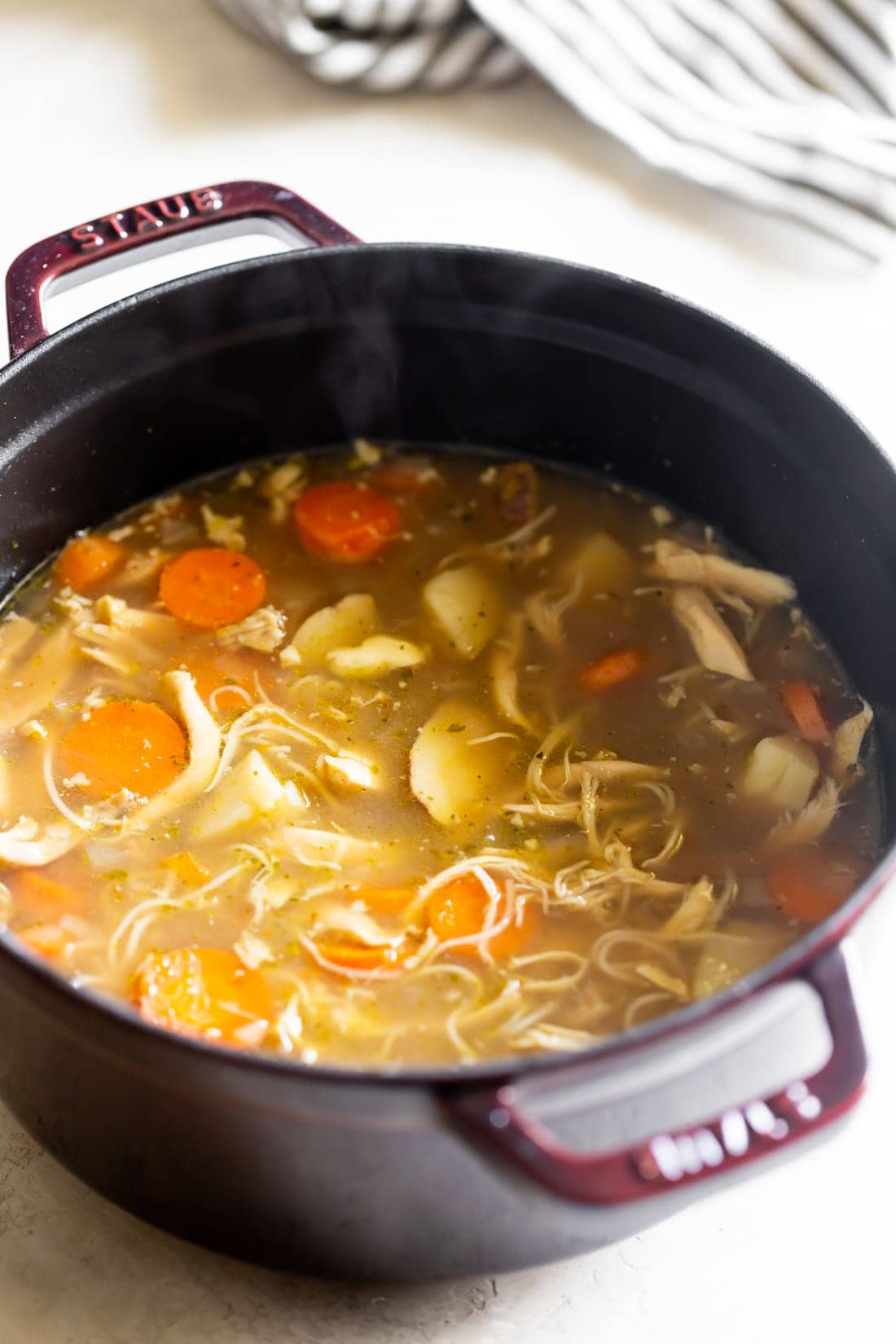 Ingredients You'll Need
Boneless, skinless chicken thighs. I prefer chicken thighs or chicken legs since they're more flavorful than chicken breast. Feel free to use what you have. If you use bone-in chicken thighs or legs, just make sure to debone them once cooked before adding them back into the soup.
By the way, you can order your chicken thighs from Butcher Box!
ButcherBox is a service that curates boxes of grass-fed, no-hormone-added, humanely raised beef, chicken, pork, salmon, and sustainable seafood delivered right to your door. I've been receiving my boxes for years now and I have no complaints. They always have specials – like free bacon or free ground beef so you gotta check them out! Click here for more info! [affiliate link]
Russet potatoes, carrots, onions, yuca, malanga, and/or green plantains. These are all the vegetables you can add to this sopa de pollo. You don't have to add them all to this recipe, just choose your faves. I personally love potatoes, carrots, and onions. You do you!
Chicken broth. I like using low sodium for this soup so I can control the amount of salt I add. Feel free to use what you have.
Cumin, oregano, black pepper, chicken-flavored bouillon cube. These spices and the bouillon cube add a burst of flavor that elevates this soup to the next level. YUM!
Fideo noodles. I like using fideo noodles because they are super thin, vermicelli-like noodles. You can use angel hair pasta if you prefer.
I use a 6-quart Dutch Oven often when I'm making soups and stews and even when I'm cooking other recipes that require long hours of cooking.
Step By Step Instructions
So first things first, chop up all your veggies. You can also use chicken breasts if you don't have chicken thighs.
OR… just cheat and buy a rotisserie chicken. Shhhh, you didn't hear that from me!
Cook veggies + chicken. In a large pot, add all the ingredients except the fideo noodles. We're adding the noodles at the end. Cover the pot and bring to a boil. Once the soup is boiling, reduce the heat to low for 30-40 minutes. This will give the veggies time to soften and ample time to cook the chicken.
Shred the chicken thighs. After 30 minutes, remove the chicken from the pot and shred it with two forks. If you used bone-in chicken thighs, remove the bones before shredding.
Add the noodles. Place the shredded chicken back in the pot. Add fideo noodles (or angel hair pasta) into the pot. Be careful not to add too many noodles to the pot. The noodles tend to absorb a lot of water so if you see that the soup needs more liquid, add 1 cup of water at a time.
When you're done with this recipe, make another one of my Cuban stews & soup recipes!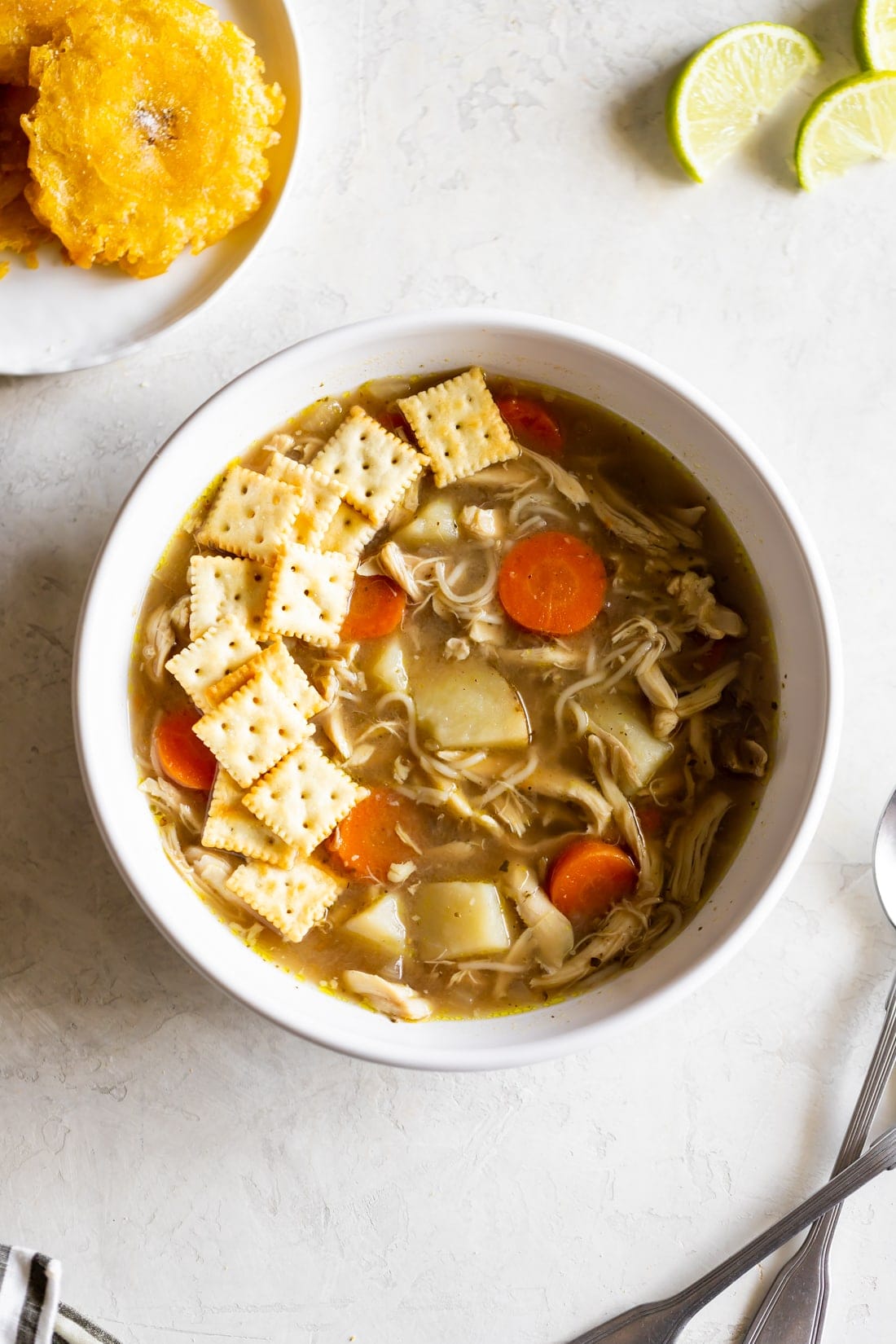 How many bouillon cubes are used for chicken soup?
I recommend only adding 1 bouillon cube to enhance the flavor, depth, and richness of the Cuban chicken soup. Bouillon cubes can be quite salty, so adding just one ensures that the soup doesn't become overly salty. Make sure you taste the soup as you cook before adding more seasonings to avoid an overly seasoned soup.
Recipe Tips & Tricks
Add more water as needed. After adding the noodles to the soup, they tend to absorb a lot of water so if you see that the soup needs more liquid, add 1 cup of water at a time to avoid it from drying out.
Noodles. I recommend thin noodles for this soup. I prefer fideo noodles but you can also use angel hair pasta, vermicelli, or thin rice noodles.
Add vegetables in stages. Feel free to add whatever vegetables you'd like to the soup. Just keep in mind that different vegetables have varying cooking times, so it's best to add them in stages. Start with slower-cooking vegetables like carrots, malanga, yuca, and potatoes, and later add quicker-cooking ones like plantains. This ensures that all the vegetables are cooked to perfection and maintain their texture.
Storage Tips
Transfer the cooled chicken soup to an airtight container and place it in the fridge for 2-3 days.
Keep in mind that the noodles will absorb a lot of the liquid. When thawing/reheating the soup, add a 1/2 cup of chicken broth or water at a time to the saucepan until your desired liquid level and lightly season with salt.
If you plan on freezing the chicken soup, don't make the soup with the noodles as they will practically disintegrate in the freezer.
Make the soup without the fideo noodles, transfer it to an airtight container or freezer bag (careful not to overfill it), and freeze it for up to 2 months.
This sopa de pollo is hearty, savory, and full of flavor. I hope it becomes a staple in your home just as it has become in mine.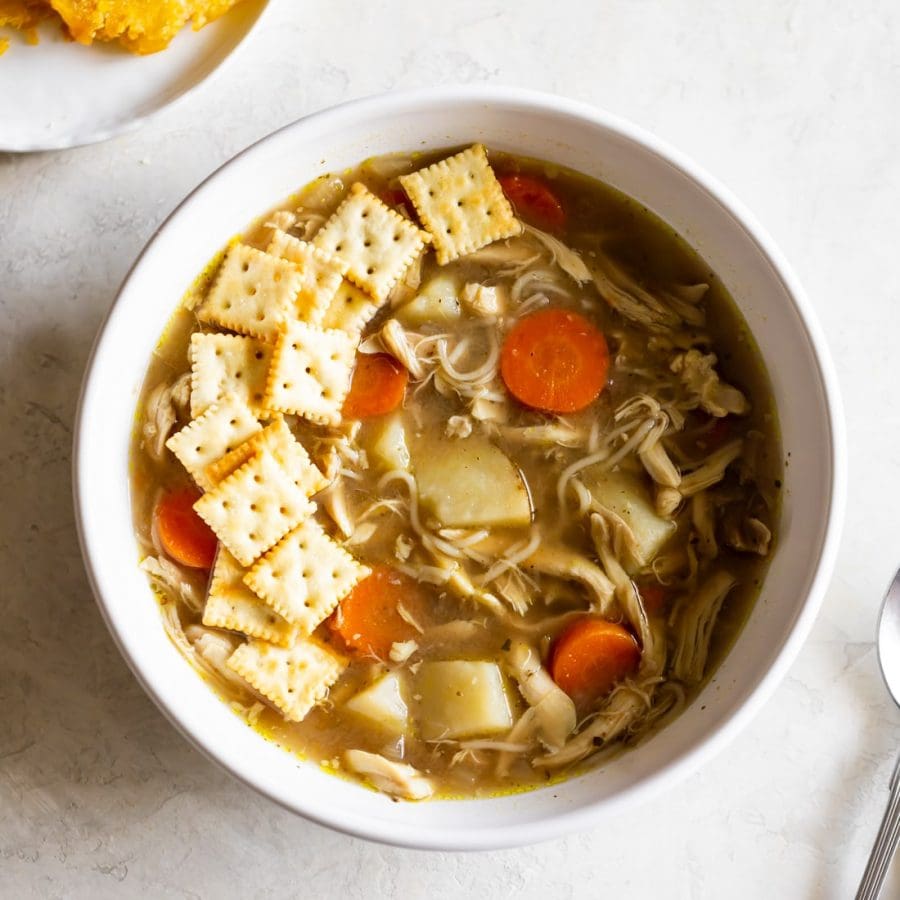 Chicken Cuban Soup with Malanga (Sopa de Pollo)
Learn how to make Sopa de Pollo or Cuban-style Chicken Soup at home in under 1 hour with this easy step-by-step recipe. The one-pot soup is made with cooked, shredded chicken thighs, one bouillon cube, cubed malanga, chopped veggies, and fideo (fidelini) pasta noodles. It's a nourishing, warm, and comforting bowl of soup that can be served for lunch or as a main dish for dinner.
Ingredients
1 lb boneless, skinless chicken thighs
1/4 cup finely chopped white onions
2 medium carrots chopped
2 medium russet potatoes chopped
4 cups low sodium chicken broth
1/4 teaspoon cumin
1/2 teaspoon oregano
1 chicken flavored bouillon cube crushed
1/4 teaspoon black pepper
1-2 ounces fideo noodles or angel hair pasta
Lime wedges
Saltine crackers optional
Tostones (Twice Fried Plantains) optional
Other vegetables (optional)
2 large unripe green plantains peeled and sliced into chunks
1 medium yuca peeled and cut into one-inch cubes
1 medium malanga peeled and cut into chunks
Instructions
In a large pot, add chicken, onions, carrots, potatoes (and other vegetables, if using), chicken broth, cumin, oregano, bouillon cube, and black pepper. Cover and bring to a boil then reduce heat to low for 30-40 minutes.

Remove the chicken from the pot and shred with two forks. Place the shredded chicken back in the pot.

Add the fideo noodles (or angel hair pasta) into the pot. Cook for another 10 minutes on medium heat. The noodles tend to absorb a lot of water so if you see that the soup needs more liquid, add 1 cup of water at a time.

Serve the chicken soup with lime wedges, saltine crackers and/or tostones. Enjoy!
Nutrition
Serving: 1 servingCalories: 365 kcalCarbohydrates: 29 gProtein: 38 gFat: 9.2 gSaturated Fat: 2.7 gCholesterol: 113 mgSodium: 484 mgPotassium: 850 mgFiber: 3.6 gSugar: 3 g