Growing up in a Cuban household meant pork was on the menu pretty much all holiday season long.
Every year, as a kid, I remember looking forward to seeing relatives and cousins that I hadn't seen since last Christmas Eve and staying up way past my bedtime. It was my favorite holiday ever.
My uncle would get up at the crack of dawn on Christmas Eve to marinate the pig which would lay completely sliced open on the table. It was quite a sight!
He would marinate the pig with mojo while making sure the skin was very dry in order to achieve that delicious crunch pork skin that we all love so much. It was the best.
P.S. I got this roast pork from Butcher Box!
Butcher Box is a service that curates boxes of grass-fed, no-hormone-added, humanely raised beef, chicken, pork, salmon + sustainable seafood and, they deliver it right to your door. I love getting my box delivered directly to me. There are always specials – like free bacon or free ground beef – you gotta check them out! Click here to find out more info on Butcher Box!
I remember every Noche Buena dinner just brimming with delicious mojo roast pork and all the fixings – congri, maduros, yuca, flan, you name it!

Plus, all those leftovers were enjoyed for lunch on Christmas day the next day.
And while the roast pork was never made in the oven (it was made outside in the ground or in a 'caja china'), this traditional recipe that I'm sharing with you today is marinated Cuban-style with a flavorful homemade garlic-citrus marinade and slow-roasted in the oven to perfection.
This is one of those traditions that I feel everyone should adopt. Add it to your menus this year! I promise this Cuban roast pork recipe is SO good, you'll want to make it all year long.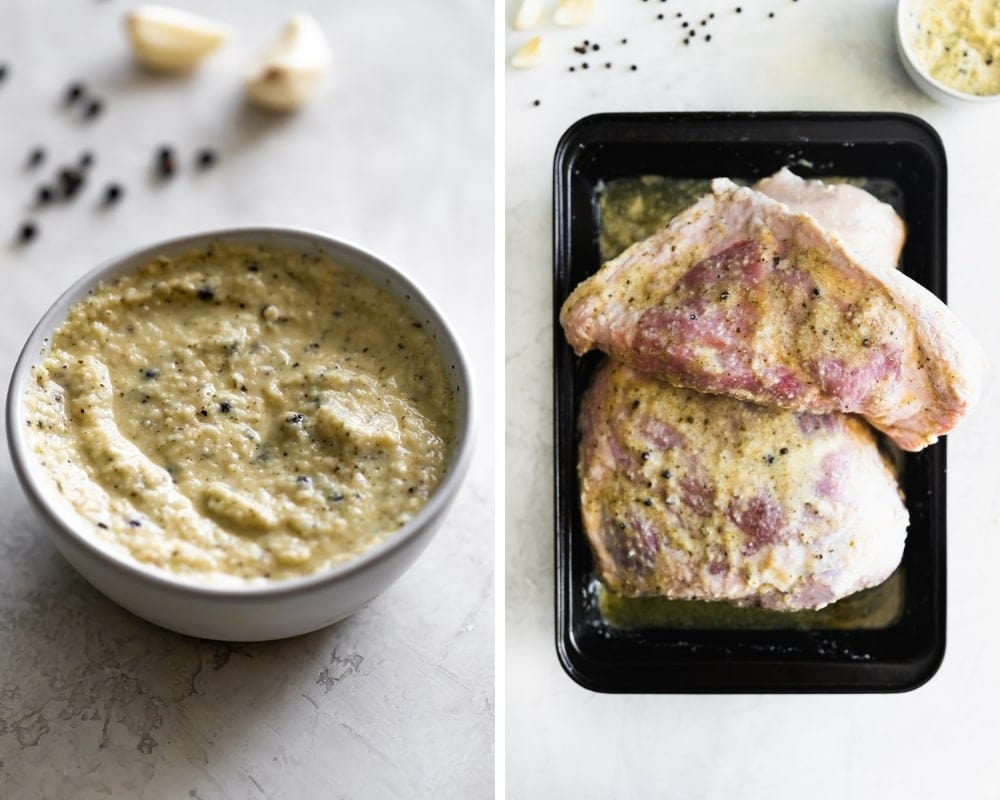 Ingredients for the Garlic Paste for Lechon Asado
First things first, we have to make a seasoned garlic paste. Here's what you'll need:
You mash all these up together either in a mortar and pestle or in a food processor until you get a paste.
How To Make Cuban Roast Pork with Crispy Skin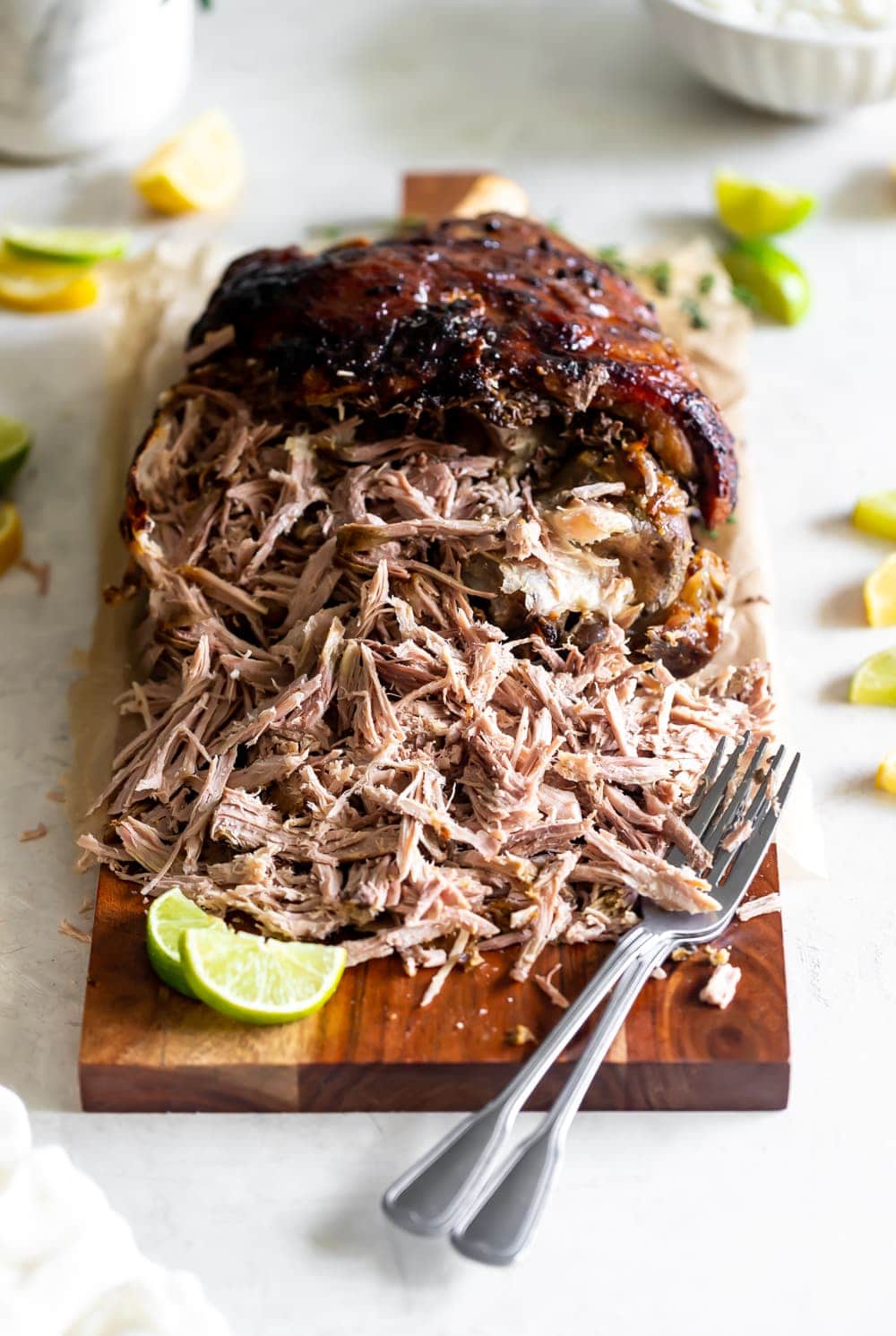 How long do you cook Cuban lechon asado in the oven?
A good rule of thumb is to roast the pork for 30 minutes for every pound.
As long as the internal temperature reads 145 degrees F on a food thermometer, it's fully cooked.
What does mojo pork taste like?
Mojo pork tastes like the perfect combination of citrus, garlic, and spices. It's not spicy at all. On the other hand, it's slightly sour and tangy. Plus when you marinate the pork with the garlic paste and mojo marinade, it tenderizes the meat bringing out the fresh flavors while it's in the oven. That's why it's so darn delicious!
Do you cover the pork roast in the oven?
Yes! Covering the roasting pan with aluminum foil helps lock in the flavor and retain the meat's juiciness. Before you do that, however, lightly spray the aluminum foil with nonstick cooking spray.
This helps the foil not get stuck to the skin while it's roasting in the oven. I made the mistake of not spraying the foil and all that delicious pork skin crackling was stuck to the foil. It was upsetting!
Honestly, I can't say any more good things about this Cuban-style roast pork. It's one of my favorite traditions from my childhood and I hope it becomes a tradition in your family too!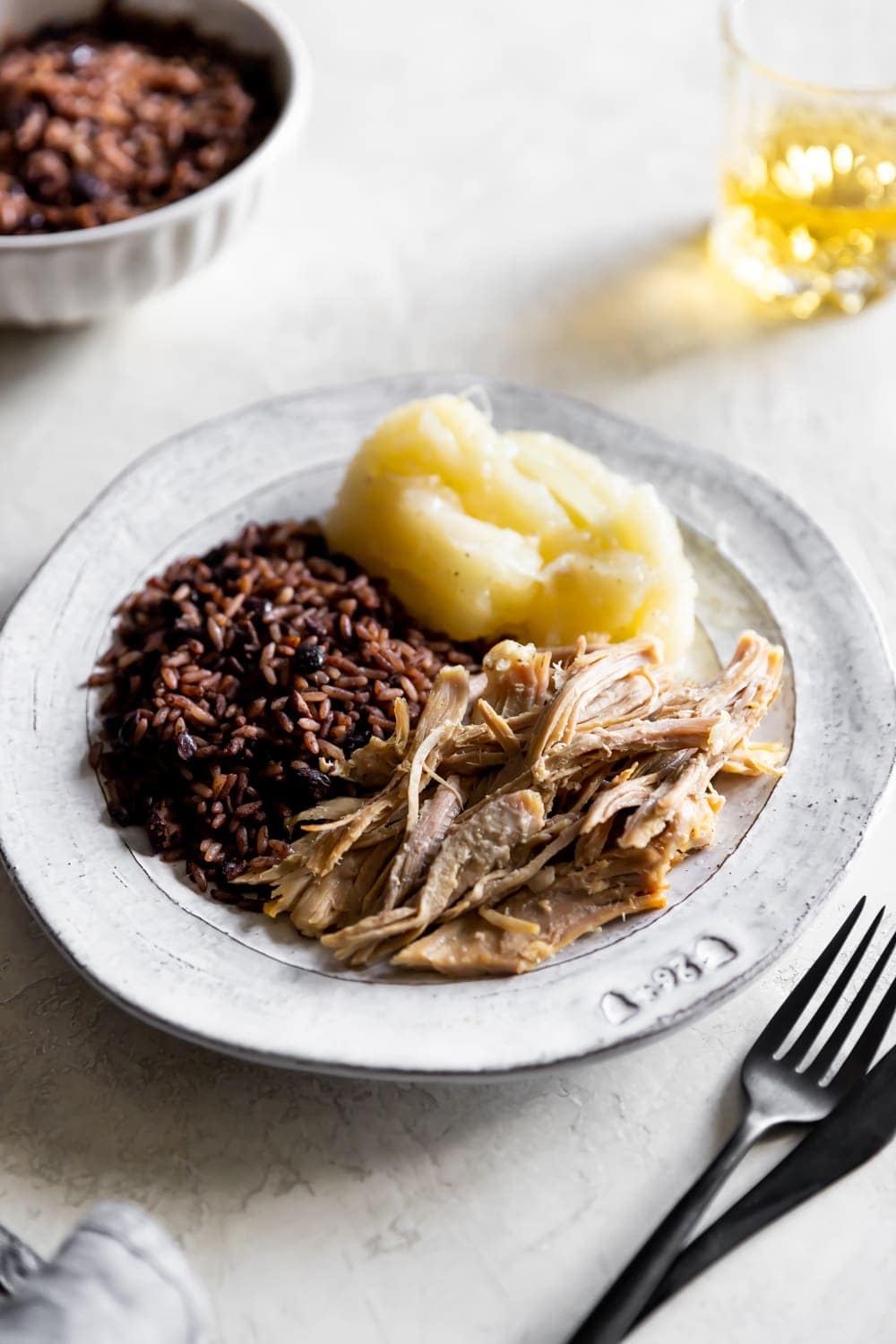 You may also like: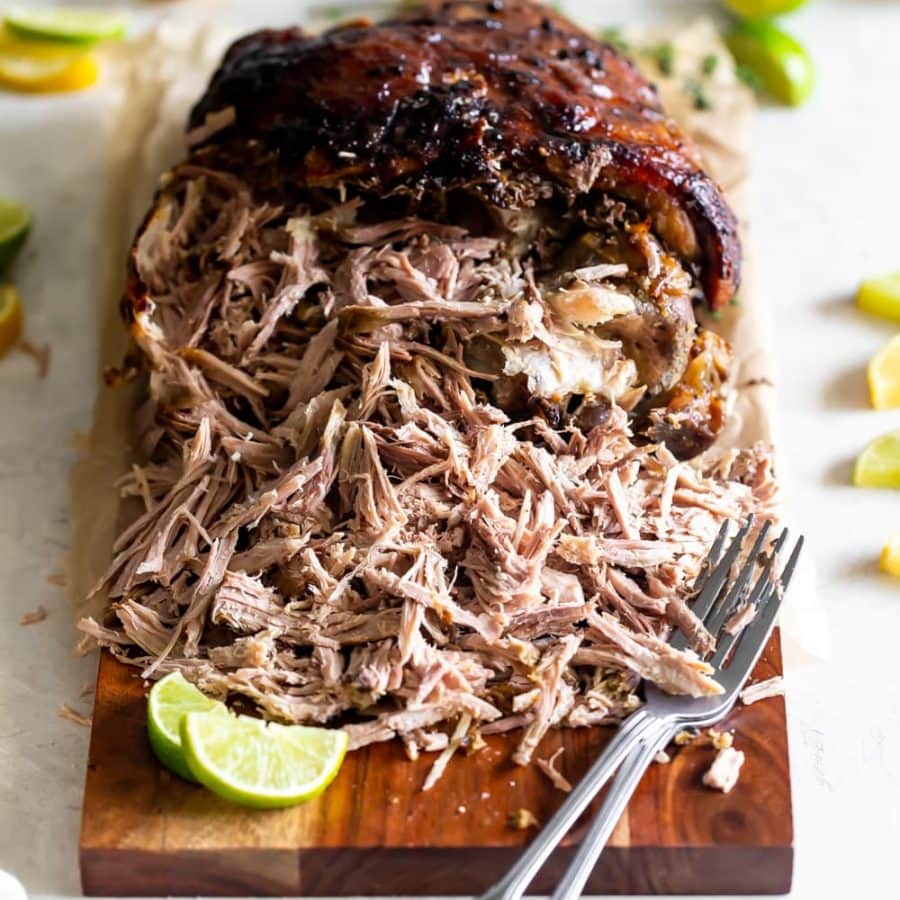 Cuban Roast Pork (Lechon Asado)
Cuban roast pork (aka lechon asado) marinated in a flavorful homemade garlic-citrus marinade and slow-roasted to perfection!
Ingredients
1 head garlic peeled
2 teaspoons salt
1 teaspoon black peppercorns
1 teaspoon onion powder
1 teaspoon oregano
1 teaspoon cumin
1/4 cup olive oil
2 cups mojo marinade
8-10 lbs pork shoulder
Instructions
In a mortar and pestle, mash the garlic cloves, salt, peppercorns, onion, oregano, cumin, and olive oil until you get a paste. Set aside.

Place the pork shoulder in a roasting pan. Grab the thick pork skin and using a knife, gently separate the skin from the pork enough for it to flap over. Do not cut it off completely.

Pierce the pork a few times with the knife and pour the mojo marinade over it. Next, rub the garlic paste, evenly, over the pork and then place the skin back down. Cover the entire pork roast with aluminum foil and place in the fridge to marinate for 2-3 hours or overnight. The longer, the better.

Preheat oven to 375 degrees F. Remove the pork from the fridge, allow it to come to room temperature, and pat the skin down with a paper towel before roasting. The dryer the skin, the crispier it will be.

Lightly spray aluminum foil with non-stick cooking spray and cover the roasting pan. This will help the foil not get stuck to the skin while in the oven.

Place the pork shoulder in the oven and roast for 4 hours until the internal temp is 180 degrees F. (A good rule of thumb is to roast the pork for 30 minutes for every pound. An 8 pound pork roast would cook for 4 hours.)

Remove the roasting pan from the oven. Increase the oven temp to 450 degrees F. Remove the foil and drain the liquid but do not discard it. Bake for another 30 minutes, uncovered, to crisp up the skin. Keep an eye on it to make sure it doesn't burn!

Remove from oven and allow to rest for 20 minutes before shredding with two forks. Feel free to pour leftover marinade mixture over the shredded pork. Serve and enjoy!
Nutrition
Serving: 1 servingCalories: 461 kcalCarbohydrates: 17 gProtein: 46 gFat: 21 gSaturated Fat: 6 gCholesterol: 148 mgSodium: 1528 mgPotassium: 802 mgFiber: 1 gSugar: 13 gVitamin A: 13 IUVitamin C: 3 mgCalcium: 43 mgIron: 3 mg
Tried it and loved it?
Snap a picture and share it with me on instagram @asassyspoon and by using the hashtag #asassyspoon!