Yuca recipe made Cuban-style with a simple homemade garlic mojo and sautéed onions. The most flavorful side dish you'll ever make!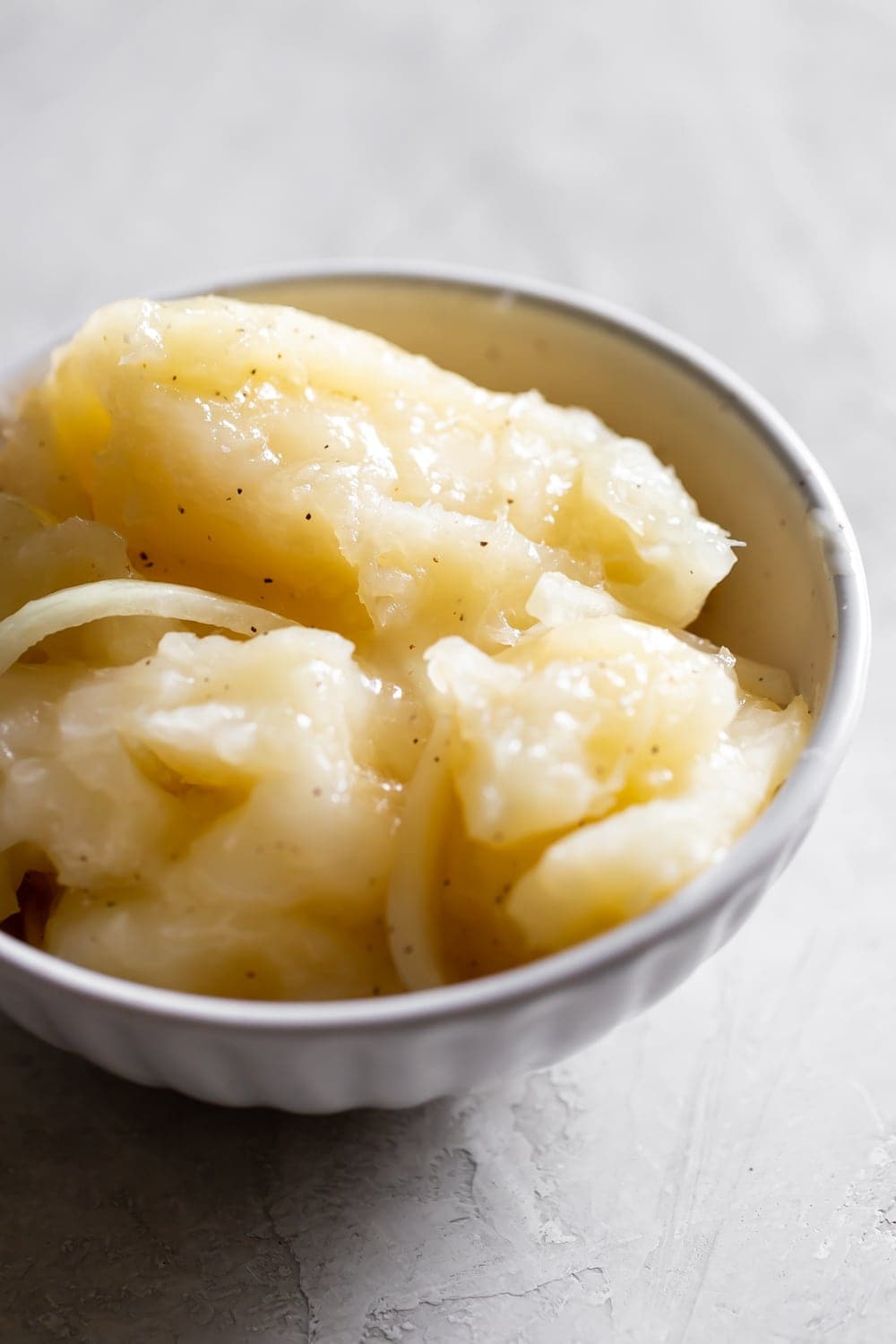 If you're born into a Cuban household, you know that yuca is one of our favorite side dishes. Especially during the holiday season, you'll see this side dish most often on a plate next to Cuban roast pork and congri. It's like the perfect plate with all the Cuban fixings!
Growing up, I always wanted to know how to make this delicious yuca with mojo. My aunt always made it SO good for Christmas Eve and then turn it into yuca fries for Christmas lunch. YUM!
What is Yuca?
I'm sure you're wondering… what the heck is yuca? Yuca (pronounced you-ca), also known as cassava root, is a starchy root vegetable that you often find in Latin American or Caribbean cuisine. These root vegetables are long with brown skin, similar to the skin of russett potatoes except more waxy/rough. Their insides are white and fibrous and, they have a nutty, slightly sweet taste. You can eat them boiled, fried, or even mashed.
Today, I'm showing you how to make them boiled with a delicious garlic mojo sauce! Let's jump right in.
Ingredients You'll Need
Yuca. You can use fresh or frozen yuca for this recipe. If you decide to use fresh, just peel them all and cut them into medium-sized chunks. If you decide to use the frozen kind, you can buy a bag from the frozen section of the grocery store. The frozen bag is 1 1/2 lbs and already comes cut in chunks. Just make sure it's fully thawed before you start cooking.

Personally, I prefer the frozen kind for 2 reasons: 1. it's convenient and saves you time and 2. the fresh yuca has a paraffin wax on the outer coat which can sometimes be hard to peel. I promise there are no crazy ingredients in the frozen kind.

Minced garlic. The star of our garlic and onion mojo sauce.
Thinly sliced onions. So good when you sauté them with oil and garlic. Yum!
Extra virgin olive oil. I don't like using any other oil except evoo for this recipe.
Sour orange juice. If you can't find sour orange juice in the grocery store, you can make your own by stirring together juice from 1 orange and juice from 1/2 lemon.
How To Cook Yuca
Can't wait for you to make this side dish!
You may also like: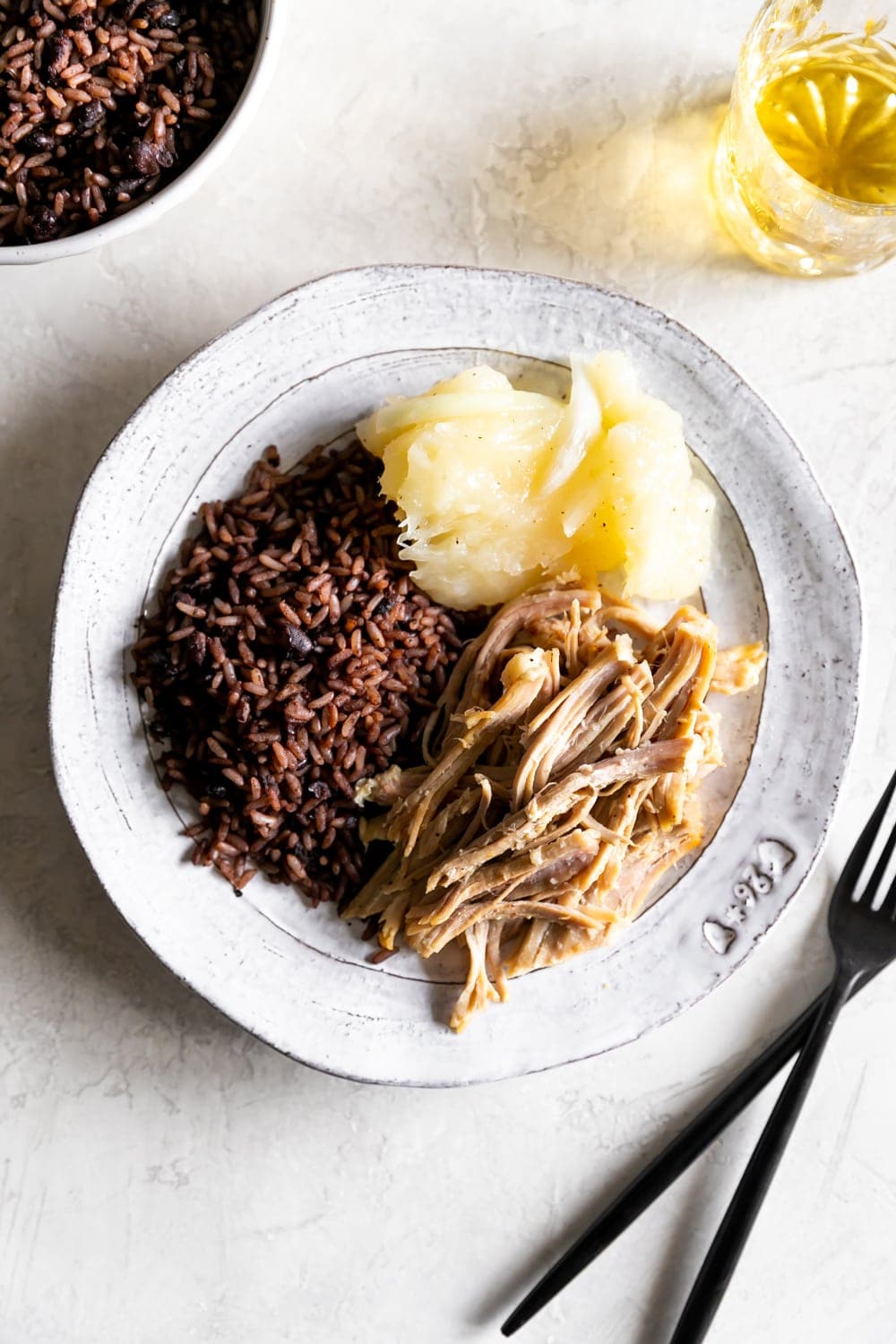 Cuban Yuca with Mojo
A yuca recipe made Cuban-style with a simple homemade garlic mojo and sautéed onions. The most flavorful side dish you'll ever make!
Ingredients
2

lbs

yuca

peeled and cut into chunks (or 1.5 lbs frozen yuca, thawed)

1

small

white onion

thinly sliced

5

cloves

garlic

minced

1/3

cup

extra virgin olive oil

1/4

cup

sour orange juice

store-bought or juice from 1 orange and 1/2 lemon

Salt + pepper to taste
Instructions
In a saucepan, add yuca with enough salted water to cover the yuca. Bring to a boil then reduce heat. Cover and simmer for about 30 minutes until the yuca is fork tender. Careful not to overcook it or you run the risk of the yuca getting too mushy.

Meanwhile, in a large saucepan, heat the olive oil at medium heat. Add the sliced onions and sauté for 5 minutes until they are softened and translucent. Add in the minced garlic, pinch of black pepper, and salt to taste (start with 1/4 teaspoon then adjust to taste). Sauté the garlic for 30 seconds until fragrant then whisk in the sour orange juice until all is combined. Set aside.

Drain the yuca, transfer to a large bowl with a lid and remove the stringy, fibrous core from the center of each piece of yuca, if desired.

Pour the hot garlic mojo sauce over the yuca making sure it is all well coated. Cover the bowl and allow it to cool for 10-15 minutes so the yuca absorbs the mojo. Serve immediately and enjoy!
Nutrition
Serving:
1
serving
Calories:
217
kcal
Carbohydrates:
36
g
Protein:
1
g
Fat:
7
g
Saturated Fat:
1
g
Sodium:
130
mg
Potassium:
274
mg
Fiber:
2
g
Sugar:
2
g
Vitamin A:
24
IU
Vitamin C:
23
mg
Calcium:
19
mg
Iron:
1
mg