As long as it's served with maduros and moros, palomilla steak is my favorite Cuban dish of all time!
Every time I'd visit my parents, my mom would make me a bistec de palomilla.
She's the best at making these steaks perfect each and every time. I had to stand next to her while she made it to figure out how she makes it since she never knows exact measurements.
And thankfully, I now have the exact recipe tested and ready just for you!
What is Bistec de Palomilla?
Bistec de palomilla [pronouced bees-tehk deh pah-loh-mee-yah] is the most popular steak in Cuban cuisine. It's a very thin sirloin steak (1/4-inch thin!) that's marinated in citrus and pan-fried on a skillet.
The word "bistec" is actually adapted and abbreviated by Spanish speakers from the words "beef steak". Not gonna lie… when I learned this fun fact, I was floored. Ha!
Let me show you how to bring this dish to life!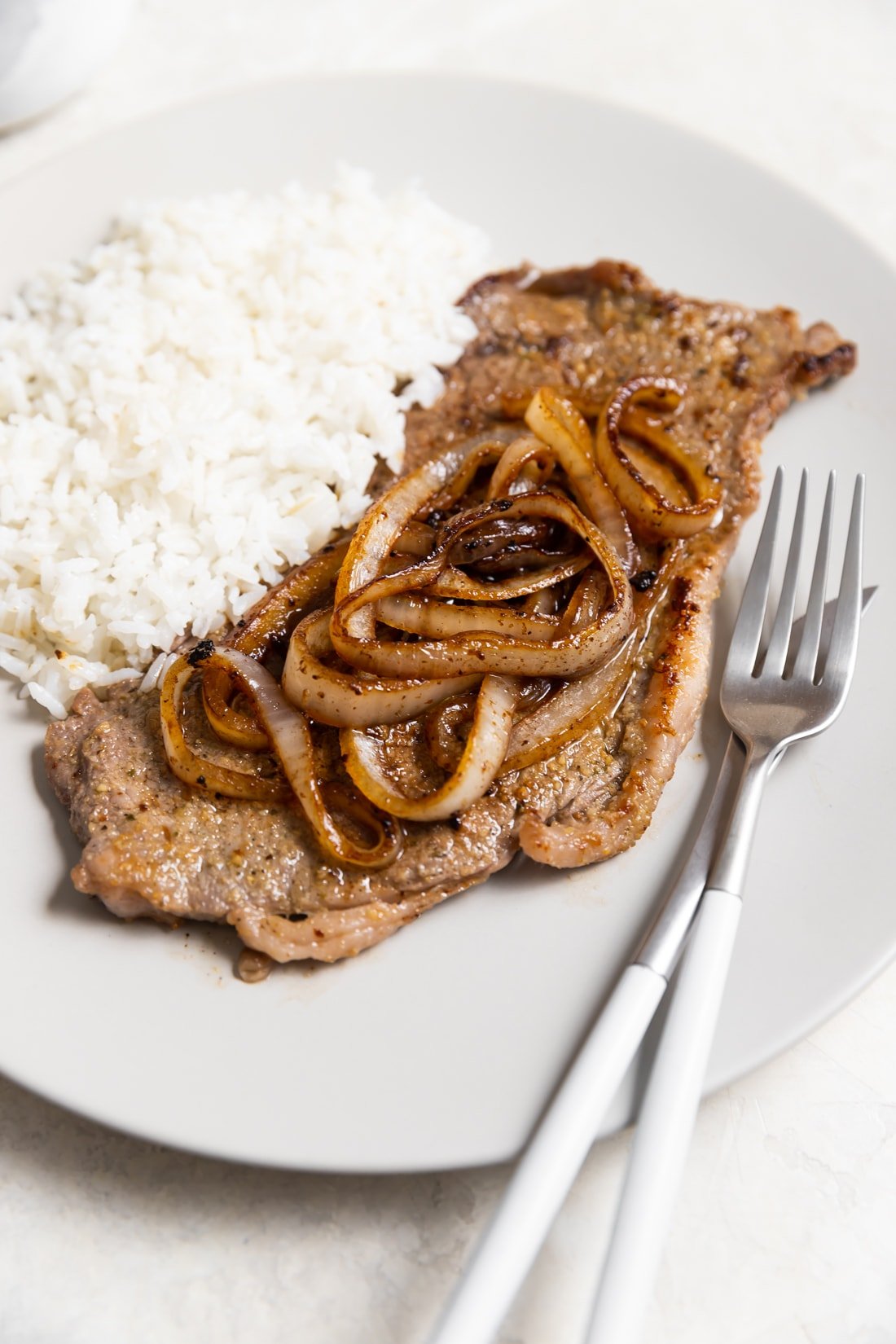 Ingredients You'll Need
How To Make Bistec de Palomilla
What To Serve with Palomilla Steaks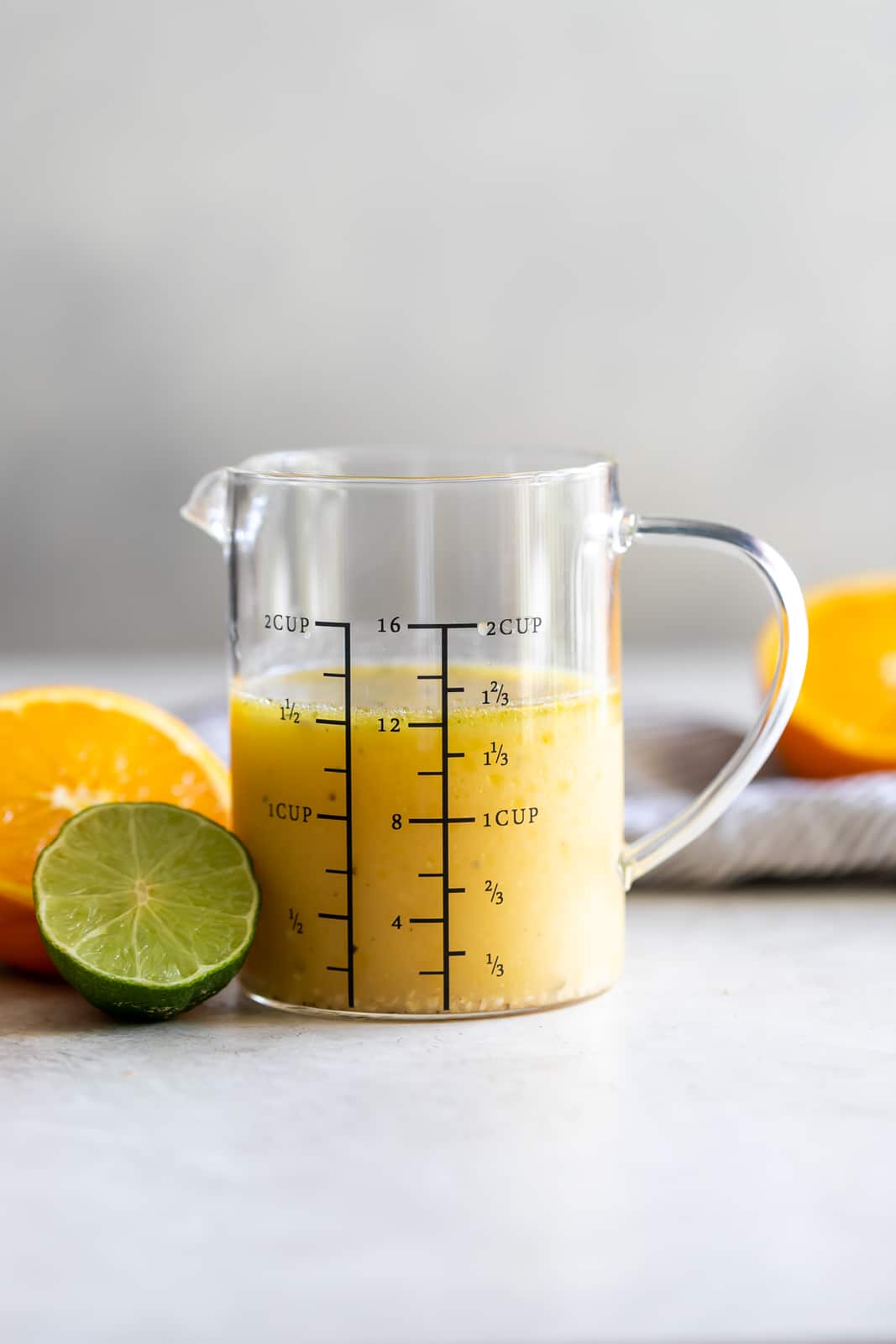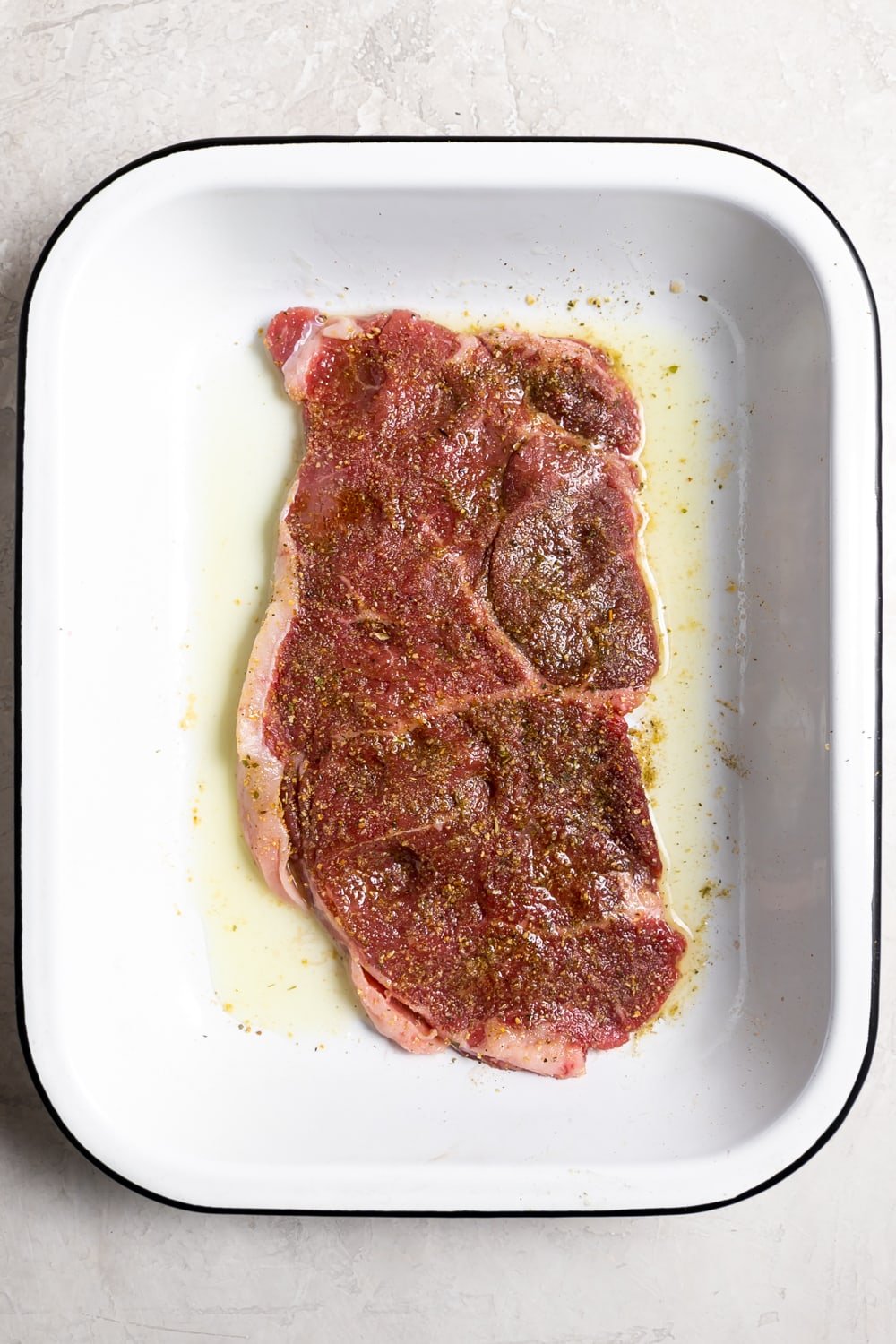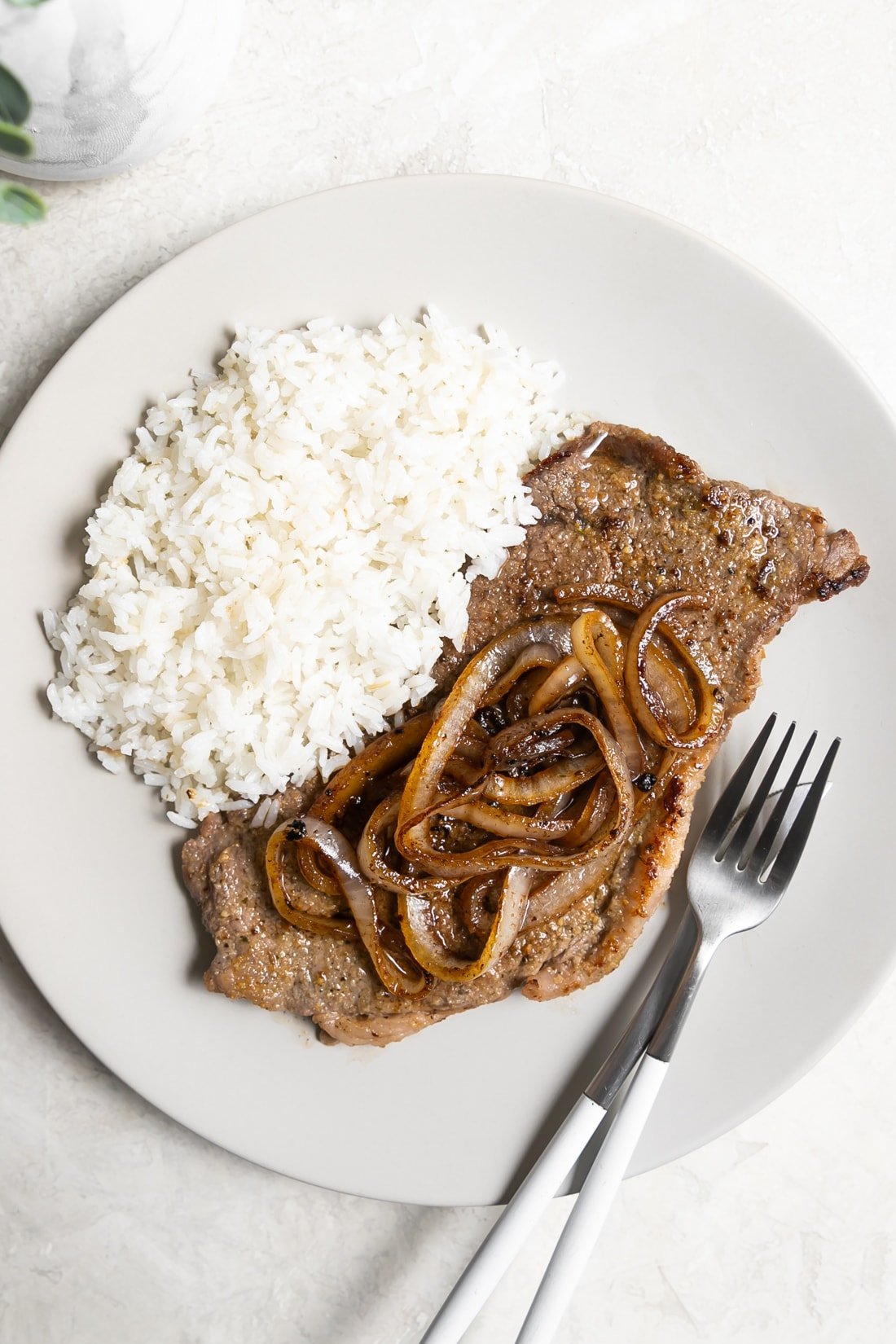 You may also like:
Bistec de Palomilla (Cuban Steak and Onions)
Bistec de Palomilla is a classic Cuban citrus-marinated and seasoned thin, butterflied top sirloin beef steak that's pan-fried and served with sauteed onions. This dish is typically served with white rice, black beans, and maduros. You will LOVE it!
Ingredients
4 palomilla steaks (top sirloin steaks)
1/3 cup mojo marinade (or use storebought)
2 teaspoons complete seasoning
1 teaspoon garlic powder
2-3 tablespoons neutral oil for pan frying
1 medium white onion sliced thin
Instructions
If the steaks are already thin, you can skip this step. On a cutting board, place steaks between two pieces of plastic wrap. Using a meat mallet, pound the steaks until they're 1/4-inch thin.

In a shallow dish, add the steaks. Pour the mojo marinade and, season with complete seasoning and garlic powder on both sides. Marinate at room temperature for at least 20 minutes but no more than 3 hours.

In a large skillet, heat oil at medium-high heat. Remove steaks from the marinade, shaking off any excess, and place them on the pan. Cook them for 1-2 minutes per side until browned on both sides.

Reduce heat to medium-low heat. Add the onions and sauté them for 2-3 minutes until softened.

Serve palomilla steaks with sauteed onions on top and white rice, black beans, and/or maduros. Enjoy!
Nutrition
Serving: 1 servingCalories: 352 kcalCarbohydrates: 7 gProtein: 53 gFat: 11 gSaturated Fat: 4 gPolyunsaturated Fat: 1 gMonounsaturated Fat: 5 gCholesterol: 142 mgSodium: 592 mgPotassium: 815 mgFiber: 1 gSugar: 5 gVitamin C: 1 mgCalcium: 46 mgIron: 5 mg
Tried it and loved it?
Snap a picture and share it with me on instagram @asassyspoon and by using the hashtag #asassyspoon!