Growing up in a Cuban household pretty much means you eat Cuban food not only on Sundays but every day of the week.
Cuban ropa vieja is no exception. Some say this dish is the national dish of Cuba!
It's beyond flavorful and always reminds me of my childhood. Just like my classic Cuban picadillo and my easy one-pot arroz con pollo recipe.
What is Ropa Vieja?
Ropa vieja is similar to a beef stew except it's made with shredded beef that's then cooked in a flavorful, homemade tomato-based sauce with spices.
The word ropa vieja literally translates to 'old clothes' which I've always found hilarious. The idea behind this name is that the shredded meat resembles a pile of old clothes.
In case you were wondering, this dish definitely does NOT smell or taste like old clothes. It's cozy and comforting; the flavor is DELICIOUS like all my other authentic Cuban dinner recipes.
What cut of beef do you use in ropa vieja?
For this Cuban ropa vieja recipe, I like using flank steak because it's a lean, yet tough cut of beef that's great for slow cooking to tender perfection.
This cut absorbs the flavor of any marinade, spices, and/or sauce and that's why it's so versatile. You can also use beef chuck roast (pot roast) if you prefer.
Difference between Ropa Vieja and Vaca Frita
I get this question a lot because of the similarities in the recipes. Both ropa vieja and vaca frita are close cousins. They are both delicious Cuban beef recipes made with flank steak and similar ingredients.
They are also tenderized in a similar fashion initially however once the meat is shredded, it is cooked in a tomato-based sauce to make ropa vieja while the shredded beef is pan fried instead to make vaca frita.
After you finish making this recipe, make my Cuban Vaca Frita (Crispy Shredded Beef) recipe!
Ingredients You'll Need
This Cuban ropa vieja recipe is straight from the OG herself – my mom.
I was literally on the phone with her for 45 minutes trying to figure out measurements. See, Cuban kitchen legends, like my mom, don't know measurements.
They've been cooking with "un poquito" (a little bit) for years. How her food manages to always taste exactly the same when she never uses measurements is beyond me! Alas, we figured it out, ingredient by ingredient.
Cuban Sofrito. For this ropa vieja recipe, we're using green bell peppers, onions, garlic, and pimientos which are roasted red peppers in a jar. These are the only veggies you need – no carrots, celery, olives, capers, cilantro, or black beans.
Olive oil. For sautéing the aromatics.
Tomato sauce. The base of our flavorful sauce! I prefer tomato sauce over tomato paste or crushed tomatoes.
Flank steak. As I explained above, I like using flank steak for ropa vieja however you can also use beef chuck roast (pot roast).
Salted water. Enough to cover the meat in the pot for cooking/tenderizing the meat.
Dry cooking wine. Brings out the Cuban flavors without overwhelming them!
Ground cumin, oregano, bay leaf, salt + pepper to taste. Spices!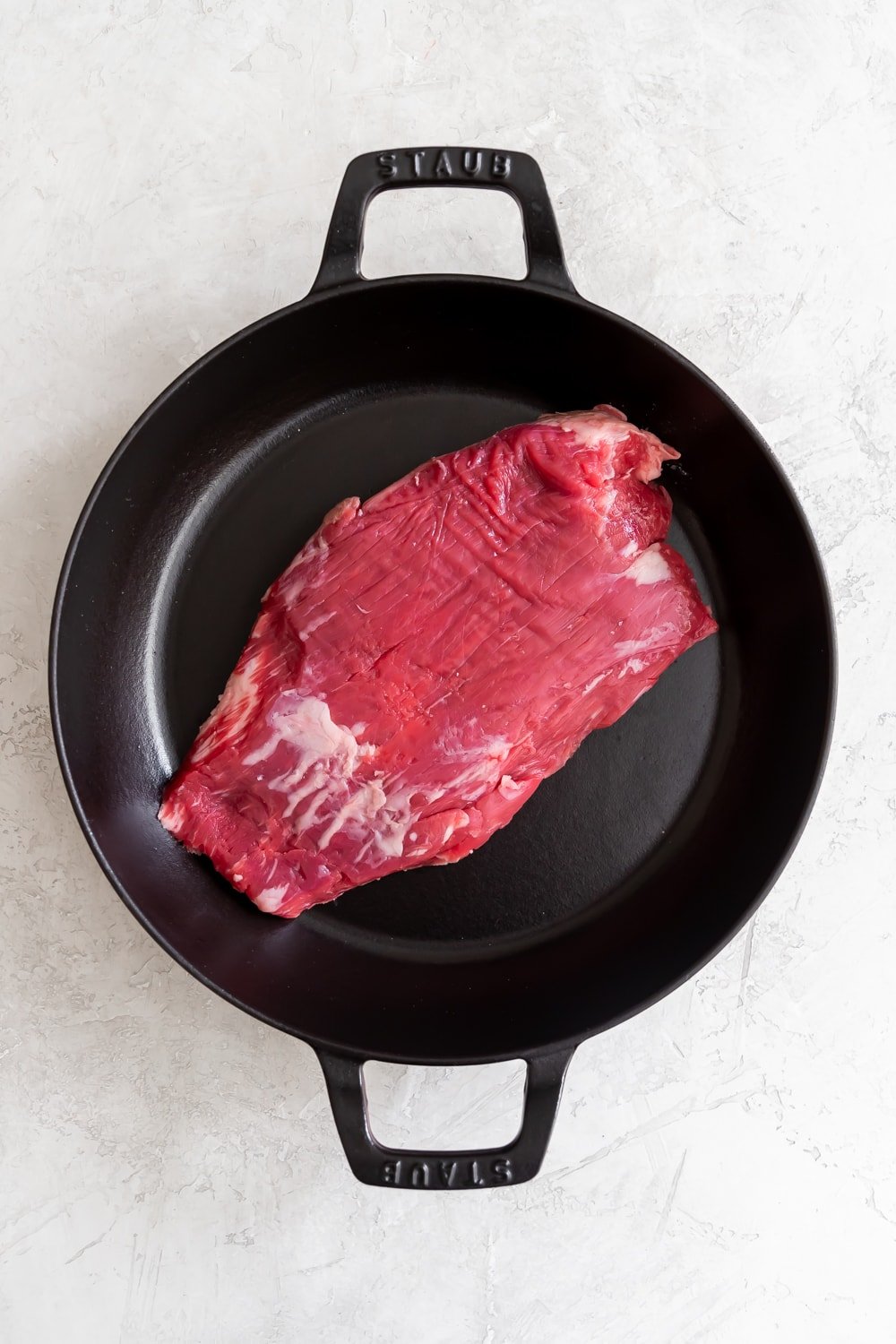 I use a 6-quart Dutch Oven often when I'm making soups and stews and even when I'm cooking other recipes that require longer hours of cooking.
Step By Step Instructions
Ok, I know at first glance it seems like this recipe appears super tedious to make however I can assure you most of the recipe is hands-off!
Here's how you can make ropa vieja Cuban-style at home.
Cook until meat is tender. In a Dutch oven, boil flank steak with water and salt at medium-low until the meat is tender, about 2 hours. The slow cooking process is the best for this recipe however you can also use a pressure cooker instead which takes about 30-40 minutes. I'm sure the Instant Pot may work here too but I don't own one so I can't really say.
Shred the meat. Once the meat has cooked through, shred it with two forks and set it aside.
Make the sauce. Add tomato sauce, ground cumin, oregano, bay leaf, salt, and pepper. Cook for 15-20 minutes, stirring occasionally until the veggies have softened.
Simmer the meat with the veggies and sauce. Add the shredded meat to the skillet. Stir to combine with sauce. Cover and cook on low for about 10-15 minutes, stirring occasionally, without letting it dry out.
When you're done making this recipe, you should make my Cuban Arroz Imperial!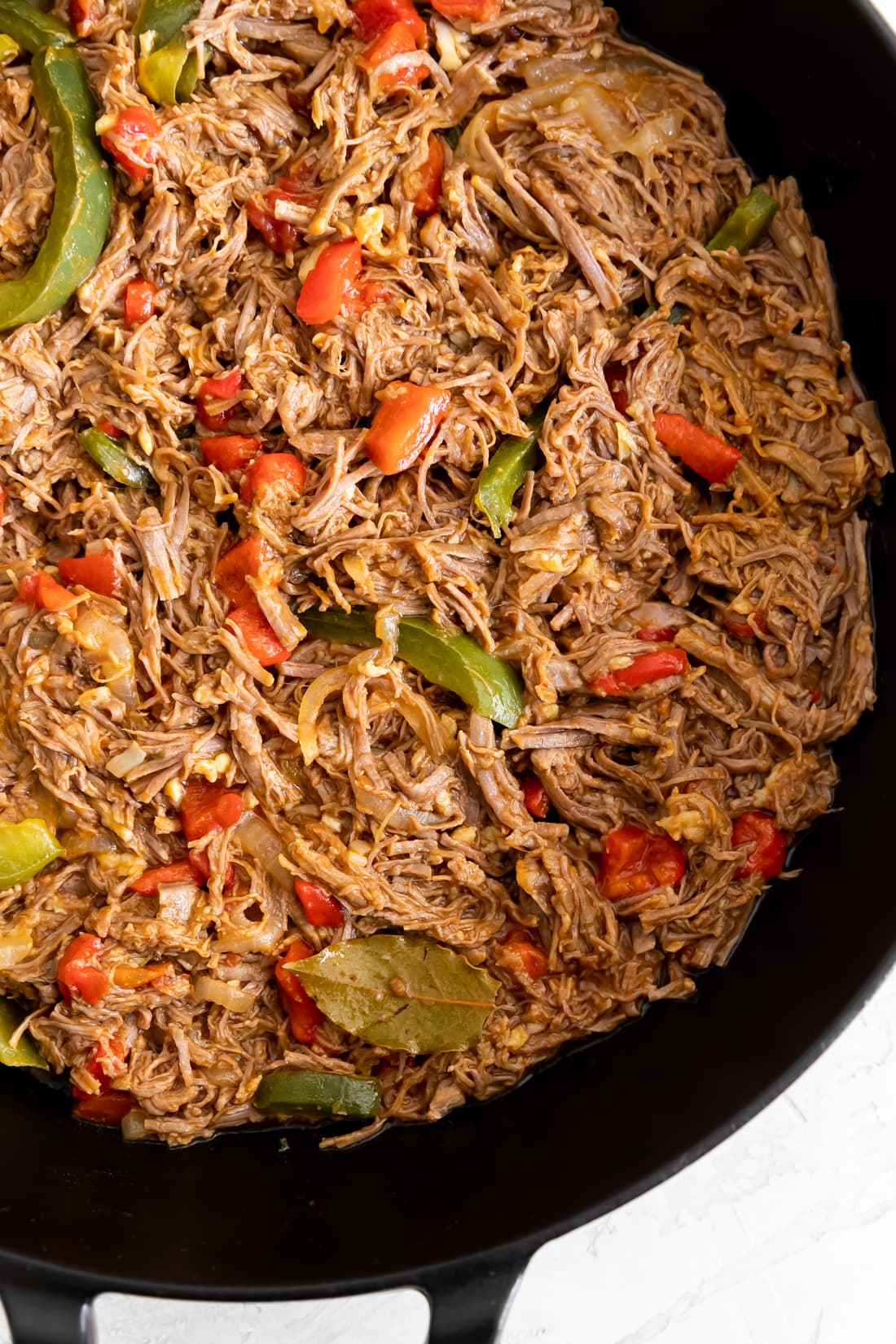 The result is a flavorful, saucy meal that will smell AMAZING.
I love to serve ropa vieja over white rice with sweet plantains but you can enjoy it in sliders, tortillas (ropa vieja tacos!), or with congri/moros.
My mom's recipe will forever be my favorite and I hope it becomes your fave too!
Authentic Cuban Ropa Vieja (Shredded Beef Recipe)
Learn how to make the best authentic ropa vieja with this classic Cuban recipe! This slow-cooked shredded beef dish is made with tenderized flank steak, sofrito, and spices, all simmered in a flavorful tomato-based sauce. This recipe requires only 25 minutes of hands-on work once the meat is tenderized.
Ingredients
2 lbs flank steak cut into 4 pieces
Water (enough to cover the meat in the pot)
1 teaspoon salt
3 tablespoons olive oil
1/2 cup diced onion
1 medium green bell pepper thinly sliced lengthwise
1/4 cup jarred red pimientos thinly sliced lengthwise
4 cloves garlic minced
1/4 cup dry cooking wine (vino seco)
4 ounces tomato sauce
1/2 teaspoon ground cumin
1/2 teaspoon oregano
1 bay leaf
Salt + pepper to taste
Instructions
In a Dutch oven, add the meat with water and salt. Cook at medium-low until the meat is tender, about 2 hours. (In a pressure cooker, this takes about 40 minutes). Transfer to a plate. Shred meat and set aside.

In a skillet, heat olive oil at medium heat. Add green pepper, onion, and pimientos. Sauté for 1-2 minutes. Add garlic and sauté for 30 seconds.

Add dry cooking wine, tomato sauce, ground cumin, oregano, bay leaf, salt, and pepper. Cook for 15-20 minutes, stirring occasionally.

Add the shredded meat to the skillet and stir to combine with the sauce. Cover and cook on low for about 10-15 minutes, stirring occasionally, without letting it dry out. Remove bay leaf and serve over white rice and sweet plantains. Enjoy!
Notes
Adapted from Mami <3
Nutrition
Serving: 1 servingCalories: 419 kcalCarbohydrates: 5.2 gProtein: 43 gFat: 23.9 gSaturated Fat: 6.8 gCholesterol: 83 mgSodium: 583 mgPotassium: 650 mgFiber: 1.4 gSugar: 2.5 gCalcium: 30 mgIron: 3.4 mg
By the way, you can buy pastry rounds and make ropa vieja empanadas!