An easy weeknight salmon recipe made with just 5 ingredients. Ready in less than 20 minutes and so delicious, you'll want to make it every week!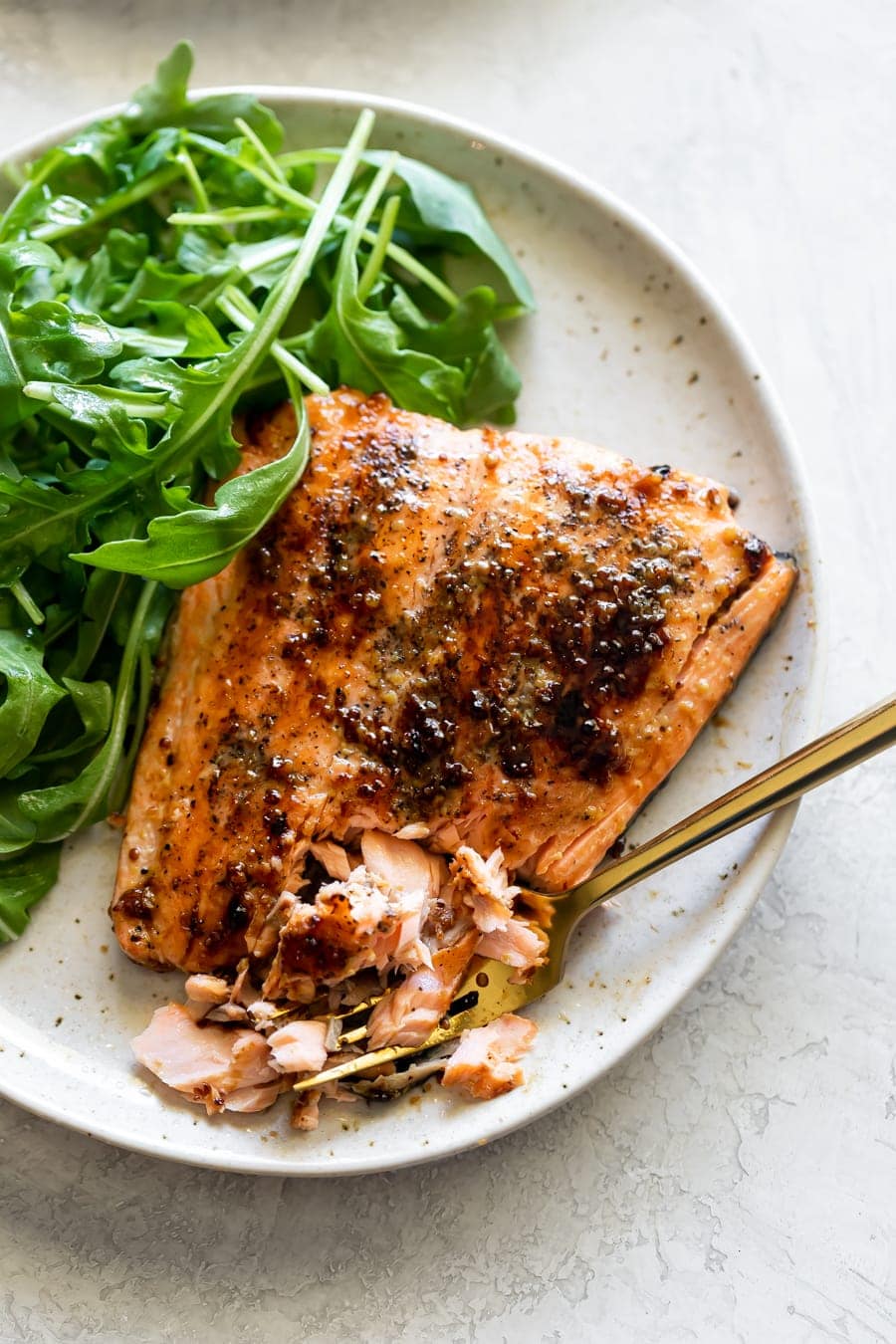 This is a sponsored conversation written by me on behalf of the Partnership for Food Safety Education. The opinions and text are mine.
Growing up, salmon really wasn't on the menu for me. See when you grow up in a Hispanic household, your meals consist of chicken, pork, or steak with rice, plantains and/or bread. I didn't try a piece of fish until I was in my 20s!
These days, I LOVE all kinds of seafood – mahi-mahi, salmon, cod, shrimp, crab, lobster. All the things! I have salmon about once a week now. A lot of people tell me they don't really enjoy the taste of salmon or are intimidated to make it at home. With that in mind, I decided to share this easy 5-ingredient honey mustard salmon recipe along with a few food-safe tips.
The 4 Key Food-Safety Rules To Follow
It's quite easy to incorporate simple steps into your existing cooking routine to ensure you're putting a food-safe, delicious dinner on the table. Since September is National Family Meals Month and National Food Safety Education Month, I'll briefly share The Core Four Practices of Food Safety brought to you by the Partnership for Food Safety Education.
CLEAN: Wash hands and surfaces often.
Bacteria can be spread throughout the kitchen and get onto hands, cutting boards, utensils, countertops, and food. Make sure to wash your hands often with warm water and soap.
SEPARATE: It's safer to separate!
When handling raw meat, poultry, seafood, and eggs, keep these foods and their juices away from ready-to-eat foods. Cross-contamination is how bacteria can be spread. Wash cutting boards, dishes, countertops and utensils with hot soapy water.
COOK: Cook to safe temperatures.
Use a food thermometer that measures the internal temperature of cooked meat, poultry and egg dishes, to make sure that the food is cooked to a safe internal temperature. You can use this one!
CHILL: Refrigerate promptly.
Refrigerate or freeze meat, poultry, eggs, and other perishables as soon as you get them home from the store. Never let them sit at room temperature for more than 2 hours.
Be sure to check the PFSE website for more info!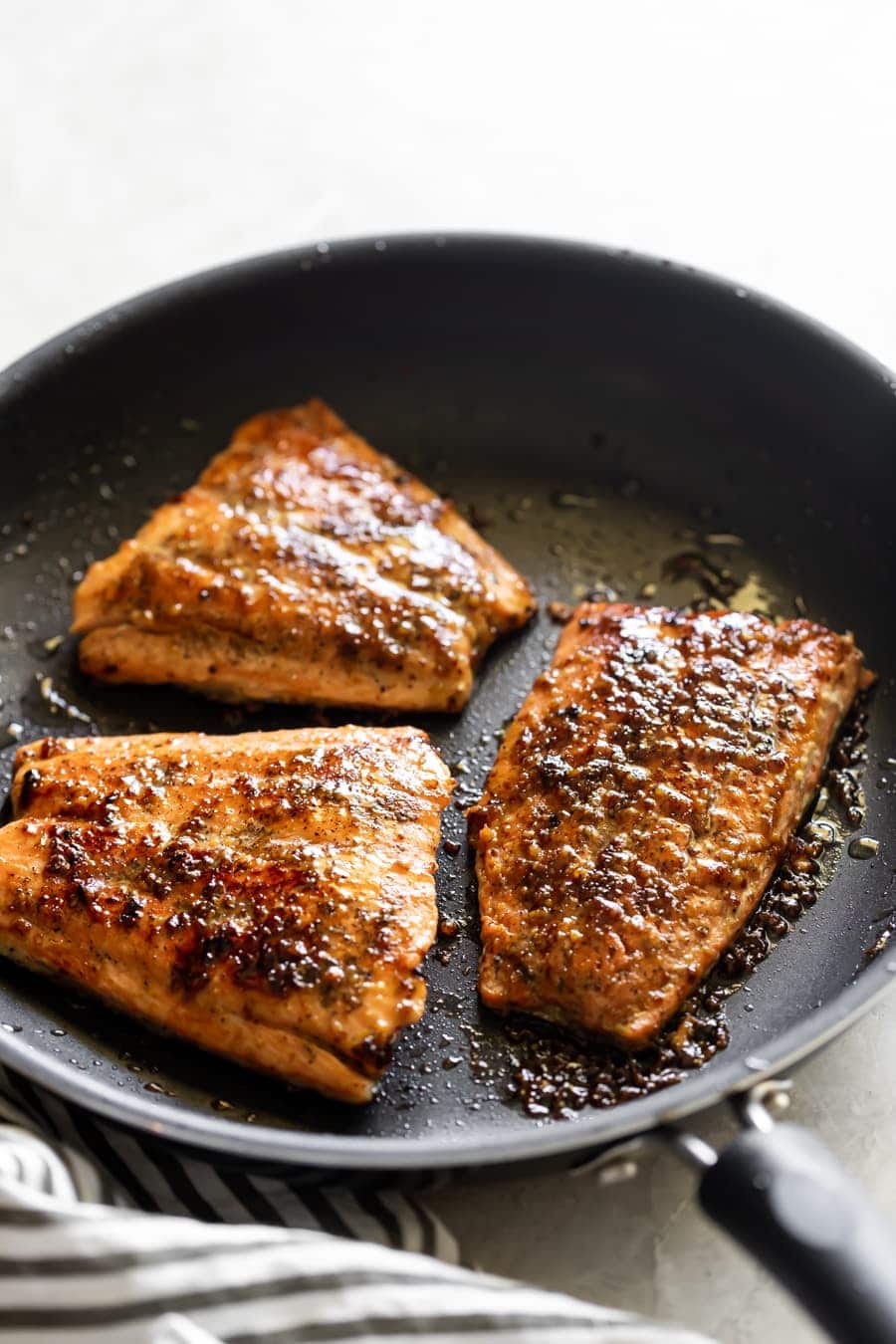 How To Cook Salmon
In general, you can make salmon a few ways. You can bake salmon in the oven, cook it on the stove, grill it, or air fry it. For this salmon recipe, we're going to cook the salmon in a skillet on the stove. This is my go-to method.
When you pan-fry a salmon fillet, it gets a little golden crust on top which makes it oh-so-good. You'll feel like a famous chef after making it! Just make sure to cook salmon until internal temperature reads 145 degrees F on a food thermometer.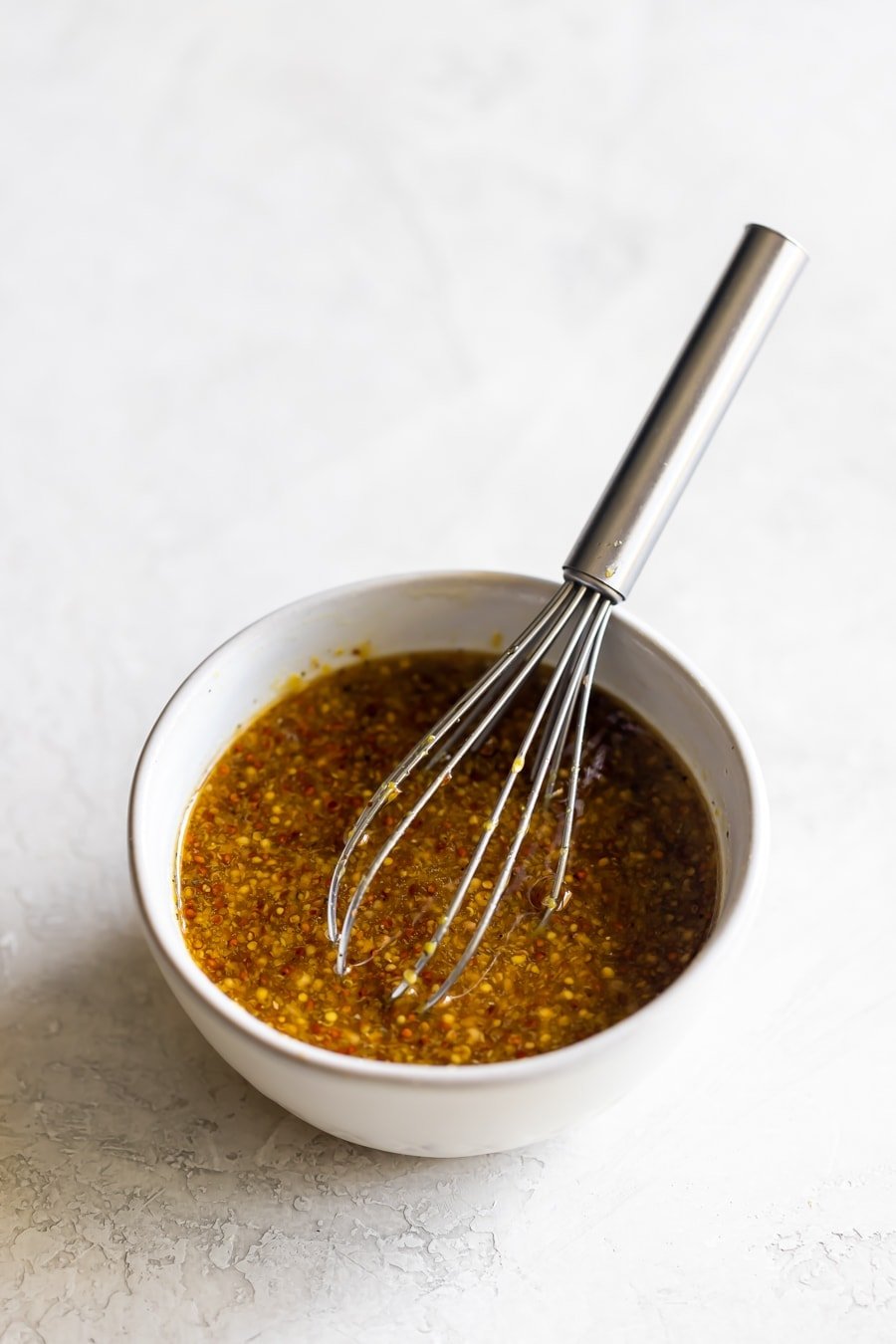 How to Make Honey Mustard Sauce
But first, let's make the sauce! Honey mustard is one of those sauces that are not only easy to make but it's DELICIOUS. You'll want to enjoy it with everything! I'm definitely that girl that will order a side of honey mustard sauce with chicken tenders, burgers, fries, a salad lol…the addiction is real.
So why not add it to salmon! The reason I feel people don't enjoy the taste of salmon is that they don't season it enough nor add any sauces. I bet if you add the sweet taste of honey mustard to a salmon filet, you will absolutely be sold on its taste.
Making this sauce is easy. You simply whisk together Dijon mustard, honey, soy sauce (or coconut aminos, if soy-free/paleo), minced garlic, salt, and pepper in a bowl. That's it!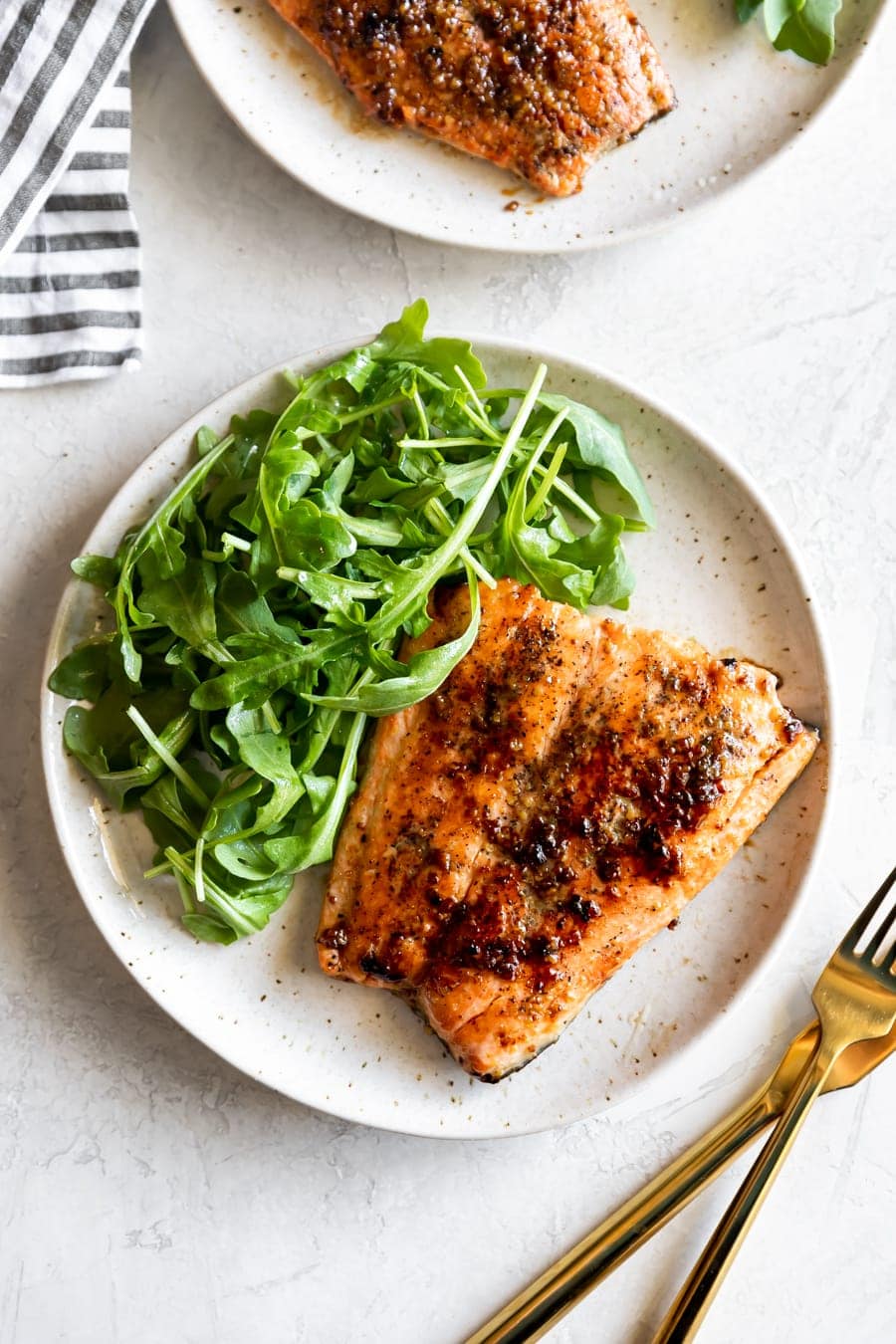 How To Make Honey Mustard Salmon
Cooking the salmon the stove takes about 10 minutes or less, depending on the thickness of the fillet. Again, make sure to cook salmon until internal temperature reads 145 degrees F on a food thermometer.
I like to start by seasoning the salmon generously with salt and pepper. You then place the salmon fillets, skin side up, on a hot skillet coated with olive oil. No need to get crazy with the oil. A few teaspoons of olive oil is enough. You can also use butter if you prefer. Make sure not to move the salmon while it's cooking.
After 5 minutes (or less if the salmon isn't as thick), you flip the salmon to cook the other side for another 4 minutes. On the last minute of cooking, brush the honey mustard sauce over the salmon fillets. You can serve any remaining sauce with dinner.
What To Pair with Salmon
I usually pair this honey mustard salmon (or any salmon, really) with a simple arugula salad, roasted veggies, cooked quinoa or delicious fluffy rice. Mmm!
This recipe is simple enough for any weeknight dinner but can also be made for a dinner party or special occasion.
Can't wait for you to try it!
Ingredients
4

tablespoons

Dijon mustard

4

tablespoons

honey

1

tablespoon

soy sauce

,

(or coconut aminos)

1

clove

garlic

,

minced

Salt and pepper to taste

4

wild caught salmon fillets

,

patted dry

1

tablespoon

extra virgin olive oil

Chopped parsley for garnish, optional
Instructions
In a small bowl, whisk together the Dijon, honey, soy sauce, garlic, salt, and pepper until smooth. Set aside.

Season salmon fillets with salt + pepper. In a nonstick skillet, heat oil over medium-high heat. Cook salmon fillets, skin side up, for 5 minutes.

Flip the filet and cook for another 4 minutes. Make sure to cook salmon until internal temperature reads 145 degrees F on a food thermometer.

On the last minute, brush the honey mustard mixture evenly over the salmon fillets. Serve salmon with arugula, rice, and/or any remaining honey mustard sauce. Enjoy!
---
Nutrition Facts
5-Ingredient Honey Mustard Salmon
Amount Per Serving (1 serving)
Calories 212
Calories from Fat 50
% Daily Value*
Fat 5.5g8%
Cholesterol 55mg18%
Sodium 586mg24%
Potassium 23mg1%
Carbohydrates 17.9g6%
Protein 23.4g47%
* Percent Daily Values are based on a 2000 calorie diet.
You may also like:
Thank you Partnership for Food Safety Education for sponsoring this post and a HUGE thank you to all the readers of this blog for all your support! xo