Honey garlic salmon marinated in honey, garlic, soy sauce, fresh lime juice then cooked on skewers for 10 minutes in a cast iron skillet!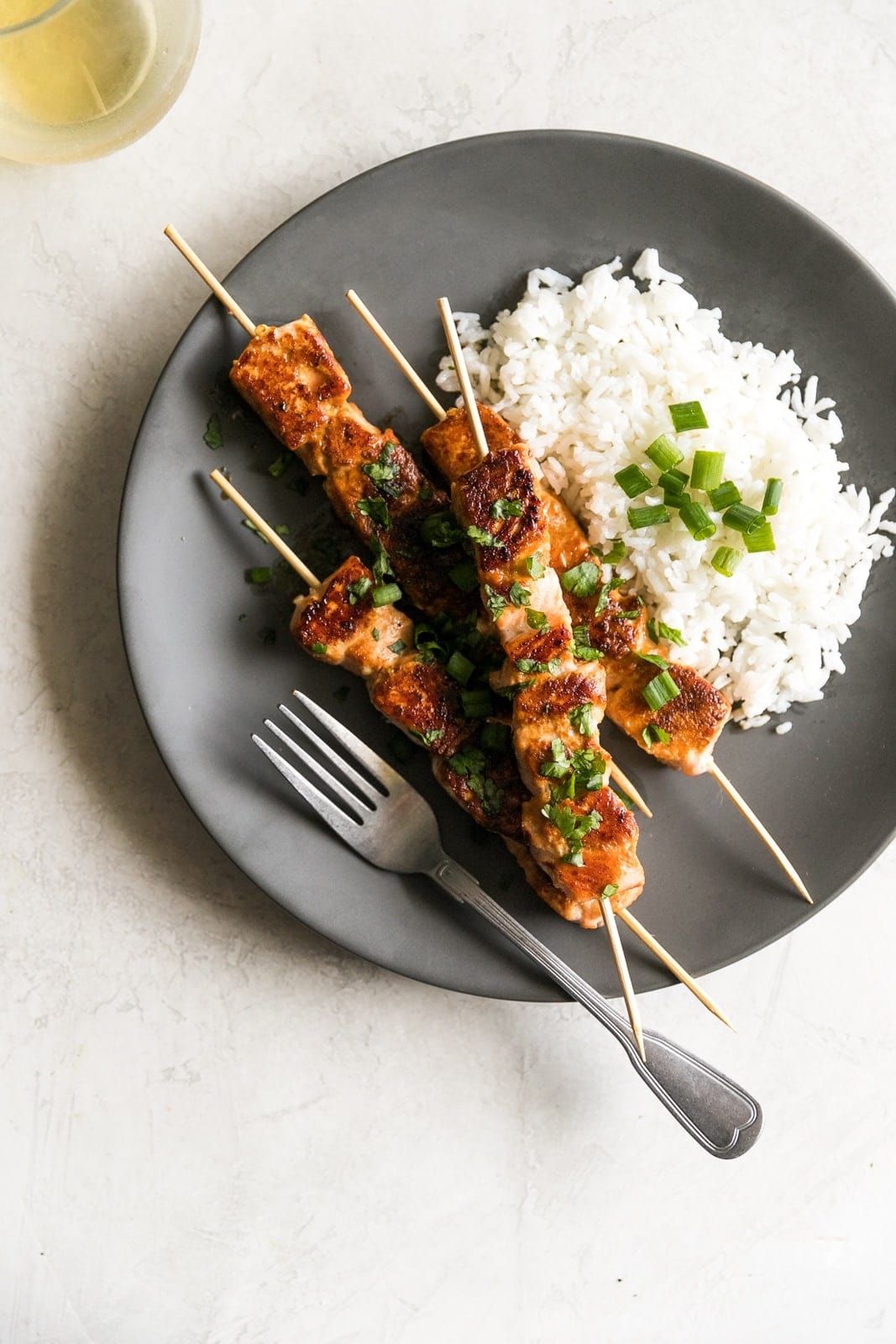 If you love salmon as much as I do, you're going to LOVE this super easy weeknight meal! These are honey garlic salmon skewers and they are DELICIOUS! They're perfect for those of us that live in strict apartment complexes that have a bunch of rules like "no grills on your balcony" and "no dogs allowed".
(I'm not bitter, yes I am)
Since I can't have a grill on my balcony, I can still enjoy that charred flavor using my cast iron skillet!
At least, I can fake it til I make it. ;)
I tried broiling these in the oven by placing the oven rack to the very top… but I didn't get the same result.
Sure, they were cooked through after 10 minutes (and you can totally do that instead, if you'd like!) but I like my salmon to have that charred, blackened color.
And please, if you have a grill, do us both a favor and FIRE IT UP.
How to Make Honey Garlic Salmon Skewers
These salmon skewers came together fairly easy. All I did was whisk together honey, soy sauce, garlic, and lime juice which are all items I'm sure you already have in your kitchen. This is the way I love to cook – keeping things easy using ingredients you already have at home.
WIN WIN!
I placed the cubed salmon in a bowl with the marinade and placed it in the fridge for about 10 minutes. After that, I threaded them into wooden skewers and placed them on a hot cast iron.
Voilà!
They were done in 10 minutes! Make sure you cook both sides of the skewers. Salmon is cooked through when it feels firm to the touch. You can insert a knife into the salmon and if the knife goes through easily, your salmon is ready.
You can also use this same marinade for salmon fillets if you don't want to use or don't have wooden skewers. As a matter of fact, you can totally make this easy honey garlic marinade the day before and have it ready to go!
Isn't it fun when cooking is easy yet looks gourmet? You feel like a goddess in the kitchen.
*places crown on head*
LOL
If you don't like salmon, you can use this marinade on chicken, shrimp, mahi. You would just have to adjust the cooking times accordingly. Serve alongside veggies and/or rice of your choice. I, of course, love me some white rice. That's all folks!
I hope you make it and LOVE it!
Quick + Easy Honey Garlic Salmon Skewers
Salmon marinated in honey, garlic, soy sauce, fresh lime juice then cooked on skewers for 10 minutes in a cast iron skillet. A simple yet gourmet weeknight meal!

Ingredients
1/4 cup raw honey
2 tablespoon low sodium soy sauce
4 cloves garlic minced
2 tablespoons fresh lime juice
Salt and pepper to taste
1 pound wild salmon fillets cut into thick 1-inch cubes
2 tablespoons olive oil
Cilantro for garnish
Wooden skewers soaked in water for 1 hour
Instructions
In a bowl, whisk together honey, soy sauce, garlic and lime juice until the mixture is well combined. Set aside.

Add cubed salmon in the marinade for 10-15 minutes. Remove salmon from marinade and thread onto skewers.

In a large cast iron skillet, heat 1 tablespoon of the oil. Heat skewers for about 5 minutes on both sides to ensure even cooking.

Remove from heat and drizzle any remaining lemon garlic sauce over salmon skewers. Serve immediately and enjoy!
Nutrition
Serving: 1 servingsCalories: 256 kcalCarbohydrates: 18 gProtein: 23 gFat: 10.5 gSaturated Fat: 1.5 gSugar: 16 g
You may also like: