As I mentioned in my churros con chocolate post, Miamians love celebrating "chilly" weather with freshly fried churros and thick, hot chocolate.
It's become a fun tradition here even though, we won't leave our homes if the weather drops below 60ºF. Ha!
This hot chocolate recipe is not your average milky hot chocolate. It's rich, thick, velvety, and almost pudding-like.
This chocolate caliente isn't just a drink, it's also a dipping sauce for churros (maybe even Cuban buñuelos if you're feeling adventurous!).
To be honest, it doesn't even have to be cold outside for you to enjoy this treat.
Let me show you how to make it!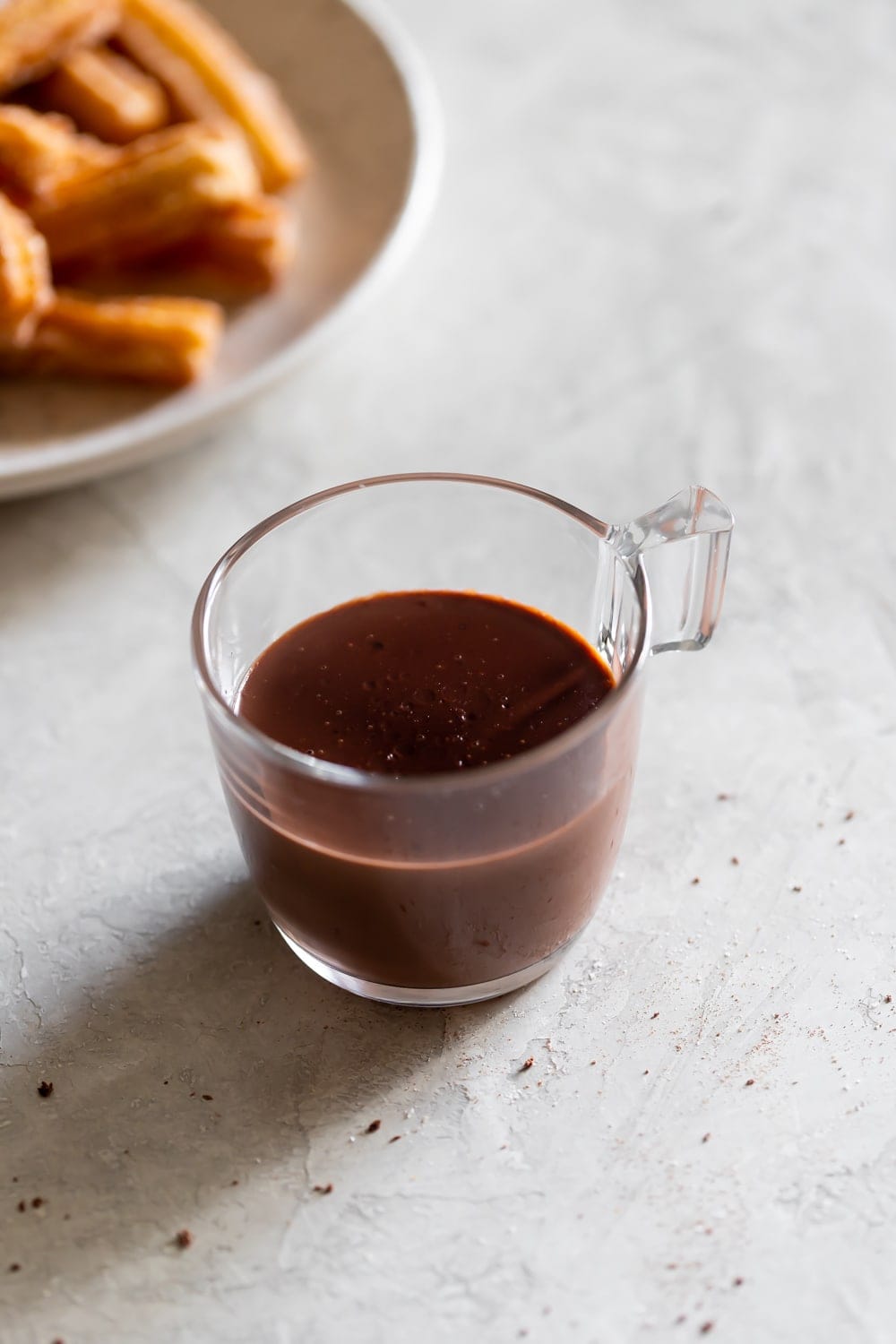 Ingredients You'll Need
Whole milk. I highly recommend you use whole milk over any other milk or water for this recipe. Whole milk is super creamy and extra flavorful. The perfect base for this thick hot chocolate.
High-quality dark chocolate. Personally, I LOVE love love this Chocolate Menier. It's what my mom would use when she would make chocolate caliente for us as kids. It's a thick chocolate bar that's super sweet and very rich. Trust me, you won't be able to bite into it. If you can't find this chocolate bar in your area, I recommend high-quality dark chocolate with a high percentage of cocoa. You can always sweeten the hot chocolate with sugar later, if necessary, but don't skimp on quality here!
Cornstarch. I know it sounds weird to add cornstarch to your milk but this is the secret to thick, hot chocolate. Cornstarch is a thickener and I promise you won't be able to taste it. You can use arrowroot powder too.
Sugar. Not a need but a want if you'd like to sweeten your hot chocolate.
When you're done with this recipe, make Cuban Cafe Con Leche!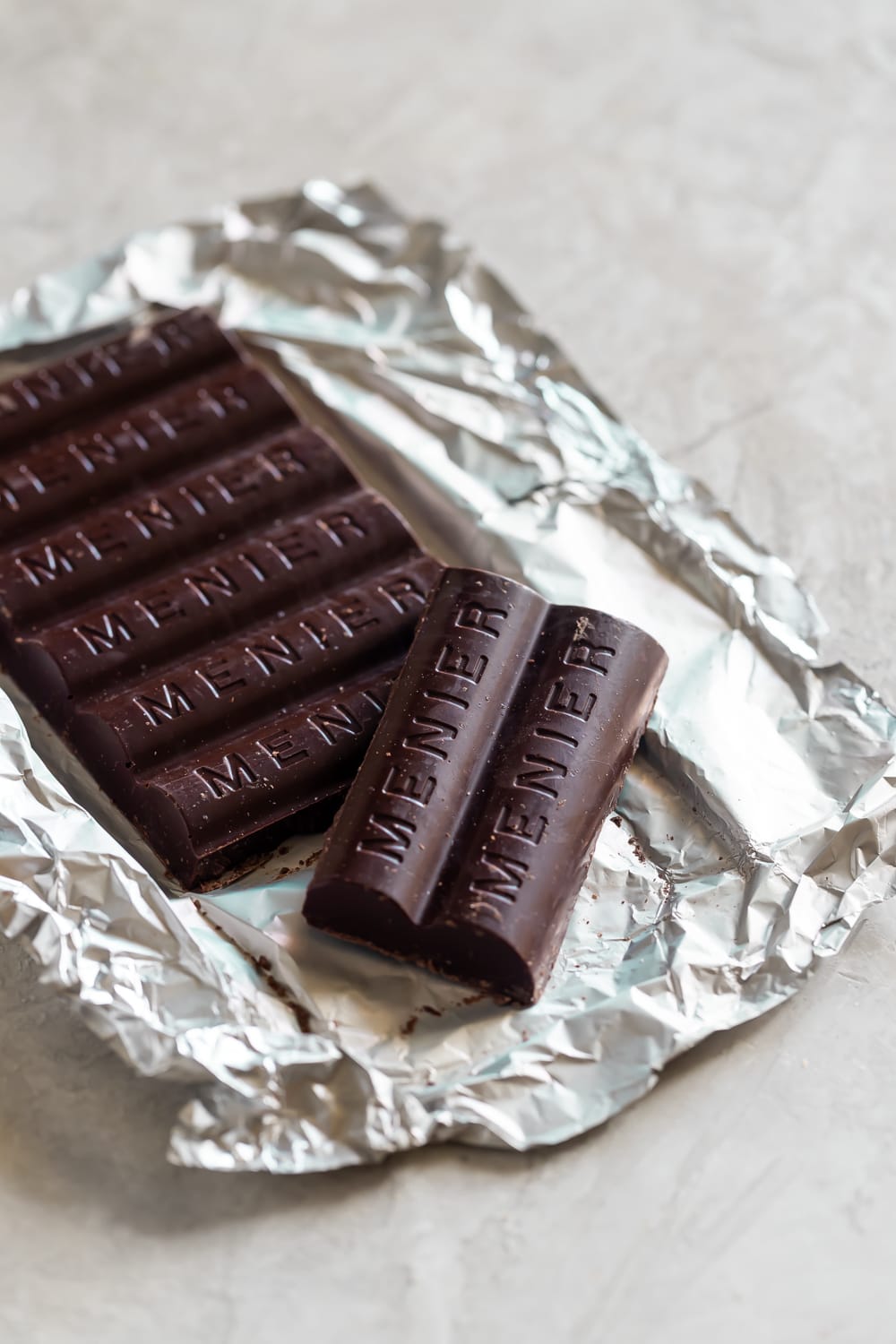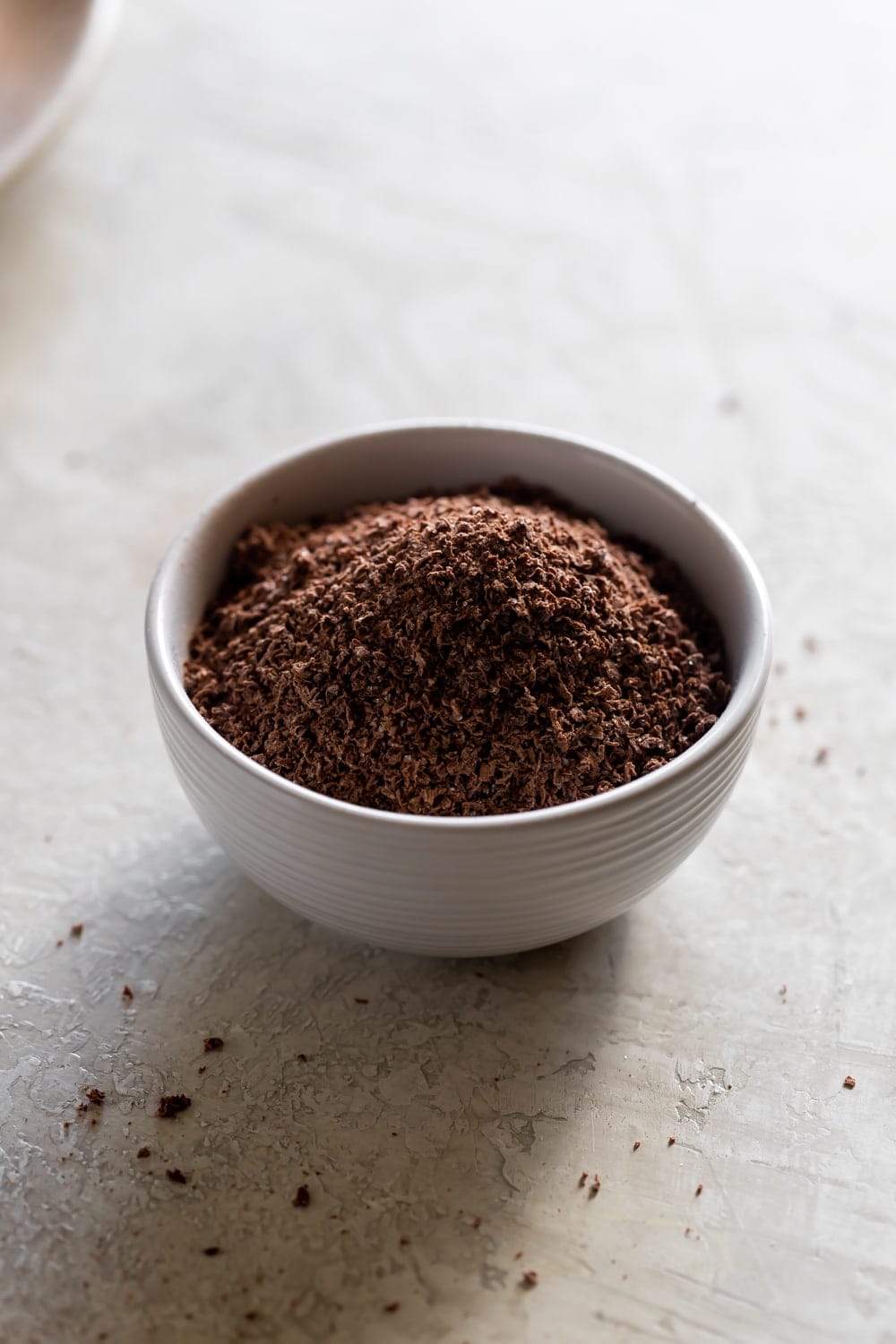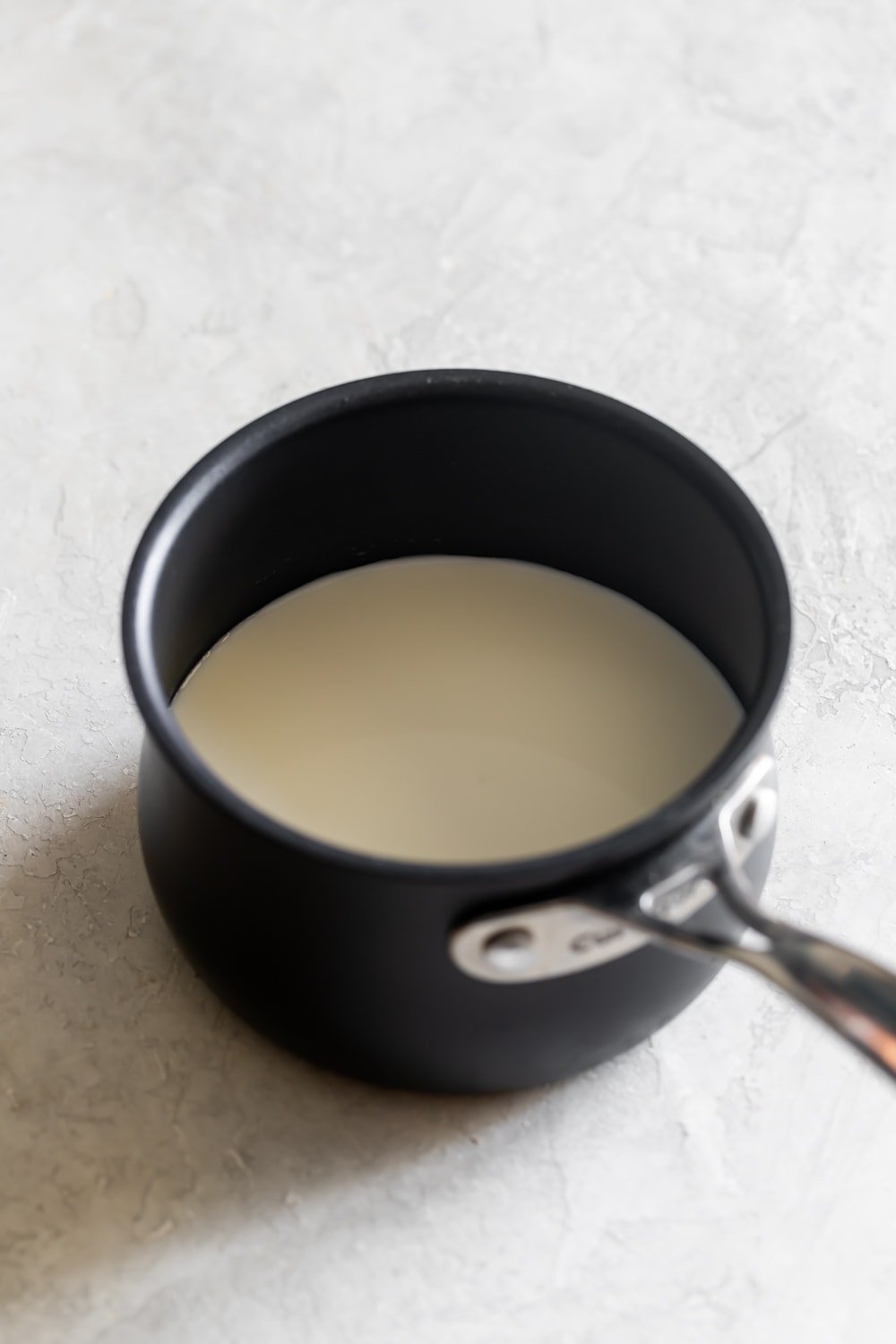 Recommended For This Recipe
How To Make Spanish Hot Chocolate
Grate the chocolate. Yep. Go grab your cheese grater because this is how your chocolate will melt evenly into the whole milk. Especially, if you use the Chocolate Menier that I recommended above. They're blocks of bittersweet dark chocolate so, you WANT to grate this or you'll be waiting for years for it to melt. My mom would shave the chocolate bar into the milk but I prefer to grate it.
Recipe Tips & Variations
Make churros! These two things go hand in hand in my world so might as well make yourself a batch of homemade churros for dipping into this thick hot chocolate.
Spice it up! It's not authentic however feel free to add cinnamon (or a pinch of cayenne powder) to the milk before adding the chocolate.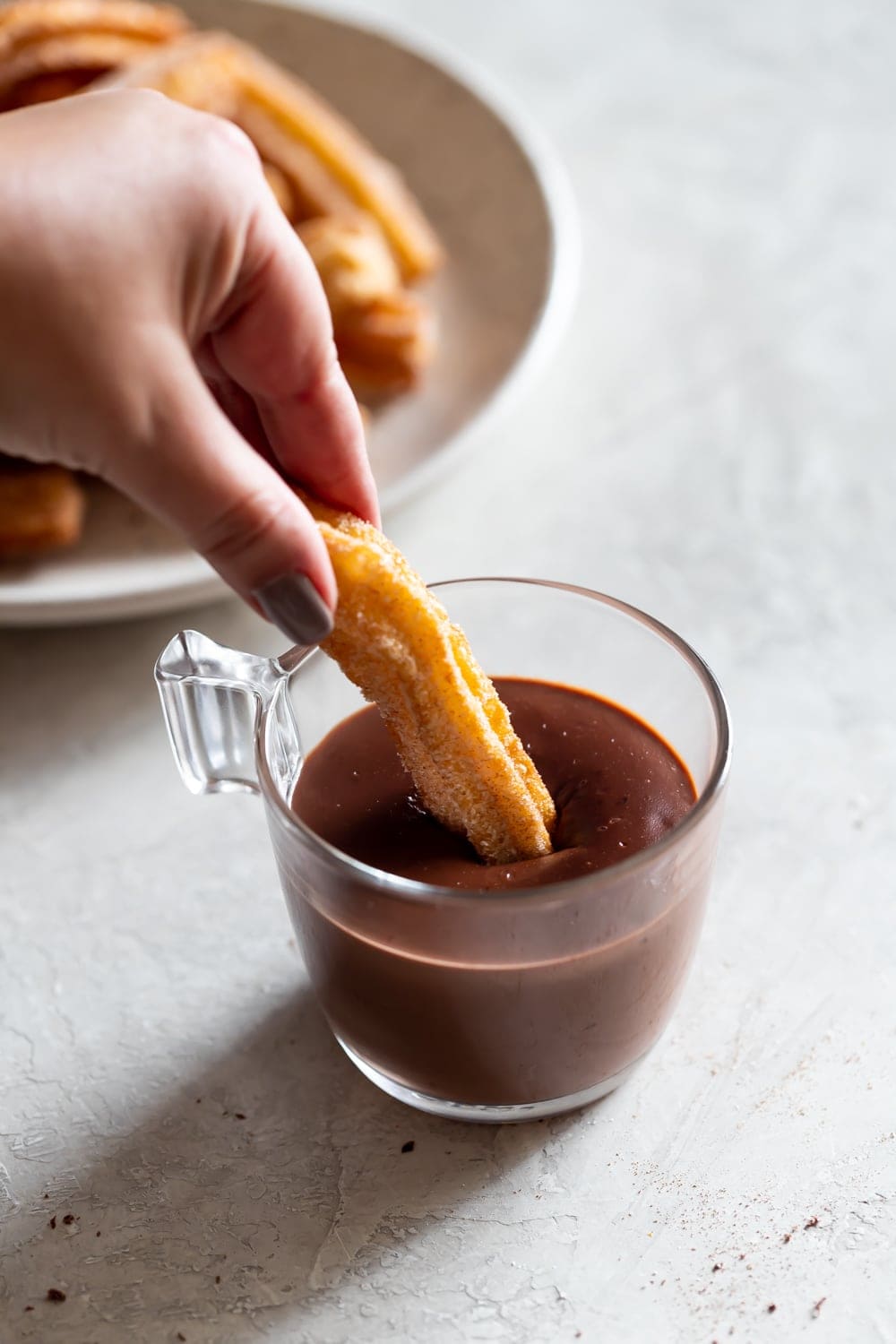 That's all folks! Can't wait for you to make it!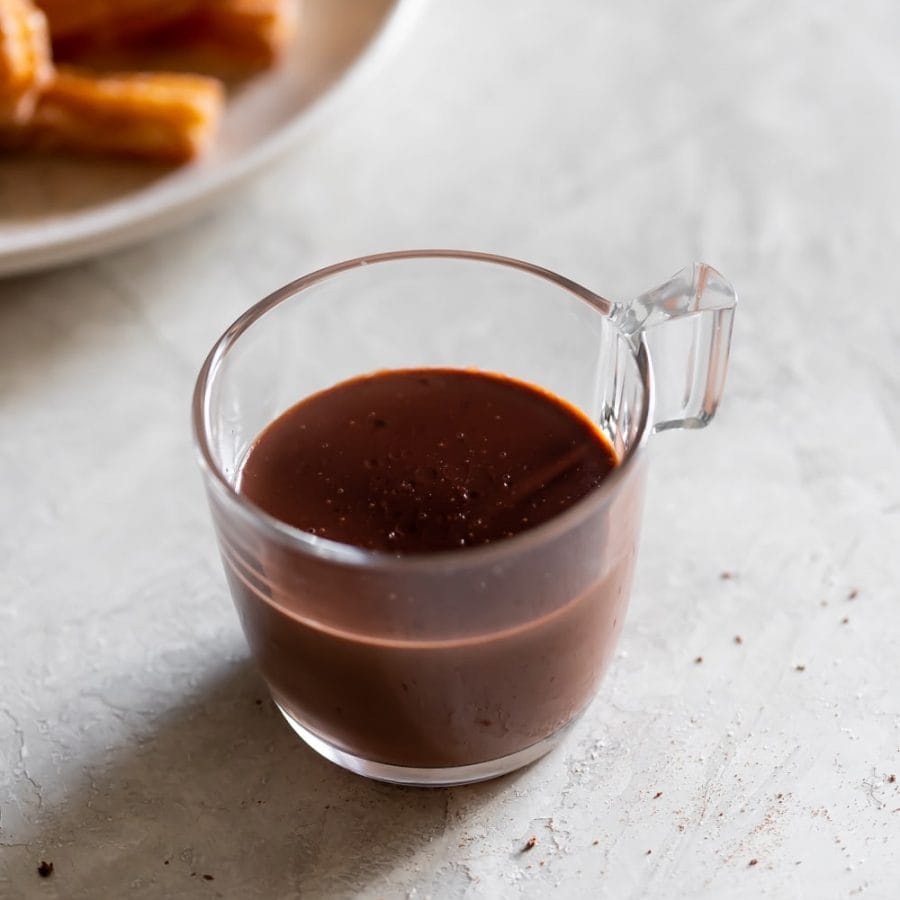 Spanish Hot Chocolate (Chocolate Caliente)
Spanish Hot Chocolate (Chocolate Caliente) is a thick, rich, pudding-like hot chocolate made with bittersweet dark chocolate, whole milk, cornstarch, and sugar. This isn't your typical watery hot chocolate, this is an indulgent, decadent, dark chocolate lover's delight best served with deep-fried churros just like they do in Spain.
Ingredients
2 cups whole milk
1 tablespoon cornstarch
6 ounces bittersweet dark chocolate grated (I use the Chocolat-Menier bar)
1 tablespoon granulated sugar or more to taste
Pinch of cinnamon or cayenne powder optional
Serving Suggestions
TEXT INGREDIENTS
Instructions
In a saucepan, add the milk and heat over medium-low heat. Whisk in the cornstarch to the warm milk until it has dissolved.

Add the chocolate, while stirring, until the chocolate has completely melted.

Add the sugar and continue stirring until the hot chocolate has thickened about 5 minutes.

Serve the hot chocolate with homemade churros. Enjoy!
Nutrition
Serving: 0.5 cupCalories: 94 kcalCarbohydrates: 11 gProtein: 4 gFat: 4 gSaturated Fat: 2 gCholesterol: 12 mgSodium: 53 mgPotassium: 161 mgSugar: 9 gVitamin A: 198 IUCalcium: 138 mg