This post is sponsored by Bob's Red Mill. All opinions are my own.
To live in Miami is to know that there's a special place in our hearts for churros.
Since it's always so hot and humid here, on those rare days when the temperature drops (at least for a night), you can find us celebrating the very welcomed "chilly" weather with hot, freshly fried churros with deliciously sweet, thick, hot chocolate.
It's a beloved tradition that we've grown to love here. That's why I'm happy to bring you this homemade churros recipe! Because why wait for chilly weather when we get our churros fix at any time of year, am I right!?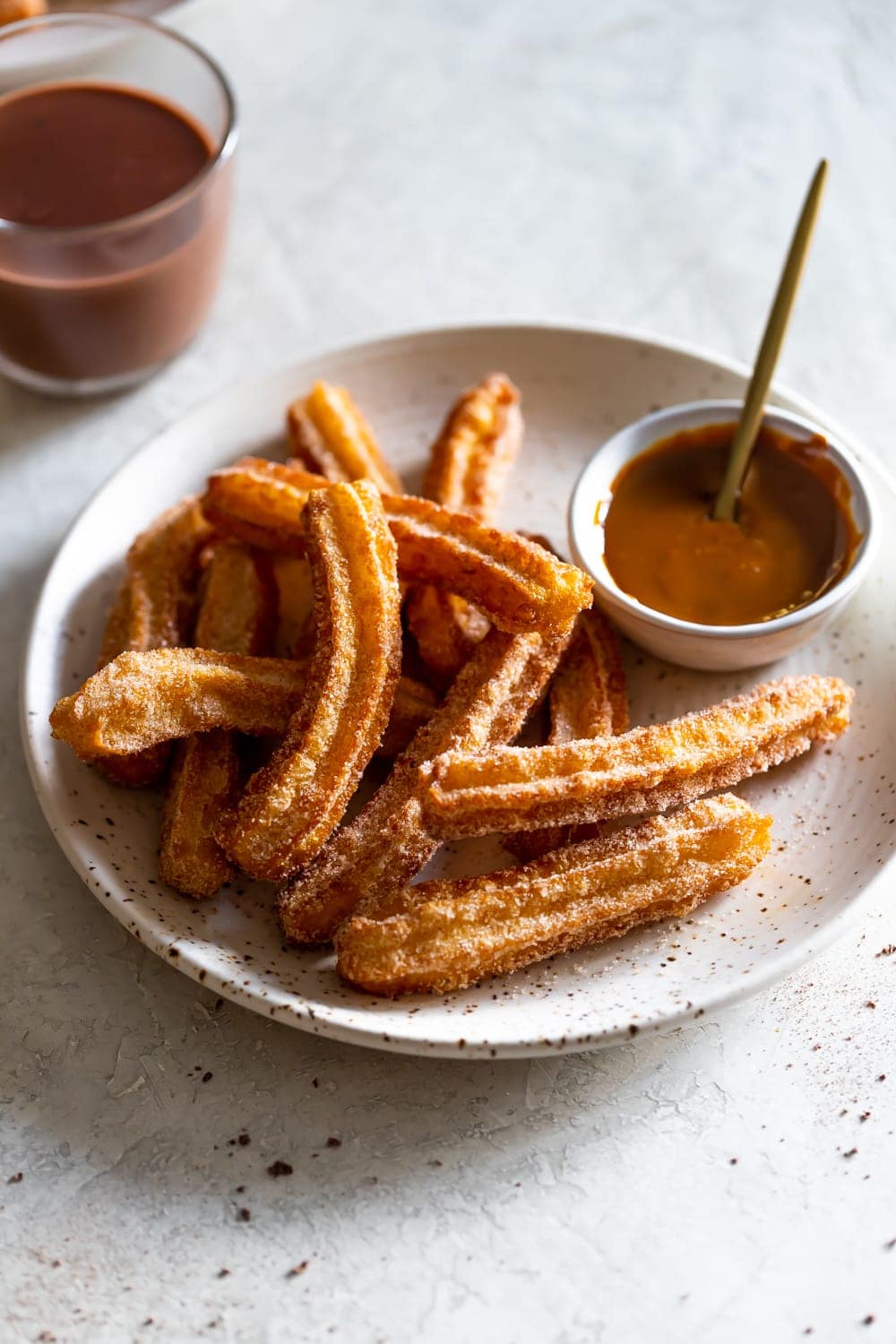 For this recipe, I used Bob's Red Mill's Organic Unbleached All-Purpose Flour. This flour is a premium baking flour freshly milled from certified organic, hard red wheat.
You can use this high-quality wheat flour product for baked goods, including yeast breads, quick breads, biscuits, muffins, cookies, and cakes. It's unbleached and unenriched, with no potassium bromate added.
Bob's Red Mill is one of my favorite brands of all time for baking. It's all I use in my kitchen!
Making This Homemade Churros Recipe
I'll be honest, I hate frying in my house. The bubbling oil, its temperamental nature, the ultimate fear of burning my face or fingers. I'm just not a fan.
I tend to stay FAR away from recipes that require frying but churros are just one of those recipes that MUST be fried. Kinda like tostones. I've tried to bake and air fry tostones and it's just not right.
Similarly, I've tried to bake churros and it was ok but still, it just wasn't right. So you know what, I save frying for special occasions and this was definitely one of them.
Even though I was intimidated at first to make churros, it wasn't as difficult as I thought. That's usually how it goes, right?
How To Make This Easy Churros Recipe At Home
Here's I brought these delicious fried dough sticks to life!
I highly recommend you make Spanish hot chocolate to go with these delicious fried dough sticks. Dulce de leche also works or you can enjoy them by themselves.
Common Questions about Churros
What do churros taste like?
They taste like cinnamon sugar fried dough! They are like crispy on the outside and soft and chewy on the inside. YUM!
Can you make churros ahead of time?
Yes, you can! You can make the dough the day before frying and refrigerate it in an airtight container. Just make sure to bring the dough to room temperature before frying.
How long are churros good for?
Although the churros are best enjoyed immediately after frying, you can store them in an airtight ziplock bag for up to 2 days at room temperature.
Can you freeze churros?
Yes, churros will last about 1 month in the freezer in an airtight container or ziplock bag. Just reheat them in the oven at 350ºF for about 10 minutes but keep in mind, they will not be the same as when they are when freshly fried.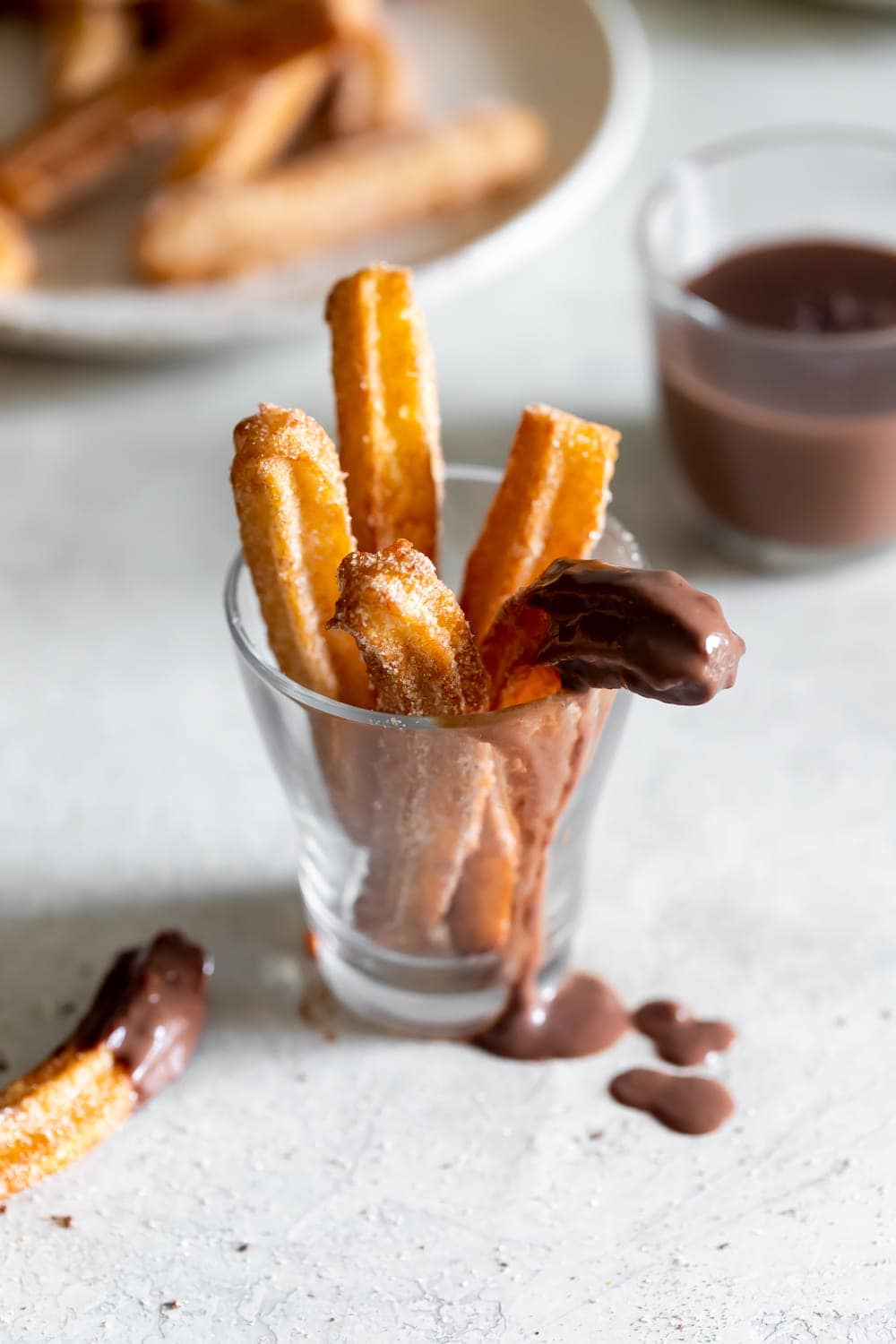 You may also like:
Thank you Bob's Red Mill for sponsoring this post and a HUGE thank you to all the readers of this blog for all your support! xo
How To Make The Best Homemade Churros
Churros are sticks of fried dough that are crispy on the outside, light and airy on the inside, and dusted with cinnamon sugar. You're a few ingredients away from bringing this easy homemade churros recipe to life!
Ingredients
1/2 cup granulated sugar
1 teaspoon ground cinnamon
1 cup water
1/2 cup unsalted butter
1/4 teaspoon salt
3 eggs
Vegetable oil for frying
Optional: dulce de leche for dipping
Instructions
In a small baking dish, whisk together sugar and ground cinnamon until combined. Set aside.

In a saucepan, add the water, butter, and salt. Stir to combine, at medium-high heat, until the butter has melted. Once the butter has melted, reduce heat to low.

Add the flour and mix with a spatula until a dough forms. Remove from the heat, transfer the dough to a bowl and let it cool down.

In a bowl or in a stand mixer, whisk the eggs into the dough, one by one, until the dough is smooth. The dough may look crumbly but keep going. It will smooth out eventually.

In a large saucepan, heat oil at medium heat until it reaches 325ºF.

While the oil heats up, spoon the dough into a large piping bag with a star tip.

Pipe out 6-inch strips of dough into the hot oil and fry until golden brown, about 1-2 minutes on each side. I used a scissor to cut the dough as I piped them into the hot oil. Be careful when you do this and make sure you don't crowd the pan with too many. I did about 3-4 at a time. Drain them on a paper towel lined plate then toss in cinnamon sugar.

Once the churros have cooled, you can serve them as is, with Spanish Hot Chocolate, or dip them in dulce de leche. Enjoy!
Nutrition
Serving: 1 churroCalories: 94 kcalCarbohydrates: 11 gProtein: 2 gFat: 5 gSaturated Fat: 3 gCholesterol: 33 mgSodium: 36 mgPotassium: 17 mgFiber: 1 gSugar: 5 gVitamin A: 161 IUCalcium: 7 mgIron: 1 mg