Chicken tortilla soup is a versatile delight that knows no seasonal boundaries (similar to my other homemade Cuban stews and soups). Whether the sun is scorching at 90º or winter's chill is in the air, a steaming bowl of tortilla chicken and fire-roasted tomato soup, generously adorned with zesty lime, always hits the spot.
This Tex-Mex classic transcends the weather, offering a comforting and flavorsome option for weeknight dinners. And to sweeten the deal, it's a one-pot wonder, making your kitchen cleanup a breeze.
The same way I feel about my Cuban sopa de pollo and my Cuban black bean soup is what I feel about this stovetop chicken tortilla soup – it's the perfect remedy for any weather or day of the week.
Looking for other soup ideas for dinner? Make my Caldo Gallego (Galician White Bean Soup)!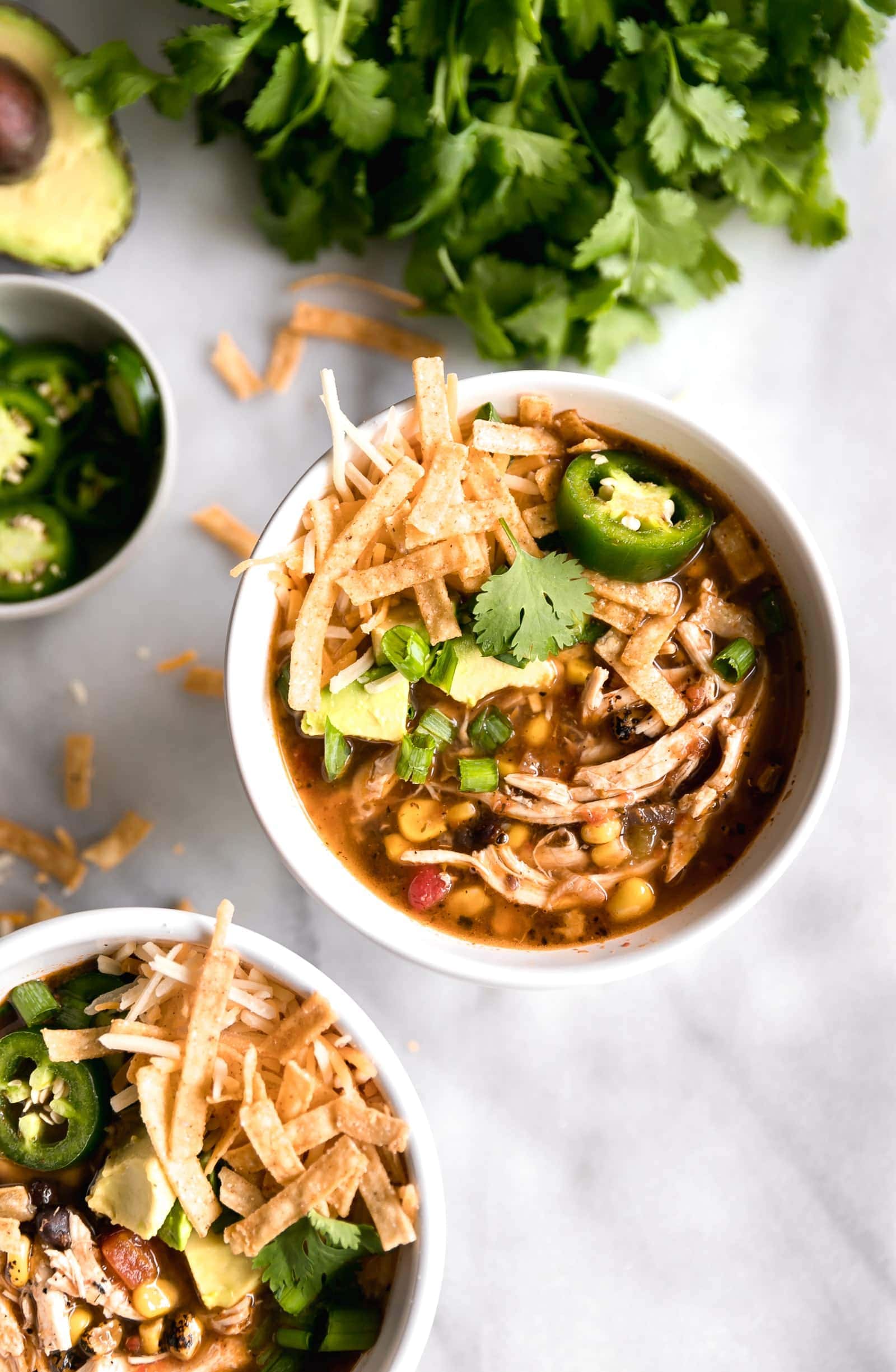 Why You'll Love This Recipe
Perfect weeknight meal. This chicken tortilla soup with fire-roasted tomatoes is ready in just 30 minutes, making it a go-to option for those hectic evenings when you want a homemade dinner without lengthy cooking time.
Great use for leftover chicken. Making this stovetop chicken tortilla soup is a convenient and efficient way to use up leftover chicken. Whether it's from a previous meal or a rotisserie chicken you picked up at the store, this soup allows you to transform those leftovers into a brand-new, exciting dish, reducing food waste and saving you time.
Versatile and Customizable: This Mexican-style chicken soup is highly versatile. You can customize it to suit your taste by adjusting the spice level, adding your favorite toppings, or even making it vegetarian or vegan by using plant-based proteins. This adaptability ensures that everyone in the family can enjoy a bowl tailored to their preferences.
Ingredients You'll Need
Olive oil. Adds a rich, fruity flavor and prevents the onions and garlic from sticking to the pan, enhancing the base flavors of the soup.
Diced white onion. Provides a sweet and savory base flavor. They add depth and complexity to the soup while also adding a bit of texture.
Minced garlic. Brings a robust, aromatic quality to the soup. It infuses the dish with a delicious, slightly pungent flavor and fragrance.
Dried oregano, cumin, salt, pepper. Contributes earthy, slightly floral notes, while cumin adds warmth and depth. Salt and pepper season the soup, balancing flavors and ensuring it's well-seasoned.
Fire-roasted tomatoes. Gives the soup a smoky, charred flavor and adds a unique, roasted depth to the tomato base, making it richer and more complex. If you don't want heat, use regular diced tomatoes. If you can't find fire-roasted tomatoes, you can use regular diced tomatoes and add some cayenne pepper to taste.
Low-sodium chicken stock. The liquid base of the soup. Low sodium is used to control the salt content, allowing you to adjust the saltiness to your preference. It provides the soup with a savory, umami backbone.
Black beans. Provides a hearty, earthy flavor. They add substance and thickness to the soup while enhancing its nutritional value.
Whole kernel corn. Provides natural sweetness, texture, and a pop of color to the soup. It complements the other flavors and contributes to the overall balance of the dish.
Shredded cooked chicken. Chicken is the star of the show in chicken tortilla soup. It readily soaks up the flavors of the soup. You can use leftover chicken or buy a rotisserie chicken and shred it up!
5 STAR REVIEW
"This recipe was SO delicious yet SO simple! So many delicious flavors blended together. I highly recommend!"

—Alexis
Step By Step Instructions
Cook the aromatics. Sauté onion and garlic with olive oil and then add oregano, cumin, tomatoes, and chicken stock. Stir and bring to a boil. Reduce heat and simmer for 20 minutes.
Add the rest of the ingredients. Next, add the black beans, corn, and shredded chicken. Simmer for another 10 minutes. You can use leftover chicken or buy a rotisserie chicken and shred that baby up!
Serve and add your toppings. Ladle soup into bowls. Top with jalapeño slices, shredded cheese, avocado, green onions, tortilla strips, and cilantro, and don't forget that squeeze of lime.
Recommended For This Recipe
I use a 6-quart Dutch Oven often when I'm making soups and stews and even when I'm cooking other recipes that require long hours of cooking.
Recipe Tips & Tricks
Make your own tortilla strips. Cut a tortilla into thin slices and spray with cooking spray. You can either fry them up in a skillet with a little bit of vegetable oil until golden or, place them in the air fryer, in an even layer, and cook for 6 minutes at 350ºF.
Use the slow cooker. Add all the ingredients to the crockpot. Cover and set it to your desired setting (typically low for 6-8 hours or high for 3-4 hours).
Make it vegan. Substitute chicken with plant-based protein and use vegetable broth for a satisfying vegan alternative.
Make Ahead Instructions
Here are some make-ahead tips to ensure your soup is convenient and ready to enjoy when you need it:
Prep ingredients in advance and store them in airtight containers or bags in the refrigerator. This way, when it's time to make the soup, you'll already have most of the prep work done.
Cook and shred chicken in advance: If you know you'll be making this soup later in the week, cook and shred the chicken ahead of time. You can poach the chicken, bake it, or even use leftover roasted chicken. Store it in an airtight container in the fridge until you're ready to use it.
Prep Toppings: Prepare your favorite toppings in advance and store them separately in the fridge. This makes assembling and garnishing the soup a breeze.
Store Broth Separately: If you're making the soup in advance and want to avoid the ingredients becoming too mushy, consider storing the liquid portion in one container and the solid ingredients (shredded chicken, black beans, and corn) in another container. When you're ready to cook, combine them on the stovetop.
Storage Tips
In the freezer. For longer storage, freeze in a freezer-safe container for up to 2-3 months. Thaw in the refrigerator before reheating.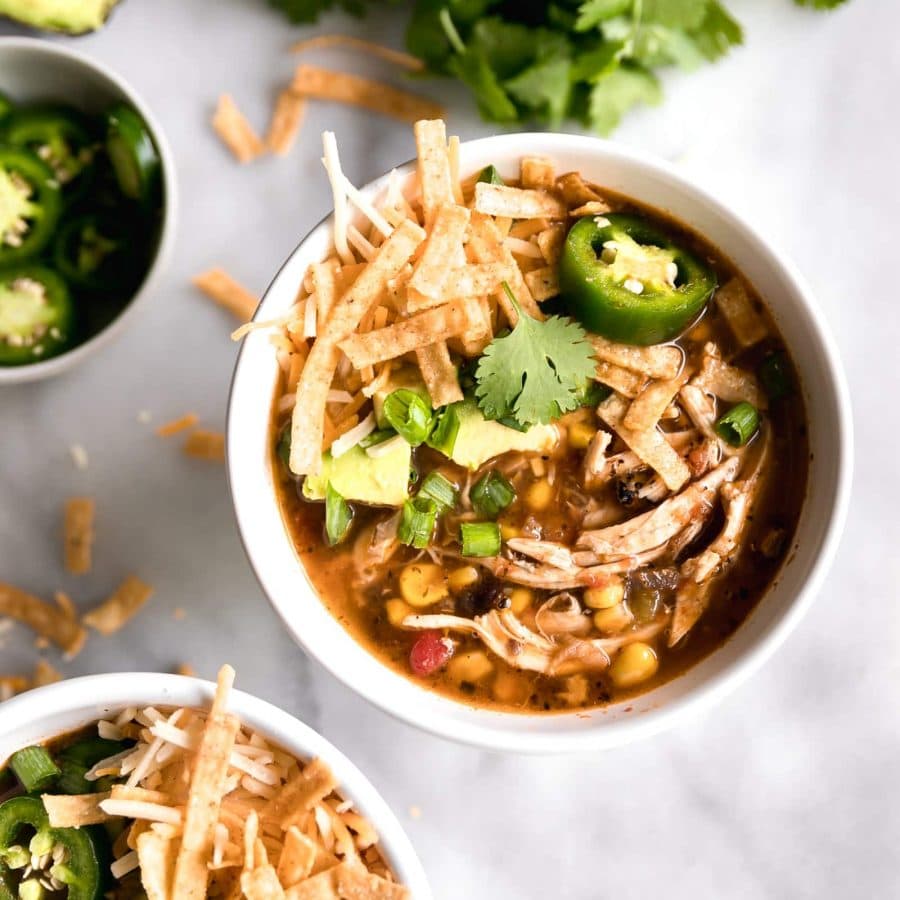 Quick 30-Minute Stovetop Chicken Tortilla Soup
Follow these steps at home to make this spicy, flavor-filled 30-minute chicken tortilla soup with fire-roasted canned tomatoes, cooked shredded chicken breast, canned black beans and corn, and aromatic spices. Each spoonful of this warm, hearty chicken tortilla soup is complemented by the crunchy texture of tortilla strips. Prepared stovetop, this dinner soup is ready within 30 minutes! Recipe tested for success at home.
Ingredients
1 tablespoon olive oil
1 small white onion diced
3 cloves garlic minced
1/2 teaspoon dried oregano
1/2 teaspoon ground cumin
Salt and pepper to taste
28 ounces fire roasted tomatoes*
3 cups low sodium chicken stock
15 ounces black beans drained and rinsed
15 ounces whole kernel corn drained and rinsed
2 cups cooked shredded chicken
Optional Toppings
Jalapeño sliced
Colby cheese shredded
Avocado cubed
Green onions sliced
Tortilla strips
Cilantro chopped
Lime wedges
Instructions
In a large pot, add oil, onion and garlic. Sauté over medium heat until onions and garlic are translucent and fragrant. Add oregano, cumin, tomatoes, and chicken stock. Stir and bring to a boil. Reduce heat and simmer for 20 minutes.

If you like soups that are more on the chunky side, skip this step. Place the pot away from the stove and place a hand blender inside the pot to blend all the ingredients until desired consistency. You can also transfer the soup to a high-speed blender and blend that way too.

Once you the soup is blended and in the pot, add the black beans, corn, and shredded chicken. Simmer for another 10 minutes.

Ladle soup into bowls. Top with jalapeño slices, shredded Colby cheese, cubed avocado, green onions, tortilla strips, cilantro and don't forget that squeeze of lime. Enjoy!
Notes
*You can also use a can of regular diced tomatoes and add cayenne powder to taste. Nutritional facts are an estimate.
Nutrition
Serving: 1 servingCalories: 305 kcalCarbohydrates: 31 gProtein: 18 gFat: 12 gSaturated Fat: 2.1 gCholesterol: 29 mgSodium: 460 mgPotassium: 476 mgFiber: 8.2 gSugar: 5 gCalcium: 40 mgIron: 3.1 mg