A deliciously simple homemade roasted tomato soup that you can enjoy all year round with a melty grilled cheese!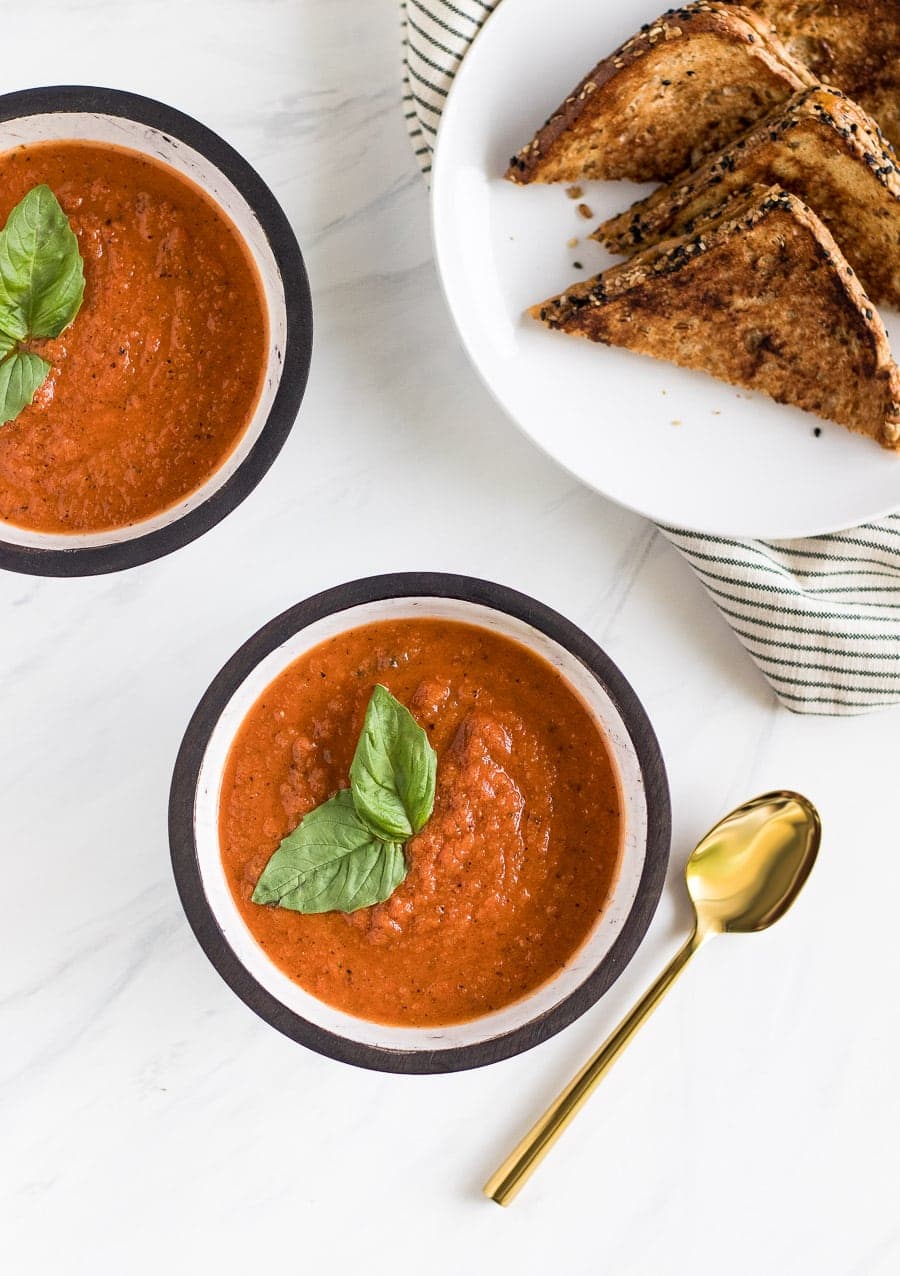 Let me start by saying that I'm not a big soup person. WHAT? Umm…then WHY are you posting this today, Jamie?
I can explain.
Sometimes you come across a soup + sandwich combo that you just LOVE and can't stop thinking about. I mean who doesn't love carbs, amirite?! I practically dream about them!
There's a local restaurant here in Miami named KUSH that makes a pretty badass tomato soup + grilled cheese. The perfect pairing really. This is nothing revolutionary here. Those two menu items are go-to for me whenever I go there. If I go with the burger that day, I ask for the mixed fries! They basically toss french fries together with crispy sweet potatoes fries and it's just da bomb.
You know what else is bomb? This Jameson Whiskey grilled cheese I had in New Orleans a few years ago in this hole in the wall named Killer Po'Boys.
SO GOOD.
So what better way to bring these two gems together then creating my own version of BOTH!
The Jameson grilled cheese I had in NOLA was made with aged cheddar and Jameson Whiskey on multigrain bread. Literally, the most simple thing ever but we haven't stopped talking / thinking about it since we left.
You know a meal is good when you not only go back the next day and order it again BUT you also still talk about it years later. It was THAT good.
Maybe it was the texture of the bread, maybe it was the cheddar or the slight hint of Jameson. Or maybe it was the booze lol…
Whatever it was, the sandwich tasted pretty damn good. And there's no better way to enjoy a grilled cheese than with a creamy, homemade roasted tomato soup!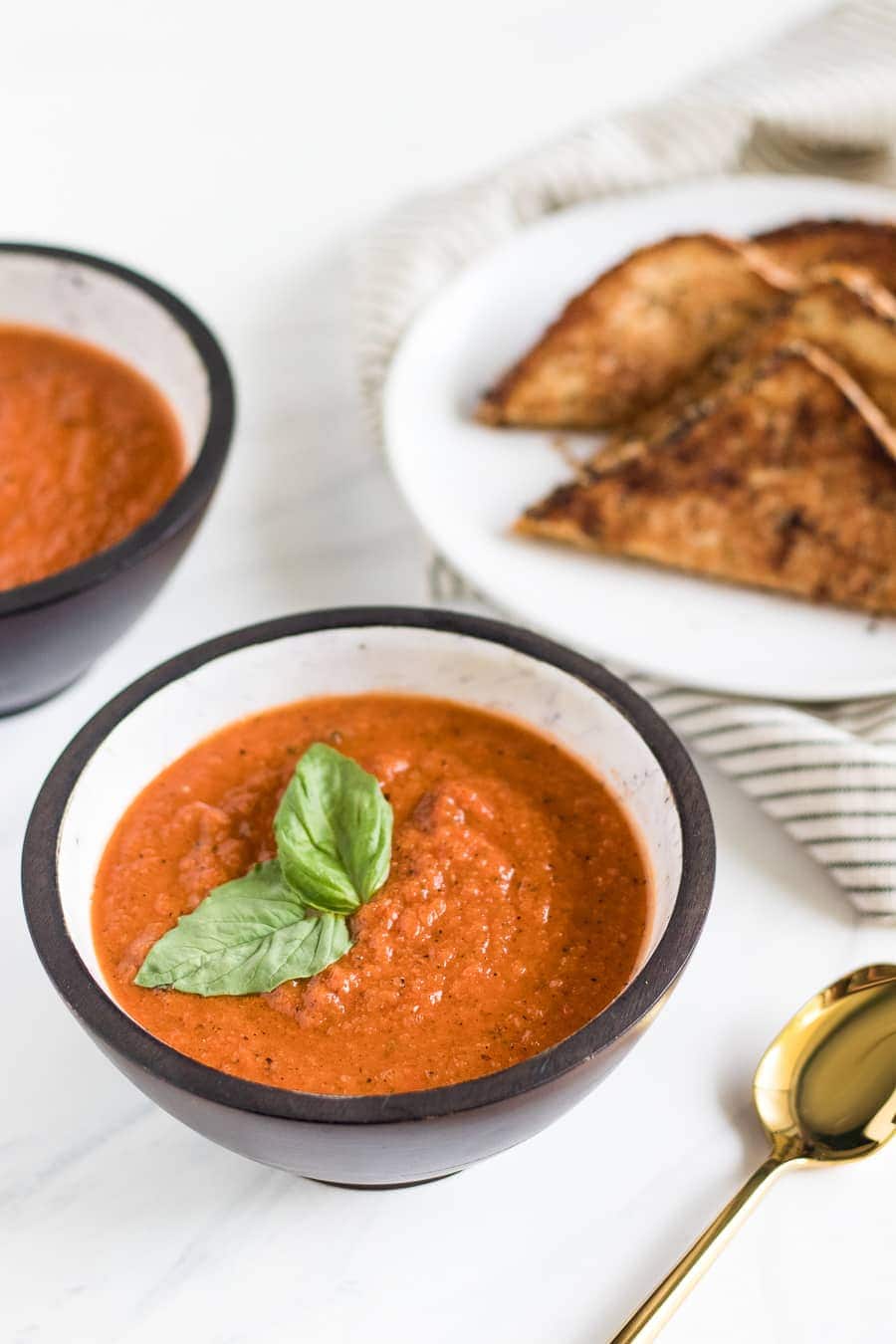 A Few Notes On The Recipe
I made the recipe with "year round" in mind.
Living in Florida where tomatoes are always available, I can make this with canned roasted tomatoes or with tomatoes themselves at any time.
But for those of you reading this on a cold winter day or when tomato season is so far gone, you can totally make this bomb soup easily with a can of good quality roasted tomatoes.
Both options are in the recipe below.
Aside from that, you can make an Irish whiskey butter to slater up on multigrain bread with aged cheddar cheese to make the BEST grilled cheese ever to pair with tomato soup. Yep, that pretty much sums it up.
Let me know if you make it!
With its immersion design, this hand blender allows you to blend directly in the pot, eliminating the need for transferring ingredients and reducing mess.
Homemade Roasted Tomato Soup
A deliciously simple homemade roasted tomato soup that you can enjoy all year round with a melty grilled cheese!
Ingredients
Roasted Tomato Basil Soup
1 tablespoon unsalted butter
1/2 tablespoon olive oil
1/2 large yellow onion diced
2 cloves garlic minced
28 ounces crushed roasted tomatoes
1/2 cup chicken stock
1/2 cup heavy cream
1/4 teaspoon dried oregano
1/4 cup chopped fresh basil leaves plus more for garnish
Salt + pepper to taste
Pinch of red pepper flakes
Grilled Cheese
4 tablespoons salted butter room temperature
4 slices multigrain bread
8 slices aged cheddar
Instructions
In a large pot, heat butter and olive oil over medium heat. Add onions and garlic and cook until onions are translucent and garlic is fragrant, about 1-2 minutes. Careful not to burn the garlic!

Add the crushed roasted tomatoes, chicken stock, heavy cream, oregano, salt, pepper, and red pepper flakes. Stir and cook for about 10 minutes.

Remove the pot from the heat. Blend soup using an immersion blender then return the pot to the stove and simmer for 20 minutes.

Divide the soup into bowls and serve immediately with grilled cheese. Enjoy!
Nutrition
Serving: 1 serving of soup + 1 grilled cheeseCalories: 340 kcalCarbohydrates: 19 gProtein: 6 gFat: 20 gCholesterol: 60 mgSodium: 350 mgFiber: 2.6 gSugar: 2.4 gCalcium: 60 mgIron: 0.9 mg
SHOP THE RECIPE
Grilled Cheese Maker | Soup Bowls | Soup Spoons
You may also like: