If you were to ask me what was the recipe I had the most often during the week as a kid, the answer would be this Cuban picadillo recipe!
My mom was never a microwave mom. She cooked every night. On those busy nights, there was nothing easier to make than this flavorful tomato-based ground beef dish.
Needless to say, I always have ground beef in my freezer ready to go. I get my ground beef from Butcher Box!
Butcher Box is a service that curates boxes of grass-fed, no-hormone-added, humanely raised beef, chicken, pork, salmon + sustainable seafood and, they deliver it right to your door. I love getting my box delivered directly to me. There are always specials – like free bacon or free ground beef – you gotta check them out! Click here to find out more info on Butcher Box!
I'll be honest, for a long time, I would only make turkey picadillo with ground turkey. And while it was good, nothing truly compares to Cuban beef picadillo!
Let me show you how to make it.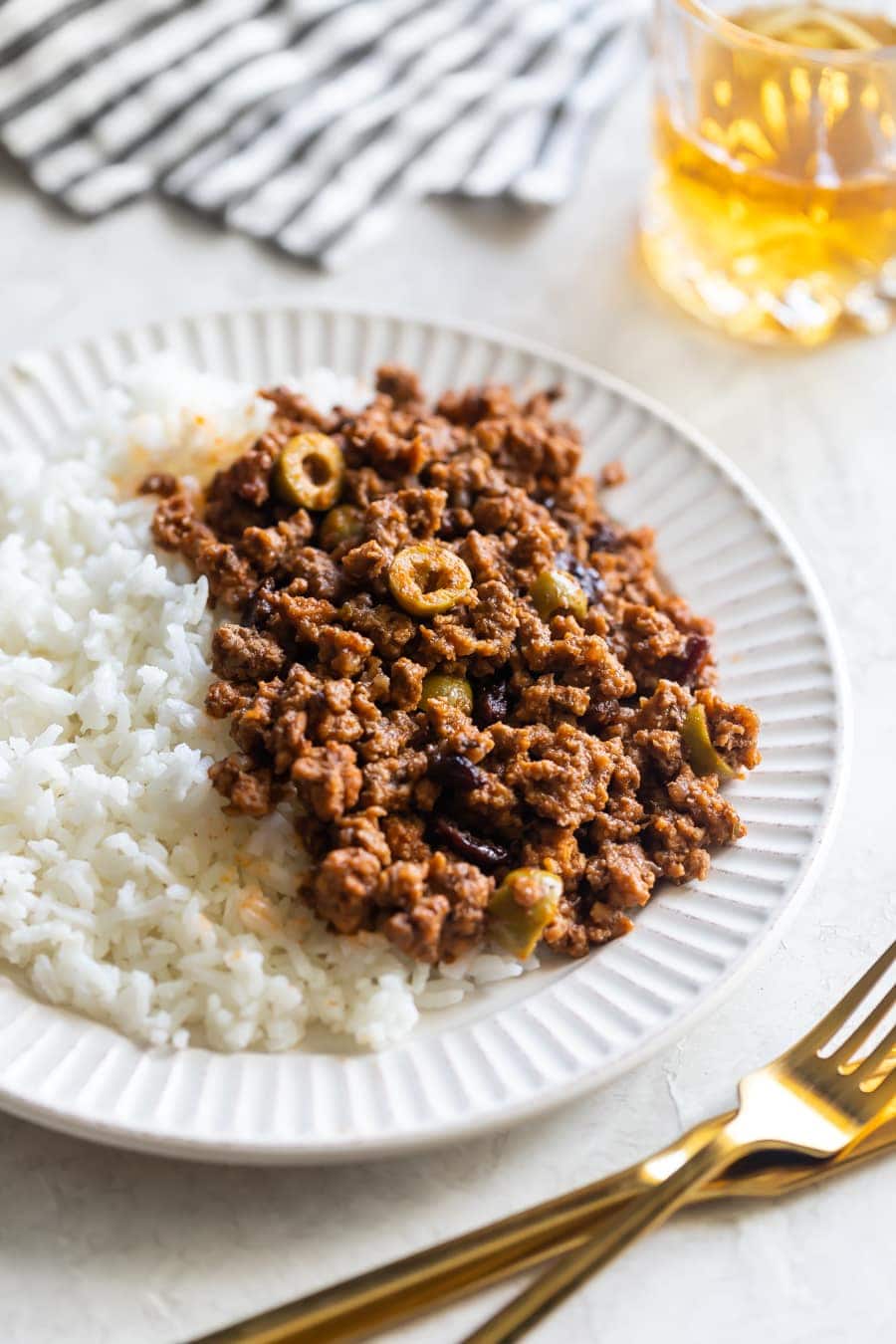 What is picadillo?
First things first, let's talk about what exactly is picadillo.
Picadillo [pee-ca-dee-yo] is a classic Latin dish made with ground beef, tomato sauce, raisins, olives, and lots of spices.
Many Latin American countries have their own variation of this saucy dish. Some will add chopped potatoes, others will give it some heat.
This Cuban picadillo is what I grew up with and it's my personal favorite.
This one-pan meal is usually served over white rice. It's an easy and flavorful weeknight meal. The leftovers the next day are even better!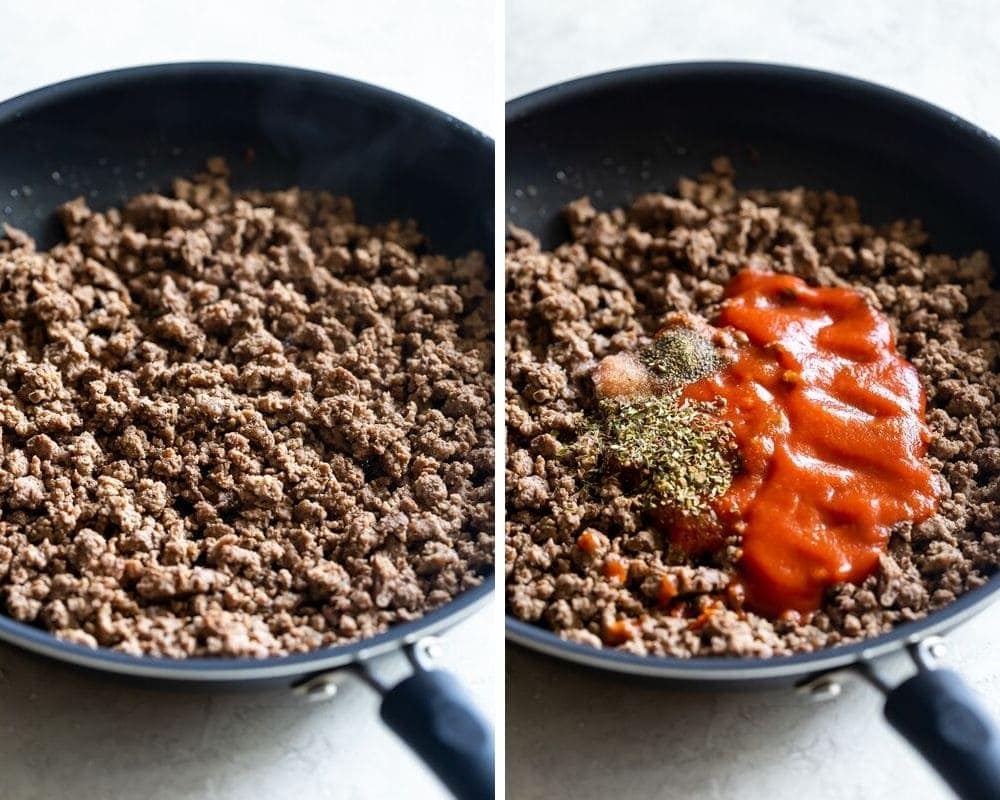 Ingredients You'll Need
Onion, green pepper, garlic. Cuban sofrito is the basis of most Cuban dishes. Some call it the "Holy Trinity". It consists of garlic cloves, onions, and green peppers. You sauté the sofrito in a skillet with a bit of olive oil before continuing with the rest of your recipe and that's what gives meals such a unique and distinctive flavor!
Ground beef. I like using ground beef for this recipe since when cooked properly, it's juicy from soaking the spiced sauce. Yum! You can use lean ground beef, if you prefer.
Tomato sauce. The basis of this dish. I add about 6 ounces so it adds enough sweetness and acidity without it being too saucy or having too much of an intense tomato flavor.
Ground cumin and oregano. Earthy spices are the best spices. 1 teaspoon of each is fine.
Green olives. Salty, briny olives complement all these flavors so well. Be careful when you're adding salt to this dish since the olives are already salty enough.
Raisins. A touch of sweetness. I know it sounds weird and it's a bit controversial in some places (lol) because raisins are boring but it does taste good mixed in with everything else. I'll be honest though, I'm not the biggest fan of raisins and typically don't add them (don't hate me) so it's totally cool if you want to omit them.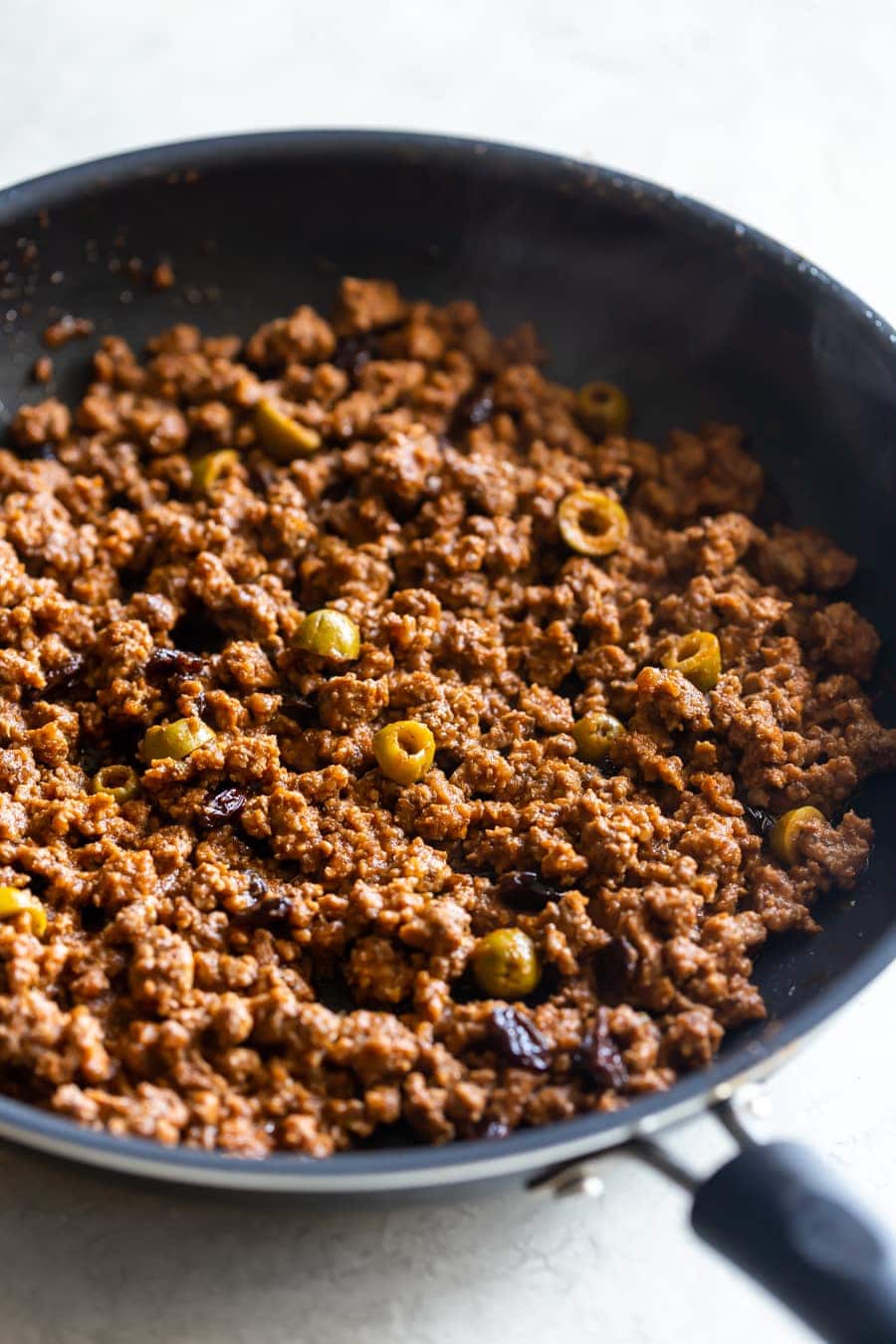 How To Make Cuban Picadillo
First, make the sofrito. In a large skillet, heat olive oil over medium-high heat. Add onions, green pepper, and garlic and cook for 1-2 minutes.
Brown the meat. Add ground beef and cook at medium heat, breaking the meat apart using this meat chopper tool, until no longer pink, about 5 minutes.
Simmer with the sauce. Turn the heat down to low. Stir in tomato sauce, cumin, oregano, salt, and pepper. Simmer for 10-15 minutes so the meat soaks up all the delicous sauce.
Add the olives and serve. Stir in the green olives and raisins (if using). Remove from heat and serve over white rice. You can also serve picadillo with veggies or even inside of sweet potatoes.
What is Cuban picadillo made of?
The Cuban version of picadillo is made with ground beef in a tomato-based sauce with lots of spices, green olives, and raisins.
Where did the word picadillo come from?
The word comes from the Spanish word "picar" which means "to mince" and/or "picado" which means "to chop".
Is Cuban picadillo spicy?
Cuban picadillo is not spicy. It's a saucy, fragrant, tomato-based, hash-style ground beef dish and it's delicious!
What sides to serve with picadillo?
I like to serve picadillo over white rice, black beans, and/or sweet plantains. You can also serve it in lettuce wraps, inside empanadas, roasted potatoes, or fried eggs.
Do you have to add raisins to picadillo?
Nope, they are completely optional but they do give the savory picadillo a touch of sweetness.
That's all folks! I mean… how good does that look!
It's very versatile and that's one of my favorite things about it. Make it tonight!
You may also like: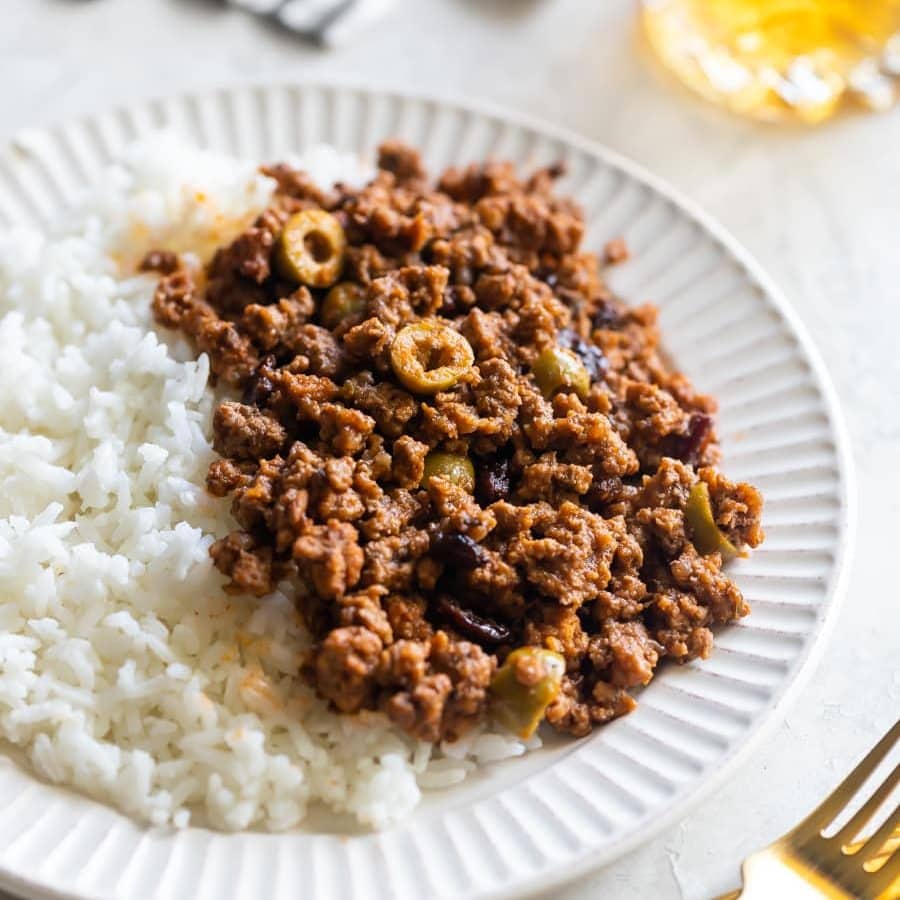 Easy Cuban Picadillo Recipe
A flavorful and easy Cuban picadillo recipe made with ground beef, tomato sauce, spices, olives, and raisins. Perfect + easy weeknight meal!
Ingredients
1 small onion finely chopped
1/2 green pepper finely chopped
3 cloves garlic minced
1 pound ground beef (or lean ground beef)
6 ounces tomato sauce
1 teaspoon ground cumin
1 teaspoon dried oregano
Salt and pepper to taste (start with 1/4 teaspoon then taste + adjust from there)
1/3 cup green olives cut in half
1/4 cup raisins
Instructions
In a large skillet, heat olive oil over medium heat. Add onions, green pepper, and garlic and cook for 1-2 minutes.

Add the ground beef and cook, breaking the meat apart, until no longer pink, about 5 minutes.

Turn the heat down to low. Add in tomato sauce, cumin, oregano, salt, and pepper. Simmer for 10-15 minutes, stirring occasionally, until the meat soaks up the delicious tomato sauce.

Remove the skillet from the heat. Stir in the green olives and raisins. Serve with white rice and enjoy!
Nutrition
Serving: 1 servingCalories: 292 kcalCarbohydrates: 19 gProtein: 36 gFat: 7.9 gSaturated Fat: 2.8 gCholesterol: 101 mgSodium: 338 mgPotassium: 795 mgFiber: 2.1 gSugar: 13 gCalcium: 37 mgIron: 23 mg
Tried it and loved it?
Snap a picture and share it with me on instagram @asassyspoon and by using the hashtag #asassyspoon!