Growing up in a Cuban family, you make arroz con leche for dessert all the time. Whether it's for Sunday dinner, a regular weekday, or Cuban Christmas, this creamy Cuban dessert is always a good idea.
My aunt sometimes makes Cuban rice pudding with a coconut twist and it's SO DELICIOUS. But this rice pudding is a flawless Cuban family recipe that we've enjoyed for years. It tastes so creamy that you'll want to devour it all in one sitting!
What is arroz con leche?
Arroz con leche is a sweet rice pudding made by cooking down the white rice with different milks, lemon zest, cinnamon, and salt until you get a creamy consistency.
There are tons of different versions of this recipe but this one is my Cuban family recipe.
Let me show you how to make it!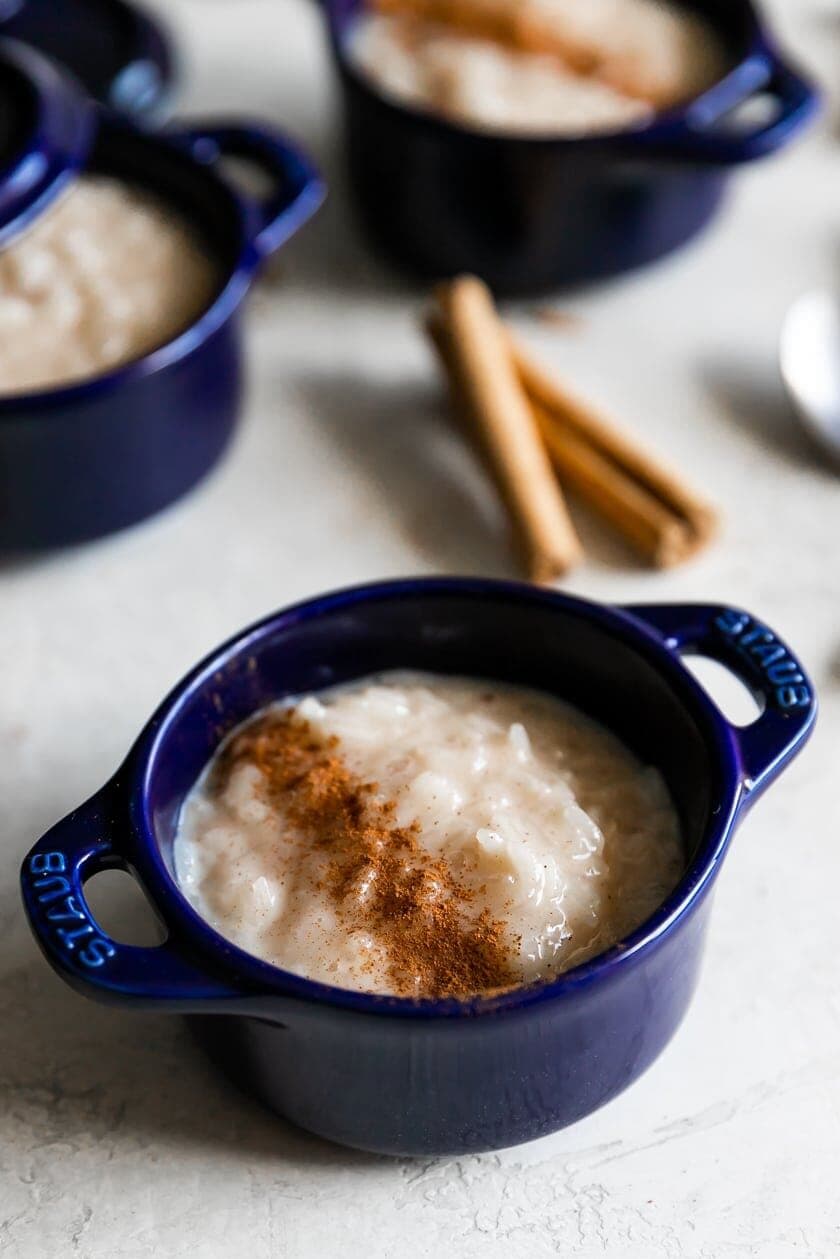 Ingredients You'll Need
Uncooked long-grain white rice: Technically, you can use any rice for this recipe. I prefer long-grain white rice but you can also use arborio rice.
Water: Needed for initially cooking the rice.
Zest from one lemon: Adds a lot of brightness to the rice pudding. You can also use orange zest or even an orange peel if you prefer.
Cinnamon: Adds a sweet, spicy, woody flavor to this dish.
Whole milk and sweetened condensed milk: Both of these cooked together will give the rice that delicious creamy consistency!
Vanilla extract + salt: The perfect flavor enhancers.
When you're done making this recipe, make my Cuban Buñuelos with Cinnamon-Anise Syrup!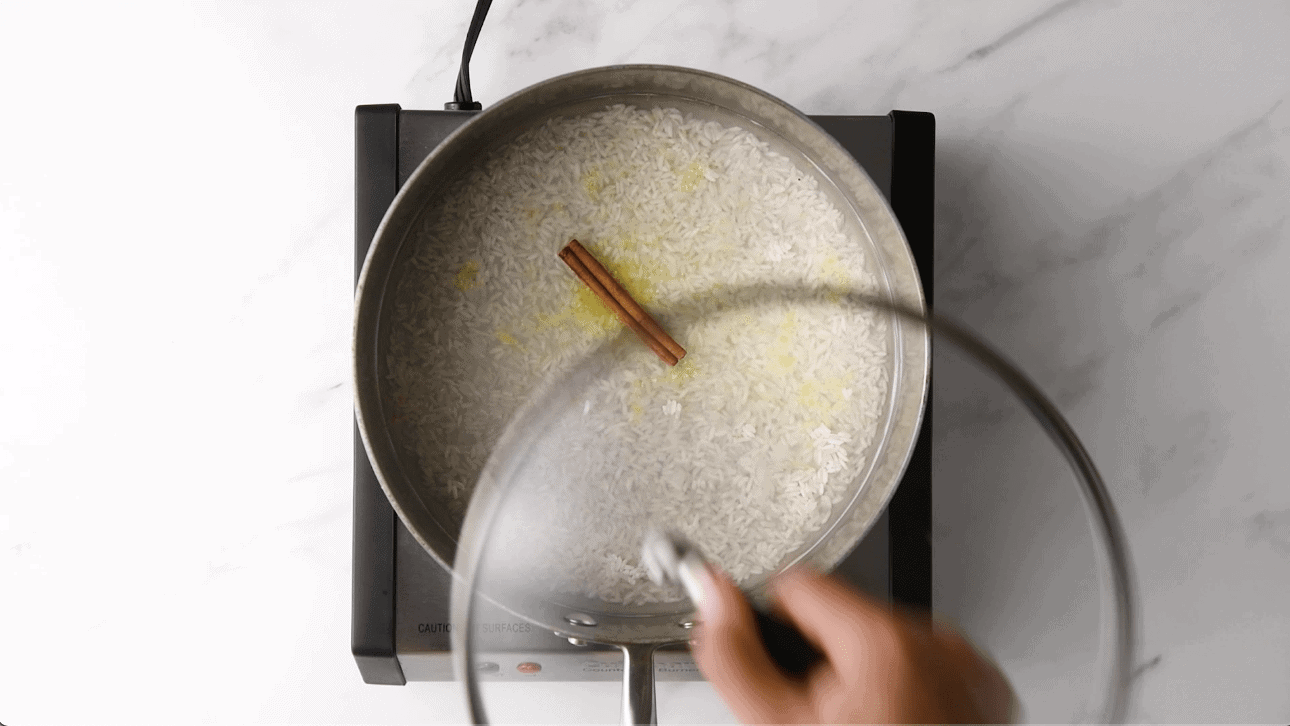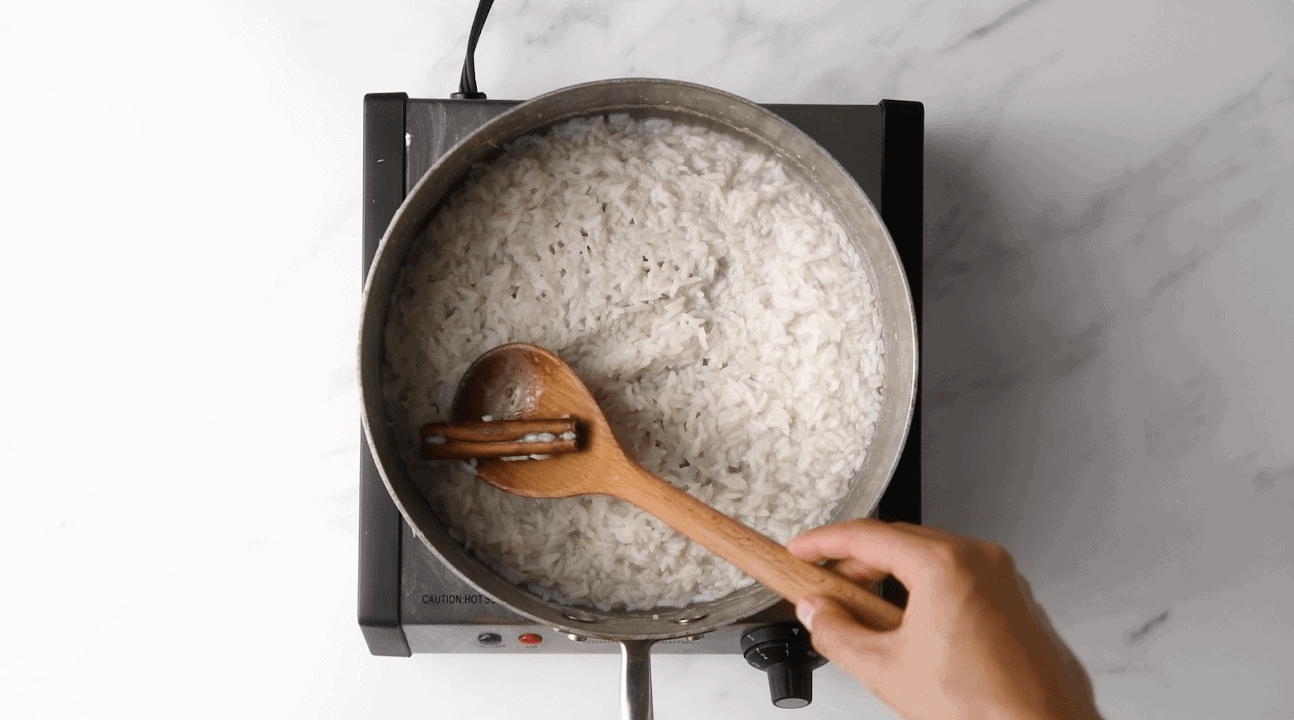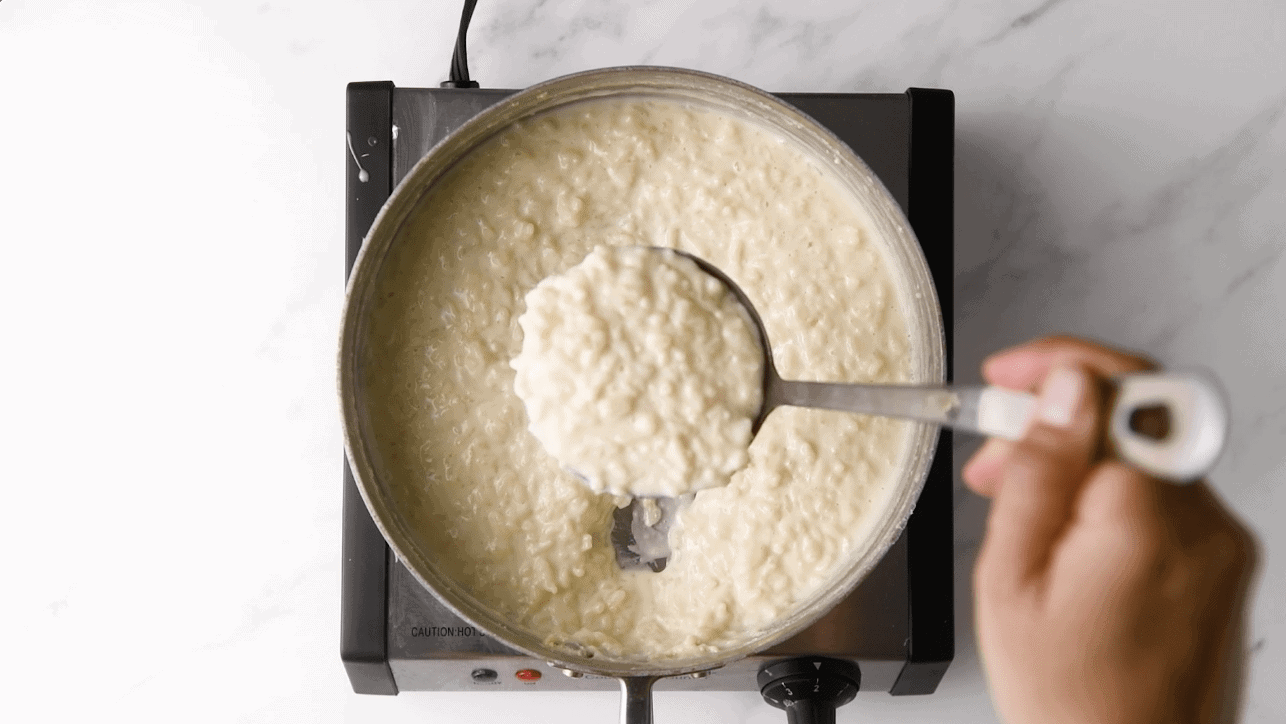 Recommended For This Recipe
These mini dutch ovens are absolutely precious! Oven safe and perfect for individual portions.
How To Make Cuban Arroz Con Leche
This Cuban rice pudding is simple to make and as deliciously creamy as I remember it to be as a kid. This is what cooking is all about after all. Attaching memories to food experiences and cooking adventures.
It's what I'll always remember about my childhood and what I, myself, strive to do in my own kitchen. Making arroz con leche is easy.
Cook the rice. You first cook the rice in a saucepan with water, lemon zest, and a cinnamon stick. After 10-15 minutes, the rice should be soft.
Add the milks. Drain any excess water and remove the cinnamon stick. Add milk, condensed milk, salt, and vanilla extract to the rice and cook for about an hour, stirring occasionally, until thick.
Serve in these adorable dark blue mini cocottes with ground cinnamon on top. That's all folks!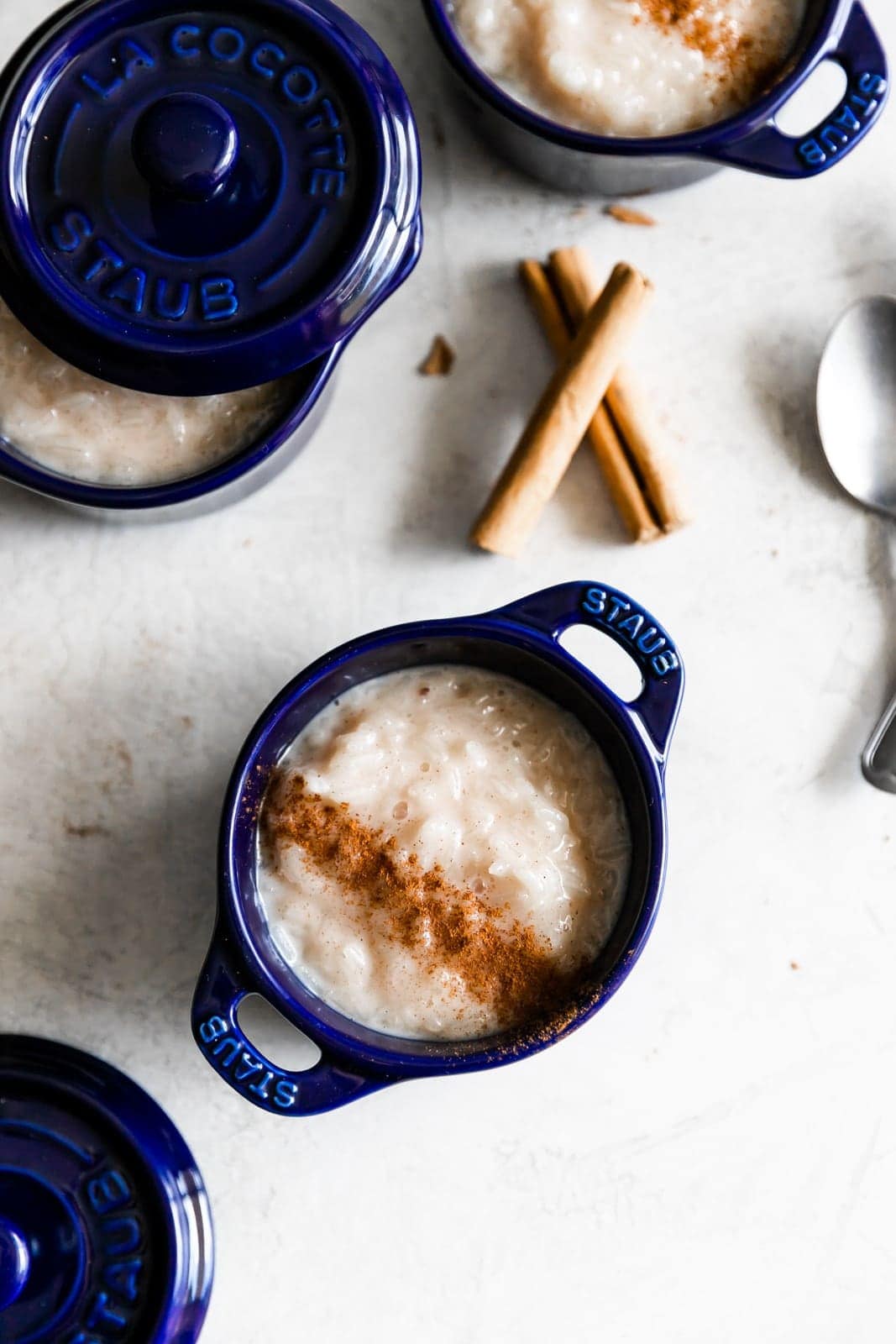 I hope you make this arroz con leche and LOVE it as much as we do!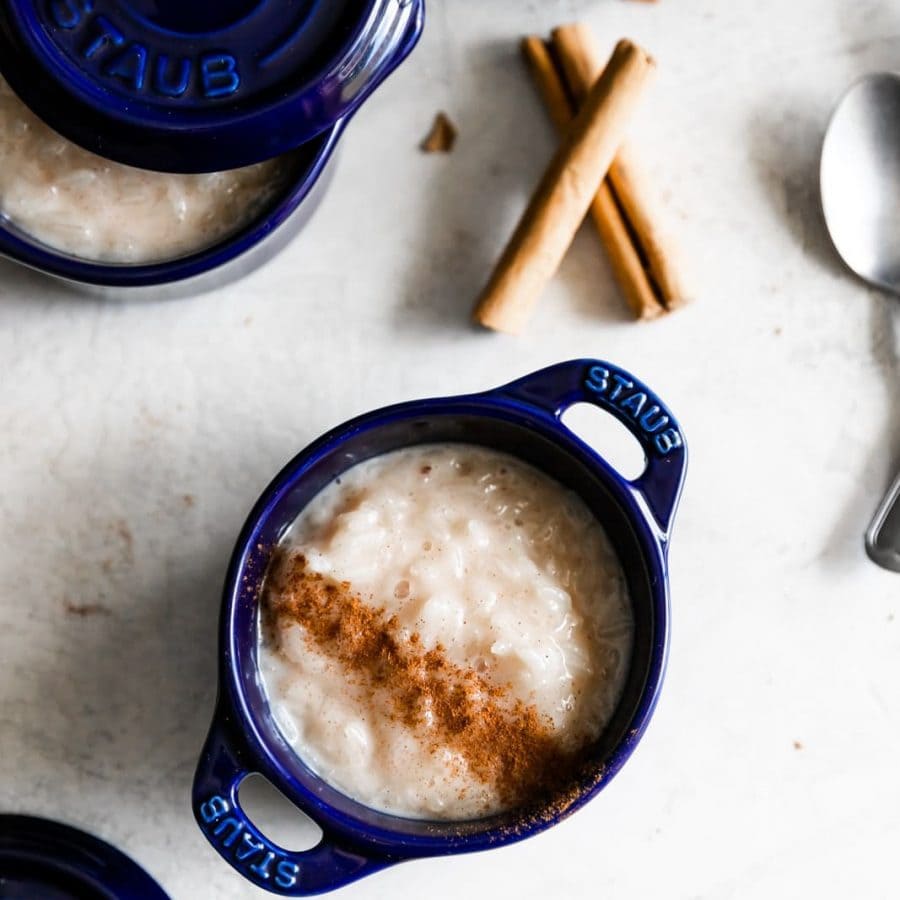 Arroz Con Leche (Cuban Rice Pudding)
Arroz con Leche is an easy-to-make, creamy Cuban rice pudding made with sweetened condensed milk, cinnamon, and lemon zest. The perfect dessert for any day of the week and it's unbelievably delicious!
Ingredients
1/2 cup uncooked long grain white rice
1 1/2 cups water
Zest from one lemon
1 cinnamon stick
2 cups whole milk
1 can sweetened condensed milk (14 ounces)
1/4 teaspoon salt
1 teaspoon vanilla extract
Ground cinnamon for garnish
Instructions
In a saucepan, add the rice with water, lemon zest and cinnamon stick. Cook until the rice is soft, about 10-15 minutes.

Remove the cinnamon stick and drain off any excess water. (Most of the water should be absorbed into the rice.) Place saucepan back on the stove.

Add milk, condensed milk, salt, and vanilla extract to rice and cook over low heat, uncovered, stirring occasionally until thick, for about 1 hour.

Remove from heat. Serve, sprinkle with ground cinnamon and enjoy!
Nutrition
Serving: 1 servingCalories: 393 kcalCarbohydrates: 64.6 gProtein: 10.8 gFat: 10.5 gSaturated Fat: 6.4 gCholesterol: 38 mgSodium: 245 mgPotassium: 466 mgFiber: 0.2 gSugar: 52.9 gCalcium: 270 mgIron: 0.9 mg