Have you ever had tamales? They're SO bomb.
You wanna know what else is bomb too? Tamal Casserole aka Tamal en Cazuela!
What is Tamal en Cazuela?
Tamal en cazuela [pronounced tah-mahl en kah-sweh-lah] is essentially Cuban tamales in stew form. A stovetop tamal, if you will.
Cuban tamales are made with cornmeal dough and roast pork that is wrapped up in corn husks.
So imagine all the delicious flavors of Cuban tamales without all the chore of making the actual tamales which can be very time-consuming. HECK YEAH!
Just picture tender, braised mojo-marinated pork chunks cooked in a sweet and savory cornmeal and tomato-based stew. YUM!
This traditional stew is similar to a porridge or polenta-like consistency; it's thick, smooth but not gritty. And as with most Latin American dishes, everyone has their own variation. This one is my Cuban family's recipe.
Let me show you how to make it!
Ingredients You'll Need
Boneless pork shoulder. I like boneless so it's easier to cut into pieces. You can also use leftover lechon asado (Cuban roast pork). I wouldn't recommend pork butt since it has more fat than pork shoulder.
Mojo marinade. This citrus marinade is made of orange, lemon, and lime juice, amongst other ingredients, and it gives the pork that classic Cuban citrus flavor. You can use the store-bought kind or make your own using this recipe.
Finely ground yellow corn meal + Cream-style sweet corn. The traditional way to make this recipe is to use real corn kernels and fresh ground corn however, my goal is always to make recipes that are approachable and accessible to anyone in the country. After testing a few variations, I found that using a mixture of finely ground yellow corn meal with creamy canned sweet corn provided a great consistency and delicious flavor.
Olive oil.
Salt, ground cumin, black pepper.
Sofrito. Green peppers, onions, and garlic. The base of most Cuban dishes!
Spanish cooking wine.
Tomato sauce.
Water.
Chopped parsley for garnish.
How To Make Tamal en Cazuela
Don't let this recipe intimidate you! This recipe cooks low and slow and the result will be well worth the wait.
Marinate the pork. In a bowl, add the pork and the mojo marinade. Cover the bowl with plastic wrap. Marinate for 1 hour.
Start the corn puree. In a food processor, pulse the cornmeal, cream-style sweet corn, salt, cumin, and black pepper until you get a thick consistency. Set aside.
Brown the pork. In a large pan or Dutch oven, heat olive oil at medium-high heat. Remove pork from marinade and pat dry with paper towels. Brown the pieces of pork on all sides, in batches, for about 8-10 minutes. Remove the cooked pork pieces with a slotted spoon. Set aside.
Sauté the sofrito. In the same Dutch oven with the pork drippings, add the onions and green peppers. Sauté at medium heat until tender, about 5 minutes, then add the minced garlic. Sauté for 1 minute.
Add the rest of the ingredients. Next, stir in corn mixture from the food processor, cooked pork pieces, dry cooking wine, tomato sauce, and water. Reduce heat to low.
Simmer and stir! Simmer for 30-35 minutes, at low heat, until the mixture has thickened, stirring regularly to keep the mixture from sticking to the bottom of the Dutch oven. When your wooden spoon can stand up straight in the Dutch oven, it's ready. Taste and adjust salt again.
Serve immediately with white rice, sweet plantains, and/or sliced avocado.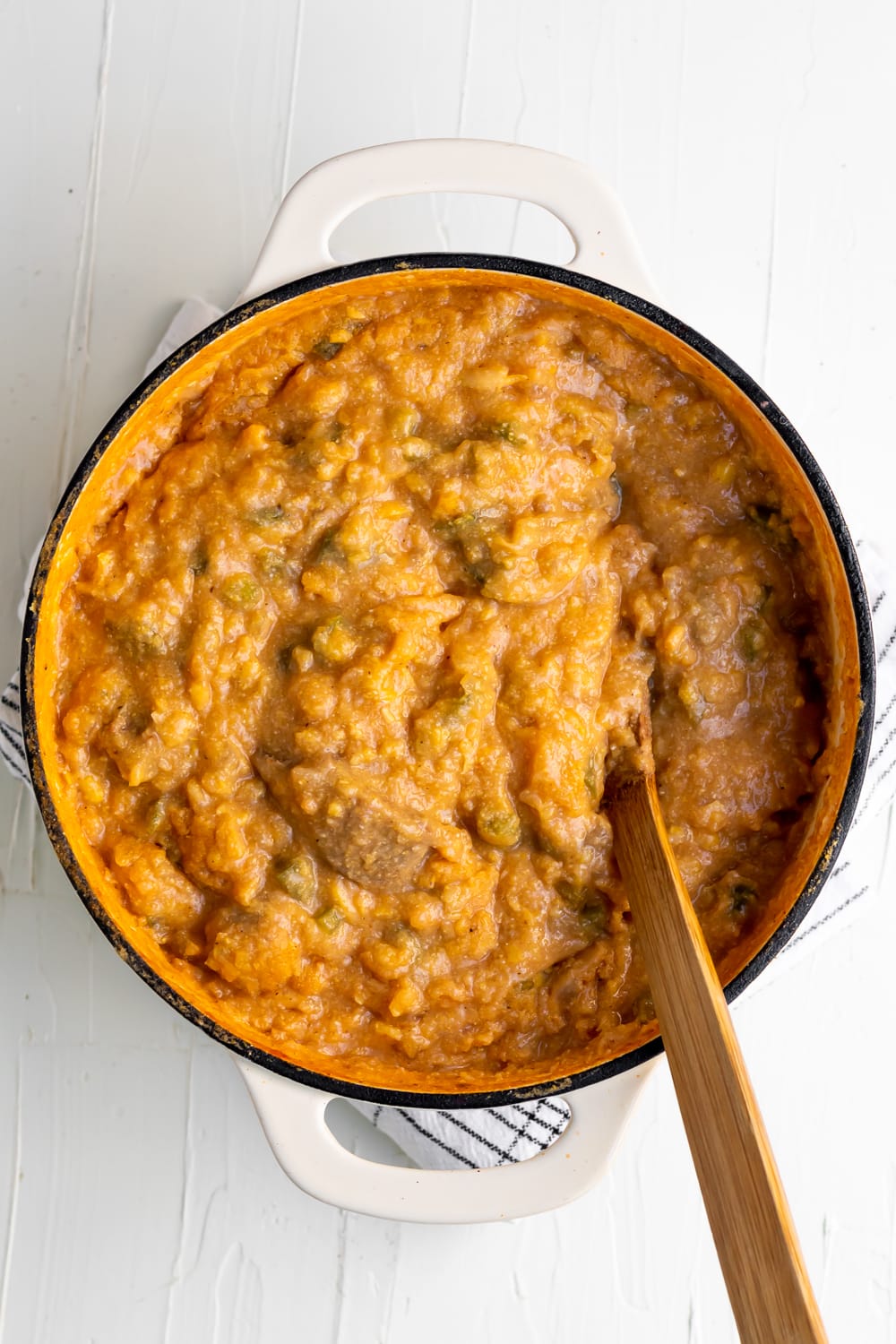 Tips & Tricks
Stir regularly. The tamal mixture can stick to the bottom of the pot and burn very quickly so don't forget to stir.
Make sure it's a thick consistency. The consistency should be smooth and thick like porridge or polenta rather than runny or gritty. If the stew is not thick, stir in cornmeal in 1/4 cup increments (or less) until thickened. If it's too thick, add water in 1/4 cup increments (or less) until smooth. Eye ball it until you get a perfectly thick consistency.
Wooden spoon trick. This trick will help you figure out when the tamal en cazuela is ready. When you place a wooden spoon in the middle of the pot and it can stand up straight on its own, it's ready!
Storage Tips
You can transfer any leftovers to an airtight container and place them in the fridge for up to 4 days. I would not recommend freezing this dish as it will not freeze well.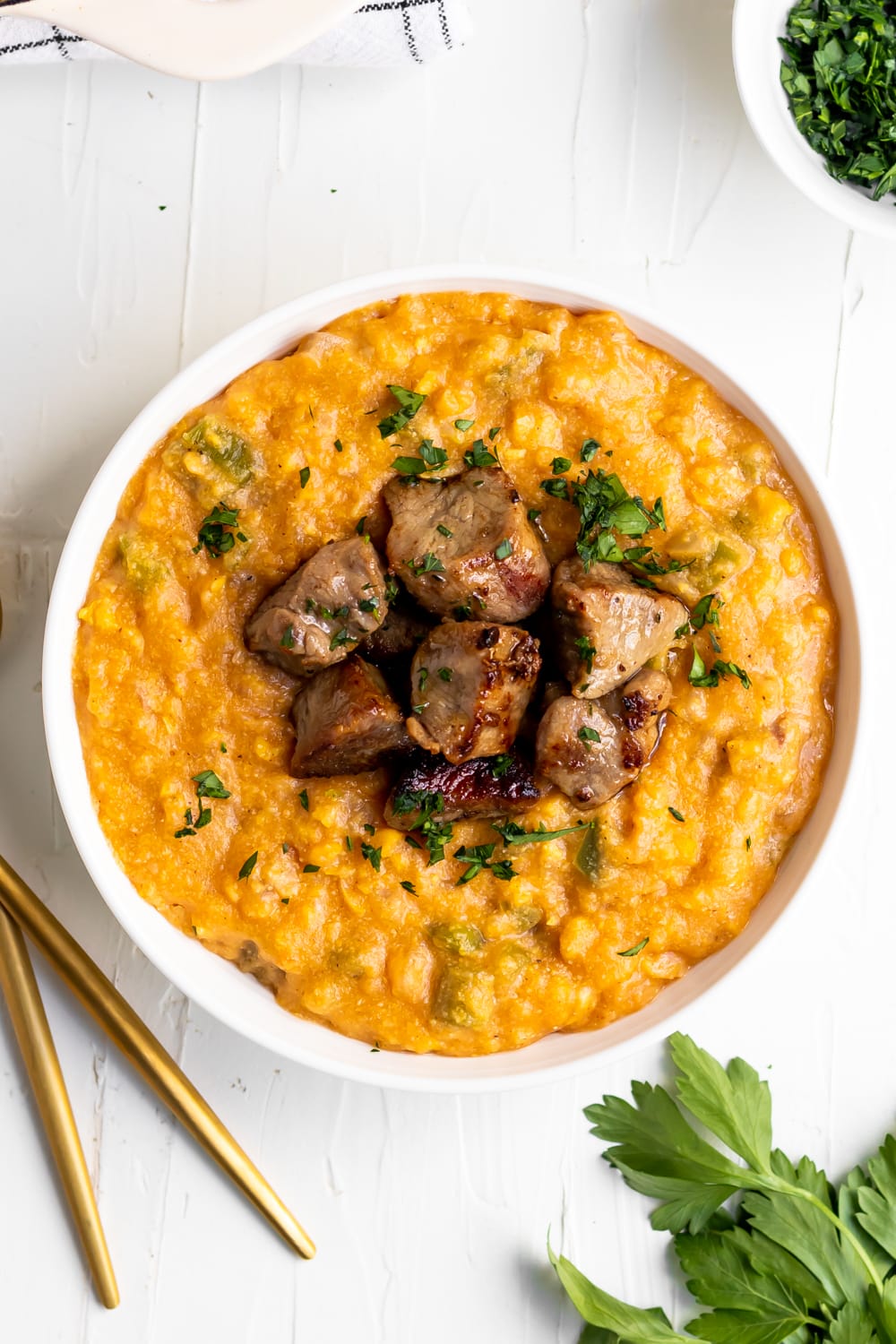 You may also like: