I'll be honest, the main reason I own a slow cooker is for pulled pork. Ha! That may or may not be true. Pulled pork is so easy to make in a slow cooker – it practically makes itself!
I leave the slow cooker on overnight, cooking on low, and wake up to a delicious smelling home. It's one of the best recipes to make for a crowd. I make it for my friends all the time!
This pulled pork recipe tastes smoky and savory, tender, juicy. It's just the best in every way!
Let me show you how to make pulled pork in the slow cooker.
By the way, I got this pork from Butcher Box!
ButcherBox is a service that curates boxes of grass-fed, no-hormone-added, humanely raised beef, chicken, pork, salmon, and sustainable seafood delivered right to your door. I've been receiving my boxes for years now and I have no complaints. They always have specials – like free bacon or free ground beef so you gotta check them out! Click here for more info! [affiliate link]
If you wanted to make pork in the oven instead of the slow cooker, you can make my Cuban roast pork (lechon asado) which I make with my Cuban mojo marinade. YUM!
Ingredients You'll Need
The spice mix for the pulled pork is:
Other ingredients:

Recommended For This Recipe
This 6 quart crockpot allows you to program your cook time and has a locking lid which is perfect for taking your dish to any get-together.
How To Make Pulled Pork From Scratch
If you plan on adding your favorite BBQ sauce to the pulled pork, you can toss the pork in the BBQ sauce in the ceramic dish and leave it on the warm setting until ready to serve. I recommend you use guava bbq sauce or my honey whiskey bbq sauce (scroll down for the recipe).
Common Questions about Slow Cooker Pulled Pork
What is the best cut of meat for pulled pork?
I recommend using Boston butt or pork shoulder since they have the most flavor!
How long does pulled pork last in the fridge?
Pulled pork lasts 4-5 days in the fridge in an airtight container.
Can you freeze leftover pulled pork?
Yes, you can freeze pulled pork for up to 3 months. Make sure to store the leftover shredded pulled pork in a large resealable freezer bag being sure to take out as much of the air as you can before sealing.
Can you make slow cooker pulled pork ahead of time?
Yes, you can place the pork in the ceramic dish of the slow cooker and keep it in the fridge until the next day. When you're ready to cook the following day, remove the ceramic dish from the fridge and place it on the slow cooker. I like to do this the morning before and then on that same day at night, I start cooking late at night (around 11 pm) so the pork is ready by 7 am the following day.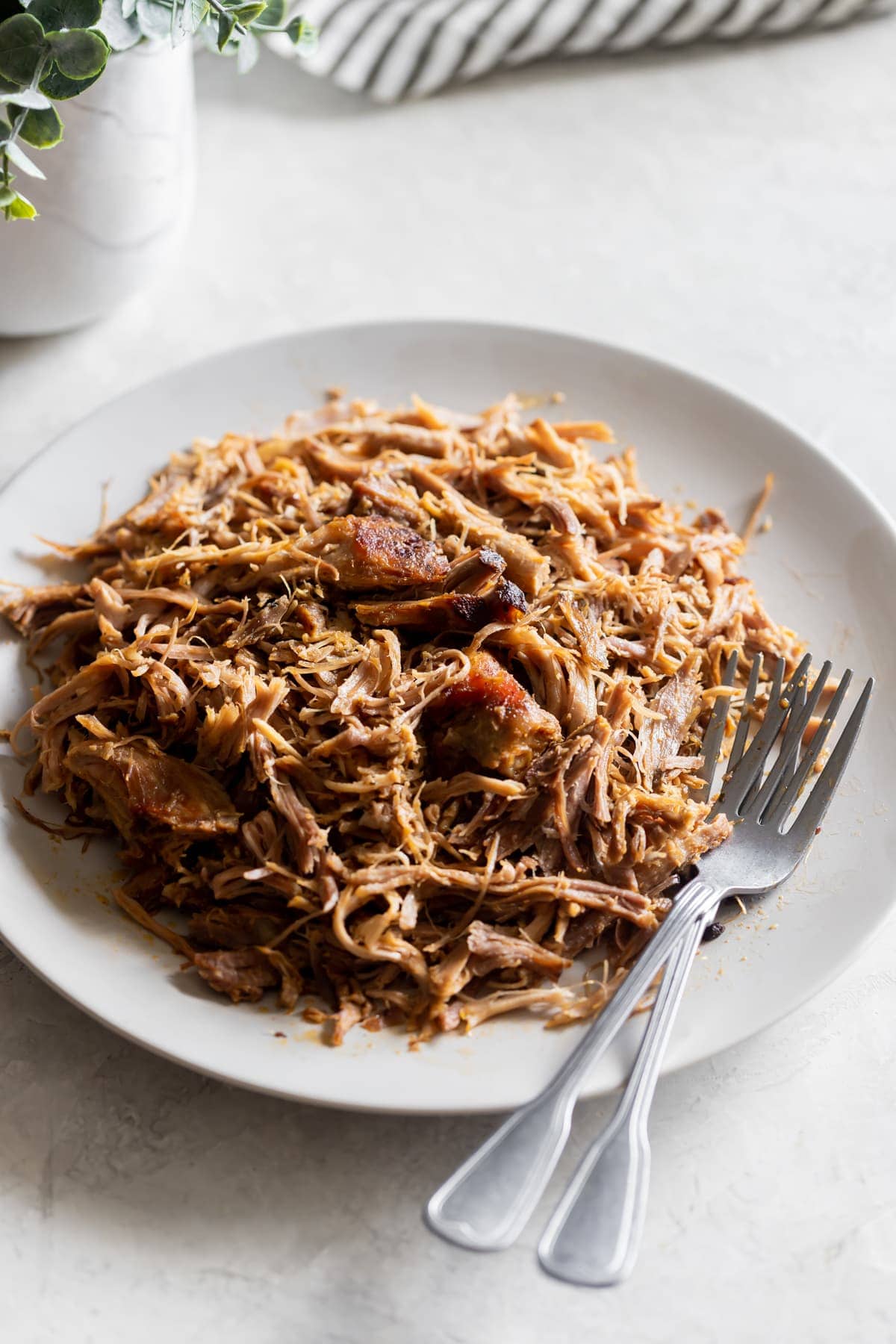 You may also like: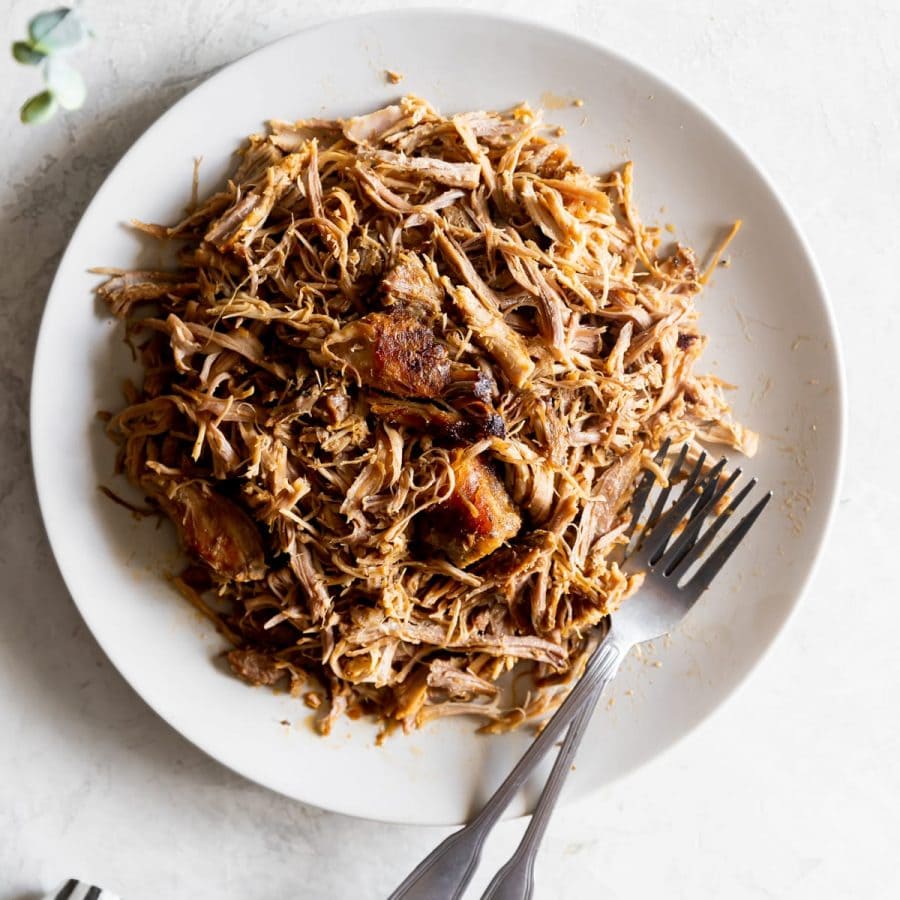 Slow Cooker Pulled Pork
Slow cooker pulled pork made with bone-in pork butt, smoky spices, and dark beer. The pork butt is slow-cooked to tender, fall-off-the-bone, juicy perfection. Practically cooks itself!
Ingredients
3 tablespoons smoked paprika
2 tablespoons brown sugar packed
1 tablespoon garlic powder
1 teaspoon onion powder
1/2 teaspoon oregano
1/2 teaspoon cumin
12 ounces dark beer
2 teaspoons liquid smoke
5.5 lbs bone-in pork roast (pork shoulder or Boston Butt)
Salt + pepper to taste
Guava BBQ Sauce (or your favorite bbq sauce)
Instructions
In a bowl, mix together the paprika, brown sugar, garlic powder, onion powder, oregano, cumin, and salt + pepper to taste. Set aside.

Poke holes in the roast with a knife. Place the roast in the ceramic dish of the slow cooker and pour the beer over it. Rub the spice mix over the pork roast and cover the ceramic dish with the lid.

Cook the pork roast in the slow cooker on LOW for 8 hours, or until fork-tender. Slow cooker times will vary so I'd recommend you check the manufacturer's instructions for your slow cooker.

Once done cooking, remove the bone using tongs. Drain the liquid from the ceramic bowl and save 1 cup of the liquid.

Using two forks, pull apart the meat into shreds, removing the fatty pieces (unless you like it, you can leave it in), and taste/adjust seasoning as needed.

After shredding the pork, add the cup of liquid back into the ceramic dish and cook on LOW for another 30 minutes. This will result in deliciously moist and tender pulled pork. Serve and enjoy!

If you plan on adding BBQ sauce to the pulled pork, you can toss the pork in the BBQ sauce in the ceramic dish and leave it on the warm setting until ready to serve.
Nutrition
Serving: 1 servingCalories: 440 kcalCarbohydrates: 5 gProtein: 42 gFat: 26 gSaturated Fat: 9 gCholesterol: 131 mgSodium: 109 mgPotassium: 802 mgFiber: 1 gSugar: 2 gVitamin A: 879 IUVitamin C: 1 mgCalcium: 47 mgIron: 2 mg
Originally posted in Sept 2016. Updated recipe + photos in March 2021.
---
How To Make Honey Whiskey BBQ Sauce
1/4 cup onion, chopped
2 cloves garlic, minced
1/2 cup honey whiskey (I used Jack Daniels Tennessee Honey)
1/3 cup tomato paste
1 cup dark brown sugar
1 tablespoon Worcestershire sauce
2 tablespoons honey
1 tablespoon apple cider vinegar
1 teaspoon smoked paprika
In a saucepan, cook the onion and garlic, low and slow, at medium-high heat, until the onions are translucent. Carefully pour honey whiskey into the saucepan. Once reduced slightly, add tomato paste, dark brown sugar, Worcestershire sauce, honey, apple cider vinegar, and smoked paprika. Let simmer for around 30-45 minutes until reduced. It should be thick enough to coat the back of a wooden spoon, but still pourable.