Forget takeout. Make Cauliflower Shrimp Fried Rice at home using riced cauliflower, carrots, peas, onions, garlic, and coconut aminos in just 15 minutes!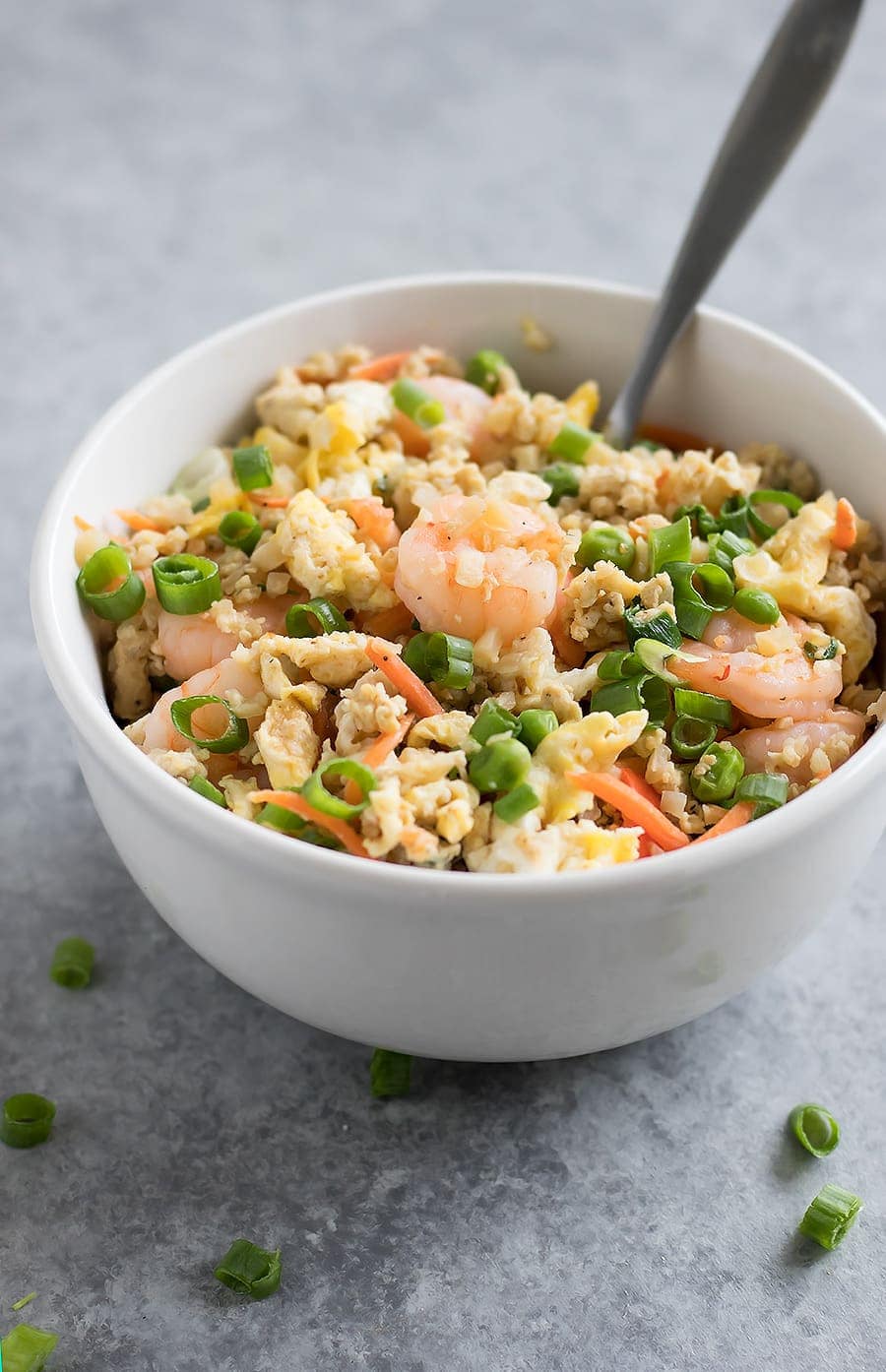 I'll never forget the first time I tried cauliflower rice. I cried. It was so gross. I didn't understand why everyone loved it so much.
You have to understand, I didn't grow up eating veggies. That was not a staple in my Cuban household.
Cauliflower rice?! What?! That would be an insult in my parent's kitchen. Read more here.
Experimenting in the kitchen today, I attempted to make a simple shrimp fried rice (one of my faves) without the massive amounts of sodium.
I used cauliflower rice instead of regular rice but thanks to the coconut aminos – I didn't cry!
Coconut aminos, which is a great soy sauce substitute, was delicious. It made the cauliflower rice so flavorful.
Chinese takeout is a fave of mine but I hate how I feel when I eat it. The next day, I'm so bloated from all the sodium and tired from the MSG.
It's no fun.
So I'm happy to have a healthier alternative like this Cauliflower Shrimp Fried "Rice".
As I always do, I tried to simplify the steps as much as possible so you can make everything in a cast-iron skillet.
Less dishes, more happiness – am I right!?
I gotta say, I was IMPRESSED with this cauliflower rice. Sure, it's not white rice but it sure does come close! I think my parents would actually accept it in their house now. Or I'll make them like it. Ha! ;)
Seriously though, A+ for this meal!
Can't wait for you guys to try it!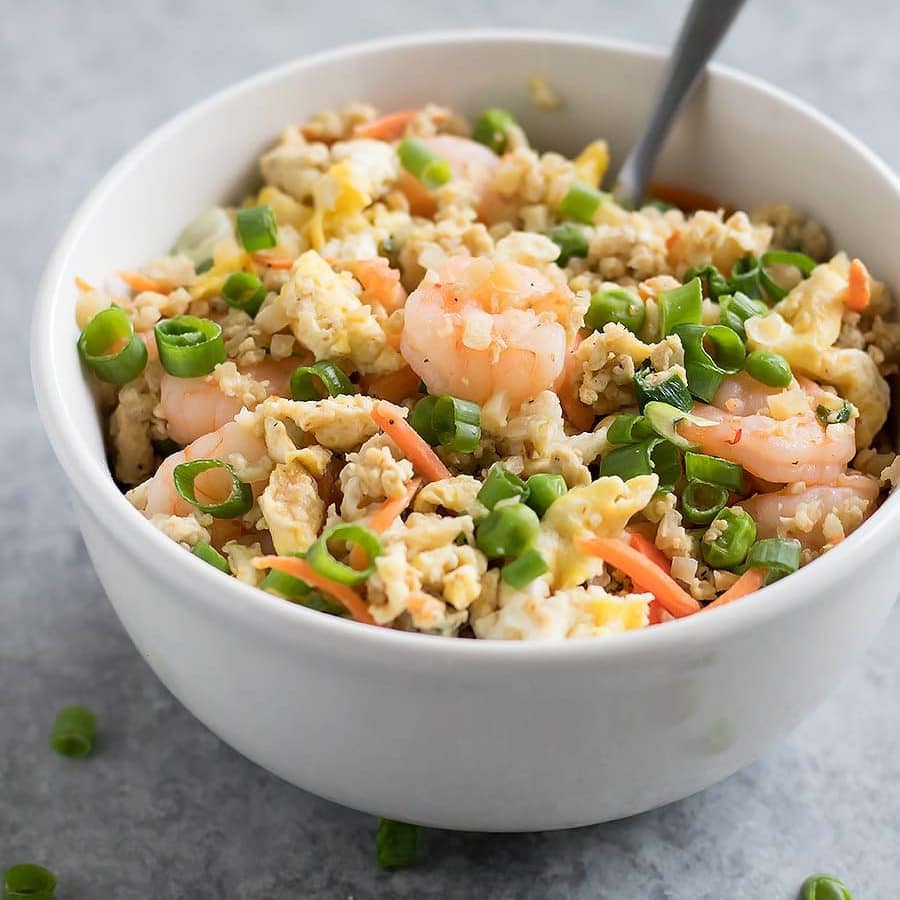 15-Minute Shrimp Fried Cauliflower Rice
Forget takeout. Make a healthy version of shrimp fried rice at home using riced cauliflower, shrimp, and veggies in just 15 minutes!
Ingredients
1 tablespoon sesame oil
1/2 cup onion chopped
2 cloves garlic minced
1 pound shrimp rinsed, peeled and deveined
1 cup carrots shredded (you can also chop regular carrots too)
1 cup frozen peas (omit if paleo)
4 cups riced cauliflower
2 tablespoons coconut aminos or low-sodium soy sauce, if not paleo
2 eggs beaten
salt + pepper to taste
sliced green onions for garnish
Instructions
In a skillet, heat up sesame oil and onion. Sauté for 3 minutes over medium-high heat until the onions are translucent. Add garlic and shrimp. Cook for 2 minutes, or until the shrimp is light pink/cooked.

Add carrots, peas (if using), riced cauliflower, and coconut aminos. Mix all together and cook for another 2-3 minutes.

Now, push the rice mixture to sides of skillet, leaving a hole in the center. Add whisked egg to center of pan and cook for 1 minute.


Using a spatula, stir the egg to scramble then mix with the rest of the rice mixture. Season with salt and pepper to taste. Serve with green onions as garnish. Enjoy!
Nutrition
Serving: 1 servingCalories: 374 kcalCarbohydrates: 10.9 gProtein: 69.3 gFat: 5.6 gSaturated Fat: 0.5 gCholesterol: 340 mgSodium: 1521 mgPotassium: 147 mgFiber: 3.4 gSugar: 4.4 gCalcium: 140 mgIron: 2.3 mg
I hope you make this and LOVE it!