Fresh, juicy, smokey, spicy, blackened mahi-mahi sandwich (aka dolphin sandwich) on a kaiser roll with lettuce, tomato, and mashed avocado!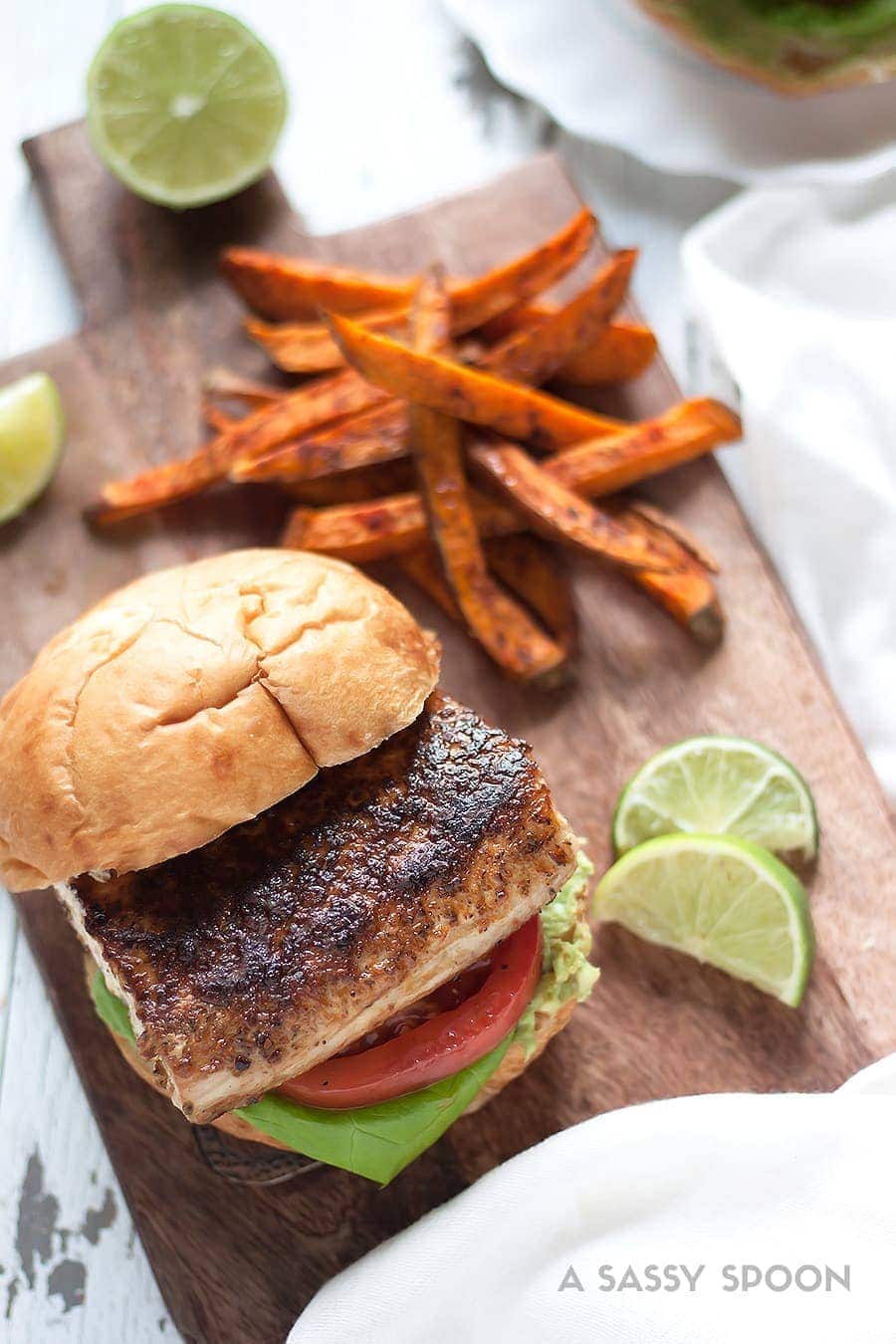 One of my favorite restaurants ever in this world is this seafood & bar place named Flanigan's, located only in Florida. If you're ever in town, FIND ONE. Nothing but fresh, delicious seafood, juicy burgers, wings, fall-off-the-bone ribs, curly fries, desserts, and beer. I mean, what's not to love.
When I'm not having wings or ribs (which are my usual go-to items), I opt for fish. Always. Always fish. Did we already establish that I'm obsessed with seafood? I swear if there was wifi on an island, I could totally survive just by eating fish all day. I'd probably die without the wifi though. Not even joking.
The dolphin sandwich at Flanigan's is always a bit spicy, a little smokey and has the most perfect texture every time. I just had to recreate it!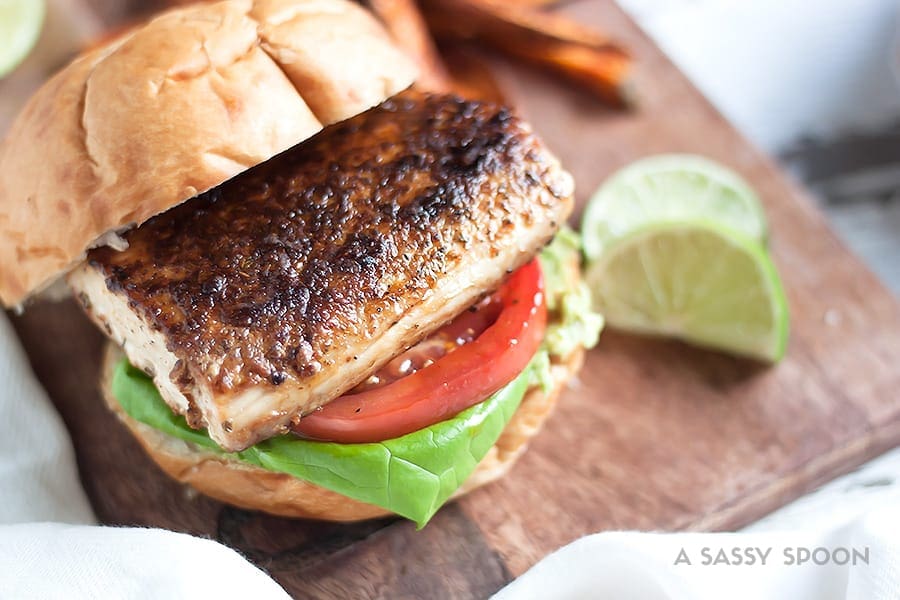 Mahi mahi (dolphin) fillets are pretty easy to make. I always thought you could only make them in the oven but it's literally done in just 8 minutes on a skillet. A little olive oil, pan sear, and done!
You can use kaiser rolls or pretzel rolls. Any bread, really. Also, tartar sauce is a good choice OR you can use mashed avocado instead of mayo. I'm not a fan of mayo so mashed avocado is the next best thing!
Finally, pair the blackened mahi-mahi sandwich with sweet potato fries. The best decision you'll make all day.
Recommended For This Recipe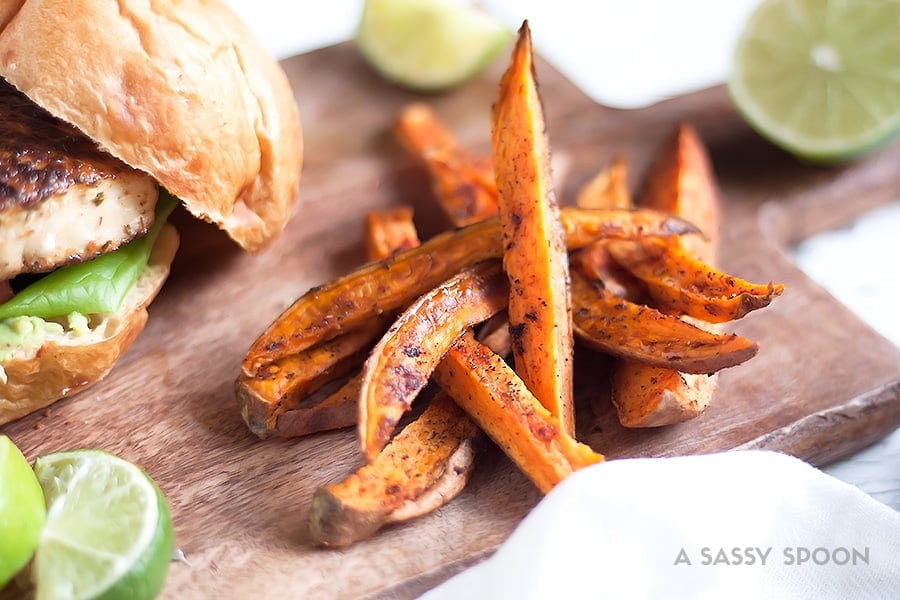 PLEASE make this recipe. I'd LOVE to see it and I know you will LOVE it!
Other recipes you may like: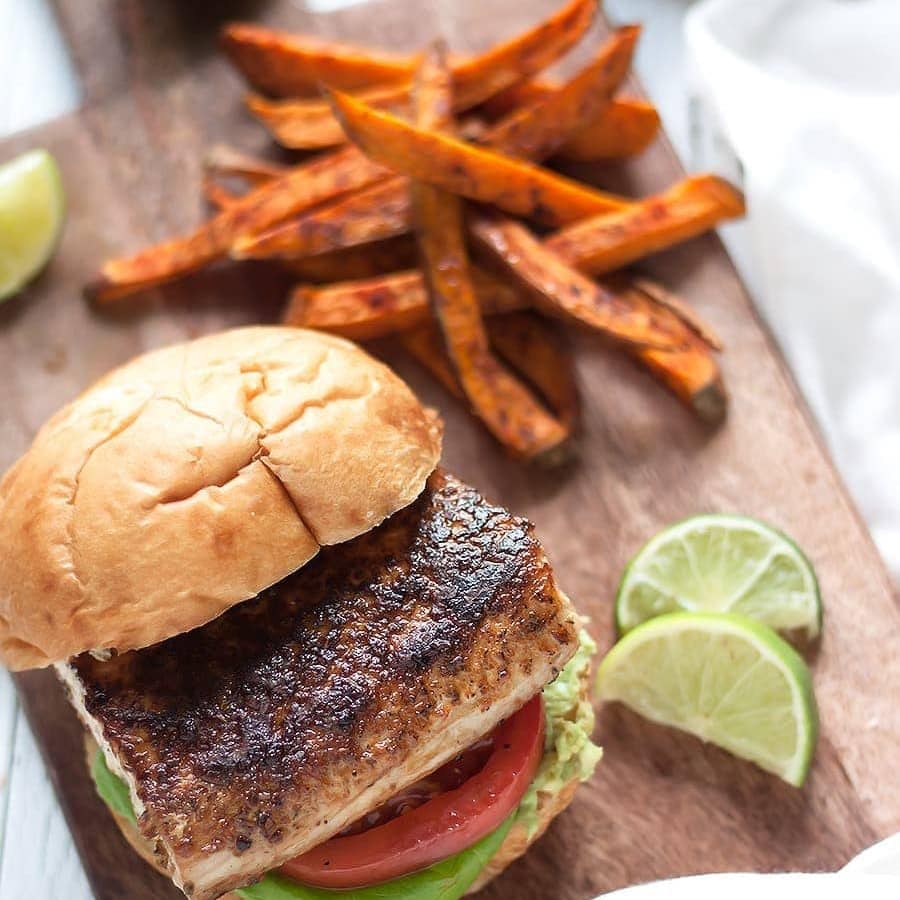 Blackened Mahi Mahi Sandwich
Fresh, juicy, smokey, spicy, blackened mahi mahi sandwich (aka dolphin sandwich) on a kaiser roll with lettuce, tomato and mashed avocado!

Ingredients
Blackened Mahi Mahi Sandwich
4 mahi mahi fillets
1 tablespoon smoked paprika
1 teaspoon cayenne
1 teaspoon chili powder
1/2 teaspoon cumin
1/2 teaspoon oregano
1 teaspoon salt
1 teaspoon pepper
2 tablespoons olive oil extra virgin
1 small Hass avocado mashed
4 kaiser rolls
1 small tomato sliced
1 cup lettuce leaves (any kind: romaine, spinach, bibb)
Sweet Potato Fries
2 large sweet potatoes cut into fries
1 tablespoon olive oil
salt, pepper, smoked paprika to taste
Instructions
Sweet Potato Fries
Preheat oven to 450 degrees F. In a bowl, toss sweet potato fries with olive oil, salt, pepper and smoked paprika. Bake until tender, about 20 minutes.
Blackened Mahi Mahi
Combine the paprika, cayenne, chili powder, cumin, oregano, salt and pepper in a small bowl. Lay the mahi mahi filets on a clean work surface and sprinkle the spice mix evenly over each filet, rubbing it on all sides.

In a non-stick skillet set over medium-high heat, heat 1 tablespoon of oil. Add 2 of the mahi mahi filets and cook, undisturbed until they're just beginning to blacken, about 4 minutes. Flip the filets and cook for another 4 minutes. Transfer to a plate. Add the remaining tablespoon of oil to the pan and swirl to coat. Repeat the cooking process with the remaining 2 filets. Set aside.

Slice the kaiser rolls. Spread mashed avocado on each roll then add lettuce, tomato and mahi mahi fillet. Serve with sweet potato fries. Enjoy!
Notes
If you're looking for a quick dipping sauce for the sweet potato fries, make Chipotle Aioli Sauce by mixing mayo, minced garlic, lime juice, and chili powder in a bowl. You can also serve with ranch or BBQ sauce.
Nutrition
Serving: 1 sandwichCalories: 391 kcalCarbohydrates: 44.6 gProtein: 37.2 gFat: 12 gSaturated Fat: 1.5 gCholesterol: 80 mgSodium: 1031 mgPotassium: 155 mgFiber: 4.7 gSugar: 5.3 gCalcium: 70 mgIron: 4.3 mg