Deliciously sweet rice Krispie treats made with guava marmalade marshmallow cream, guava paste, and crumbled Maria cookies!
Hello old friend. It's been a while. I've made TONS of things with you. No, not you. I'm talking about guava. hehehe.
When you grow up in a Cuban household, you eat guava, cream cheese, and maria cookies ALL. THE. TIME. Either Cuban crackers with guava and cream cheese or Maria cookies with a slab of guava.
The possibilities are endless.
Recently, I saw an episode of Unique Sweets where they featured one of Miami's sweet bakeshops.
This bakeshop makes rice Krispie treats with guava. WHAAAT.
Fruity rice Krispie treats!
This is one of my favorite non-stick baking dishes! It is so easy to clean and cooks super evenly.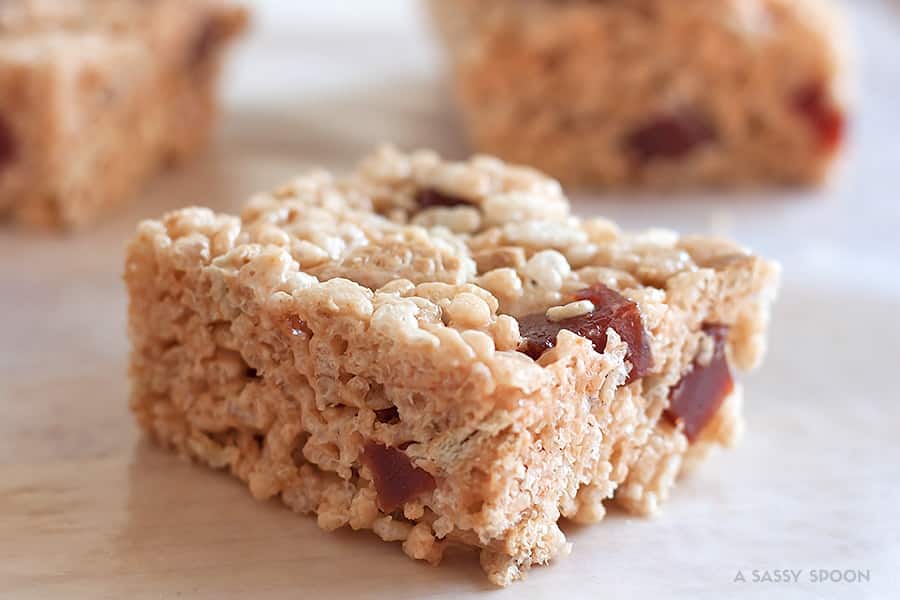 WHY HADN'T I THOUGHT OF THIS!?
They mix guava marmalade with melted marshmallows then add the rice cereal, cubes of guava paste, and crumbled Maria cookies.
Press all that into a pan, cut, serve, and then TRY not to devour the entire pan.
OH. MY. HEAVENS.
Of course, as soon as I saw that, I HAD to recreate it! I've made two batches already and, in case you were wondering, yes it took all of the will power on the planet not to eat the entire pan.
What do they taste like? Sweet, ooey gooey chewy, tart, and tangy.
A tropical explosion in your mouth. OH YEAH.
Why not give this a spin…you may actually love this new fruity concoction. ;)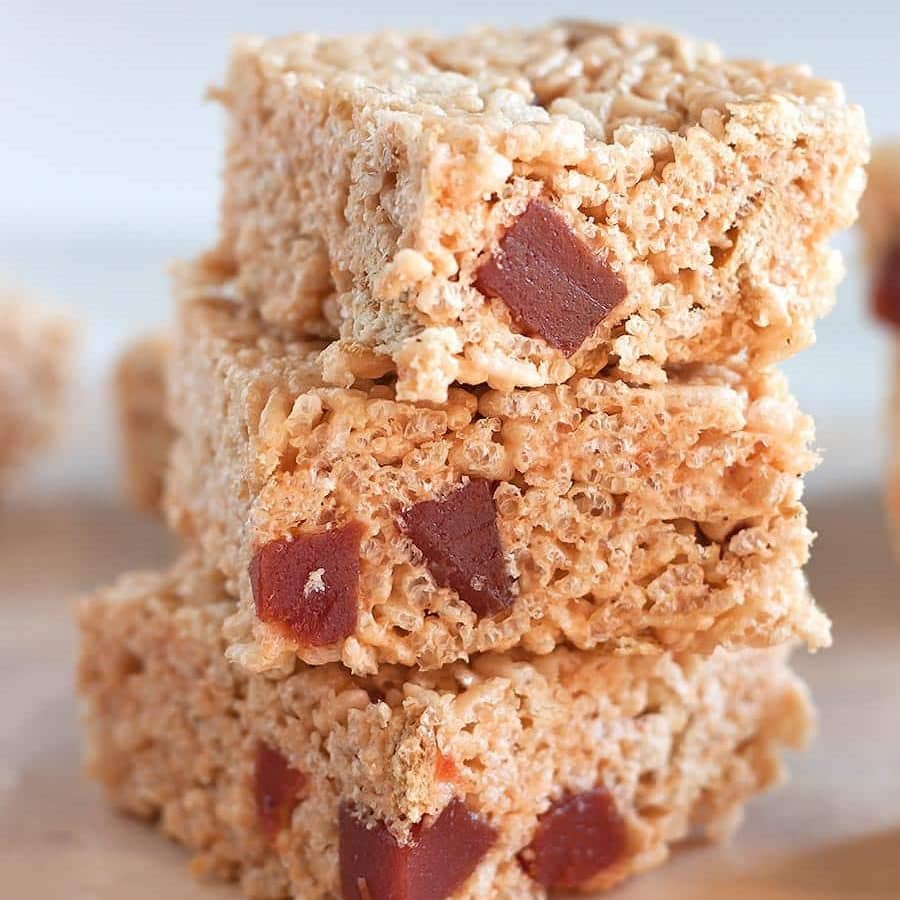 Guava Rice Krispie Treats with Maria Cookies
Deliciously sweet treats made with crispy rice cereal, guava marmalade marshmallow cream, cubes of guava paste and crumbled Maria cookies!

Ingredients
2 tablespoon unsalted butter
2 cups mini marshmallows
1/3 cup guava marmalade
3 cups rice cereal
1/4 cup guava paste cubed
8 Maria cookies (or tea biscuits) crumbled
Instructions
Spray a 8×8 pan with cooking spray. Set aside.

In a saucepan, melt butter on low heat. Add marshmallows and stir until melted. (You can also microwave the butter and marshmallows for 1 minute on HIGH, if you prefer)

Remove from heat. Add guava marmalade and mix until the marshmallows turn into a pinkish red colored cream. Immediately mix in the rice cereal, cubes of guava paste, and crumbled Maria cookies. Stir until all is well combined.

Spray a spatula with cooking spray and transfer the mixture into the pan, pressing down evenly. Let cool. Cut into 9 or 12 squares and serve.
Nutrition
Serving: 1 rice krispie treatsCalories: 179 kcalCarbohydrates: 33 gProtein: 1 gFat: 5 gSaturated Fat: 2 gCholesterol: 8 mgSodium: 141 mgPotassium: 33 mgFiber: 1 gSugar: 16 gVitamin A: 252 IUVitamin C: 3 mgCalcium: 40 mgIron: 3 mg
You may also like: