Pastelitos de Guayaba + Queso! Cuban pastries (turnovers) made with puff pastry and filled with guava paste and cream cheese. Just 4 ingredients!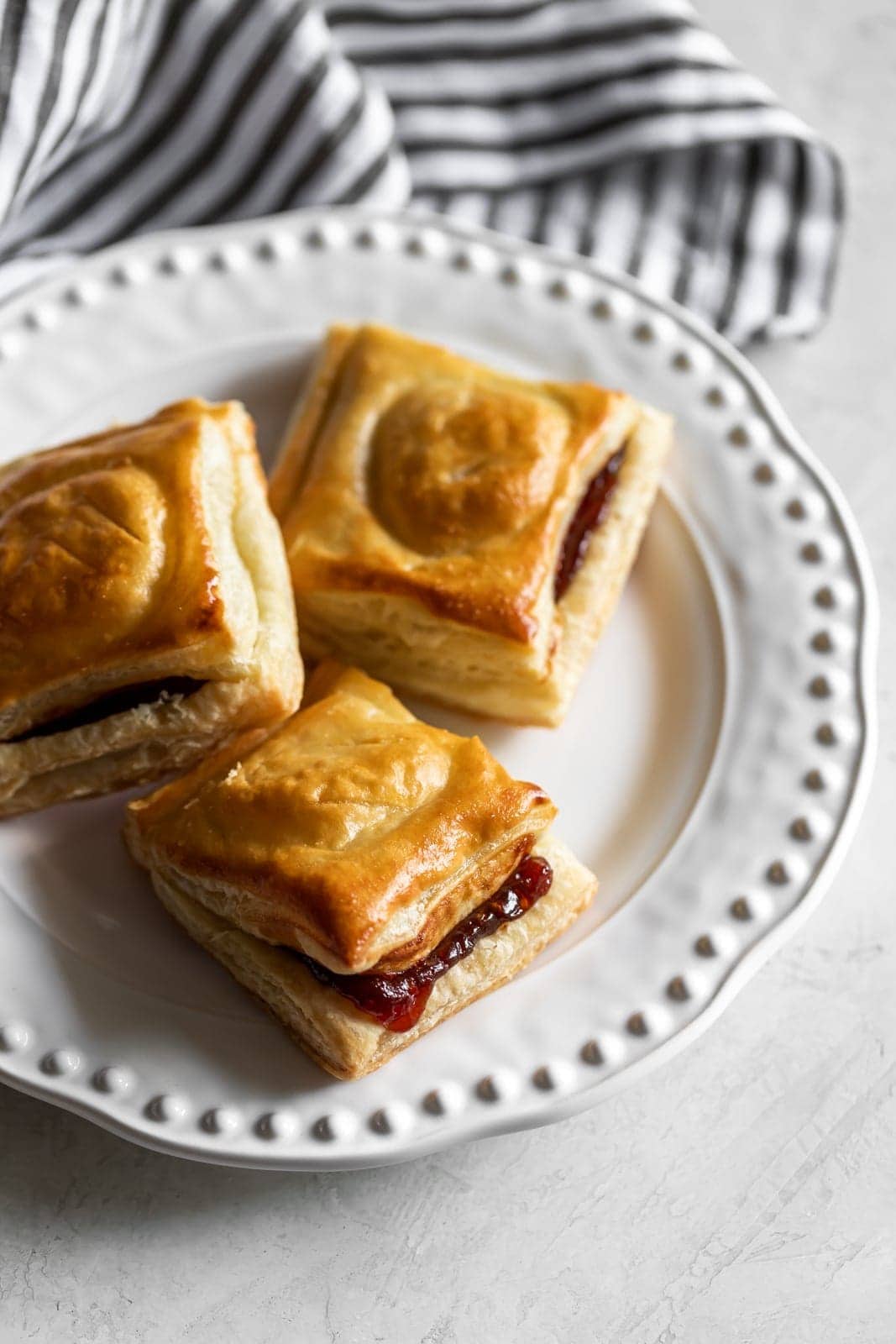 Do you remember the first time you tried a pastelito? I don't. I'm sure I was a toddler though…and I'm sure I loved it! To this day, pastelitos de guayaba are my favorite pastry. Do you have a favorite pastry or turnover? I bet this one will beat out that one in a heartbeat! Flaky crust filled with smooth, fruity guava and creamy, thick cream cheese. You don't even need the cheese! Mmmm. It's the most iconic part of a Cuban breakfast! (Aside from ham croquetas, of course.)
I had never made pastelitos at home until I saw Marta Darby's recipe (see the background story below!). I'm very fortunate to live in Miami where Cuban pastries are as abundant as the Cubans that live here. There's a Cuban bakery on literally every corner! You want croquetas, Cuban bread or pastelitos? Just drive a block and find a bakery hidden in a corner. Sometimes the temptation is real, my friends.
Making these pastelitos de guayaba y queso was beyond easy (which is dangerous). Just 4 ingredients using puff pastry sheets, guava paste, cream cheese and a whisked egg to seal the deal. See the step-by-step pics below.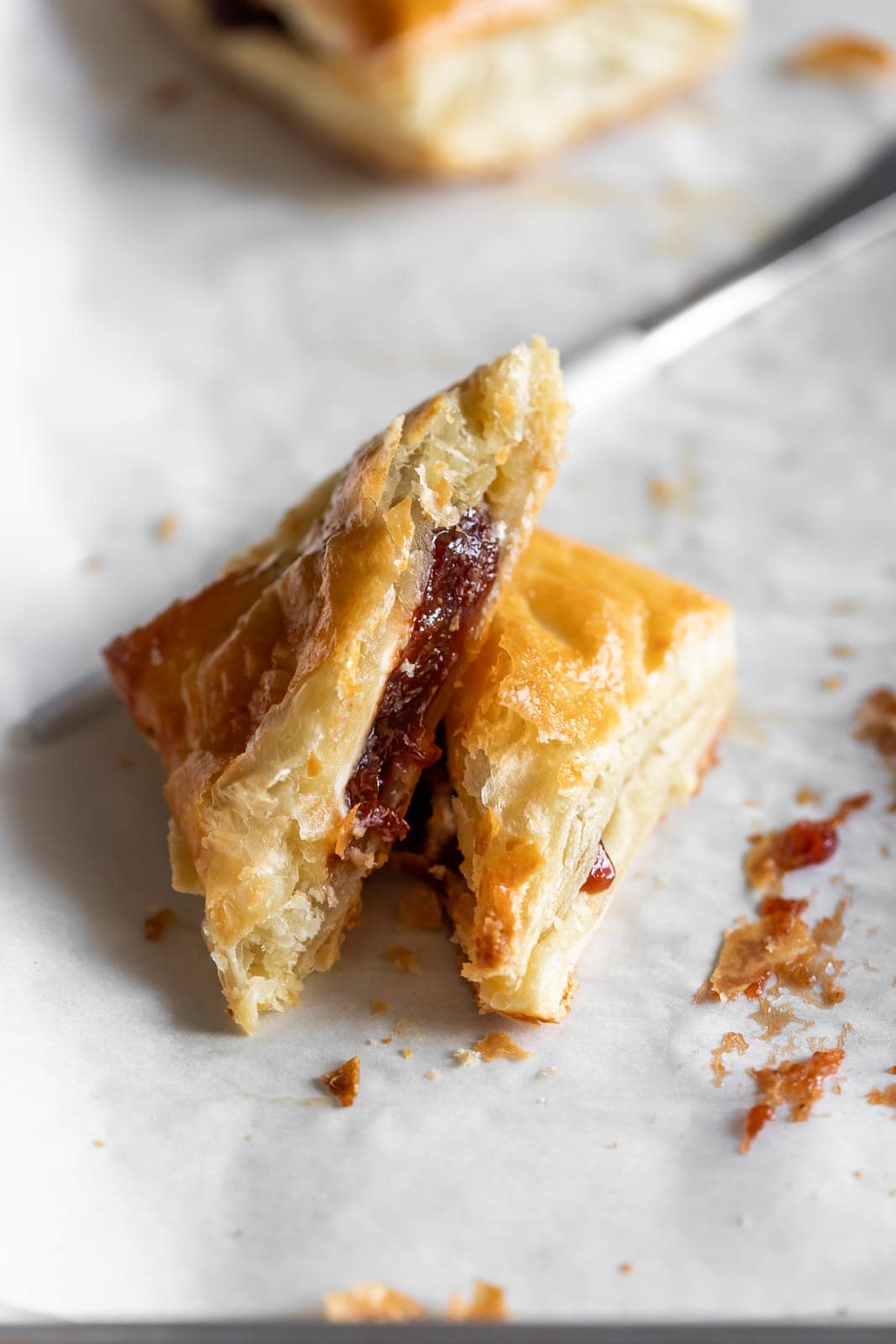 The first time I posted this recipe, my friends asked for a care package. Funny, they can all get these ANYWHERE here in Miami but for some reason, nothing beats "homemade".
I hope you make these and you LOVE them as much as I do!
Ingredients
1

package

puff pastry sheets

,

(I used Pepperidge Farm)

1

package

guava paste,

(I like the Conchita brand)

1

package

cream cheese**

,

optional (the block over the spreadable kind)

1

egg**

,

whisked
Instructions
Preheat oven to 400 degrees F. Thaw the puff pastry according to package directions, usually about 20-30 minutes. Line a cookie sheet with parchment paper. Set aside.

Cut guava into thin slices. If using cream cheese, cut the block into slices too. Unfold one of the pastry sheets and place it on the cookie sheet.

Place 6 slices of guava per pastry sheet fold about 1-2 inches apart (you'll have 18 slices total on the entire pastry sheet). Add cream cheese over guava paste slices (optional).

Unfold the second pastry sheet and place it over the other one that now has the guava paste slices.

Cut into 9 squares and score the tops of each one. No need to divide the squares. Leave everything intact. Brush egg wash on each one to get that flaky crust.

Bake for 25 minutes or until golden brown. Serve immediately and enjoy!
Notes
Recipe adapted from my friend, Marta Darby, at My Big, Fat, Cuban Family. The step by step video for this recipe is property of My Big, Fat, Cuban Family. I do not own the rights to this video. She deserves all the love for this amazing recipe!
—
*These pastries are best served right out of the oven. You can place in an airtight container and reheat them for 10 seconds in the microwave. Careful, the guava can get really hot and burn your tongue.
**To make these pastries vegan, you can sub cream cheese for vegan cream cheese and egg wash for almond milk.
***The nutritional facts listed are a rough estimate since this recipe varies in the amount of guava and cream cheese added to each pastry. Use your best judgement.
---
Nutrition Facts
Pastelitos de Guayaba + Queso (Guava Cheese Pastries!)
Amount Per Serving (1 serving)
Calories 290
Calories from Fat 145
% Daily Value*
Fat 16.1g25%
Cholesterol 36mg12%
Sodium 195mg8%
Potassium 26mg1%
Carbohydrates 33.1g11%
Protein 4.8g10%
Calcium 10mg1%
Iron 2.3mg13%
* Percent Daily Values are based on a 2000 calorie diet.
Originally posted on October 2016. Updated photos + recipe in January 2019.
The Background Story
I was on the phone with my friend, JennyLee, talking about blog stuff and food. Story of my life. It was a typical day for me. Working, reading, posting. JennyLee suggests, "You should tag Marta Darby on the Maria cookie truffles pic."
"omg no, she's like famous lol" I said. Little ol' me tagging Marta Darby, author of the My Big, Fat, Cuban family blog. Yeah right. She probably wouldn't even care about this. Naturally, I ignored my brain and did it anyway. To my surprise, not only did she like AND comment on the photo, she reposted it too! Suddenly my analytics were going crazy and I realized it was because she had ALSO shared the Maria cookie truffles recipe on her Facebook page! I died.
This OG blogger was reposting and loving MY posts. Mine. Little ol' me!? Oh yeah! Watch out, JLo! Not only has she brought us some awesomely relatable content about growing up in a Cuban family which I completely understand and empathize with, she's been incredibly supportive of me and this blog. For that, I will forever be grateful. *heart emoji*
To celebrate this "milestone", it's only natural that I make pastelitos de guayaba using the quick and easy method she showed us on her blog. Try not to dance to the music on the video. Betcha can't! A BIG congrats to My Big, Fat, Cuban Family on over 10 years of blog awesomeness!