Are you ready for one of the easiest chicken recipes you'll ever make?
This is one of my favorite meals to make whenever I've had a busy day and I just want something DELICIOUS and easy (just like my Cuban Pollo a la Plancha (Easy Griddled Chicken Breast).
I present to you… vaca frita de pollo aka Cuban cripsy shredded chicken!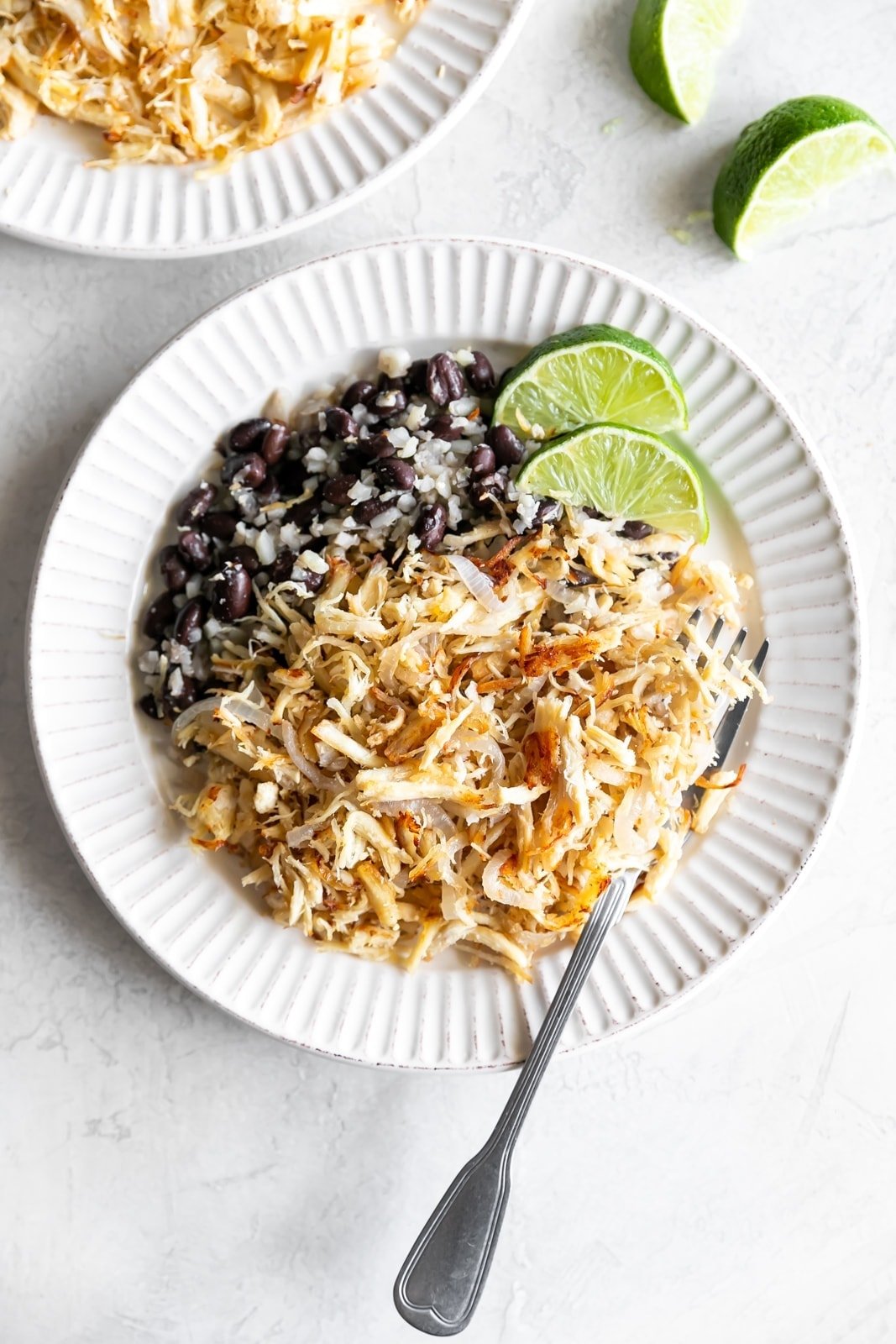 Looking for my shredded Cuban beef recipe? Here is my Vaca Frita (Cuban Crispy Shredded Beef)!
Why is called vaca frita de pollo?
Well, technically, the word vaca frita translates to "fried cow".
So why is this called vaca frita if it's not made with beef? Because the way authentic way to make vaca frita is by shredding the beef and pan frying it until crispy.
In this context/recipe, we're using the term vaca frita as more of the cooking style for the chicken than an actual crispy beef dish. And I must say, it's delicious! The crispy shredded chicken tastes citrusy and fresh yet crispy with sautéed onions.
Ingredients You'll Need
Yep, just 3 ingredients!
Chicken breast. You can either cook the chicken, use up leftover chicken or buy a rotisserie chicken. I buy my chicken breast from ButcherBox!
ButcherBox is a service that curates boxes of grass-fed, no-hormone-added, humanely raised beef, chicken, pork, salmon, and sustainable seafood delivered right to your door. I've been receiving my boxes for years now and I have no complaints. They always have specials – like free bacon or free ground beef so you gotta check them out! Click here for more info! [affiliate link]
Onions. I like using white onions and slicing them thin so they incorporate perfectly with the shredded chicken.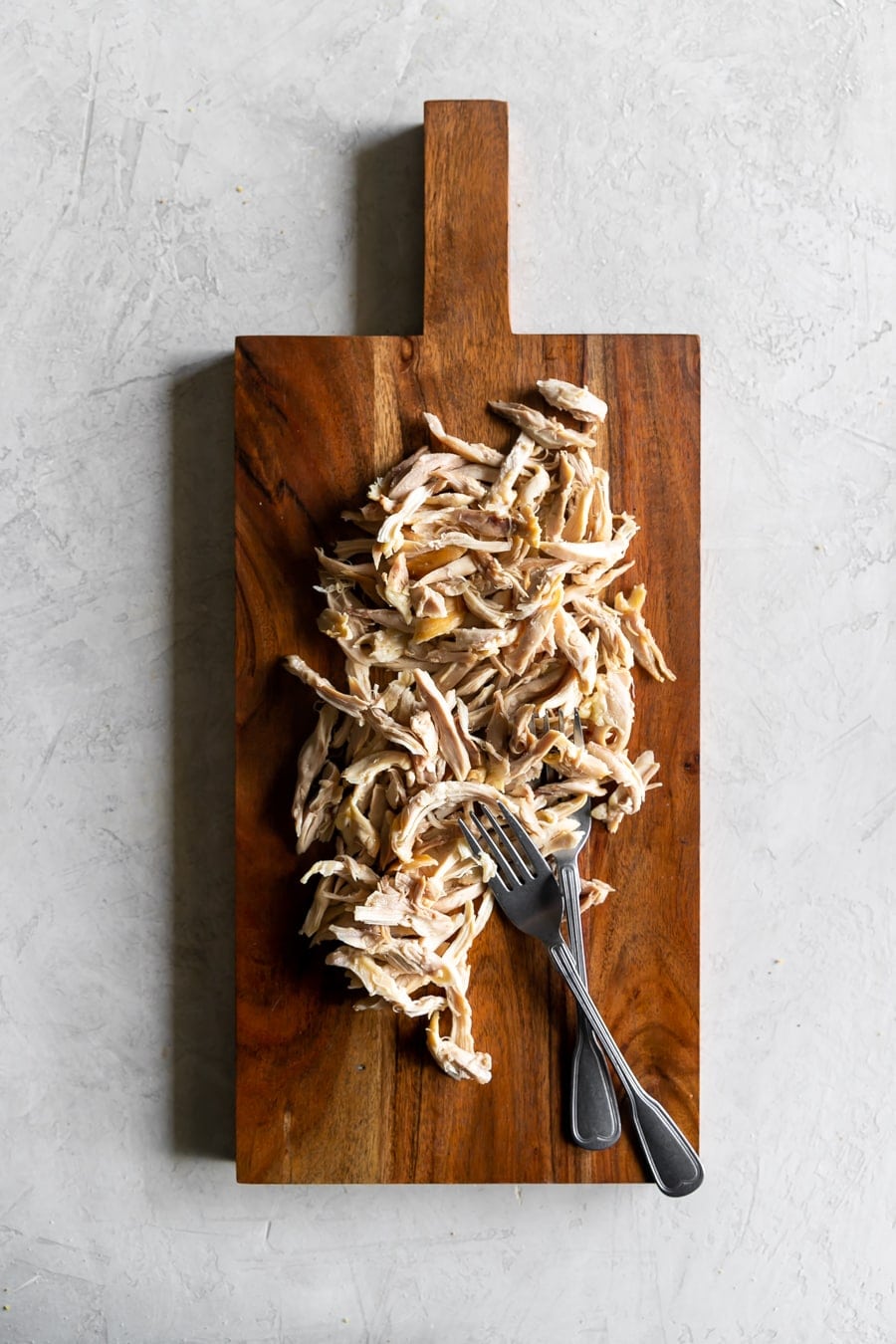 How To Cook Chicken Breast
There are several ways to cook and shred chicken breast however I have two favorite ways. No need to season the chicken breasts since we will be doing that later. Trust me.
Slow Cooker Method
Place the chicken breasts in a slow cooker for 6-7 hours on low or 2-3 hours on high until fully cooked. It's ok if it looks dry, you will marinate them later.
Stovetop Method
Place the chicken breasts in a large pot with 3/4 cup of water. Cover with a lid and bring to a boil. Reduce heat to low and cook the chicken breasts for 10-15 minutes or until fully cooked and no longer pink. The chicken is done when it reaches 165ºF on a food thermometer.
Grab a store-bought rotisserie chicken
Listen, if you don't feel like cooking shredded chicken, feel free to stop by the grocery store and pick up a rotisserie chicken on your way home. That's my favorite shortcut and I promise your secret is safe with me.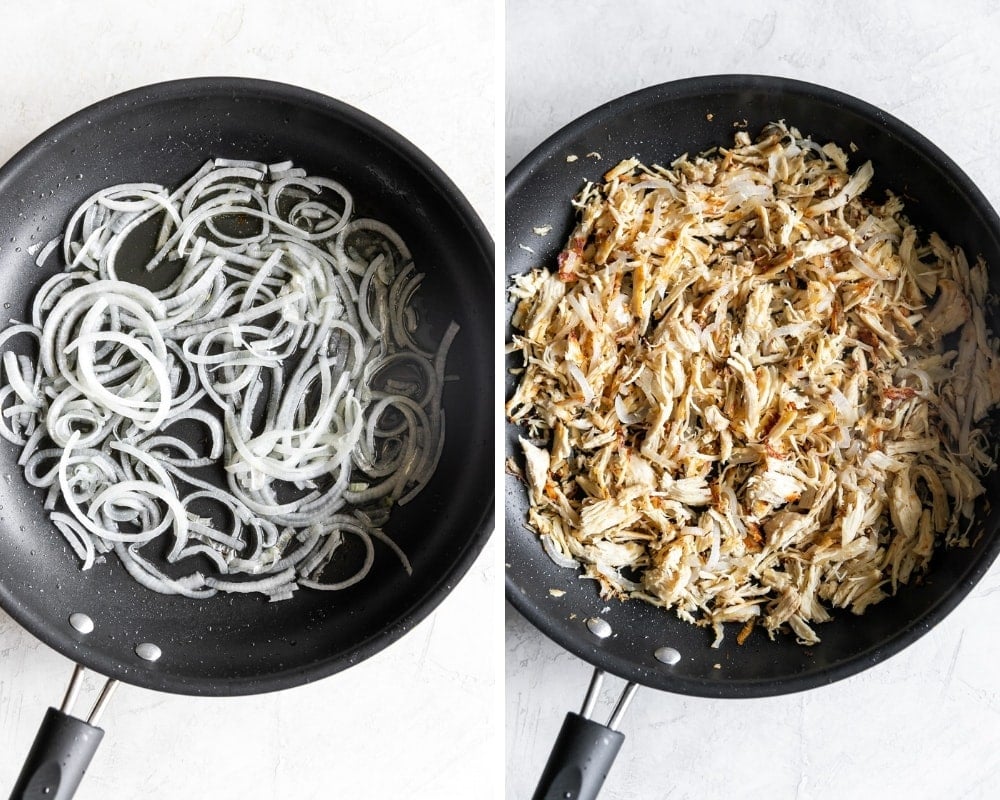 A 10-inch skillet perfect for cooking all kinds of dishes! It's non-stick, with a wide flat bottom for frying, sautéing, or browning.
How To Shred Chicken Breast
There are two ways you can shred cooked chicken breasts.
Use two forks. Once the chicken breasts have cooled, place them on a cutting board or on a plate then use two forks to shred the chicken.
Use a mixer. If you have a stand mixer with a paddle attachment or a hand mixer, you can shred chicken quickly. Place the cooled chicken breasts in the bowl, and shred with the mixer on low until all the chicken is shredded.
How To Make Cuban Vaca Frita De Pollo
Marinate the shredded chicken. Once you have cooked and shredded the chicken, you need to marinate the chicken. I know it sounds weird to marinate already cooked chicken but stay with me. Promise it will be good. Transfer the cooked, shredded chicken to a bowl and add the marinade. Let it sit in the fridge for 20 minutes or longer. The longer, the better.
Crisp up the chicken. When you're ready to start cooking, heat olive oil in a skillet and sauté onions for 2 minutes until they've softened and are translucent. Add the chicken and cook at medium-high heat for 10 minutes, flipping over occasionally so all sides of the shredded chicken get crispy. You want it crispy not burned so keep an eye on it.
Serve with your favorite side. Once your shredded chicken is crispy, serve with white rice, black beans, congri, or salad. Don't forget to squeeze some lime on top!
That's all folks. See how easy that was? Dinner in 10 minutes! Can't beat that!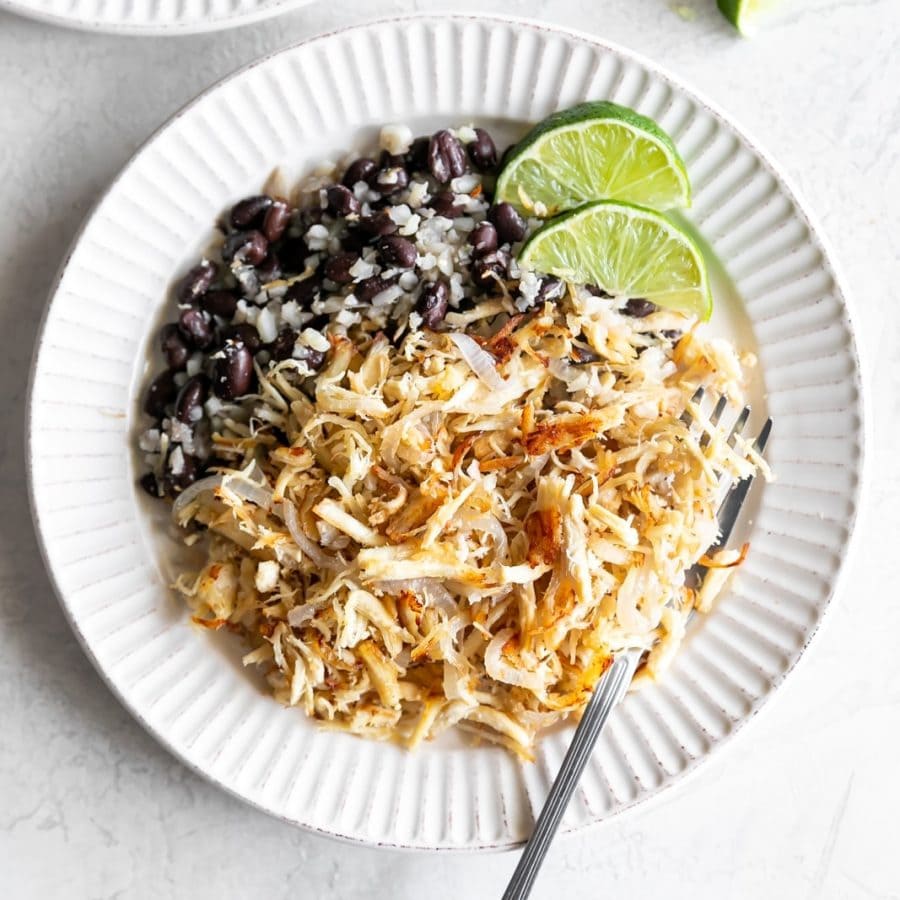 Cuban Vaca Frita de Pollo (Shredded Chicken Recipe)
Vaca frita de pollo is an easy-to-make shredded chicken recipe made with Cuban mojo marinade then pan-fried with sautéed onions. Great use for leftover chicken!
Ingredients
4 boneless, skinless chicken breasts cooked and shredded (~3 lbs)
1 1/2 cups mojo marinade
2 tablespoons extra virgin olive oil
1/2 cup sliced white onions
Lime wedges
Instructions
In a bowl, add the cooked shredded chicken and toss with the mojo marinade. Marinate for at least 20 minutes. The longer the better.

In a skillet, add olive oil and sauté onions at medium heat until translucent. Add the marinated shredded chicken. Pan fry for about 10 minutes until brown and crispy. Careful not to burn it!

Transfer the crispy shredded chicken to a plate. Serve with rice, salad, or black beans and rice. Don't forget the squeeze of lime! Enjoy!
Nutrition
Serving: 1 serving (1 cup shredded chicken)Calories: 315 kcalCarbohydrates: 2.8 gProtein: 52.6 gFat: 10.4 gSaturated Fat: 1.1 gCholesterol: 130 mgSodium: 735 mgPotassium: 65 mgFiber: 0.8 gSugar: 0.6 gCalcium: 50 mgIron: 2.7 mg