Mini Toasted Hazelnut Mocha Flans. Traditional flan gone modern using dark chocolate, strong espresso, and toasted hazelnuts.
I remember the first time I ever made flan. It was over a decade ago.
My job at the time was having a potluck for Thanksgiving and I signed myself up to bring dessert, specifically flan.
Now WHY I would sign myself up to bring a dessert I had never attempted to make on my own EVER, I'll never know but alas that's what I did and now I had to follow through.
I frantically emailed my sister asking if she had a recipe.
She jotted down the ingredients and a few instructions and off I went to make this masterpiece for the next day.
The following day (the day of the potluck), she asked how it all went and honestly everything went smoothly.
I made the flan according to her instructions and no one died at work.
Success!
That same day, I share this story with my mom over the phone. She asked me what recipe I used so I read her my sister's email. I was feeling so proud about my creation until…
My mom asks "what about the eggs?" and I said "what about them?"
"El flan lleva huevo" (translation: a flan requires eggs).
Oops.
Clearly neither my sister nor I knew how to make flan. *face palm* What a rookie mistake!
Of course, flan requires eggs; it's a custard! Doh.
Well, I can safely say that after that incident, I made it my life's mission to master flan making.
And I did. And yes, it has eggs.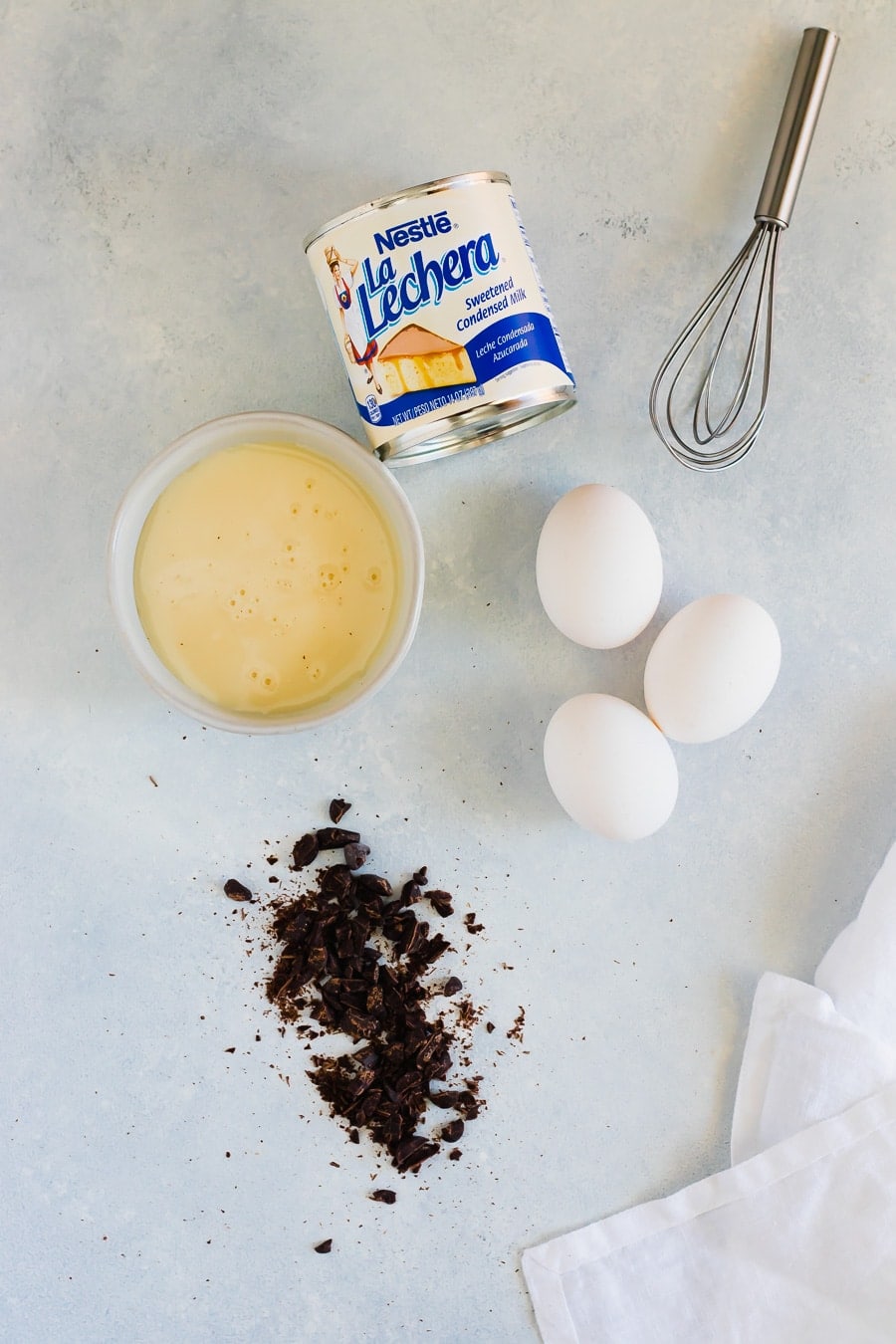 My aunt makes the BEST flan de queso on Earth.
We have it every year during the holidays and I always remember it to be super creamy and rich.
I made sure to ask her for help when I was learning how to master flan.
You know, you gotta stick with the pros.
My aunt is the flan legend of my family. Again, why I didn't ask her back then beats me.
The good news is that now I use my aunt's recipe to make traditional flan.
This is also what I use as a base when giving traditional flan a delicious modern twist like this toasted hazelnut mocha flan!
Recommended For This Recipe
These mini dutch ovens are absolutely precious! Oven safe and perfect for individual portions.
As she explained, La Lechera® Sweetened Condensed Milk is key in making the best flan.
It has been a staple in my family for as long as I could remember and she uses it to make flan and other traditional Cuban desserts each and every time.
That's why I usually have a few cans in my pantry, especially during the holidays.
From bread pudding to rice pudding and flan like these mini toasted hazelnut mocha flans, La Lechera® Sweetened Condensed Milk is always front and center.
And it was back then too when I made my egg-less creation. Ha!
These mini flans are the perfect individual size for dessert without the need to overindulge during the holidays.
You get those rich mocha flavors, creamy custard textures, and crunch from the hazelnut from every small ramekin. The way flan should always be!
I have no doubt your family will LOVE these mini flans.
They come together fairly easily with strong espresso and chocolate flavors and perfectly sweetened using the La Lechera® Sweetened Condensed Milk. You won't be disappointed.
Just don't forget to add eggs. ;)
You can find La Lechera® Sweetened Condensed in the Hispanic section or baking aisle of your local grocery store. Visit the store locator for the nearest location.
Find more recipes at El Mejor Nido and be sure to follow La Lechera® on Pinterest and Instagram!
Mini Toasted Hazelnuts Mocha Flans
Mini Toasted Hazelnut Mocha Flans. Traditional flan gone modern using dark chocolate, strong espresso, and toasted hazelnuts.
Ingredients
1/2 cup white sugar
5 large eggs
1 can La Lechera® Sweetened Condensed Milk
1 can evaporated milk
1/4 cup strong brewed espresso
1/2 cup high quality dark chocolate melted
1 tablespoon vanilla extract
1/2 cup hazelnuts chopped
6 ceramic ramekins
Instructions
In a saucepan, melt the sugar over medium high heat, stirring constantly to prevent burning until it turns an amber color. Remove from heat and pour the caramel into the individual ramekins, moving them around to coat the bottom of each one.

Preheat oven to 350 degrees F. Spread chopped hazelnuts on a baking sheet. Bake for 10-12 minutes until golden. Remove from oven and let cool completely. Set aside.

In a bowl, whisk the eggs until frothy. Add La Lechera® Sweetened Condensed Milk, evaporated milk, espresso, melted chocolate and vanilla. Mix until all is well combined.

Divide the mixture into the caramel lined ramekins. Transfer the ramekins to a large roasting pan. Carefully fill the roasting pan with about 2 inches of hot water.

Bake for 40-45 minutes at 350 degrees F until just set in the center. If the outer rims look set but the middle jiggles when you gently shake the pan or if you gently touch them and they bounce back, they are done. Do not overcook. Carefully remove ramekins from water and place in the refrigerator to cool for 30 minutes.

Remove ramekins from refrigerator. Cut around the sides of each ramekin to loosen flan. Place a plate on top of each ramekin and turn over so the flan transfers onto the plate. Garnish with hazelnuts. Enjoy!
Nutrition
Serving: 1 mini flanCalories: 573 kcalCarbohydrates: 68 gProtein: 17 gFat: 26 gSaturated Fat: 12 gCholesterol: 195 mgSodium: 210 mgPotassium: 665 mgFiber: 3 gSugar: 63 gVitamin A: 542 IUVitamin C: 3 mgCalcium: 387 mgIron: 3 mg
If you've made this or any other recipe, tag me on Instagram with #asassyspoon or comment below. I'd love to see it! You can also sign up for email updates here.
Thank you for being here! <3