Bourbon Brownies with Brown Butter Frosting. Fluffy, chocolate brownies spiked with bourbon then topped with a creamy brown butter frosting that is TO DIE FOR!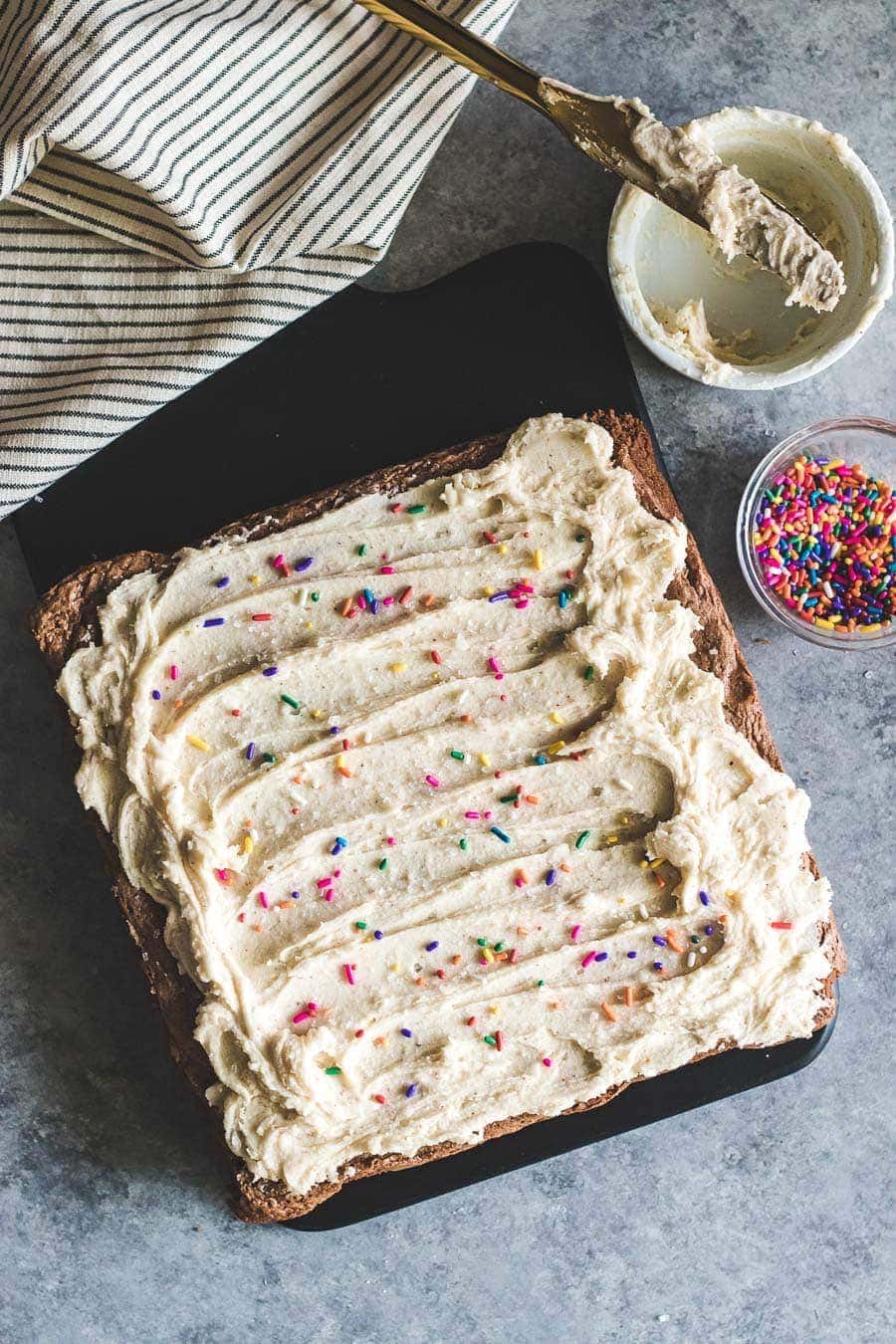 Have you ever made a recipe and it ended up turning into something else?
That's happened to me a few times actually but it happened again today!
See, this was supposed to be bourbon banana blondies. I had every intention to use up all the bananas in the house (and booze too, apparently).
Oh and did I.
Geez, it took me three fails (and tons of bananas later) until I finally threw in the towel and was all like… ok blondies, I get it, you hate me, stop rubbing it in, damn.
Then this recipe was born.
And I'm SO glad it was born!
I mean who doesn't love brownies? I love blondies too but yeah…let's face it, brunettes have more fun. ;)
These fluffy, bourbon chocolate brownies with brown butter frosting are 1000% delicious.
They are more cake-like than your typical moist, fudgy brownie. If you want moist, ooey gooey, fudgy brownies, head over to my chewy fudgy salted caramel brownies. Those are like WHOA fudgy.
These bourbon brownies are more chewy and fluffy in texture and have a hint of bourbon which make it next level.
The real star of this show, however, is the brown butter frosting. OH MY LORD WHAT.
SO so good.
I cannot say enough good things about it.
After seeing this recipe from A Cozy Kitchen, (which you should totally make if you're into that sort of thing. I'm not a pumpkin fan. WHAT. I know, I'm a monster) I knew I had to add that brown butter frosting on SOMETHING.
At one point, I contemplated just enjoying it with a spoon but pretty sure, my stomach would've hated me for the rest of the week.
So brownies won.
I added sprinkles for good measure. At first, I was going to just add sugar sprinkles which I love but a pop of color never hurt nobody. ;)
See what I mean? FLUFFY. YUM. Love at first bite.
I promise you this combo is just perfection.
I hope you make this and LOVE it!
Bourbon Brownies with Brown Butter Frosting
Bourbon Brownies with Brown Butter Frosting. Fluffy, chocolate brownies spiked with bourbon then topped with a creamy brown butter frosting that is TO DIE FOR!
Ingredients
BOURBON BROWNIES
1/2 cup unsalted butter, melted (1 stick)
3/4 cup dark brown sugar
1/2 cup dark chocolate chips melted
2 eggs
1 teaspoon pure vanilla extract
3 tablespoons bourbon
1/4 teaspoon salt
1 cup all-purpose flour
sprinkles optional
BROWN BUTTER FROSTING
1/2 cup unsalted butter, room temperature (1 stick)
2 cups powdered sugar sifted
1/4 teaspoon pure vanilla extract
Pinch of salt
2 tablespoons heavy cream
Instructions
Preheat oven at 350 degrees F. Line and grease a 8×8 baking pan. Set aside.

In a mixer, cream together butter and sugar until smooth. Add the melted chocolate and mix. Add eggs, 1 at a time then vanilla, bourbon and salt. Mix until all is well combined then add the flour.

Transfer mixture into the baking pan. Bake for 20-25 minutes, or until a knife inserted comes out clean.

While the brownies are baking, make the brown butter frosting. Add 1 stick of butter into a saucepan. Over medium heat, melt for about 3-5 minutes, until the butter foams and little brown specks appear. Be careful not let it burn!

Once the butter turns an amber color and has nutty aroma, remove from the heat and pour into a small bowl. Place the brown butter in the freezer for about 5-10 minutes to cool down. We need room temperate brown butter to continue.

In a bowl, add brown butter, powdered sugar, vanilla, sea salt, and heavy cream. Mix it all together for about 3 minutes for ultimate fluffiness.

Once the brownies have cooled, pour the frosting over the top and spread it evenly. Add sprinkles too, if desired. Serve and enjoy!
Notes
Brown Butter Frosting adapted from A Cozy Kitchen.
Nutrition
Serving: 1 servingCalories: 304 kcal