Chewy Fudgy Salted Caramel Brownies. Super thick, fudgy, rich and delicious dark chocolate brownies swirled with homemade salted caramel sauce and a pinch of sea salt!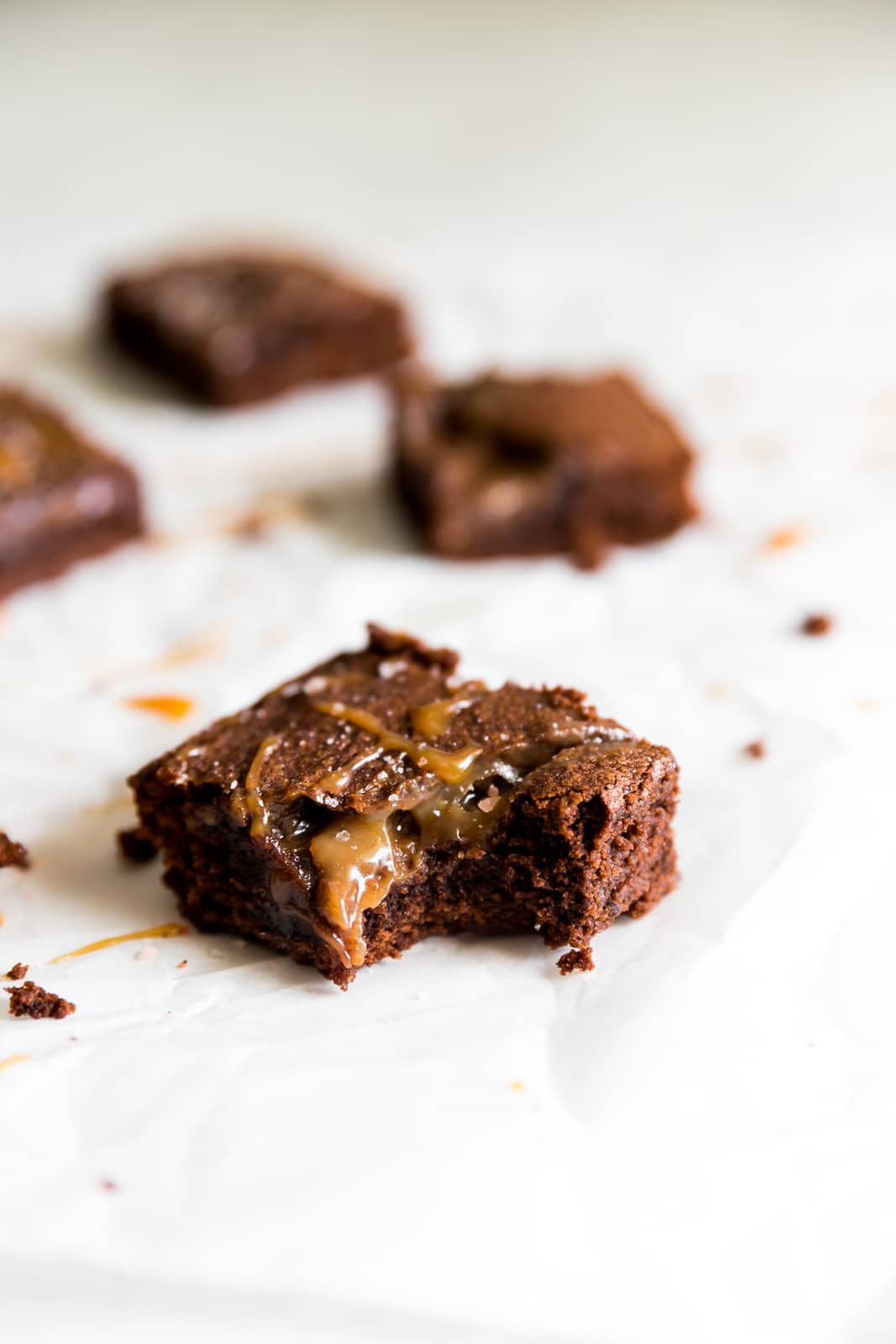 Ok let's start off this post by asking a very important question. Ready? Here goes. Do you like corners or do you FIGHT for corners?
*raises hand*
When it comes to brownies, I LOVE me some corners. You get a little bit of crunch from the outer part and then it's all chewy and delicious on the inside.
*heart eye emojis*
These salted caramel brownies are SUPER fudgy, soft, and chewy! Plus they get a little salty kick from the salted caramel. YUM. I love salted caramel too. Don't you? They are pretty simple to make all in one bowl. I've made these salted caramel brownies time and time again and I ALWAYS get compliments.
First, make the caramel. I have this homemade salted caramel recipe adapted from Sally's Baking Addiction that is my favorite. Super easy to make. You have to make sure it's cooled first before you use it on the brownies. Alternatively, you can also buy caramel candies and those can work too. Here's why.
Once the brownie batter is done and you transfer it to a pan, you add teaspoons of cooled salted caramel on top of the batter and using a knife, swirl it around 3-4 times to give it a fun marble effect. Don't swirl too much though or you'll lose the effect. I find the best way to do this is with cooled salted caramel sauce.
I mean how fudgy do those look! Next time you're looking for a dessert to make for a dinner party or any day of the week really, I HIGHLY recommend making a batch of these salted caramel brownies.
I promise you will not regret it!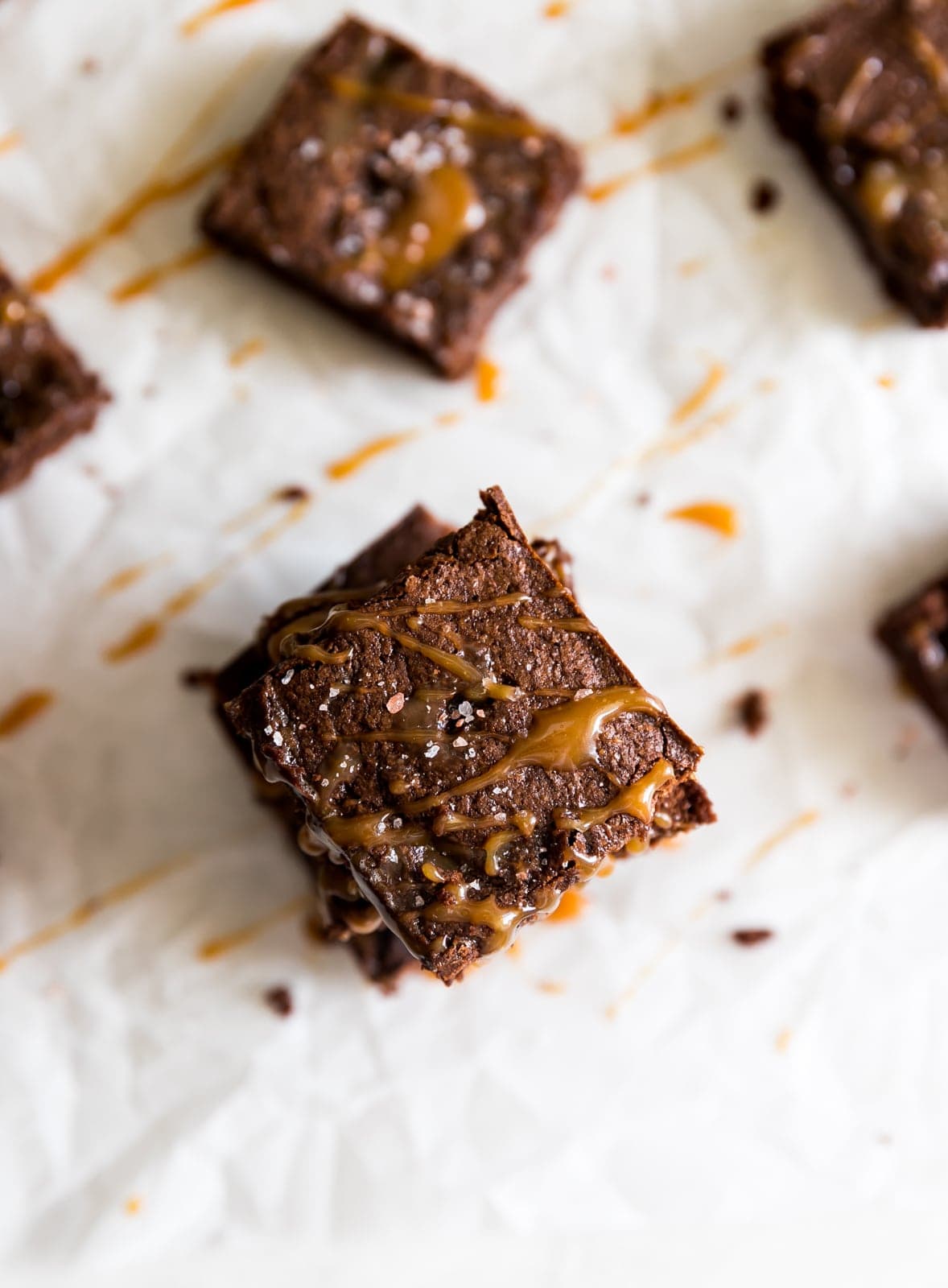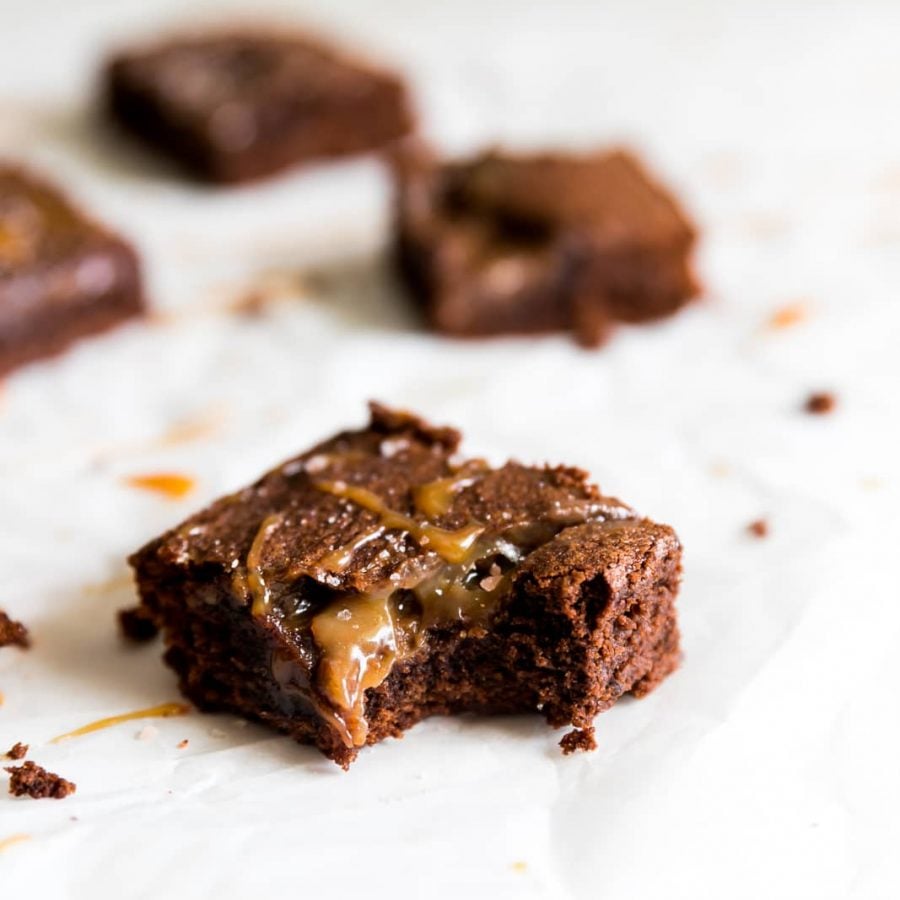 Chewy Fudgy Salted Caramel Brownies
The best salted caramel brownies ever. Super fudgy, rich and delicious dark chocolate brownies swirled with homemade salted caramel sauce and a pinch of sea salt!

Ingredients
Homemade Salted Caramel
1/2 cup sugar
3 tablespoons salted butter cut into pieces
1/4 cup heavy cream
1/2 teaspoon salt
Chewy Fudgy Brownies
10 tablespoons unsalted butter room temperature
1 1/4 cup sugar
3/4 cup unsweetened cocoa powder
3 eggs
1/2 cup all-purpose flour
1 teaspoon vanilla extract
Pinch of sea salt plus more for garnish
Instructions
In a saucepan, heat sugar over medium heat, stirring constantly. Sugar will form clumps and eventually melt into a thick brown, amber-colored liquid as you continue to stir. Be careful not to burn it.

Once sugar is completely melted, immediately add the butter. The caramel will bubble rapidly when the butter is added. Be careful. Stir the butter into the caramel until it is completely melted, about 2-3 minutes.

Very slowly, drizzle in the heavy cream while stirring. Allow the mixture to boil for 1 minute. It will rise in the pan as it boils. Remove from heat and stir in 1 teaspoon of salt. Transfer salted caramel into a jar or bowl. Let cool in the fridge to slightly solidify for about 10-15 minutes. You will be adding small blobs of salted caramel on top of the batter but it must be cooled first.

Preheat oven to 350 degrees F. Line an 8×8 pan with parchment paper and spray with cooking spray.

In a bowl, add butter, sugar, cocoa powder, eggs, flour, vanilla, and sea salt until everything is well combined. Add batter evenly onto the pan.

Now here's where you will add the salted caramel, make sure it is slightly solidified enough where you can make swirls but not too liquid-y where it'll just be a watery mess. Using a teaspoon, top the brownie batter with small blobs of salted caramel. Using a knife, gently make 3-4 swirls to give a marble effect.

Bake for 30-40 minutes, or until the toothpick comes out with moist crumbs. Do not overbake. Cool completely before serving. Drizzle more salted caramel on top, if desired, and sea salt. Enjoy!
Nutrition
Serving: 1 brownieCalories: 321 kcal