Juicy turkey burgers made with chorizo, onions, spices, gruyere, shoestring potatoes, and homemade guava BBQ sauce on toasted hamburger buns. This is my version of a Cuban frita.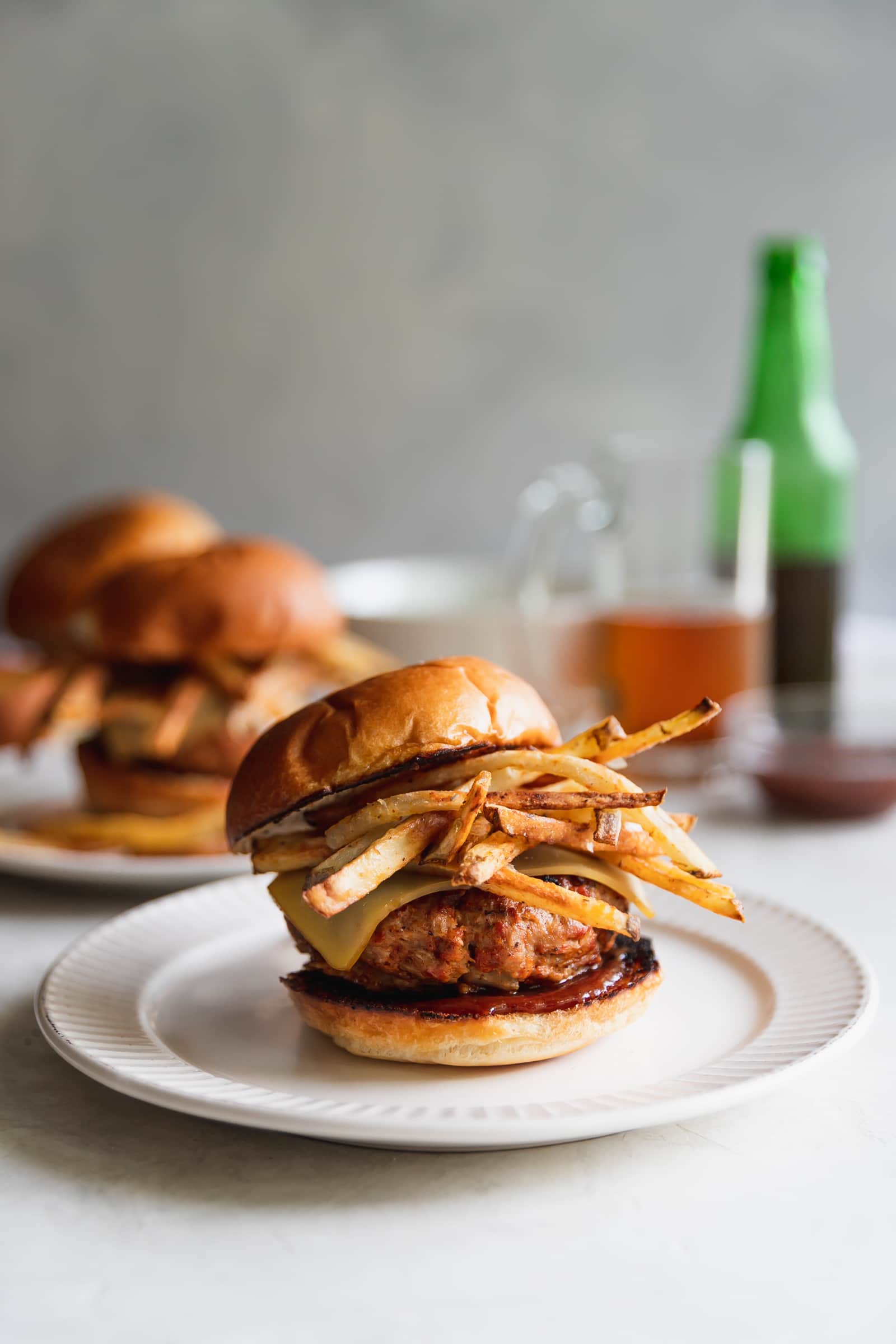 GUYS! I'm SO excited to share this recipe with you!
This chorizo turkey burger is inspired by a Cuban frita aka a Cuban-style hamburger.
What is a Cuban frita?
A frita (pronounced free-tah), popular here in South Florida, is a Cuban hamburger typically made of ground pork and ground beef with tons of spices, store-bought potato stix, onions and a special sauce served on a Cuban roll.
Yeah. It's pretty amazing, right? It makes all other burgers look basic AF. But here's the thing. No frita is created equal.
Some are made with pork and beef, others with chorizo, pork and beef. Even only chorizo and beef. So many variations. There's really is no wrong way to make it as long as you have all the right spices, a special sauce, and some good ass toasty bread.
With all that in mind, I decided to create my own version of a Cuban frita.
Chorizo turkey burgers with shoestring potatoes and guava BBQ sauce on toasted hamburger buns.
OMG. THEY WERE SO GOOD.
At first, I had my doubts that the ground turkey would be too dry. Or worst, that the flavor combo would just not be good.
But I gotta say, this burger was so flavorful!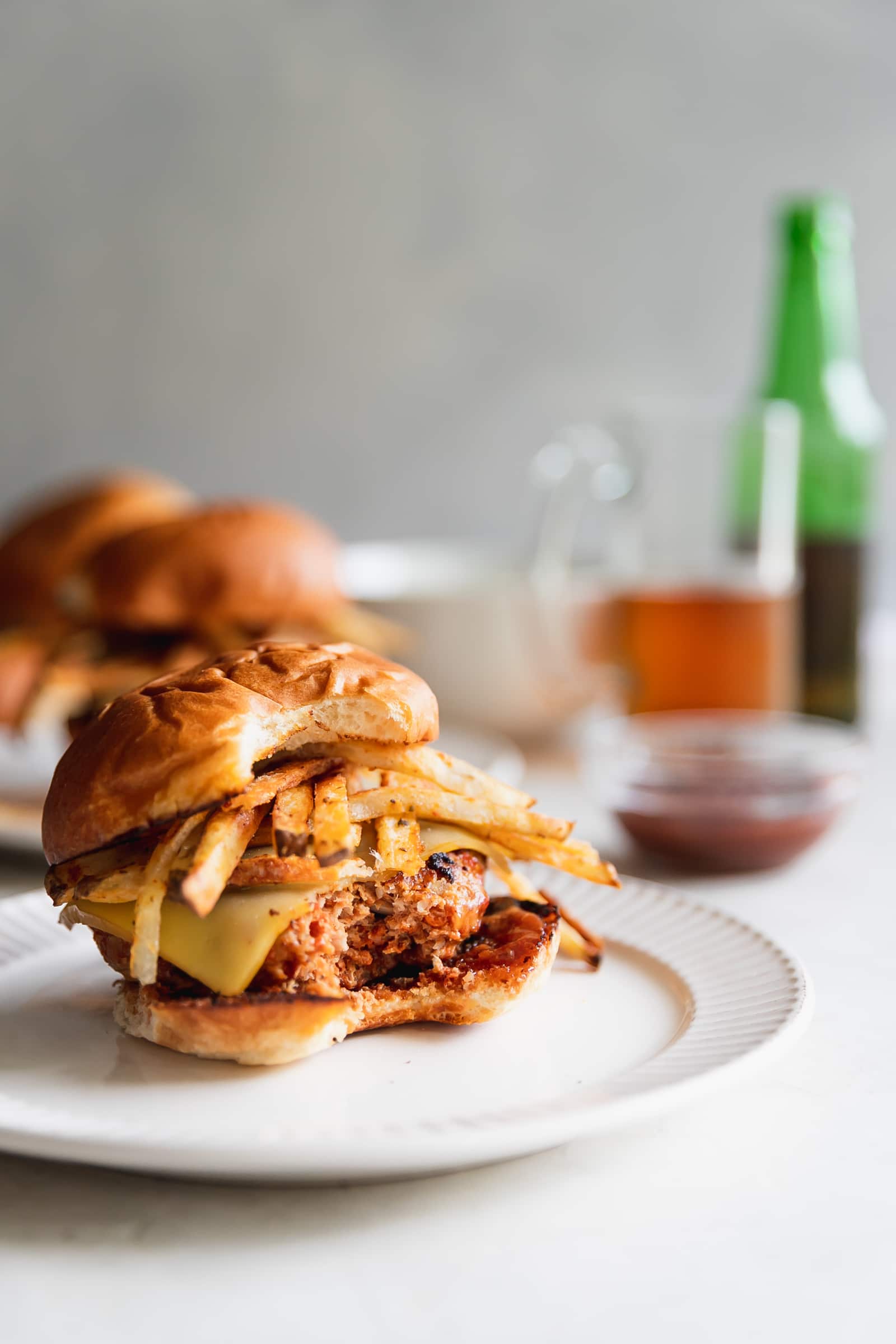 Have you ever tried guava BBQ sauce?
I have a recipe for it below. It's very sweet and tangy. Gives this chorizo turkey burger the perfect balance of sweet and salty!
So let's review… you get the nutty flavor from the gruyere, the sweetness from the guava BBQ sauce, and the crispy crunch from the shoestring potatoes. What's not to like?
I know it seems like there are several elements to this burger but they all come together to create this true work of art. #extraAF
I honestly just have nothing but good things to say. But don't just take my word for it, make them this weekend and let me know what you think!
Cuban-Inspired Chorizo Turkey Burgers
A turkey burger recipe made with chorizo, onions, spices, gruyere, shoestring potatoes, and homemade guava BBQ sauce on toasted hamburger buns.
Ingredients
Chorizo-Turkey Burgers
1 lb ground turkey
3 links chorizo casting removed
4 cloves garlic minced
1/2 cup onion chopped
2 teaspoons Worcestershire sauce
2 teaspoons smoked paprika
1 teaspoon cumin
1 teaspoon oregano
1 teaspoon salt
1/2 teaspoon pepper
4 slices gruyere cheese
4 toasted hamburger buns
Shoestring Potatoes
4 large russet potatoes cut into matchsticks
2 tablespoons olive oil
1 teaspoon smoked paprika
1/2 teaspoon salt
1/4 teaspoon pepper
Guava BBQ Sauce
1 cup guava paste cut in pieces
1/3 cup apple cider vinegar
1/4 cup spiced rum
3 tablespoons tomato paste
3 tablespoons fresh lime juice
1 tablespoon soy sauce
1 tablespoon Worcestershire sauce
1 clove garlic minced
1/4 cup water
salt and pepper to taste
Instructions
In a bowl, add ground turkey, chorizo, garlic, onion, Worcestershire sauce, paprika, cumin, oregano, salt, and pepper. Mix until well combined. Place in the fridge for 10 minutes. You can also do this the day before.

Preheat oven to 450 degrees F. In a bowl, toss together shoestring potatoes, paprika, salt and pepper. Transfer shoestring potatoes to a lined baking sheet. Bake for 15-20 minutes or until golden brown. Careful not to burn. Set aside.

In the meantime, make the guava BBQ sauce. In a small saucepan, combine the guava paste with the vinegar, rum, tomato paste, lime juice, soy sauce, Worcestershire sauce, garlic and water and bring to a boil. Simmer over low heat, stirring occasionally, until reduced, about 15 minutes. Season the sauce with salt and pepper. Set aside.

Remove chorizo turkey burger mixture from fridge. Form into 4 patties. In a hot skillet, add olive oil. Cook patties, over medium-high heat, until browned about 3 minutes. Reduce heat to medium-low and cook for about 5-6 minutes on each side, until they are all cooked through. Melt a slice of gruyere on top of each patty.

Serve chorizo turkey burgers immediately on toasted hamburger buns with guava BBQ sauce and shoestring potatoes. Enjoy!
Nutrition
Serving: 1 burgerCalories: 802 kcalCarbohydrates: 76 gProtein: 55 gFat: 31 gSaturated Fat: 12 gFiber: 5 gSugar: 13 g
You may also like:
SHOP THE RECIPE