A tender, flavorful juicy turkey burger recipe made with the best seasoning then topped with mashed avocado, tomato and caramelized onions.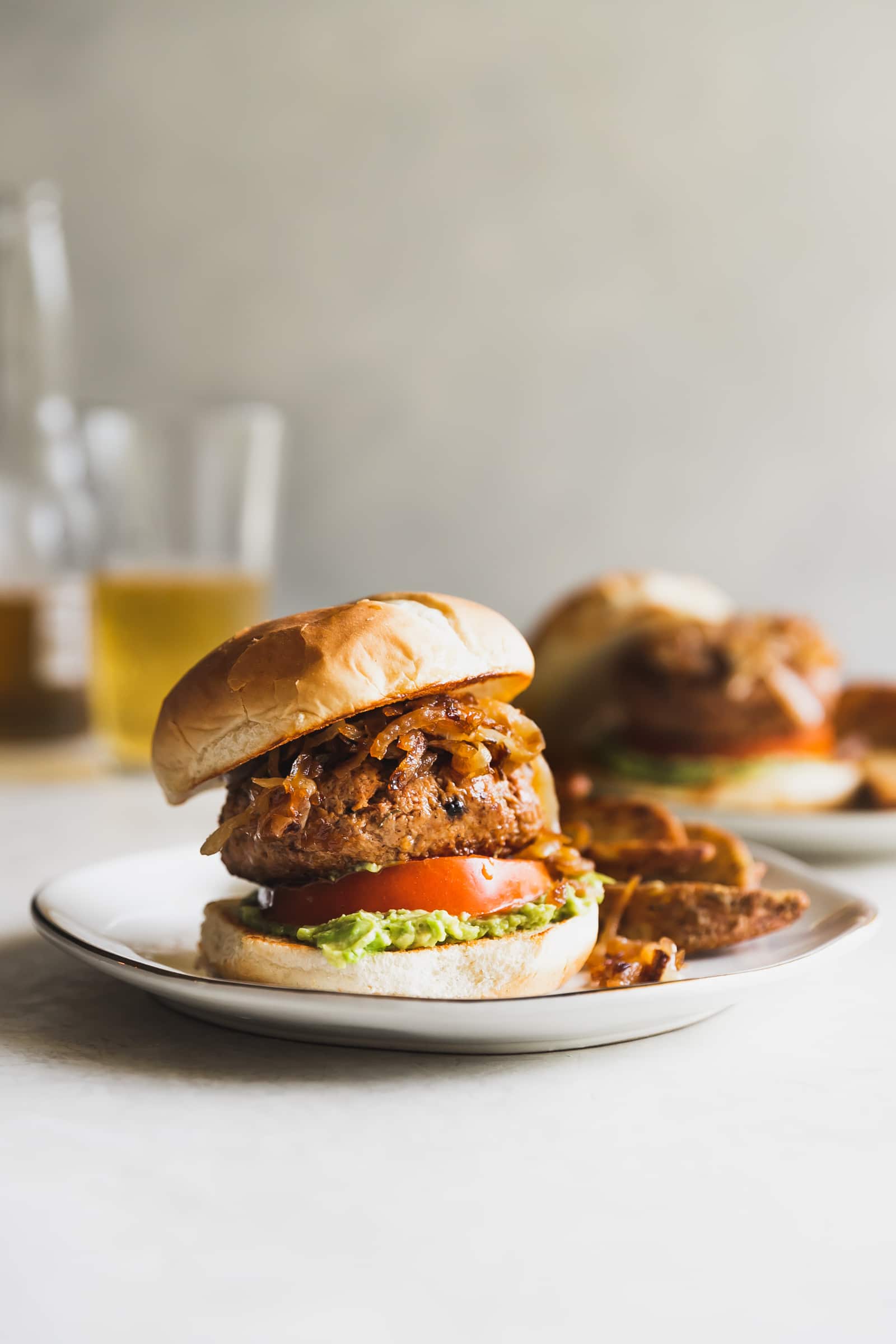 The other day, I went to Cheesecake Factory and had the absolute BEST turkey burger I've ever eaten at a restaurant. Weird, right? Who orders that at Cheesecake Factory? Actually, I ordered the turkey avocado club and they brought out the burger by mistake. Literally, the server messed up. Rude. But no it's cool. Because it's what inspired today's recipe. See guys, sometimes things happen for a reason.
She brought out the burger and I was like umm what?
And she was like "omg I'm so sorry, I thought you said burger!" and I'm here staring at the burger like "no wait, I think this can still work, can you bring me a side of avocado?"
BOOM.
The burger did not have any condiments on it because I always ask for all that on the side. I added the mashed avocado to this mistake turkey burger and it was AMAZING.
Maybe I was just really hungry. Either way, I enjoyed it and decided to make one for you guys!
How to caramelize onions without burning them
I think the best part of my mistake turkey burger was the fact that it had caramelized onions.
Something I don't usually see on turkey burgers. I love ordering caramelized onions on beef burgers with some goat cheese or mushrooms. YUM. I knew, for sure, caramelized onions had to be part of my recipe.
Thing is… the main ingredient in caramelized onions is PATIENCE. Something I lack very much of.
True story – I've burned so many onions trying to caramelize them. It's ridiculous. But I'm a determined soul so I mastered it eventually. Hooray for me.
This is what you need to know. You MUST go low and slow when caramelizing onions. Melt the butter, add the onions then rarely stir them around.
And you do all of this at medium-low heat. Like literally my stove was like at 2 or 3. SO LOW. It took what seemed like forever but guess what? They didn't burn.
In the past, I would literally have the heat so high because I wanted this process to go faster. Of course, they burned.
Remember, low and slow. It's worth the wait, I promise. Also, you can store them in an airtight container in the fridge for up to 1 week.
How long to cook turkey burgers
Turkey burgers made on the stove cook pretty quick. I added all my favorite spices, tomato paste instead of ketchup and Worcestershire sauce to make sure they are as delicious as could be.
Let's be honest, turkey burgers without seasoning is just boring. Once you've formed the turkey burger meat with spices and all, you place them in the fridge for 10 minutes to firm up. This helps them not fall apart while cooking.
Once you're ready to cook, heat a skillet at medium heat with some olive oil. Cook for 5-7 minutes on each side until the meat is no longer pink. You can use a thermometer to make sure it is fully cooked (165 degrees internal temp).
Honestly, guys, you can't take my word for it. The combo of flavors with the caramelized onions, the avocado, and tomato just seals the deal here. Feel free to add mayo, a simple slaw, or Boston lettuce to the party, if you wish.
I hope you make this turkey burger recipe and LOVE it!
Juicy Turkey Burger Recipe with Caramelized Onions
A tender, flavorful juicy turkey burger recipe made with the best seasoning then topped with mashed avocado, tomato and caramelized onions.
Ingredients
Caramelized Onions
1 tablespoon unsalted butter
1 small white onion sliced
Juicy Turkey Burgers
1 pound lean ground turkey
1 tablespoon Worcestershire sauce
3 tablespoons tomato paste
1 1/2 teaspoons smoked paprika
1 teaspoon garlic powder
1 teaspoon oregano
1 teaspoon cumin
Salt + pepper to taste
1 tablespoon olive oil
For the turkey burgers...
4 hamburger buns
2 ripe avocados mashed
4 tomato slices
Optional: mayo, simple slaw, lettuce
Instructions
In a large skillet, melt the butter over medium-low heat. Add onions and let them cook, stirring occasionally, until they are golden brown and caramelized, about 45 minutes. Keep it low and slow. Trust me, it's worth the wait.*

In the meantime, make the turkey burgers. In a bowl, add ground turkey, Worcestershire sauce, tomato paste, smoked paprika, garlic powder, oregano, cumin, salt and pepper. Mix together until well combined.

Form ground turkey into 4 burger patties and place them in the fridge for 10 minutes to firm up a bit.

In a hot skillet, add olive oil. Cook turkey patties on medium heat for 5-7 minutes on each side, or until cooked through and the internal temp should be 165°F. Transfer them to a plate.

To assemble, add mashed avocado on toasted buns then add tomato slices, turkey burgers, and top with caramelized onions. Serve and enjoy!
Notes
*Caramelized onions can be kept in an airtight container in the fridge for up to 1 week.
Nutrition
Serving: 1 burgerCalories: 521 kcalCarbohydrates: 33 gProtein: 28.2 gFat: 32 gSaturated Fat: 7 gCholesterol: 81 mgSodium: 357 mgFiber: 9 gSugar: 7 g
Tried it and loved it?
Snap a picture and share it with me on instagram @asassyspoon and by using the hashtag #asassyspoon!
You may also like: