Flavorful black bean burgers topped with melted Swiss cheese and sautéed mushrooms with two twice fried plantains as buns. A delicious Cuban twist on a veggie burger!
For so so long, I've wanted to make toston burgers and I FINALLY DID IT.
For those of you that have no idea what I'm talking about…well, hold on to ya seats!
It's gonna get wild.
Allow me to introduce you to tostones (tos-toe-nes) aka squished plantains fried twice.
TWO TIMES THE DELICIOUSNESS.
Tostones are basically crispy rounds of salted plantain heaven. Pretty much, the only vegetable I ate growing up. Read more here.
They are sliced thick, fried once, squished, then fried again. Salted and devoured.
These are usually just side dishes for us, crazy Cubans, but imagine them as BUNS.
PLANTAIN BUNS.
It's genius. It's delicious. And it wasn't my idea LOL.
We have an amazing place down in South Florida called Pincho Factory that brought these toston burgers to life for us. They are my inspiration for these veggie burgers on steroids.
They're semi-healthy, I mean, black bean & mushroom burgers, am I right!?
I took the traditional flavors of a mushroom swiss burger and replaced the meat with a black bean mixture that's pretty freaking flavorful.
My mom tried them – she approves!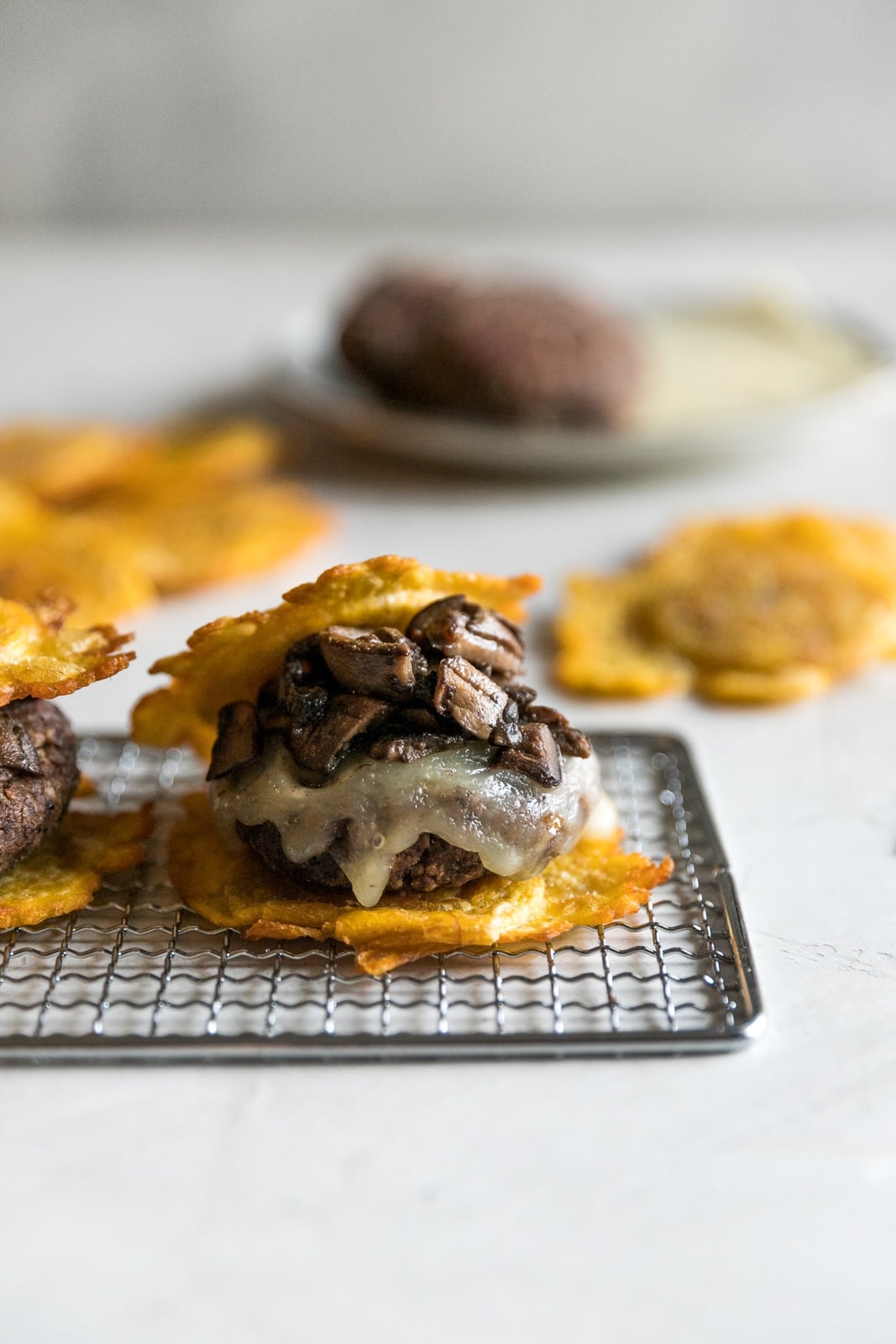 I mean how good does that look!!!
These black bean burgers are made easily by adding a bunch of stuff in a food processor, forming patties, and pan searing for a bit until they are heated through.
You do have to sauté the mushrooms first but all in all the steps are pretty straight forward.
I recommend making the tostones first which are also not very time consuming.
SO CRISPY OMG.
I've been focusing a lot on simple, sometimes vegetarian, meals these days. How do you like them?
Let me know in the comments below!
While I love the occasional meat and seafood, vegetarian meals like these – full of flavor and creativity – are totally my jam.
You can make these for any game day or weeknight dinner.
These Mushroom Swiss Black Bean Burgers were a hit in my house and I guarantee they will be a hit in yours!
Can't wait for you guys to try these!
I hope you make it and LOVE it!
Ingredients
TOSTONES (TWICE FRIED GREEN PLANTAINS)
1/3 

cup 

coconut oil 

,

or vegetable oil

2 

large

green plantains

,

 (make sure they are thick in diameter) peeled and cut into two-inch slices

Salt for seasoning
MUSHROOM SWISS BLACK BEAN PATTIES
2

tablespoons

olive oil

,

divided

1

yellow onion

,

diced

2

cloves

garlic

,

minced

1

cup

baby bella mushrooms

,

chopped, divided

2

cans

black beans

,

(15-ounces) rinsed and drained

1

egg

1/2

teaspoon

cumin

1/2

teaspoon

dried oregano

1/2

teaspoon

smoked paprika

2

teaspoons

Worcestershire sauce

1

cup

bread crumbs

Salt and pepper to taste

4

slices

Swiss cheese
Instructions
First, make the tostones. In a skillet, heat oil over medium-high heat. Fry the plantain slices for about 5 minutes. Remove and drain on a paper towel lined plate to absorb the excess oil.

Using a plantain press or a paper towel folded over, smash the plantains to about 1/4-inch thick. Fry the now smashed plantains for about 5 minutes, until golden brown on both sides. Remove and drain on paper towels. Sprinkle with salt. Set aside.

Now, make the black bean burgers. In a clean skillet, add 1 tablespoon of oil. Sauté onion, garlic, and 1/2 cup mushrooms, over medium-high heat, for about 4-5 minutes or until the mushrooms are slightly browned. Transfer and let cool.

In the same pan, sauté the rest of the mushrooms. Transfer to a plate and set aside. You will use these to top the burgers.

In a food processor, add mushroom mixture, black beans, egg, cumin, oregano, paprika, Worcestershire sauce, bread crumbs, salt and pepper. Mix until everything is combined. Shape the mixture into patties.

In the same skillet, add the remaining tablespoon of olive oil. Cook patties, over medium heat, for about 5 minutes on each side until heated through. Melt cheese slices on top of each patty.

Place each patty over a tostón, add sautéed mushrooms on each patty then top with another tostón. Serve and enjoy!
---
SHOP THE RECIPE

---
This page may contain affiliate links. This means that if you click on one of the product links above and complete a purchase, I'll receive a small commission at no extra cost to you. I will never place a link nor make a recommendation on a product or service that I don't love or use personally. Thank you for keeping A Sassy Spoon, sassy. ;)