Vegetarian taco bowls made with spicy, smoky chipotle chickpeas, black beans, arugula, shredded cheese, and chopped cherry tomatoes!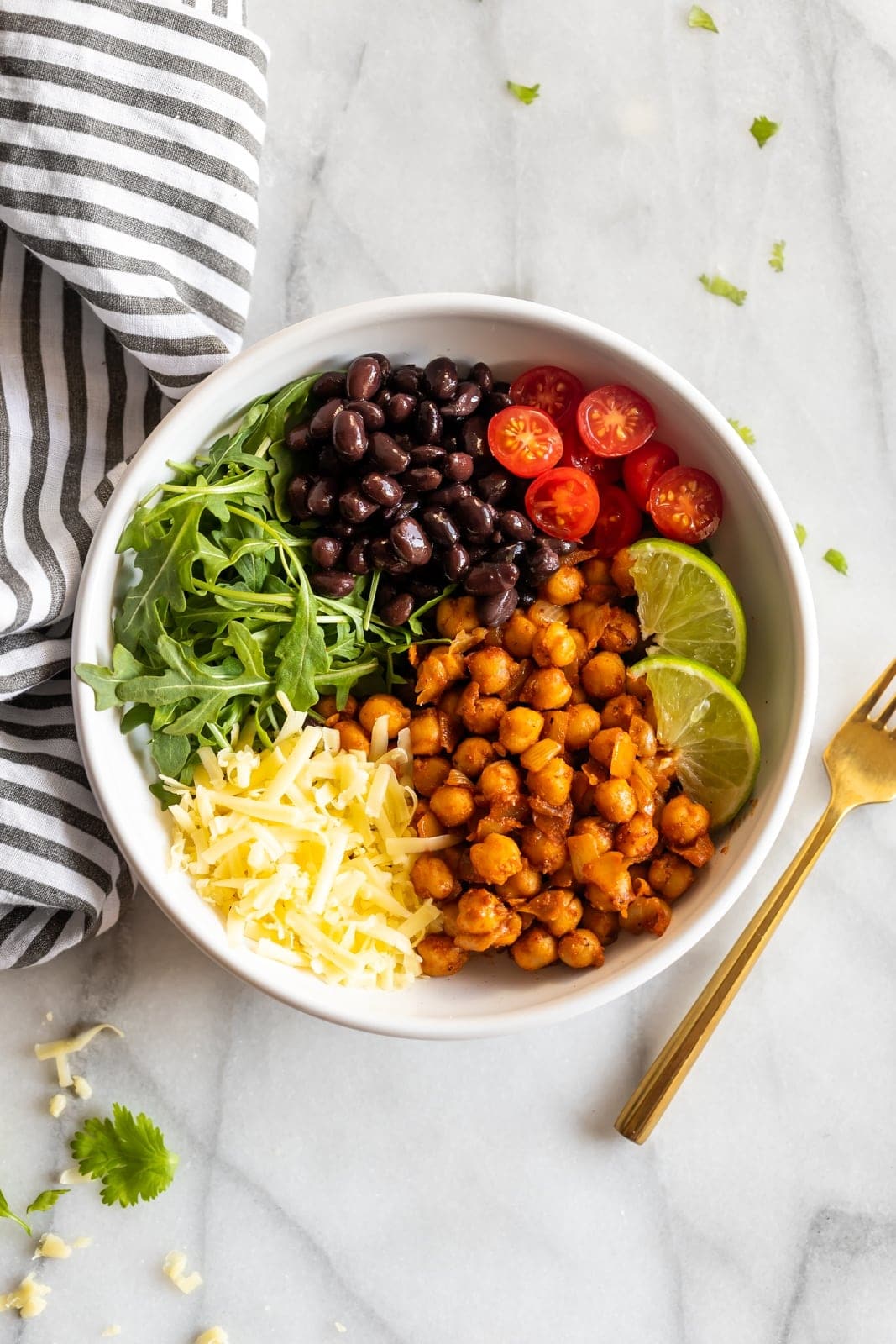 You guys really love my vegetarian recipes so let's keep the party going! For a while now, I've been looking to make vegetarian taco bowls. The basic premise was to make a regular taco bowl, spices and all, but just replace the meat with veggies. I love the spices in a taco bowl, don't you? They're smoky and spicy, and just so full of flavor. It's no doubt they're so popular.
After some research, I loved the idea of chickpeas being the star of the bowl. I didn't want to make the chickpeas with tomato sauce or anything crazy like that so instead, I made them smoky with the help of some chipotle. Here's what I did.
How To Make Taco Bowls with Chipotle Chickpeas
First, you add chopped onions, chipotle powder, garlic, cumin, salt and pepper to a skillet. Sauté them with a little bit of oil and, cook until translucent. You then add the chickpeas and mix it all together. Sauté the chickpeas in a nonstick skillet for a few minutes and that's all folks!
The chipotle chickpeas have a smoky flavor with a kick which is SO good. Be careful with the chipotle powder though, it can really overpower the dish if you go overboard. I know there are a lot of vegetarian taco bowl recipes out there but I gotta say these chipotle chickpeas really make the dish.
To assemble these chipotle chickpea taco bowls, you can pretty much add whatever you'd like. I made mine with black beans (drained and rinsed from a can), baby arugula, cherry tomatoes, and shredded cheese.
More pairing ideas for a taco bowl:
corn
tortilla strips or chips
nacho-flavored chips (Doritos!)
mixed greens
avocado
cilantro
sautéed peppers
riced cauliflower
brown or white rice
quinoa
You can DIY these bowls to your liking as long as you don't forget to squeeze some lime over the whole dish. It really brings all the flavors together. I can't say any more good things about this recipe. The best quick meal!
Oh! You can totally meal prep this recipe too. Just have all the components ready – chopped, shredded, drained, rinsed, etc. Place them all in different containers and then just build your bowl at dinner time. Ooo or maybe you can do a DIY taco bowl bar! Fun!
Can't wait for you guys to make these chipotle chickpea taco bowls!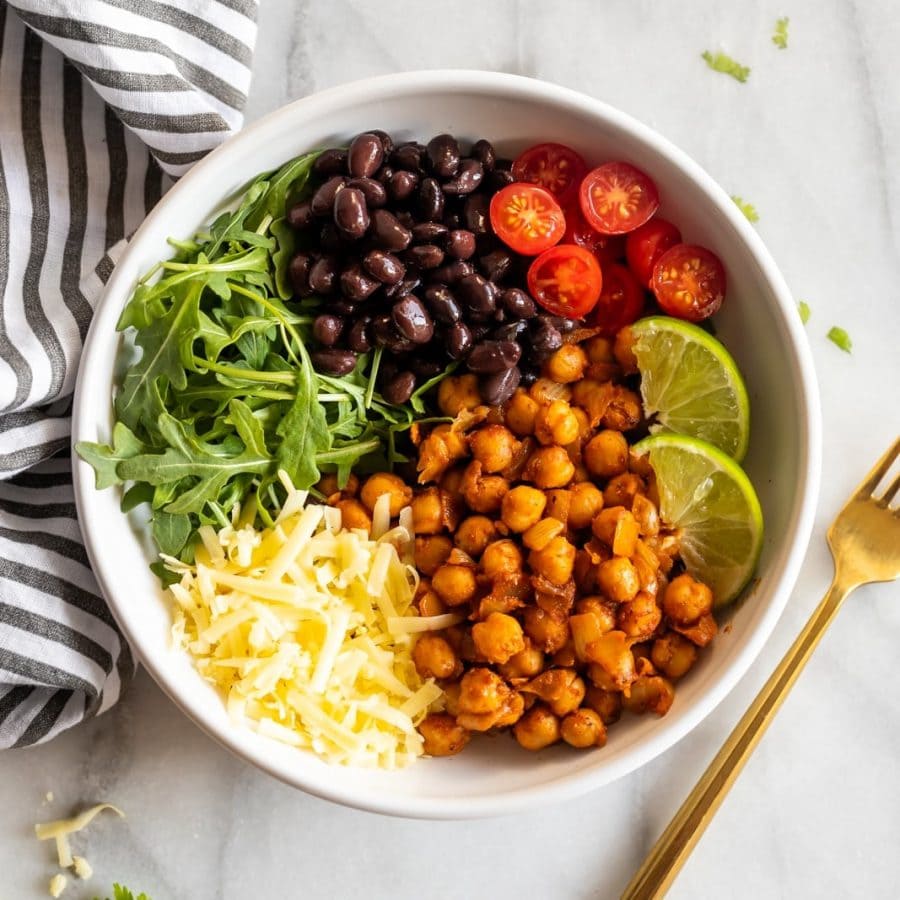 15-Minute Chipotle Chickpea Taco Bowls
Vegetarian taco bowls made with spicy, smoky chipotle chickpeas, black beans, arugula, shredded cheese, and chopped cherry tomatoes!

Ingredients
1 tablespoon olive oil
1/2 cup chopped onion
1/2 tablespoon chipotle powder (or smoked paprika, if you want smoky without the heat)
1 teaspoon garlic powder
1/2 teaspoon cumin
Salt + pepper to taste
2 cans chickpeas (15 oz each) drained and rinsed
Juice from 1 lime plus more for garnish
Ingredient ideas for bowls: black beans, corn, tortilla strips, nacho chips, arugula, mixed greens, shredded cheese (omit if vegan), diced avocado, cherry tomatoes, cilantro, sautéed peppers, riced cauliflower, white rice, brown rice, quinoa
Instructions
In a skillet, heat olive oil over medium high heat. Add onion, chipotle powder, garlic powder, cumin, salt and pepper. Sauté for 5 minutes. Add in drained chickpeas. Sauté for another 5 minutes. Squeeze in fresh lime juice. Stir to combine.

Assemble your bowls by adding chipotle chickpeas and your favorite ingredients. Suggestions are provided above. Don't forget to squeeze lime on top and then mix it all up. Enjoy!
Notes
*I made my bowl with 1 cup chipotle chickpeas, 1/2 cup black beans (drained and rinsed), 1/2 cup chopped cherry tomatoes, 1/4 cup shredded cheese, and 1 cup arugula. The nutritional information below is for this exact combo.
Nutrition
Serving: 1 servingCalories: 277 kcalCarbohydrates: 38.4 gProtein: 13.8 gFat: 7.5 gSaturated Fat: 2 gCholesterol: 6 mgSodium: 276 mgPotassium: 701 mgFiber: 10.5 gSugar: 4.1 gCalcium: 130 mgIron: 3.2 mg
You may also like: