Easy-to-make, homemade chicken wings marinated in Cuban mojo marinade and spices then baked in the oven to crispy perfection!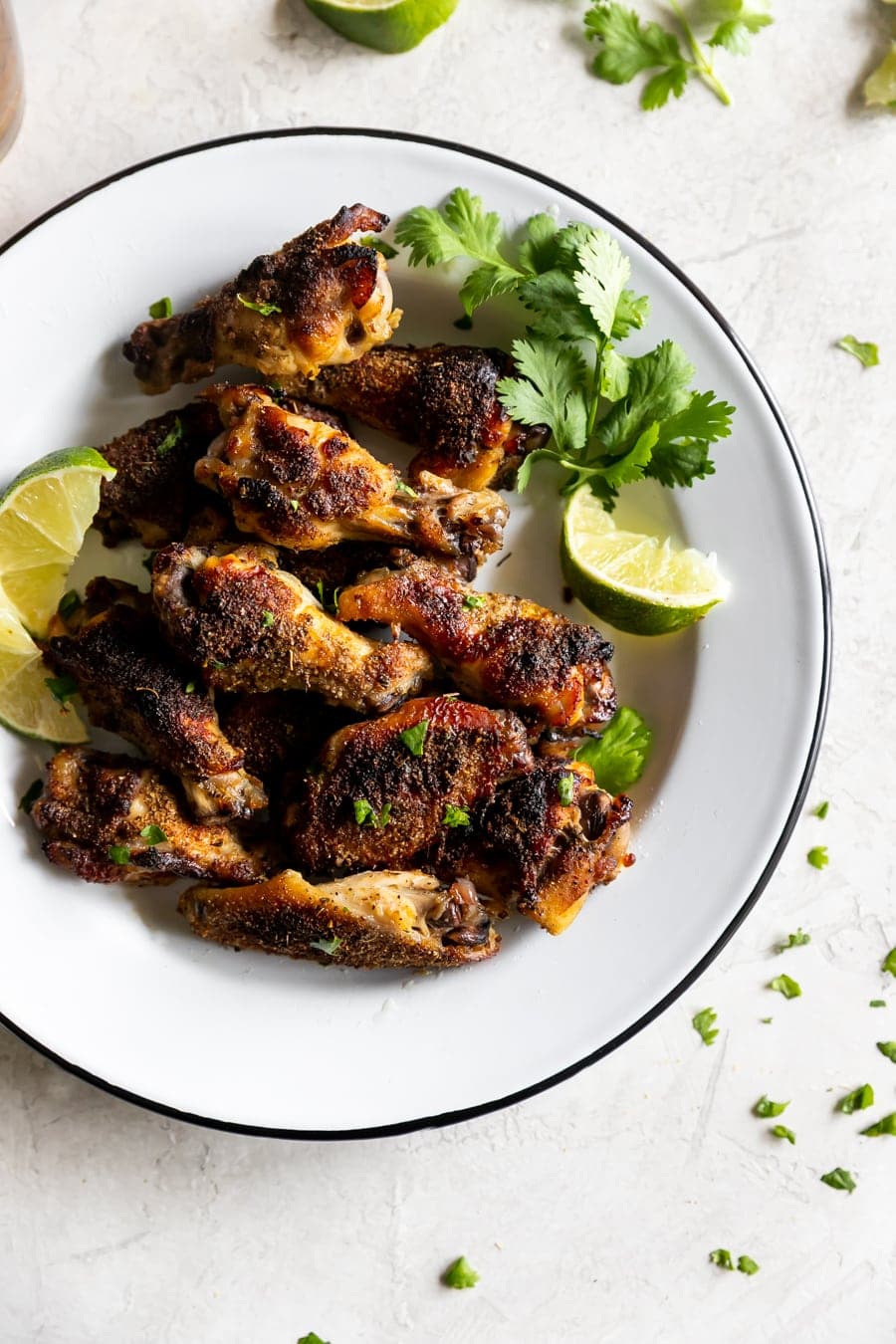 I love chicken wings, don't you? Lemon pepper wings are my personal fave but I love to explore different flavors too. In staying true to my roots, I made these mojo chicken wings and they were OUT OF THIS WORLD.
Granted, anything garlic, citrus, Cuban-style is going to be at the top of my flavor list but trust me when I tell you…these homemade chicken wings were AMAZING. Here's what I did.
How to Make Mojo Chicken Wings
First things first, make sure to remove the tips and separate the drumettes from the flats. This means 10 whole wings are actually 20 pieces (10 drumettes / 10 flats).
You then have to marinate the wings in a simple mojo marinade. The longer you marinate the chicken, the better! But, if your patience level is at a 1 like mine is, you can marinate them for as little as 20 minutes up to overnight. I wouldn't marinate the wings for longer than 2 days.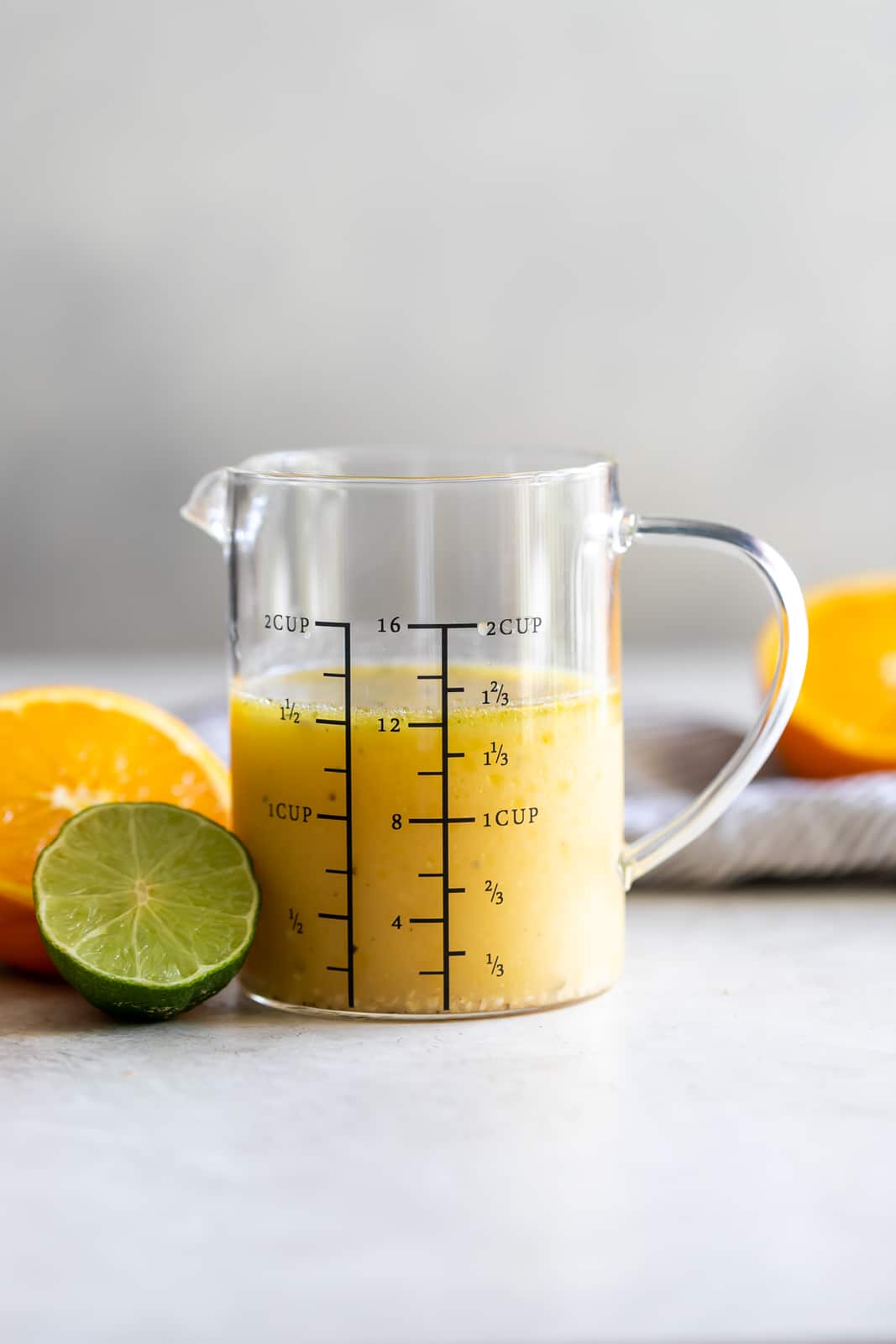 After marinating the wings, pat them dry then transfer them to a bowl and toss them in Cuban sazon seasoning.
Once you're ready to bake, set a wire rack on top of a lined baking sheet. This allows air to circulate around the wings and fat to drip off which will result in the wings cooking evenly and getting extra crispy.
Make sure to spray the wire rack so the chicken wings don't stick while cooking. Place the wings on a wire rack sheet.
Whether I'm making crispy bacon or crispy chicken wings, this half sheet with the wire rack is seriously my secret weapon. Line with parchment paper and clean-up will be a breeze!
How long to bake chicken wings
I typically bake chicken wings at 425 degrees F for 35-45 minutes. Since not all ovens are the same, I'd keep an eye on them. If at the 35-minute mark, they are not fully cooked yet, cook for 5-10 minutes longer. The internal temperature of the wings should be 165 degrees F.
That's all folks! That's how you get citrusy, crispy, baked chicken wings.
Make sure to serve them with lime wedges and your favorite sauce. I recommend cilantro garlic sauce.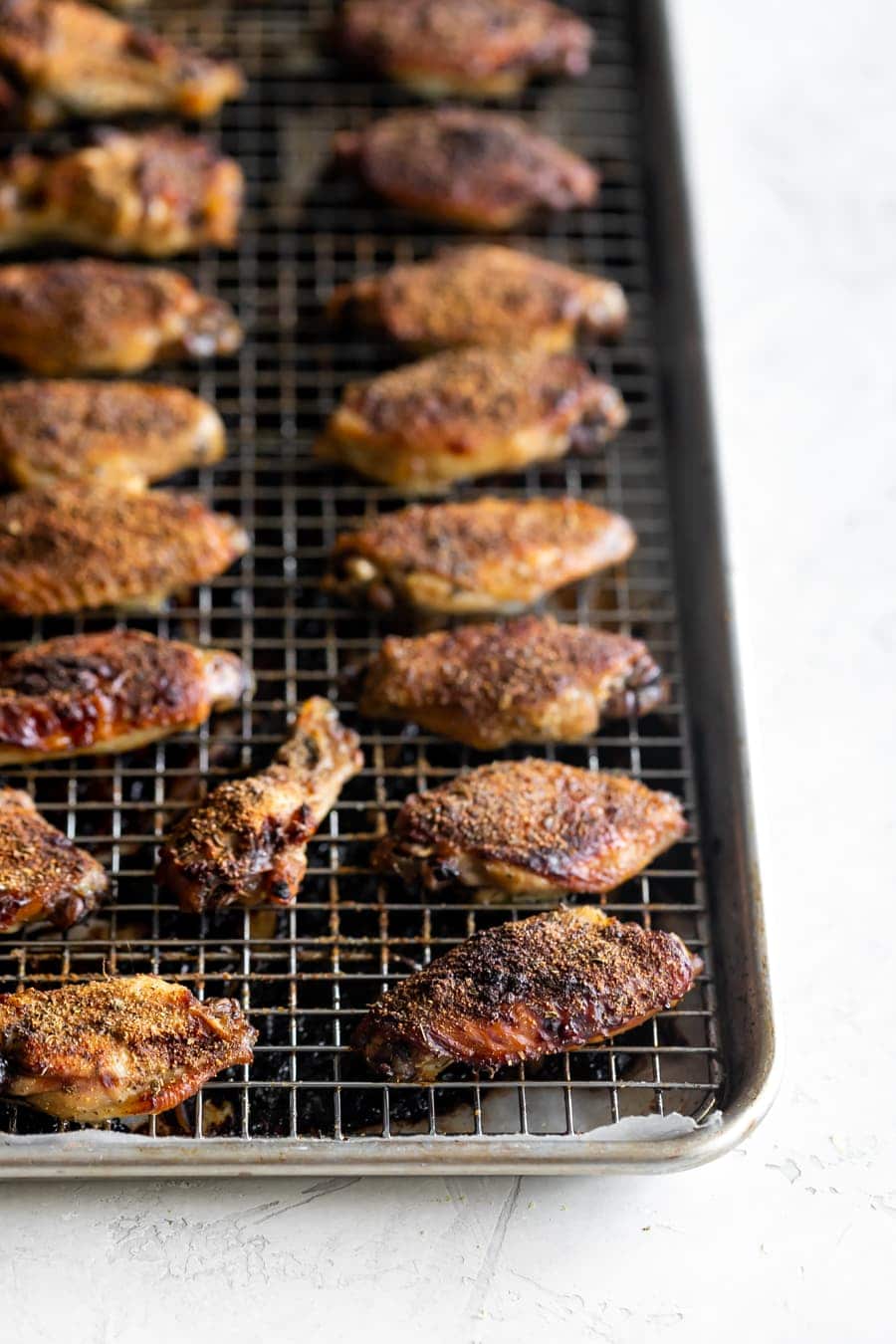 Can I use the air fryer to make chicken wings?
Yes! Yes, you can. Depending on the type of air fryer you have, I'd recommend you follow the chicken setting for your air fryer.
For my air fryer (I have this one), I set it on 360 degrees which is the chicken setting on that particular machine and cook the wings for 20 minutes. I then turn up the heat to 400 degrees for an additional 5 minutes.
Don't forget to spray the bottom of the basket with cooking spray and space out the wings. You will have to do it in batches but they come out crispy and delicious!
You can't just take my word for it, guys. Can't wait for you to make them!
You may also like:
This post was originally published in January 2017. Updated photos in August 2019.
Crispy Baked Mojo Chicken Wings
Easy-to-make, homemade chicken wings marinated in Cuban mojo marinade and spices then baked in the oven to crispy perfection!

Instructions
In a bowl, add chicken wings and mojo marinade and place in the fridge for at least 20 minutes up to overnight (the longer the better). Do not marinate longer than 2 days.

Preheat the oven to 425ºF. Place a wire rack inside a large baking sheet lined with parchment paper. Spray the wire rack with cooking spray. Set aside.

Discard marinade from the bowl. Pat the wings dry a bit with paper towels. Add cuban seasoning to the bowl. Toss the wings until they are evenly coated. Lay the chicken wings on the wire rack.

Bake for 35-45 minutes or until chicken wings are cooked through and crispy. Note: Not all ovens are created equal so keep an eye on them at the 35-minute mark. If they are not yet cooked/crispy, continue to cook for 5-10 more minutes. They are ready when the internal temp is 165ºF.

Once the wings are fully cooked, remove them from the oven. Serve with your favorite wing sauce or squeeze with lime wedges, if desired. Enjoy!
Nutrition
Serving: 1 servingCalories: 420 kcalProtein: 11 gFat: 28 gSodium: 1950 mg