You're just 3 ingredients away from these crispy baked lemon pepper wings! Perfect for dinner, game day, or to satisfy that wing craving. All you need is chicken wings, olive oil, lemon pepper seasoning! I love to pair these chicken wings with cilantro garlic sauce. YUM!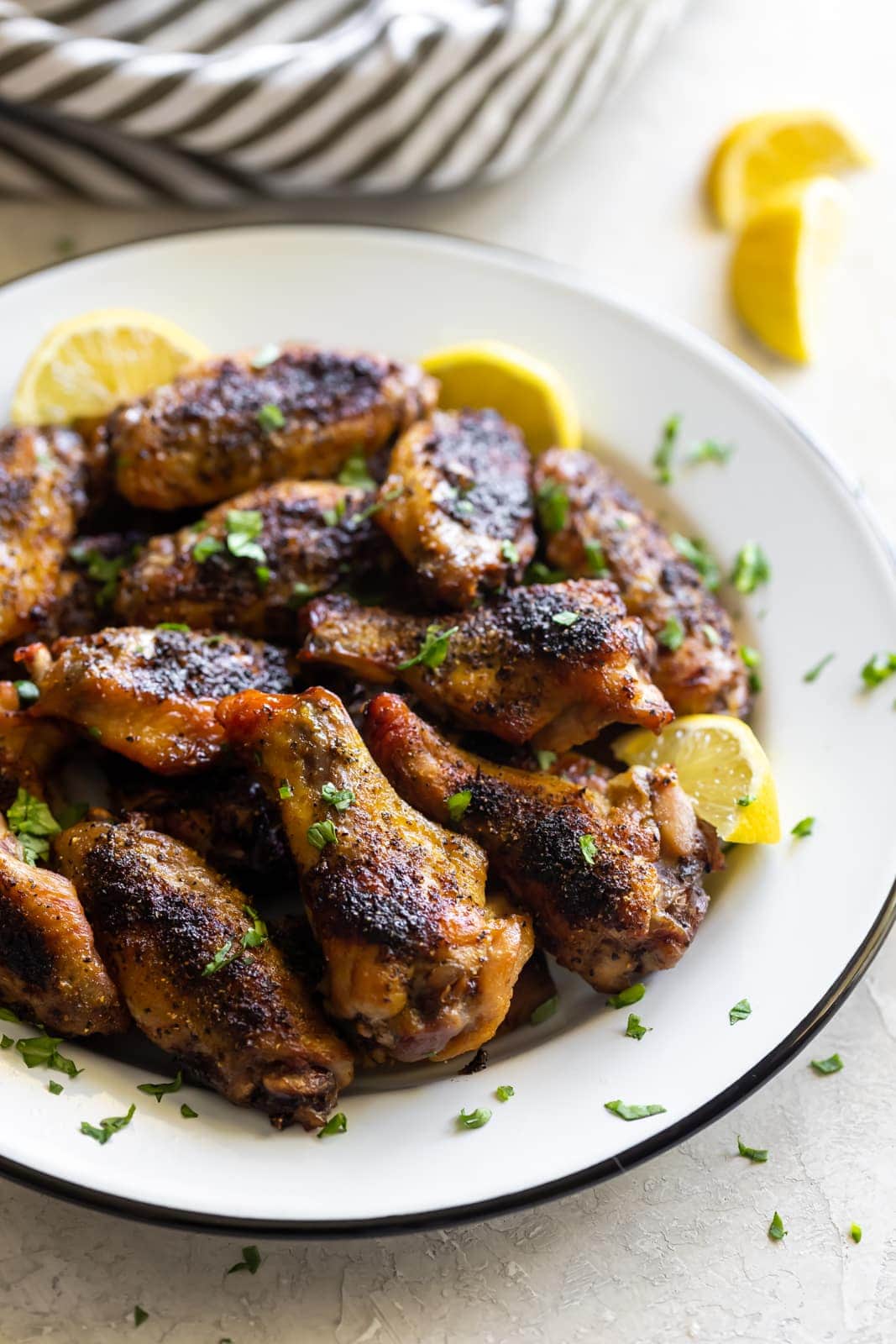 At a bar once, I ordered chicken wings. That's usually what you order at bars, isn't it – beer and wings? They just go so well together, don't they? I saw that lemon pepper wings were on the menu so, of course, that's what I ordered. I was pumped! It was my first time trying lemon pepper wings. I was imagining what they would taste like – citrusy yet peppery and delicious. I was ready!
Except I was DYING.
These wings were awful. That first bite was just INTENSE and WAY too citrusy. I tried another one. Same issue. OMG THE WATER. The amount of water I drank was crazy. Perhaps they were dry rubbed instead of seasoned before cooking? At least that's what I thought. They were just too much for me to handle so I had to send them back. Disappointed with how terrible they were and how I couldn't even finish my plate, I was determined to recreate them at home. And that I did, my friends. I made them using my favorite lemon pepper seasoning…and they were DELICIOUS!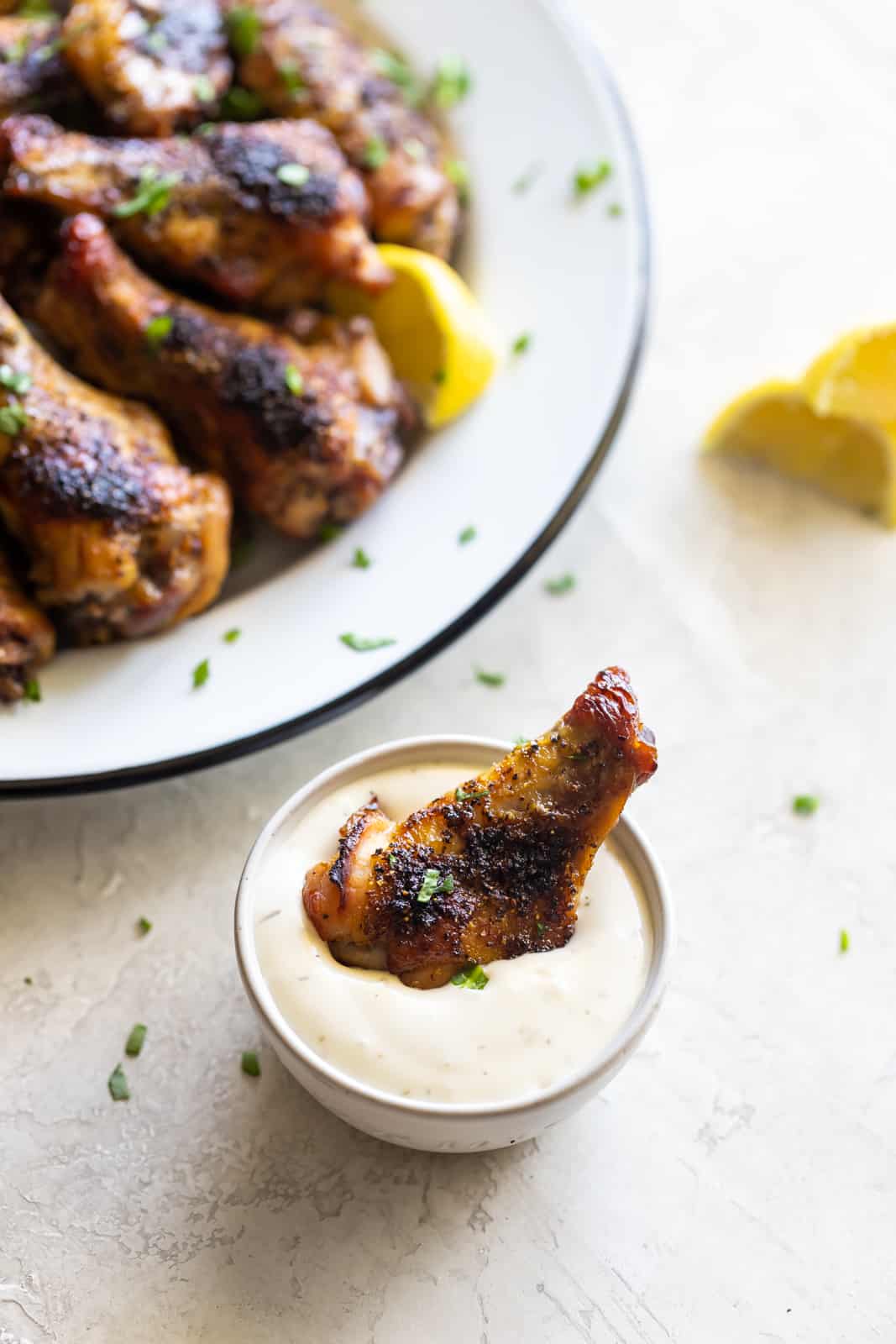 Lemon pepper seasoning is usually made with granulated dried lemon zest (you're supposed to bake it to dry it out) mashed with black peppercorns. It takes about an hour to dry out lemon zest in the oven and I just don't have that kinda time. I'll all for making things from scratch but this is just not one of those things! I used this lemon pepper seasoning and it was perfect. No MSG and truly the perfect blend of lemon, pepper, garlic, onion, and salt. Not sponsored by the way. Just delicious!
Video On How To Make Lemon Pepper Wings
How To Make Lemon Pepper Wings
Ready to see how insanely easy it is to make these wings? First, make sure to remove the tips and separate the drumettes from the flats. This means 10 whole wings is actually 20 pieces (10 drumettes / 10 flats). Score! Also, make sure they are very dry. We don't want any moisture on these wings. If you have the time, you can dry them out in the fridge for 30 minutes prior to baking.
Next, set a wire rack on top of a lined baking sheet. This allows air to circulate around the wings and fat to drip off which will result in the wings cooking evenly and getting extra crispy. Make sure to spray the wire rack so the chicken wings don't stick while cooking.
Lastly, toss the wings in olive oil or avocado oil with the lemon pepper seasoning. You can also use melted butter, if you prefer. Place them on a wire rack sheet and bake for 35-45 minutes. Since not all ovens are the same, I'd keep an eye on them. If at the 35-minute mark, they are not fully cooked yet, cook for 5-10 minutes longer.
Can I use the air fryer to make chicken wings?
Yes! Yes, you can. Depending on the type of air fryer you have, I'd recommend you follow the chicken setting for your air fryer.
For my air fryer (I have this one), I set it on 360 degrees which is the chicken setting on that particular machine and cook the wings for 20 minutes. I then turn up the heat to 400 degrees for an additional 5 minutes.
Don't forget to spray the bottom of the basket with cooking spray and space out the wings. You will have to do it in batches but they come out crispy and delicious!
These crispy baked lemon pepper wings are the perfect addition to any game day, get together, or pool party. I've even made them for dinner! It's a super easy recipe and a perfect pairing with my cilantro garlic sauce.
Can't wait for you guys to try it!
Other recipes you may like:
Ingredients
2 1/2

pounds

chicken wings

,

tips removed; drumettes and flats separated (approx. 20-25 wings)

2

tablespoons

olive oil or avocado oil

,

(you can also use melted butter)

3

tablespoons

lemon pepper seasoning

Chopped cilantro or parsley for garnish

,

optional

Lemon wedges

,

optional

Cilantro garlic sauce,

optional
Instructions
Preheat oven to 425 degrees F. Place a wire rack inside a large baking sheet lined with parchment paper. Spray the wire rack with cooking spray. Set aside.

Make sure the wings are thawed completely and dried very well. Pat them down with paper towels until they are dry. Optional: You can also place the wings in the fridge for 30 minutes to dry them out prior to baking, if you have the time.

In a bowl, add the chicken wings, tips removed, drumettes and flats separated.

Add olive oil (or melted butter) and lemon pepper seasoning to the bowl. Toss the wings until they are evenly coated. Lay the chicken wings on the wire rack.

Bake for 35-45 minutes or until chicken wings are cooked through and crispy. Note: Not all ovens are created equal so keep an eye on them at the 35-minute mark. If they are not yet cooked/crispy, continue to cook for 5-10 more minutes.

Once the wings are fully cooked, remove them from the oven. Serve with your favorite wing sauce or squeeze with lemon wedges, if desired. Enjoy!
Notes
*You can make these ahead of time and reheat them before serving. Allow them to come to room temperature then place them in the oven at 350 degrees F for 5-10 minutes.
---
Nutrition Facts
3-ingredient Crispy Baked Lemon Pepper Wings
Amount Per Serving (1 serving)
Calories 427
Calories from Fat 261
% Daily Value*
Fat 29g45%
Sodium 1953mg81%
Protein 27g54%
* Percent Daily Values are based on a 2000 calorie diet.