I saw a donut hole with a pipette of liquor in it. I just HAD to recreate it!
Now, I've made donuts in the past. I've also had boozy desserts in the past. Heck, I've had boozy cupcakes at most of my birthday parties. Same concept – Cupcake with a pipette of liquor. This, however, was next level!
Keep reading for the coquito donut hole recipe!
Inspired by a donut shop that opened this year here in Miami called The Salty Donut, I wanted to emulate their latest and greatest creation – the Coquito Doughnut Hole. Since they can't sell liquor, they reduce the coquito to a glaze, and let me tell you…tastes just like coquito!
So that was my mission and I chose to accept it.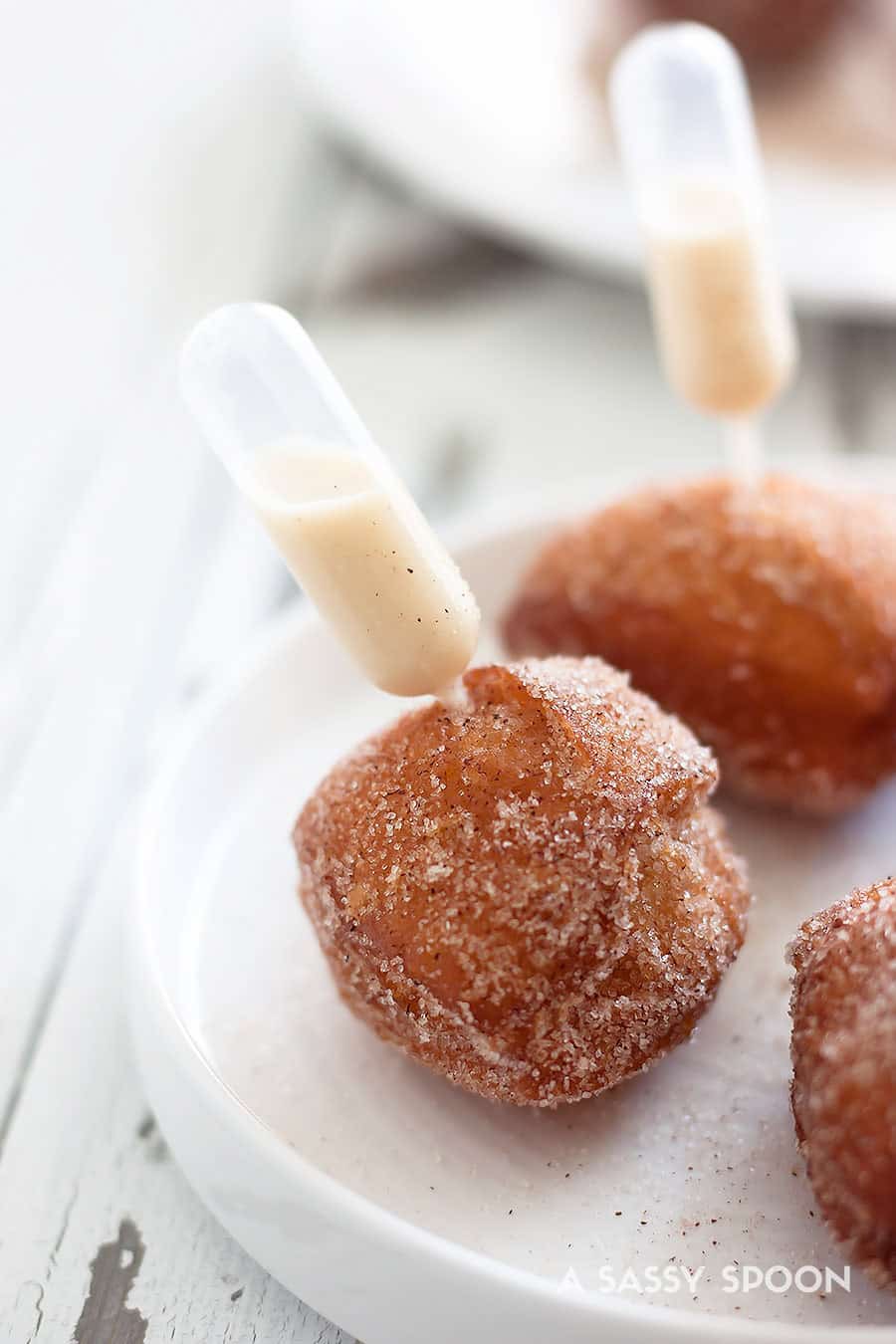 Recommended For This Recipe
These little pipettes are the best way to add a special touch to treats like donuts, cakes, cupcakes, or even syrup for chicken and waffles.
How To Make This Coquito Donut Hole Recipe
I made the coquito first, which was incredibly easy to make and placed it in the fridge for a few hours. Considering that I'm Cuban, I know I should be making Crema de Vie which is Cuban Eggnog buuuut…I love coconut. So, coquito wins!
Next on the list was making the actual donut holes.
The best part of this recipe? You can make the donut holes in 3 minutes!
Using refrigerated biscuit dough instead of making your own, you basically cut the individual biscuit into quarters and fry each one. You can definitely make your own dough if you prefer but when you need a last-minute idea, this is hack goals!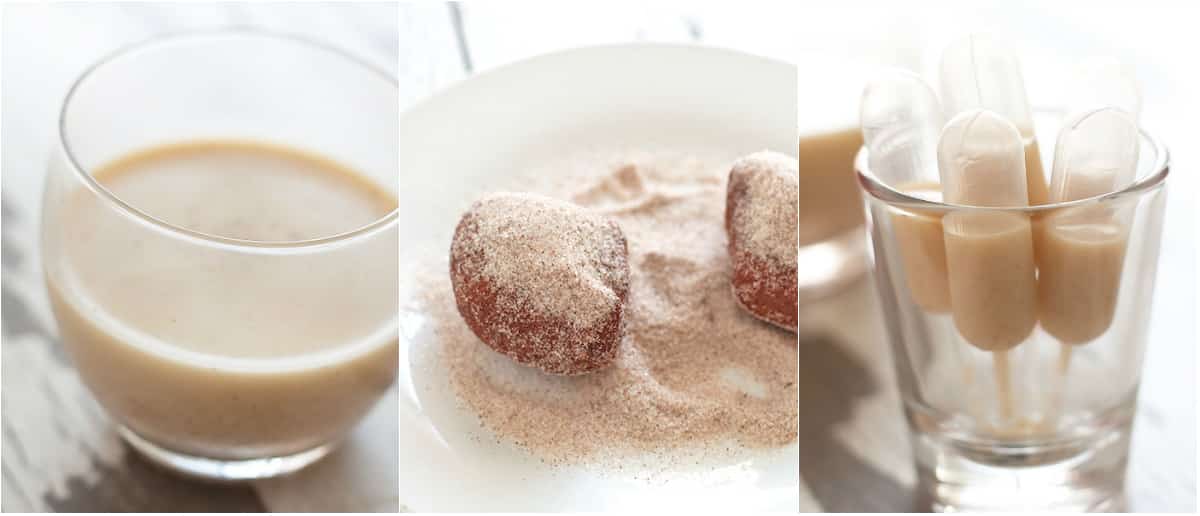 Surprisingly, these donut holes were really easy to fry. There was no splashing or loud cracking of oil. Instead, the dough quietly sizzled when it hit the oil and it cooked really fast. For someone that hates to fry, this was pretty quick and painless. The way cooking should always be.
And in case you were wondering, the taste of the dough was not buttery like a biscuit. Instead, it was warm, fluffy, and tasted just like a donut! Perhaps it was the cinnamon sugar that helped with that. ;)
Once they've cooled and you've rolled the donut holes in cinnamon sugar, you add coquito into the pipettes, which you can purchase here, and then stick the pipette into each donut hole.
You can either squeeze the pipette of the coquito into the donut OR take the coquito as a shot and then eat the donut after. Either way, it's a win!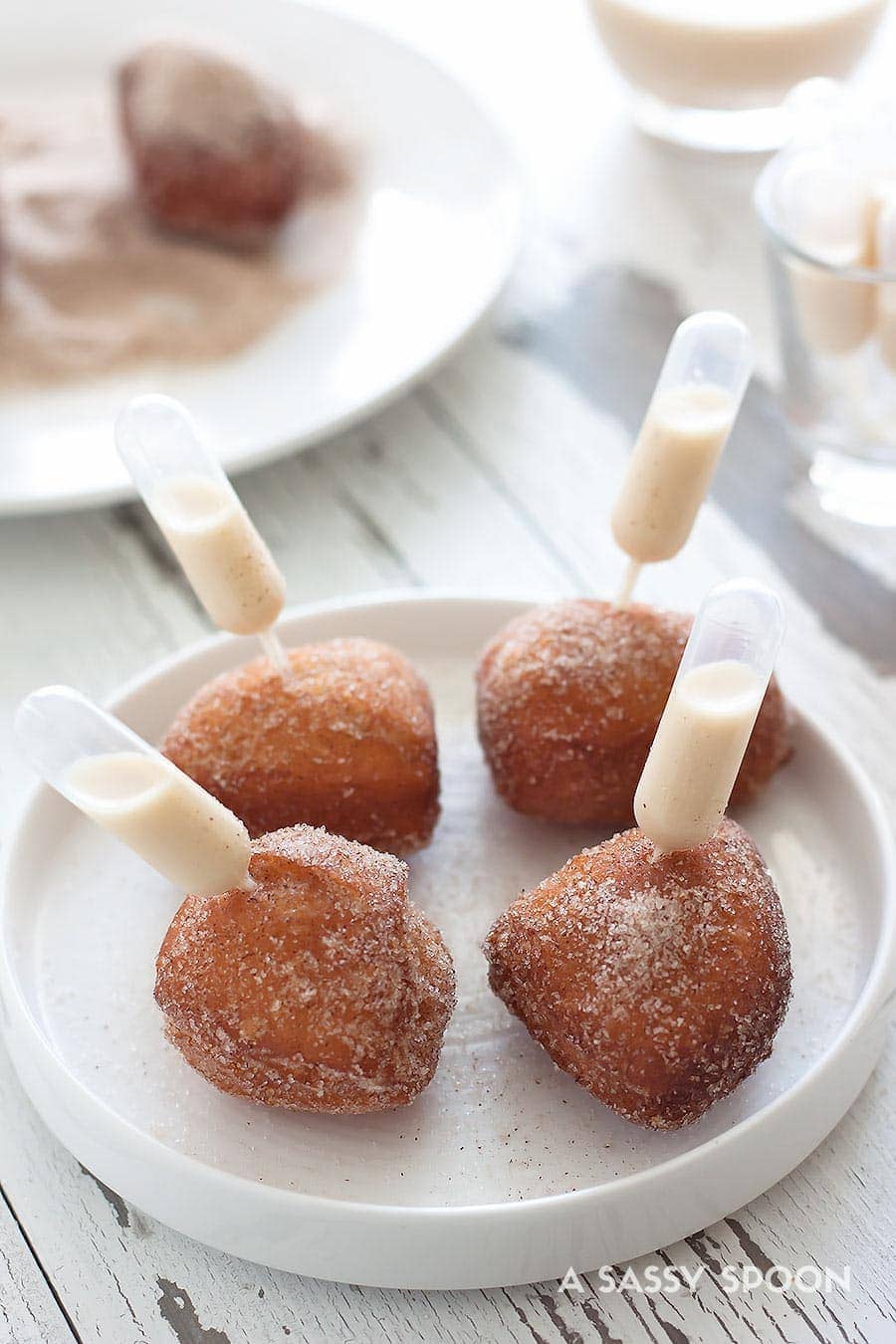 I hope you make this and you LOVE it!
You may also like: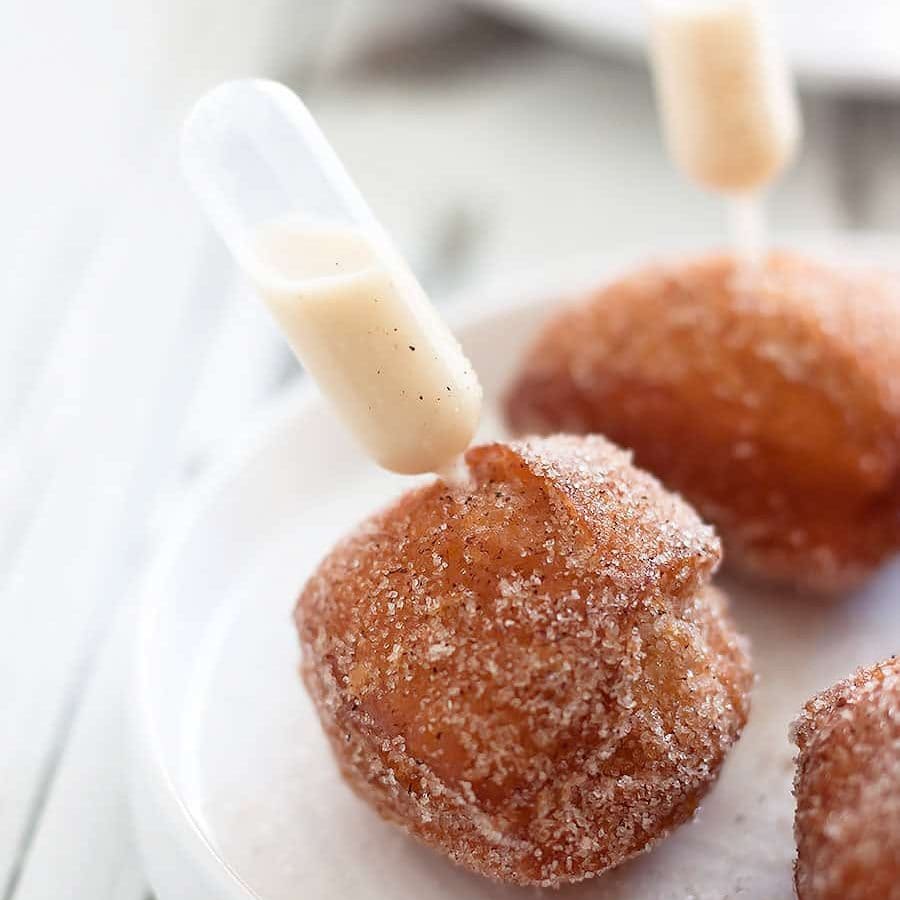 Coquito Donut Holes (Creamy Puerto Rican Coconut Rum Drink)
Coquito Donut Holes is a quick + easy donut hole recipe made using refrigerated biscuit dough and homemade coquito. Once you cut and fry the dough, just toss the donut holes in cinnamon sugar and add a pipette of coquito to each one. This special treat is perfect for crowds and is a family favorite during the holidays!
Ingredients
1/2 cup coquito (save the rest in the fridge!)
1 can refrigerated biscuit dough (I recommend Pillsbury Grands Southern Homestyle Original Biscuits 8 Count – not the flaky kind)
1/3 cup granulated sugar
1 tablespoon cinnamon
Vegetable oil for frying
Instructions
Make the coquito first and place it in the fridge for at least 2 hours.

While you wait for the coquito to chill, make the donut holes. Heat enough oil to cover the dough balls, in a deep skillet, until it is 350ºF.

Cut biscuits into quarters, and then fry them in small batches, for 1-2 minutes or until golden brown. Transfer them to a paper towel-lined plate to drain the excess oil.

Once they are all done, place the cinnamon sugar mixture in a bowl and toss the donut holes in the mixture. Set aside.

Remove the very cold coquito from the fridge. Squeeze the coquito into a pipette and pierce it into the donut hole. Repeat with the rest. Enjoy!
Nutrition
Serving: 1 donut holeCalories: 127 kcalCarbohydrates: 10 gProtein: 1 gFat: 10 gSaturated Fat: 1 gPolyunsaturated Fat: 3 gMonounsaturated Fat: 5 gTrans Fat: 0.03 gCholesterol: 2 mgSodium: 138 mgPotassium: 40 mgFiber: 0.3 gSugar: 3 gVitamin A: 9 IUVitamin C: 0.1 mgCalcium: 15 mgIron: 1 mg