Soft, fluffy, baked chocolate cookies and cream Oreo donuts topped with a deliciously thick cream cheese icing and crushed Oreos!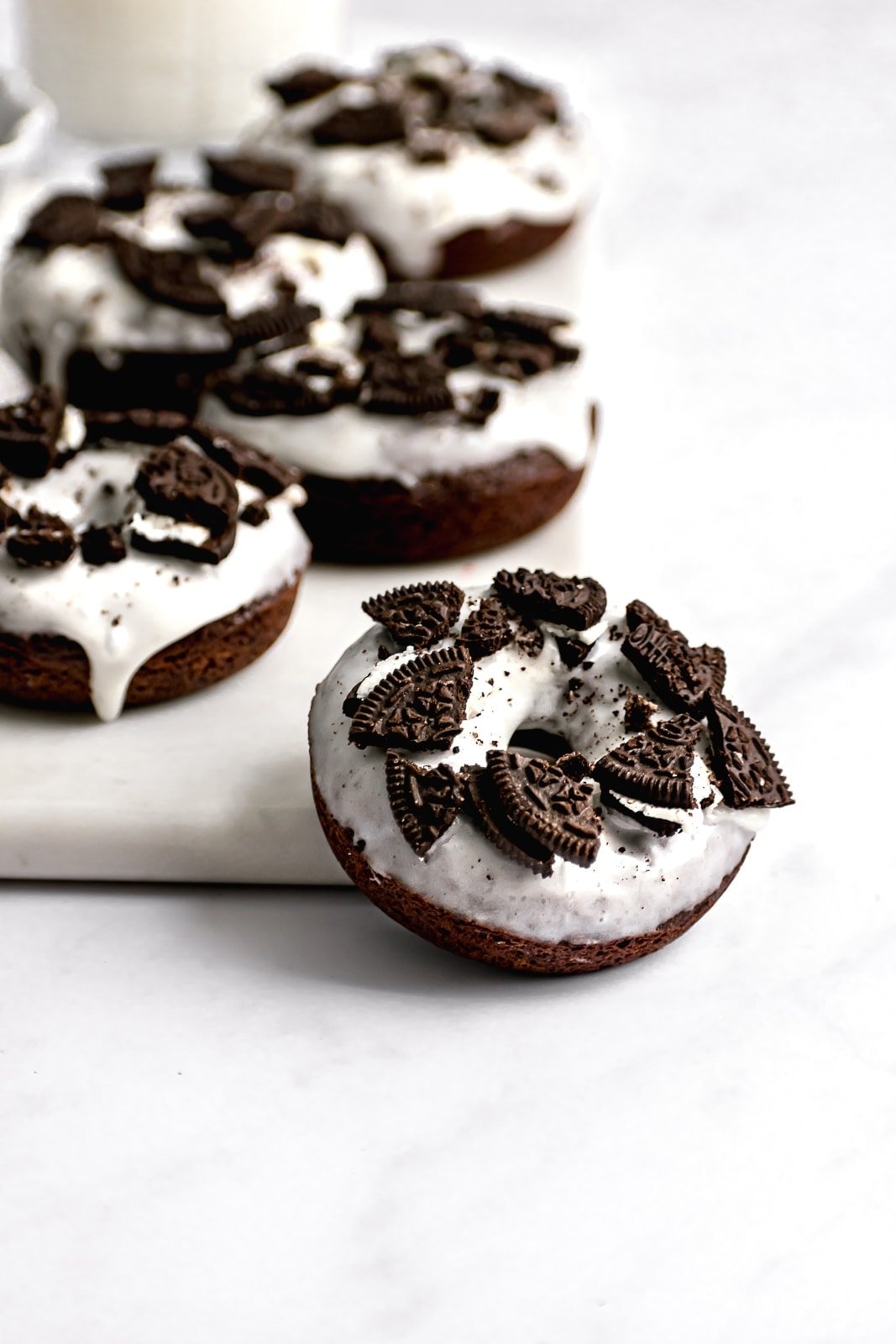 A few years ago, I remember going to a bar with friends and bringing them these Oreo donuts. Yep, I took donuts to a bar. Ha! But hey, my friends absolutely LOVED them and that's all that matters.
These chocolatey donuts are made with Oreos and cream cheese icing. They're soft, fluffy, rich, indulgent, and the perfect sweet treat for any day of the week.
What I love best about this recipe is that you don't need yeast since they're more cakey than doughy. There's also no need for frying, you make these donuts in the oven and it's super easy to do. Here's how to bring this donut recipe to life!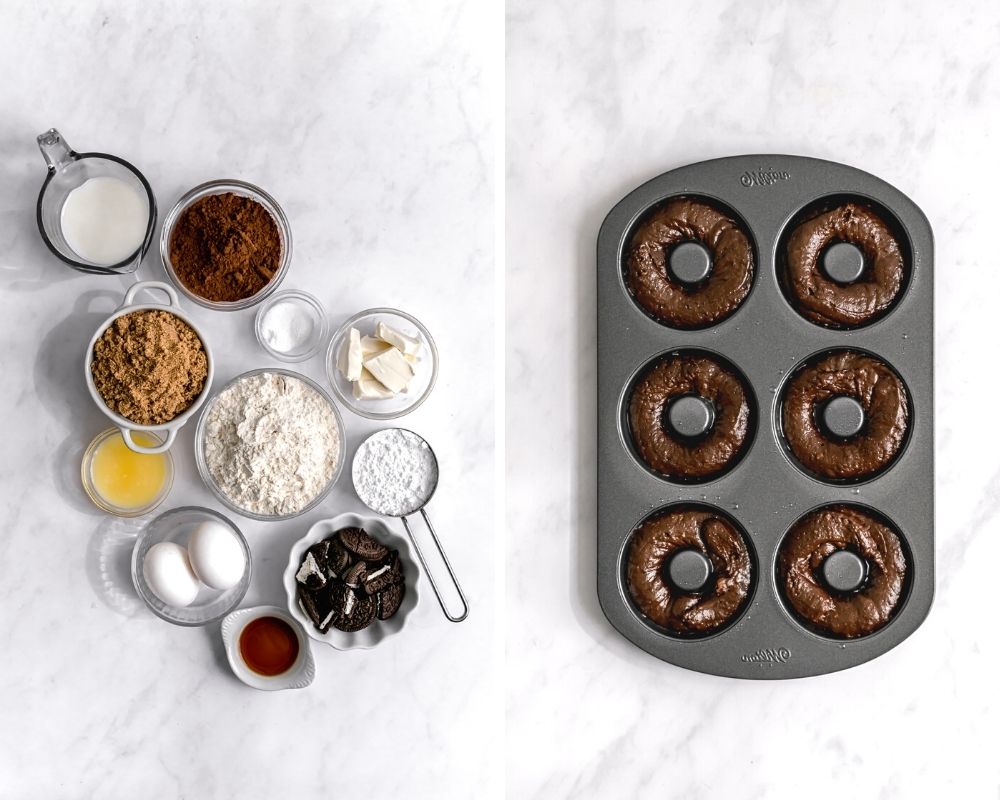 Ingredients You'll Need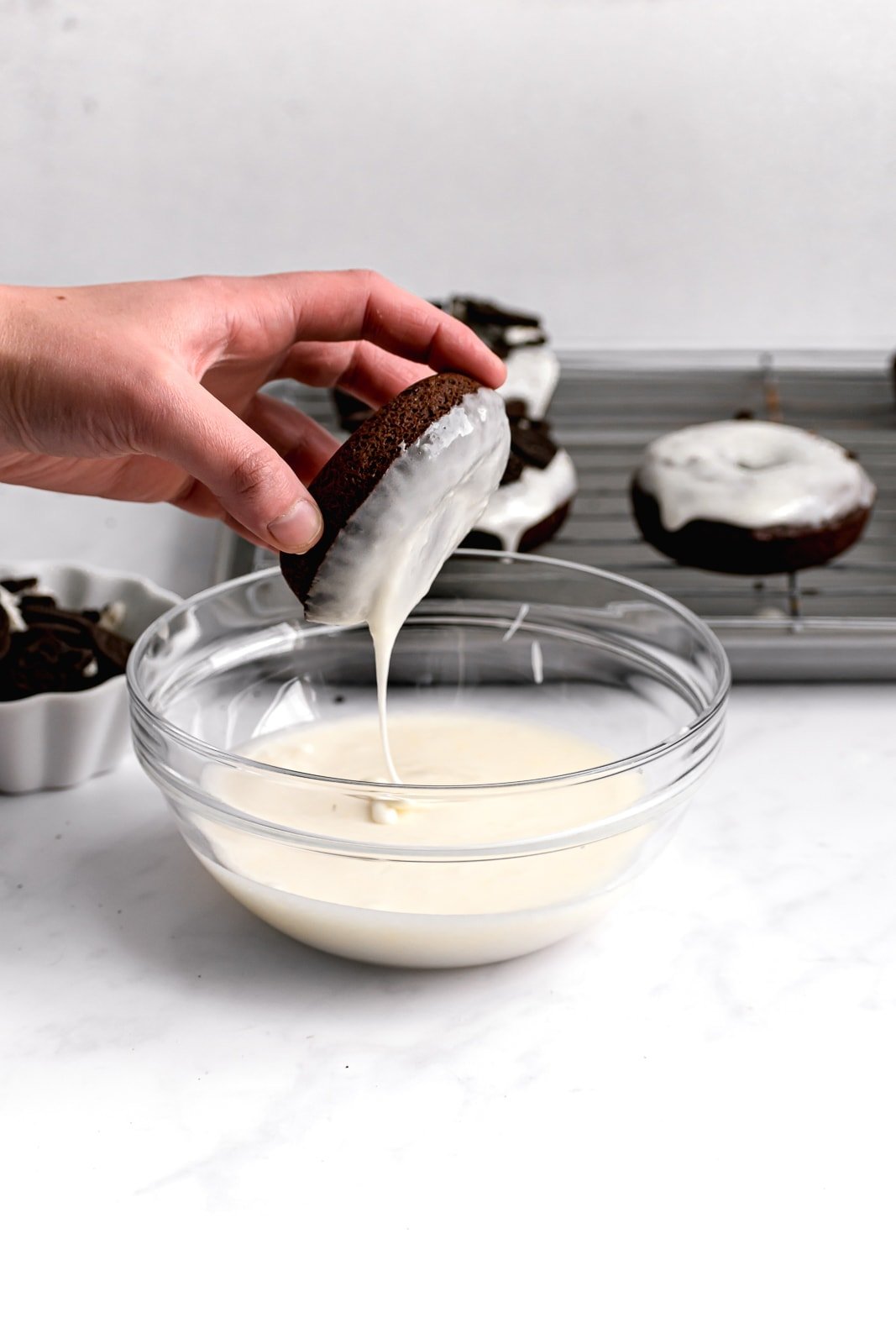 How To Make Cookies & Cream Chocolate Oreo Donuts
These pans are the perfect way to make homemade donuts! They are non-stick and dishwasher safe!
How To Make Easy Cream Cheese Icing
How Do Store Homemade Oreo Donuts?
These donuts are best enjoyed on the same day. They will, however, stay fresh at room temperature for up to 2 days. After that, I recommend transferring them to an airtight container and keeping them in the fridge for up to a week (if they last that long!). I don't recommend freezing them.
You may also like: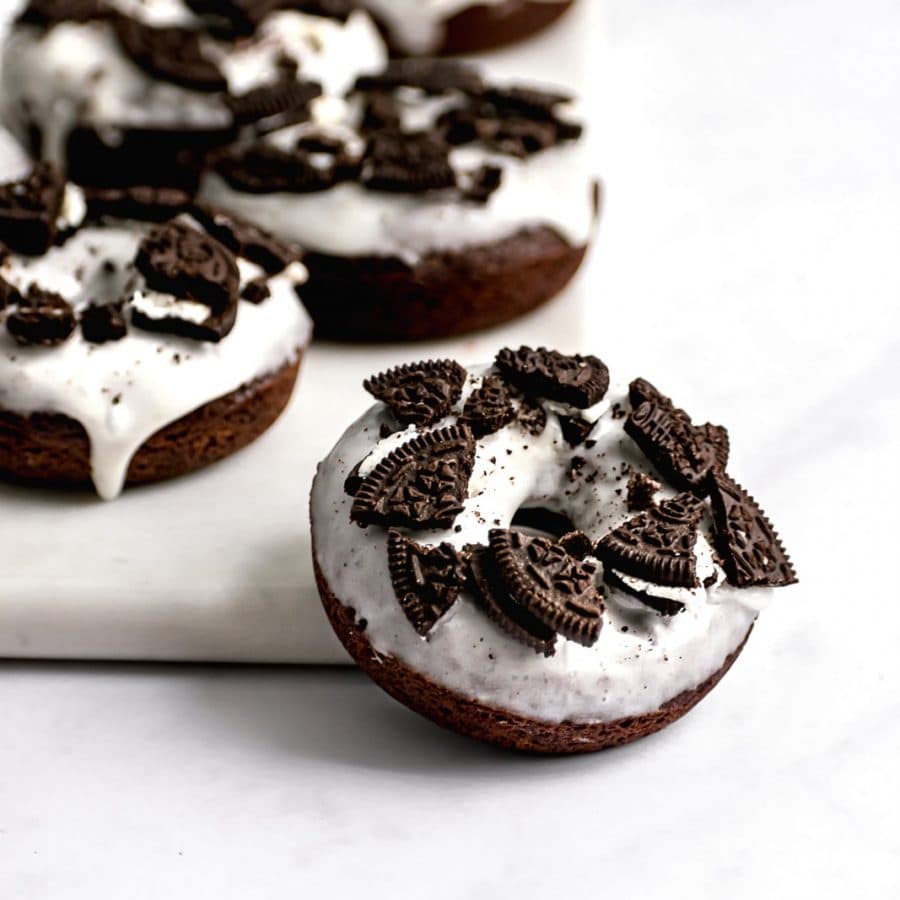 Cookies and Cream Chocolate Oreo Donuts
Soft, fluffy, baked chocolate cookies and cream Oreo donuts topped with a deliciously thick cream cheese icing and crushed Oreos!
Ingredients
Cookie & Cream Donuts
8 tablespoons unsalted butter melted
2 large eggs
1/2 cup milk
1 teaspoon vanilla extract
2/3 cup Dutch-process cocoa powder
1 3/4 cups all-purpose flour
1 cup brown sugar packed
1/2 teaspoon baking powder
1/2 teaspoon baking soda
1/2 teaspoon salt
Cream Cheese Icing
2 ounces cream cheese softened
2 cups powdered sugar sifted
4 tablespoons milk
1 teaspoon vanilla extract
Crushed Oreo cookies as a topping for the donuts
Instructions
Preheat the oven to 350ºF. Lightly spray two standard donut pans with nonstick cooking spray or melted coconut oil to avoid the donuts from sticking to the pan. Set aside.

In a large bowl, whisk together the butter, eggs, milk, and vanilla. Stir until well combined. To the same bowl, add the cocoa powder, flour, sugar, baking powder, baking soda, and salt. Mix until just combined. Set aside.

Transfer the batter into a ziplock plastic bag or piping bag, cut a hole in one corner, and pipe the batter into the donut molds, filling each one about 3/4 full.

Bake for 10-12 minutes, or until a toothpick inserted into the center comes out clean. Let cool for 5 minutes before flipping the pans upside down over a rack to remove the doughnuts.

In the meantime, whisk together the cream cheese, sugar, milk, and vanilla until smooth and combined. The mixture will be very thick.

Dip the tops of each donut in the icing or use the back of a spoon to spread a thick layer. Top each donut with crushed Oreo cookies before allowing them to set for 10-20 minutes, or until the icing is slightly hardened. Serve with a tall glass of milk and enjoy!
Nutrition
Serving: 1 donutCalories: 395 kcalCarbohydrates: 67 gProtein: 6 gFat: 13 gSaturated Fat: 7 gTrans Fat: 1 gCholesterol: 53 mgSodium: 357 mgPotassium: 199 mgFiber: 3 gSugar: 45 gVitamin A: 306 IUCalcium: 88 mgIron: 3 mg
Originally posted in October 2016. Updated recipe + photos in February 2021.