Sleigh the holidays with Boozy Marshmallow Peppermint Bark! Melted marshmallow mixed with peppermint schnapps, swirled on melted dark chocolate then topped with crushed candy canes.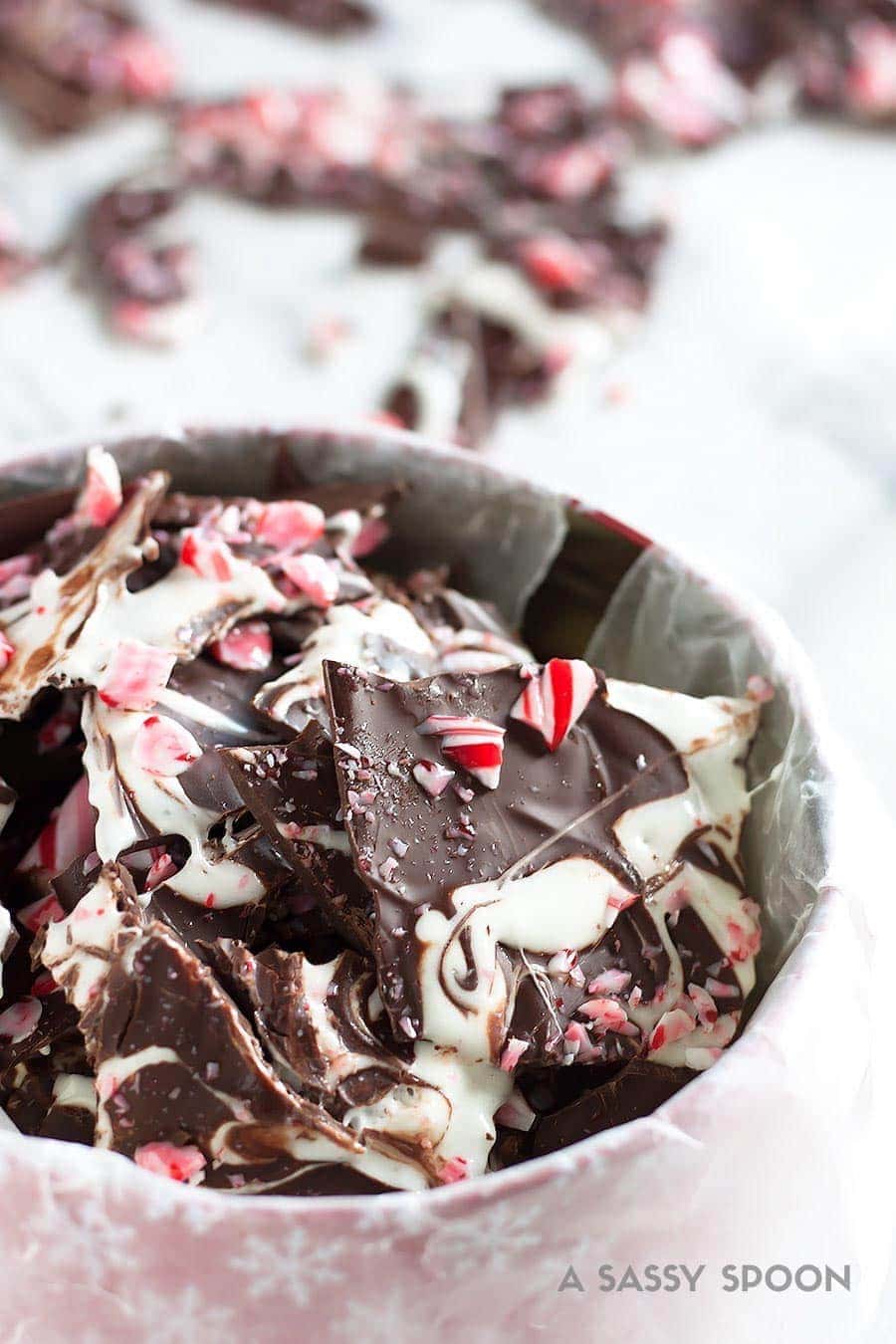 Every year, I order peppermint bark from William Sonoma AFTER Christmas. Sorry, not sorry. I stock up when it's on sale like the smart consumer I be!
This happens every year.
I don't even like white chocolate but for whatever reason, I LOVE the William Sonoma Peppermint Bark. The one from Ghirardelli comes in tied for first though. I usually receive peppermint bark at Christmas from family and friends (they know me too well). This year however Christmas came early because my bff gave me Ghirardelli peppermint bark last week. Woohoo!
In the spirit of peppermint (because everything is either gingerbread or peppermint these days. I made peppermint Oreo truffles too!), I decided to not even mess with the traditional peppermint bark and instead shake things up a bit.
Enter melted marshmallow with booze! That's right! Time to get lit, guys! BOOZE IT UP! JK, it's not THAT much alcohol. Geez, I'm not an alcoholic. Santa is watching, shhhhh.
I melted marshmallows, added peppermint schnapps to give it a little boozy boost then swirled it on top of melted chocolate. SO GOOD.
Is it a sticky mess? Yes! Is it delicious? OF COURSE. So who cares if it's a sticky mess, everyone will LOVE it! Of course, if you don't want to add peppermint schnapps, you can definitely add peppermint extract instead. No biggie. :)
P.S. don't skim on the chocolate, guys. Use the high-quality stuff.
Trust me, it makes a difference! This is the chocolate I used and I used this spatula to spread the chocolate.
Makes life easier, if you ask me.
This angled spatula is perfect for smoothing frosting on cakes or cookies or spreading chocolate.
Boozy Marshmallow Peppermint Bark
Sleigh the holidays with Boozy Marshmallow Peppermint Bark! Melted marshmallow mixed with peppermint schnapps then swirled on top of melted dark chocolate and crushed candy canes.

Ingredients
2 1/2 cups dark chocolate chopped, 60% cacao
1 cup mini marshmallows
1 teaspoon coconut oil
2 teaspoons peppermint schnapps
6 candy canes crushed
Instructions
Line a baking sheet with parchment paper. Set aside.

Using a double boiler, melt the chocolate until it's smooth. Remove from heat. Pour the chocolate mixture onto the baking sheet and spread into a thin layer (about 1/4 inch thick).

Place mini marshmallows, coconut oil, and peppermint schnapps in a bowl. Microwave for 20 seconds then stir.

Add small dollops of the melted marshmallow on top of the melted chocolate then using a toothpick, swirl it around a bit. Not too much as it does get sticky. Just enough that it looks swirly. Sprinkle crushed candy canes on top.

Refrigerate for 1-2 hours (the longer the better) until solid. The marshmallow will not be completely solid. It will remain slightly gooey and that's ok because gooey boozy marshmallows!

Break the bark into pieces and place in gift boxes, tins, or serve immediately.
Notes
You can store in an airtight container in the refrigerator for up to 1 week.
Nutrition
Serving: 1 ounceCalories: 74 kcal