This post is sponsored by Bob's Red Mill. All thoughts and opinions are my own. Thank you to all the readers of A Sassy Spoon for all your support! xo
Growing up, it was a tradition in my house to visit our local Cuban bakery every Saturday morning to get some essentials.
What type of essentials? Well, Cuban bread was one, of course. We also got a box of pastelitos de guayaba, ham croquetas, and pastelitos de queso.
I would then BEG my mom for a Cuban shortbread cookie (aka Torticas de Moron).
What are Torticas de Morón?
Torticas de Morón are Cuban shortbread cookies. They originated in the town of Morón in Cuba which is how they got their name. Traditionally, these cookies are made with lard or vegetable shortening, lime, and rum.
Thanks to Bob's Red Mill, I was able to make my own version of this classic cookie using their Organic All-Purpose Flour.
This flour is a premium baking flour freshly milled from certified organic, hard red wheat. You can use this high-quality wheat flour product for all manner of baked goods, including food like yeast breads, quick breads, biscuits, muffins, cookies, and cakes. It's unbleached and unenriched, with no potassium bromate added. Win!
You can purchase Bob's Red Mill Organic Unbleached White All-Purpose Flour by clicking here.
What is so special about these Cuban Shortbread Cookies?
Not only do these shortbread cookies taste citrusy because of the lime but they also have a hint of coconut!
I used a combination of coconut oil and unsalted butter instead of lard or vegetable shortening for this recipe and they turned out perfect.
The best shortbread cookies in town! Maybe I'm biased.
Ok here's how I brought them to life.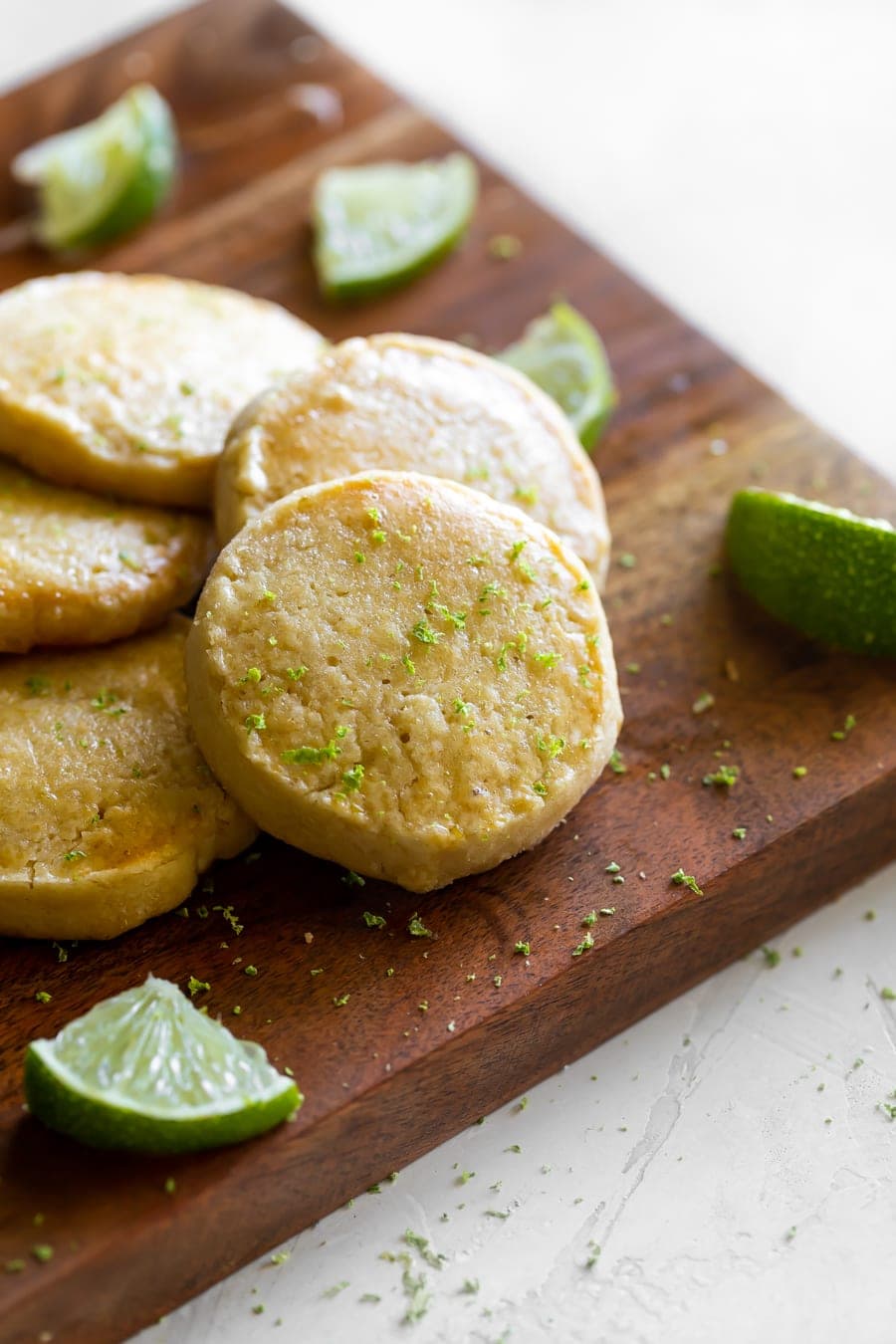 How to Make Torticas de Morón
First things first, you have to make the dough. All you need is one bowl. The ingredients come together fairly easily. You cream the solid coconut oil and the butter with the brown sugar.
If you have to firm up the oil, you can chill it for a bit in the fridge. Add the egg yolk, saving the egg white for the egg wash, and mix until all is well combined.
Next, you add the flour, lime zest, lime juice, and baking powder. Mix everything together until you get a smooth dough. Transfer the dough to a clean surface and shape the dough into a smooth log.
You may need to flour your hands to make it easier to shape. Wrap the log in plastic wrap and chill for at least 2 hours or overnight. Don't skip this step! The dough needs to be firm for easy slicing later.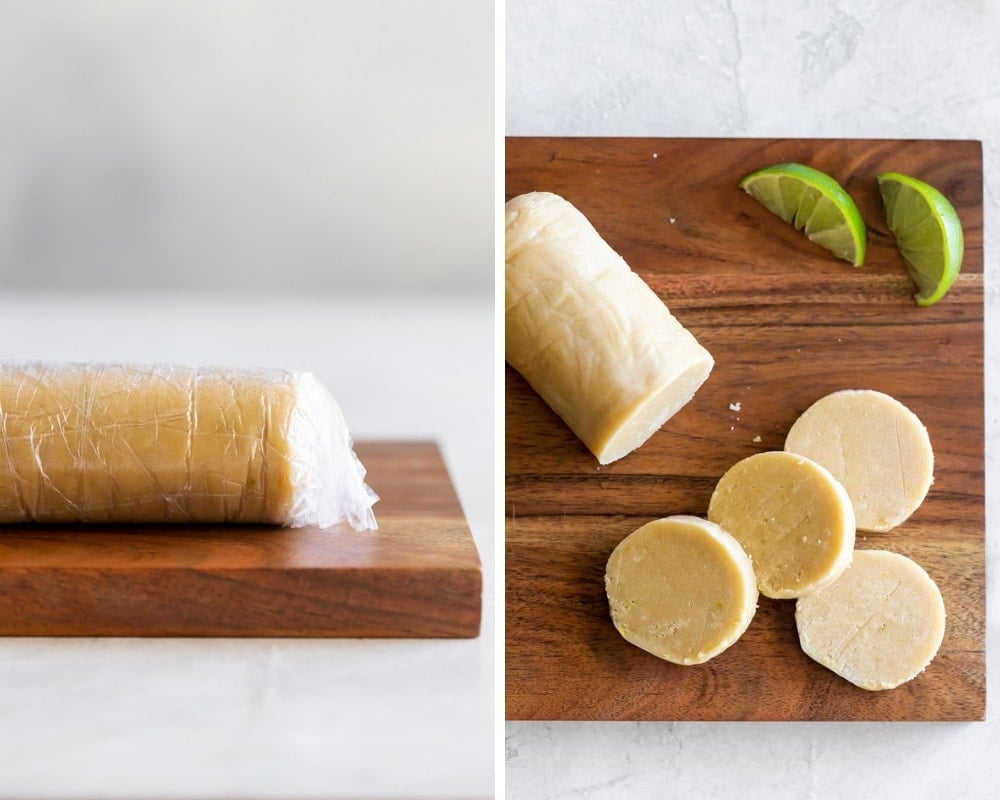 Once chilled, you slice the log into 12 evenly thick cookies using a sharp knife.
Place them on a baking sheet, brush with egg white (egg wash) and sprinkle them with sugar. Bake them for 15 minutes at 350 degrees F then allow to cook completely.
You can also place them in the fridge to speed up the process if you're impatient like me. Ha!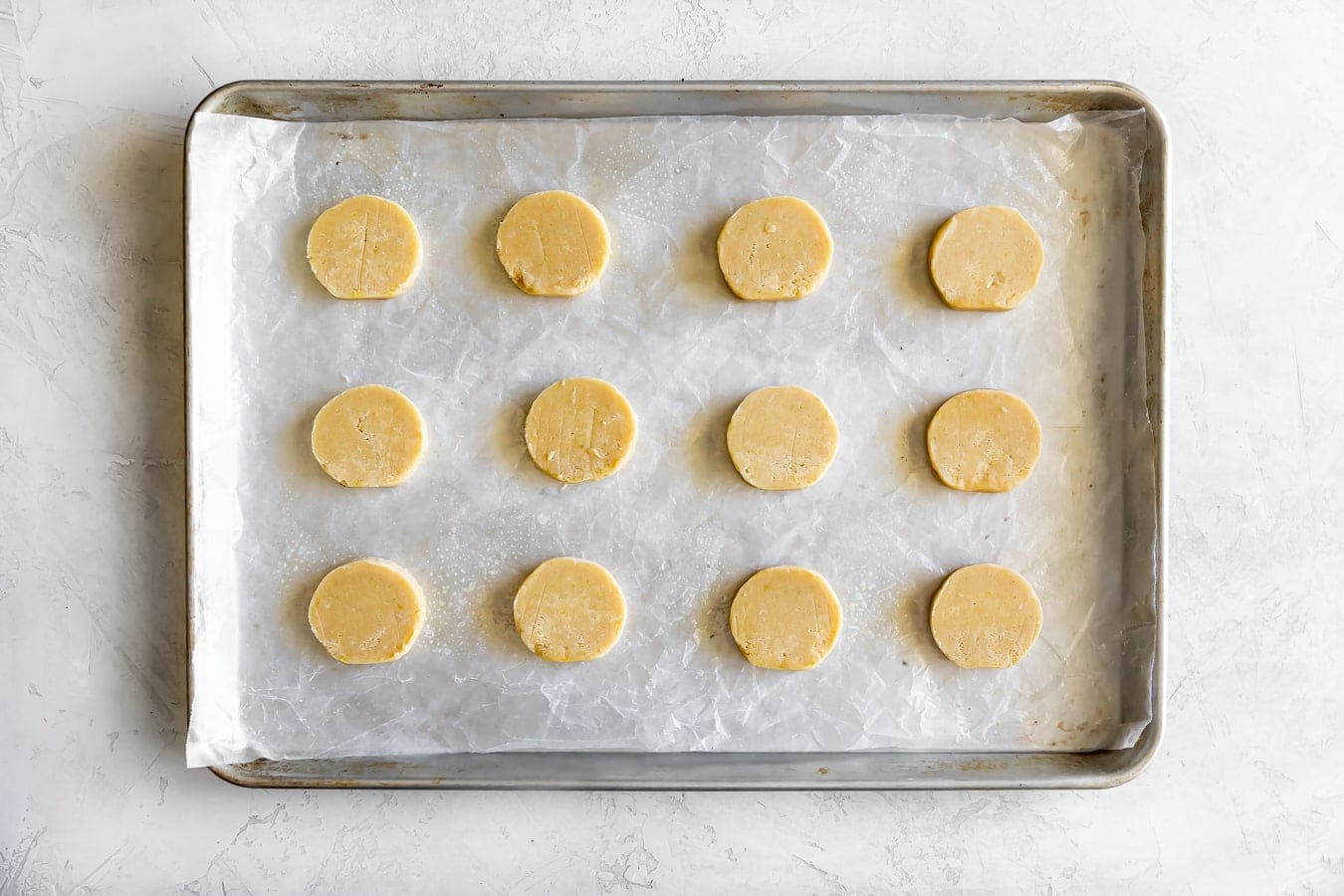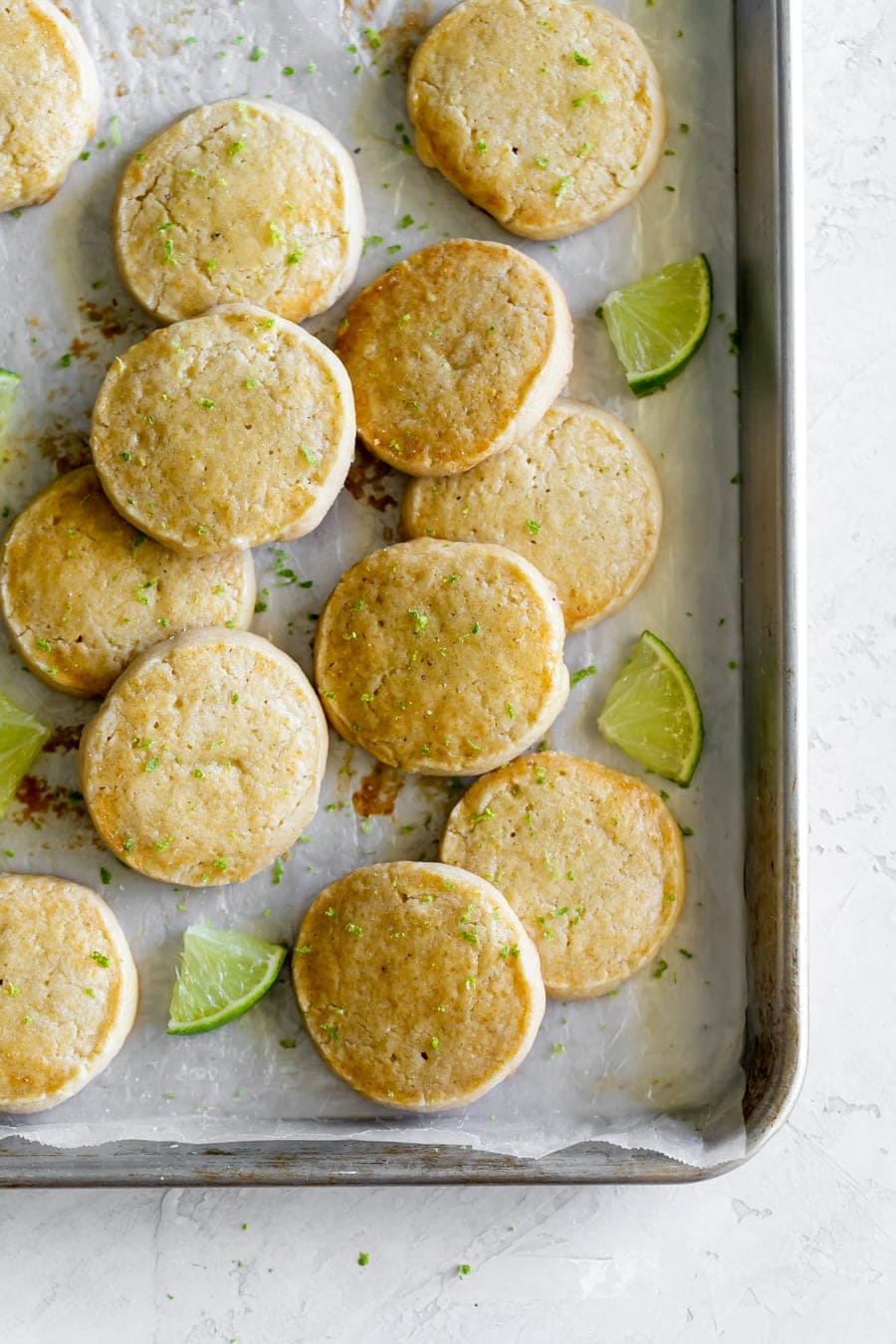 What do Torticas de Moron taste like?
The result? A buttery, crumbly cookie with a hint of sweetness, coconut, and lime (you can always add more lime zest on top once cooled).
I was so happy with these shortbread cookies! You guys have no idea. My mom would be SO proud.
Also, PRO TIP… smear some guava jam on top with sea salt. Thank me later.
Can't wait for you to try these Cuban shortbread cookies!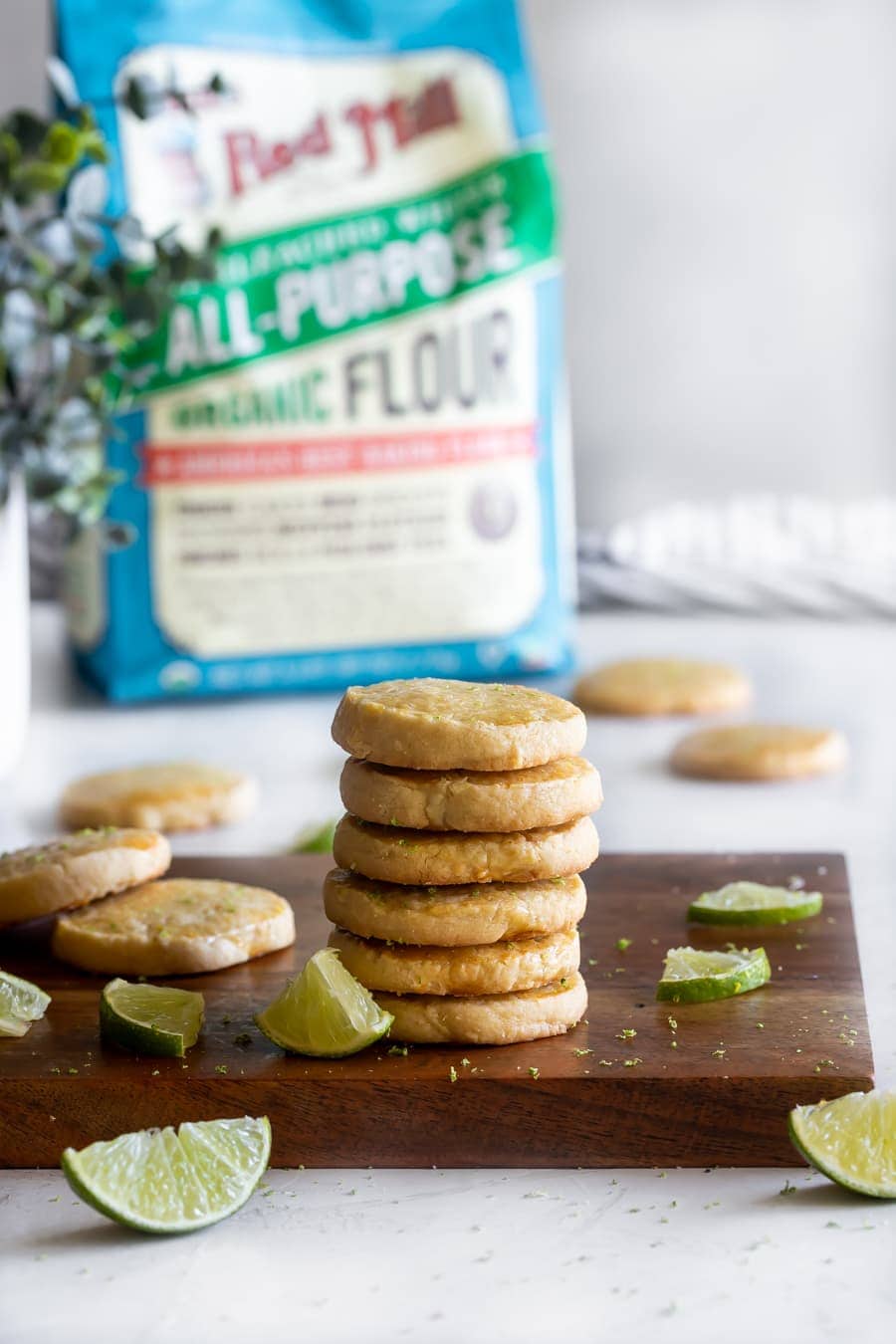 You may also like: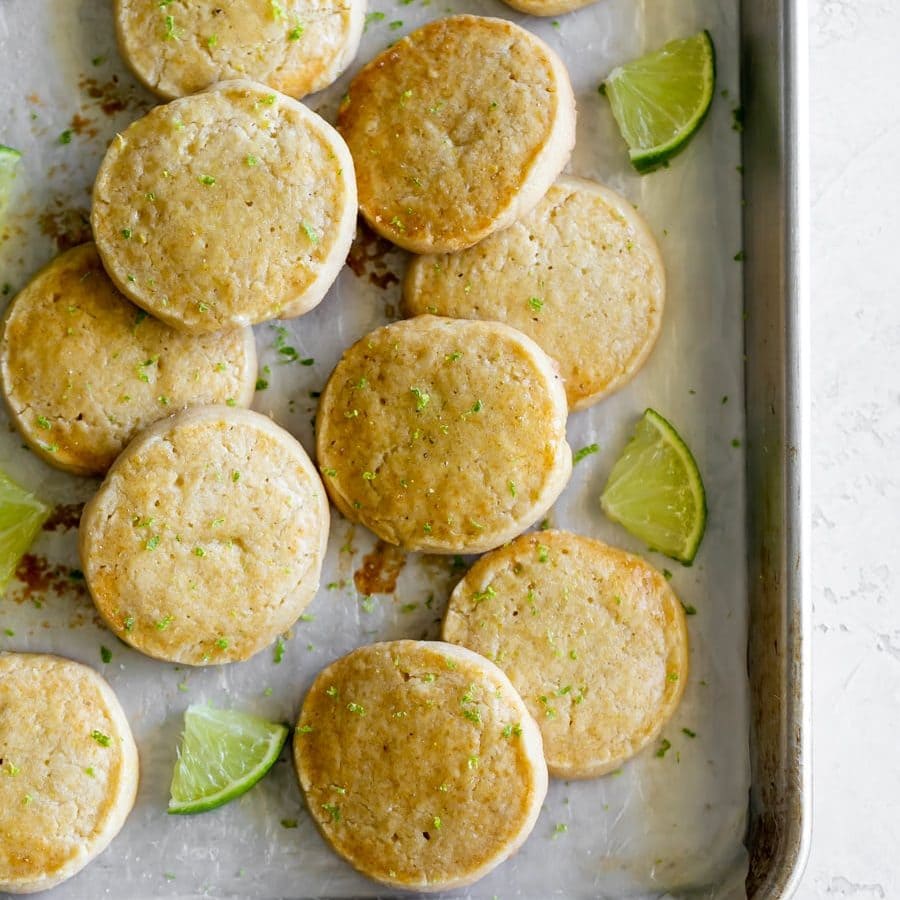 Cuban Shortbread Cookies (Torticas de Morón)
Easy to make, buttery Cuban shortbread cookies (Torticas de Morón). A classic Cuban cookie made with a hint of lime and coconut. The best shortbread cookie recipe ever!
Ingredients
1/4 cup unsalted butter softened
1/4 cup coconut oil solid
1/4 cup brown sugar
1 large egg yolk and white separated
1/2 teaspoon baking powder
1 teaspoon lime juice
1/2 teaspoon lime zest
Granulated sugar for sprinkling
Instructions
In a mixer or large bowl, cream together butter, solid coconut oil, and sugar until well combined. Add the egg yolk (save the egg white for the egg wash) and mix until well combined. Add the flour, baking powder, lime juice, and lime zest to the same bowl and mix until a dough forms.

Transfer dough to a work surface and shape into a smooth log. You may need to flour your hands so it's easier. Wrap the log in plastic wrap and chill for at least 2 hours or overnight. Don't skip this step!

Preheat oven to 350 degrees Line a baking sheet with parchment paper. Set aside.

Remove logs from the fridge. Slice log into 12 evenly thick cookies and place on the baking sheet. Brush the cookies with whisked egg white (egg wasand sprinkle with sugar.

Bake the cookies for 15-20 minutes or until brown around the edges. Allow to cool completely before serving. Enjoy!
Nutrition
Serving: 1 cookieCalories: 101 kcalCarbohydrates: 5.4 gProtein: 0.8 gFat: 8.9 gSaturated Fat: 6.5 gCholesterol: 26 mgSodium: 34 mgFiber: 0.3 gSugar: 3.4 g