Avoid skipping breakfast by making these healthy egg muffin cups in a muffin tin ahead of time. Perfect healthy breakfast meal prep idea! These egg muffin cups are easy to customize with anything from spinach, bell peppers, tomatoes, onions, cheese, fresh herbs, etc.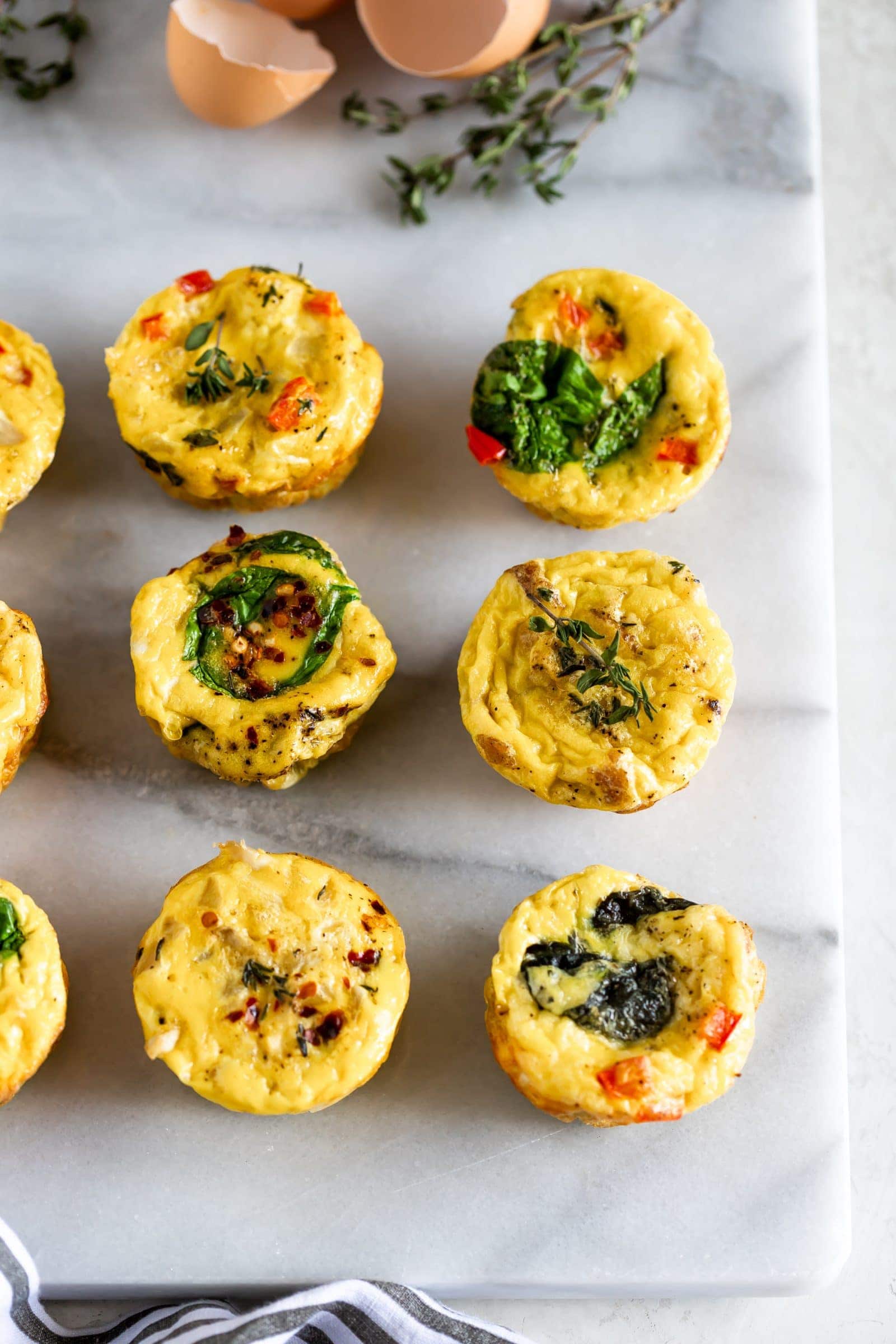 Whether you call them mini frittatas or mini egg muffin cups, these will save your life! They saved mine. When I used to commute to work for an hour every morning, I always left my house without having breakfast. The sooner I left the house, the less stressed I would be.
So to avoid skipping breakfast again, I began making these healthy egg muffin cups ahead of time. Not only were they delicious, but they also were filling and kept me satisfied all morning. They are also easy to make and you can customize them however you'd like.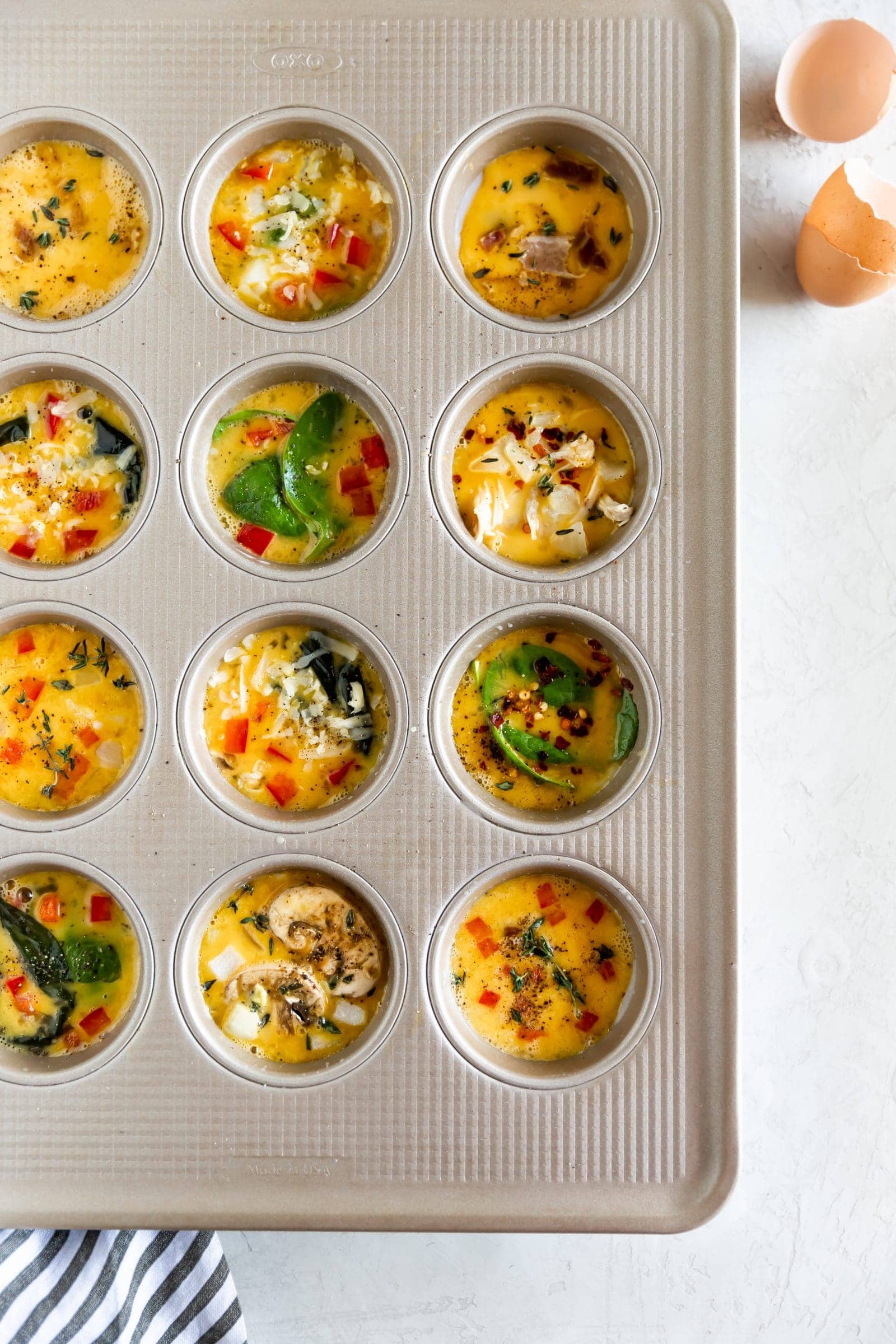 How To Make Healthy Egg Muffin Cups
Brush a muffin tin (this is the one I used) with melted coconut oil or nonstick spray. I found that coconut oil always helped these egg muffin cups pop right out. You can also use a silicon muffin pan. Into each muffin cup, add in your favorite veggies, herbs or greens.
Here are a few ideas for inspiration:
Arugula + Tomato + Goat Cheese
Black Olives + Kale + Onions
Peppers + Onions + Mushrooms
Kale + Mushrooms + Onions
Mushrooms + Spinach + Peppers
Tomato + Basil + Shredded Mozzarella (tastes like pizza!)
Video on how to make healthy egg muffin cups:
Personally, I get bored eating the same thing every day so I like to switch it up. I make 6 different ones or, 3 and 3. Plus, this is a great way to use up leftover veggies, herbs, and greens in your fridge.
Once you add the mix-ins, you add one scrambled egg per cup. You can also whisk all the eggs and fill each muffin cup leaving 1/4″ from the top. Bake them for 20 minutes. They will inflate slightly while they are in the oven but they will deflate once they cool.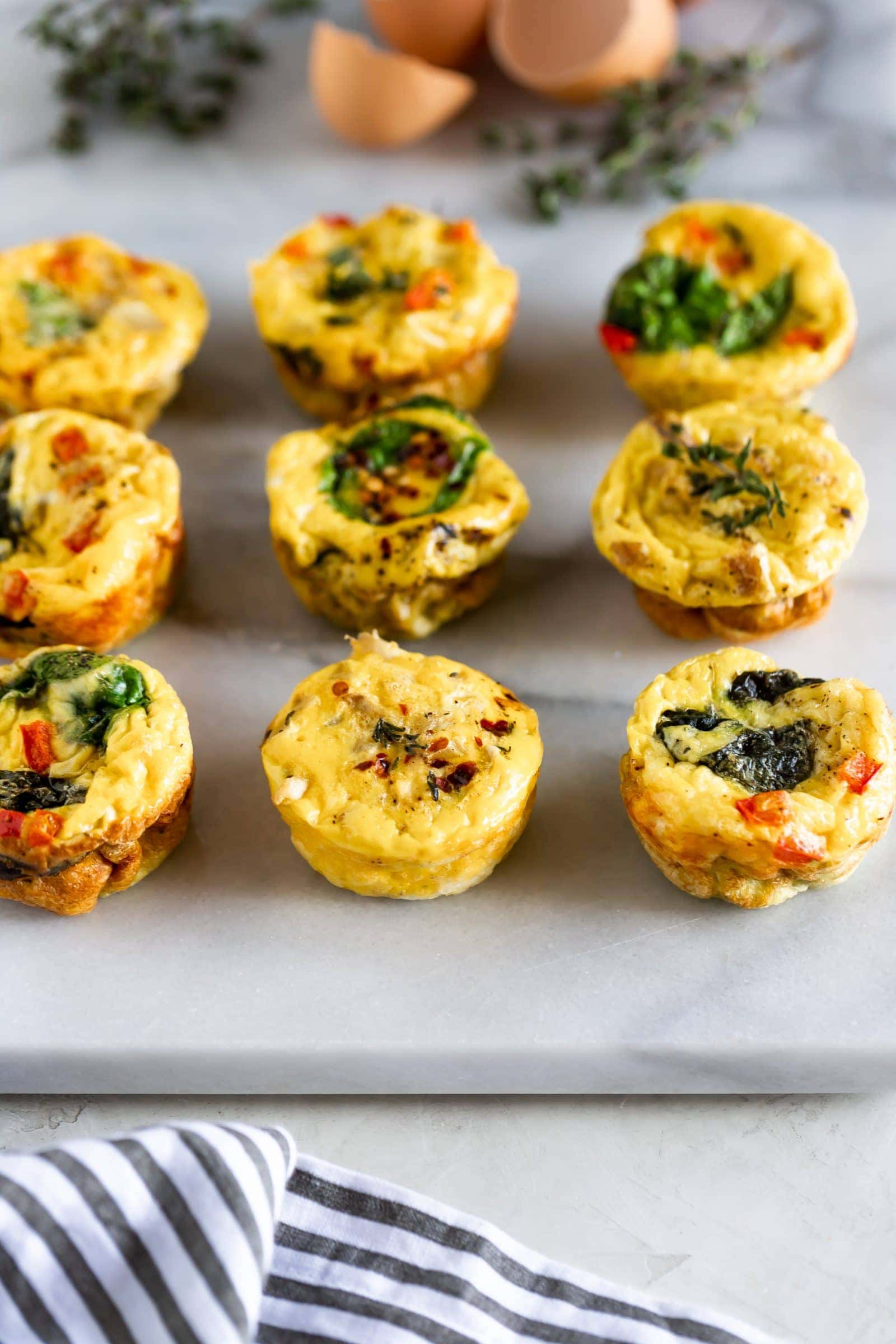 Once cooled, you place each egg muffin in a resealable bag or place a few of them in an airtight container. Store them in the fridge for up to 6 days. Every morning you heat one up in the microwave for 30-40 seconds. You can also freeze them all in an airtight freezer bag. More storage info in the notes of the recipe below.
The recipe below for these egg cups is a guide. Feel free to customize these as you wish!
Now, you have NO EXCUSE to skip breakfast when you're on the run each morning!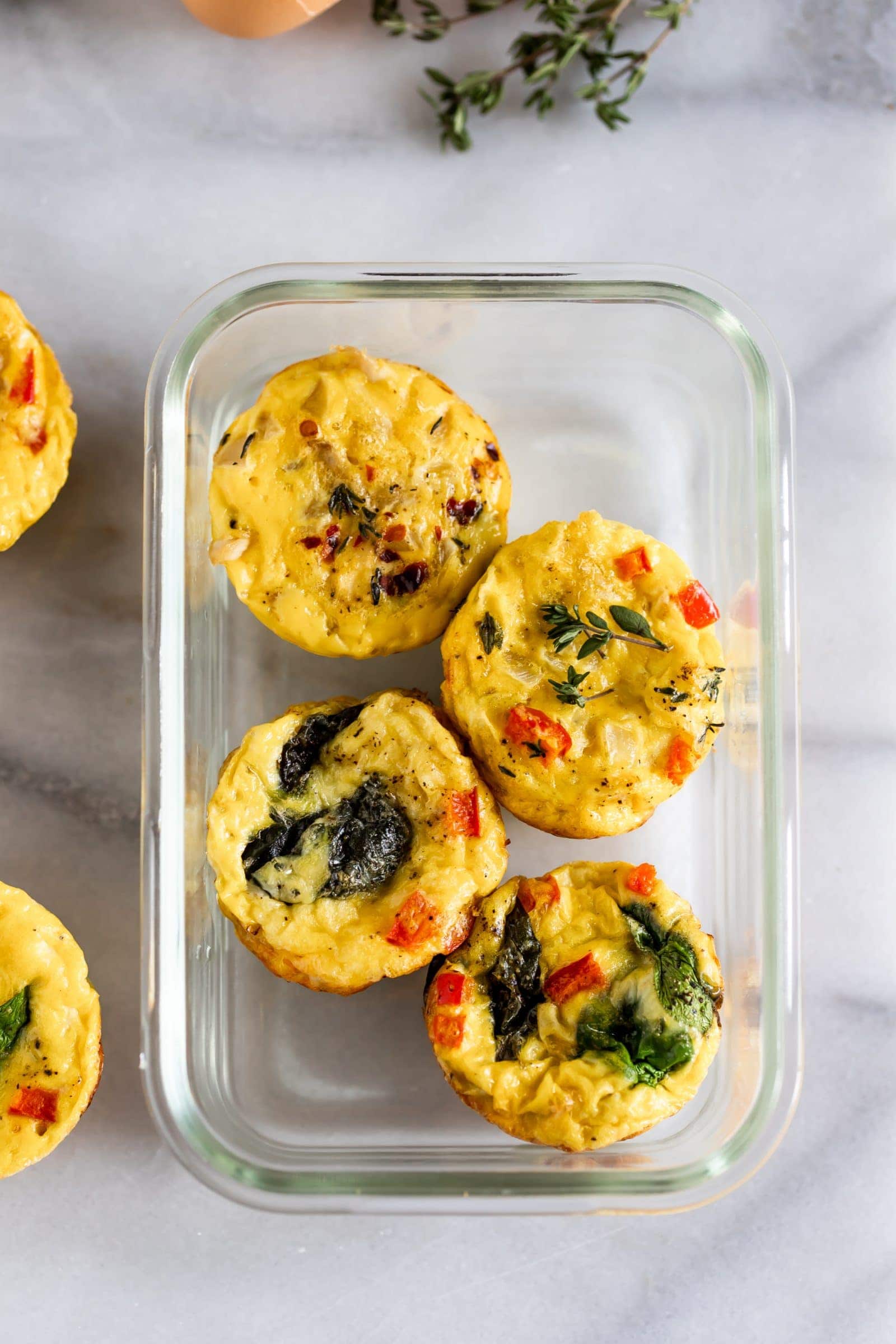 Other breakfast recipes you may like:
Ingredients
1/2

dozen

eggs

coconut oil for the muffin tin
Choose from any of the following:
kale

,

chopped

baby spinach

,

chopped

tomatoes

,

diced

onions

,

finely chopped

red bell peppers

,

finely chopped

green peppers

,

finely chopped

mushrooms

,

finely chopped

goat cheese

,

crumbled

basil

,

finely chopped

mozzarella cheese

,

shredded

salt and pepper to taste

,

(other seasonings too like oregano or garlic powder!)

fire roasted salsa,

for topping the eggs!
Instructions
Preheat oven to 350ºF. Spray a nonstick muffin tin with nonstick cooking spray or melted coconut oil. Set aside.

Whisk the eggs in a bowl. Place 2-3 items from the list above into each tin. You can customize each muffin cup however you'd like! Pour the egg mixture on top, leaving 1/4" from the top.

Bake for 20 minutes, or until a toothpick comes out clean for each frittata. Remove from oven. Use a knife to go around the edges and pop out the egg cups.

To reheat, simply place one egg muffin in the microwave for 35-45 seconds on HIGH or until warm. Enjoy!

Notes
Keep them all in an airtight container in the refrigerator or place each individual egg muffin cup in a resealable bag for an easy grab-and-go breakfast. Dispose after 6 days.
You can also freeze the cooked egg muffins, once cooled, in a resealable bag for up to 3 months.
Please note: the calories below are for 1 egg without the add-ons since the recipe allows you to DIY these egg muffins.
---
Nutrition Facts
Healthy Egg Muffin Cups (Meal Prep Idea!)
Amount Per Serving (1 egg muffin)
Calories 60
Calories from Fat 36
% Daily Value*
Fat 4g6%
Cholesterol 175mg58%
Sodium 60mg3%
Potassium 69mg2%
Protein 6g12%
Iron 4mg22%
* Percent Daily Values are based on a 2000 calorie diet.
Originally posted in May 2016. Updated photos in January 2019.