It's no secret that chocolate chip cookies hold a special place in my heart. They are my all-time favorite dessert (along with brownies!) and the smell? OMG! Literally, the smell of freshly baked chocolate chip cookies is THE BEST EVER!
I wanted to add some Fall flavors into my chewy chocolate chip cookie recipe and with this recipe, I did just that.
Crisp, chewy edges, soft center, melty chocolate, cinnamon, and crunchy pecans – what's not to like!? Let me show you how to make these pecan chocolate chip cookies.
I promise your friends and family will LOVE them!
Ingredients You'll Need
Unsalted butter. Gives you complete control over the flavor of these cookies.
Light brown sugar and granulated sugar. Keeps cookies soft and the combo of both sugars result in an even chewier texture with a caramel-like taste because of the molasses.
Egg. Our binder.
Vanilla extract and salt. The best flavor enhancers.
All-purpose flour. Provides these cookie with the perfect texture.
Baking soda. Our leavener.
Ground cinnamon. A touch of cinnamon gives these cookies a spiced, earthy flavor.
Dark chocolate. You can use semi-sweet if you prefer but I definitely recommend using chopped chocolate over using chocolate chips as well.
Pecan halves. Raw or roasted pecans will work.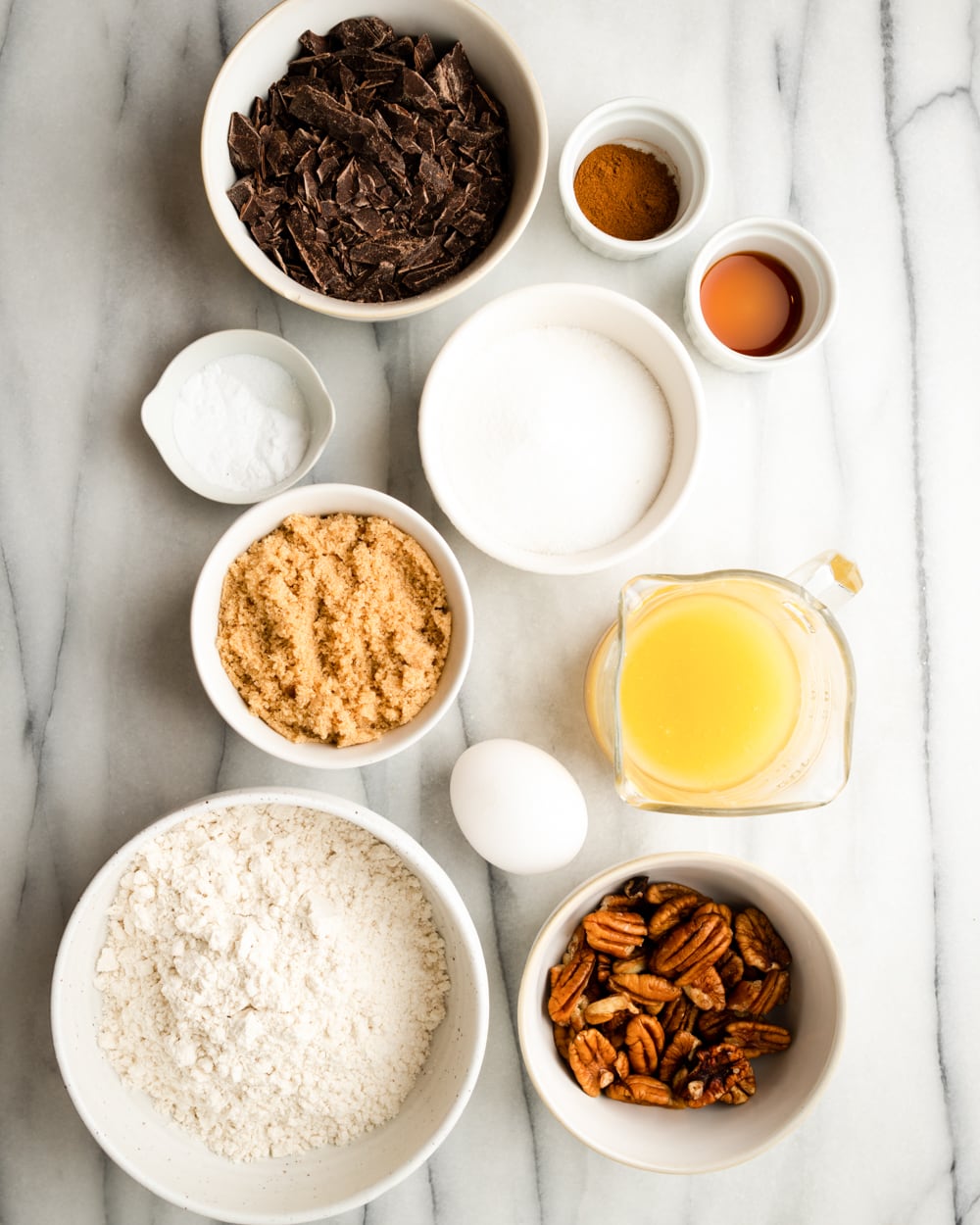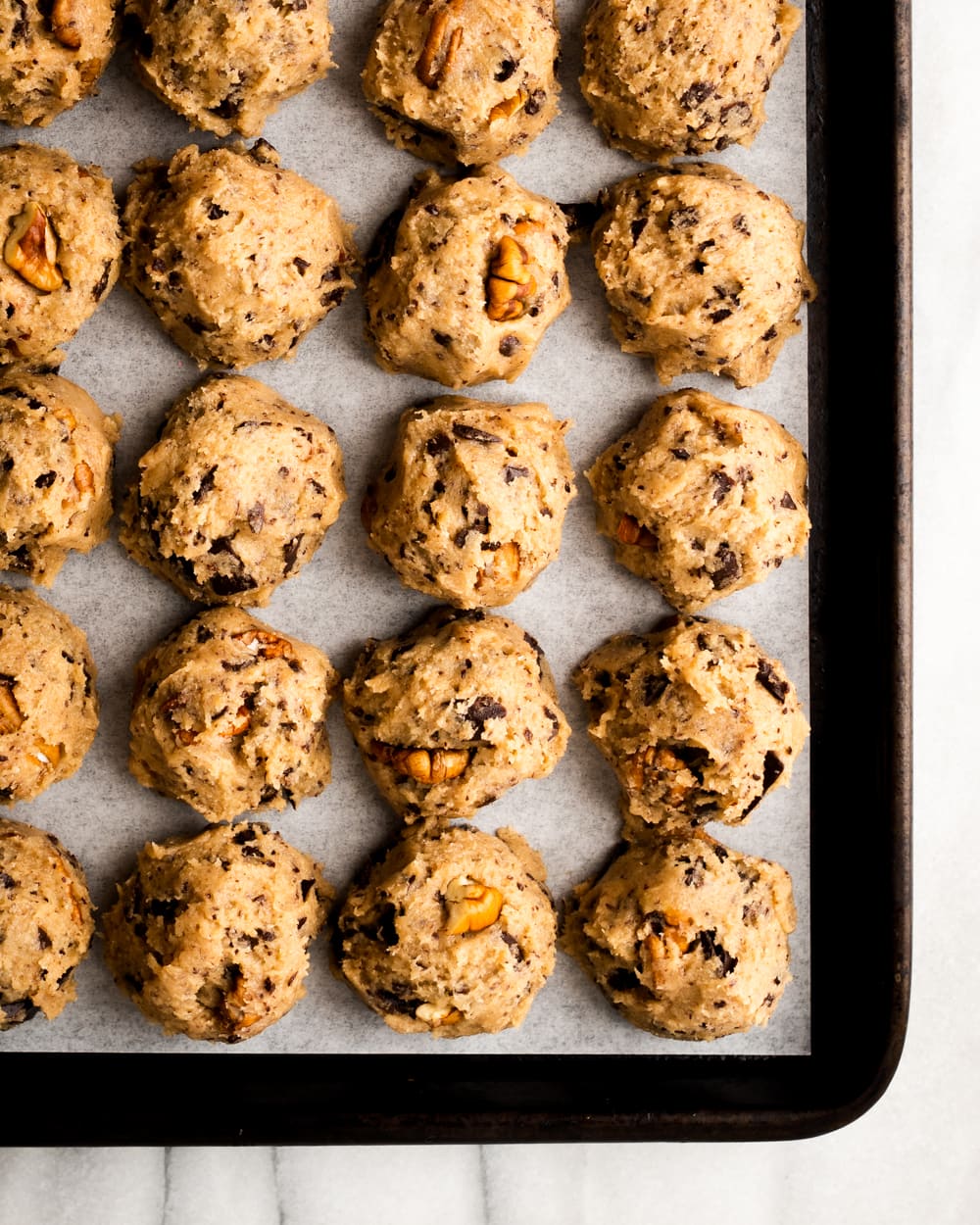 How To Make Pecan Chocolate Chip Cookies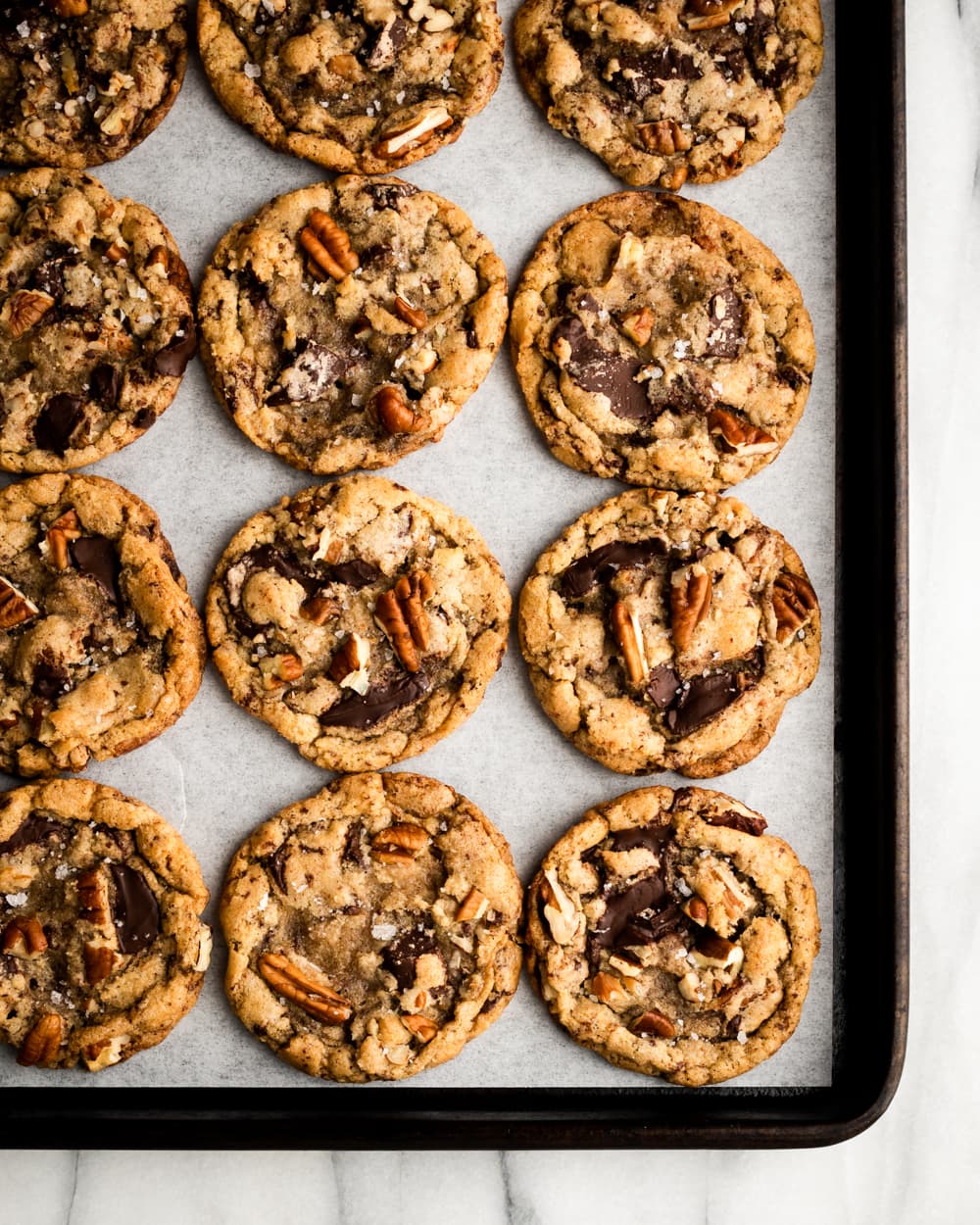 Best Tips For Making Pecan Chocolate Chips Cookies
I've received several questions about best practices for chocolate chip cookies so here they are.
Follow directions to a T. First, make sure to follow the recipe exactly as it is stated below. Baking is not like cooking; any minimal change may alter the final result.
Don't over mix. Make sure you DO NOT over mix the wet and dry ingredients. It'll let air into the batter and make the cookies go flat. No bueno.
Baking soda only! Make sure you're using baking soda, not baking powder. Huge difference. Also, make sure you use exactly 1/2 teaspoon.
Chill the dough. This is vital! Yes, chilling the cookies in the fridge for at least 20 minutes is annoying but I guarantee the longer you chill the dough, the better the flavor will be.
Check your oven temp. Lastly, if you run into issues, check your oven temp. Not all ovens are the same but you can check to make sure your oven is heating properly with an oven thermometer.
How do you keep pecan chocolate chip cookies from going flat?
Don't over mix the dough. You will get flat, pancake-like cookies if you overmix the dough. It happened to me and it was not fun.
Chill the dough for at least 20 minutes. This will help solidify the ingredients and will result in the cookies spreading less. Win win!
How do you keep pecan chocolate chip cookies soft?
Underbake them. To keep these pecan chocolate chip cookies soft and chewy, make sure you bake them no more than 11 minutes. You want them to be slightly underbaked. They will continue to cook as they cool and this helps them stay softer for a longer time.
Let them cool. Once you take them out of the oven, let them cool completely before serving. Place them in an air-tight container in the fridge for up to 1 week. When you're ready to eat, just pop one in the microwave for 10 seconds to get those melty chocolate chips. YUM!
How To Freeze Cookie Dough
Chill the cookie dough balls before freezing. When you form the cookie dough balls, place the cookie dough balls that you want to freeze on a parchment-lined baking sheet. Place the baking sheet in the fridge to chill for 1 hour.
Transfer to a freezer bag and freeze. After about 1 hour in the fridge, remove the baking sheet with the cookie dough balls and make sure they are firm. Transfer them to a freezer bag for storage. They won't stick together if they are chilled/firm.
Bake cookies whenever you want! All you have to do is remove the dough balls you want to make from the freezer bag and bake straight from the freezer. You may want to bake them for 1 extra minute since they are frozen and it will still be delicious! I'd vouch to say they taste even better!
Frozen cookie dough lasts up to 3 months in the freezer.
Comes in handy for rainy days, when the company comes over, or when you need a sweet pick-me-up. I've received SO many compliments about these soft chocolate chip cookies. Seriously, go make a batch right now and freeze the rest. Thank me later!
You may also like: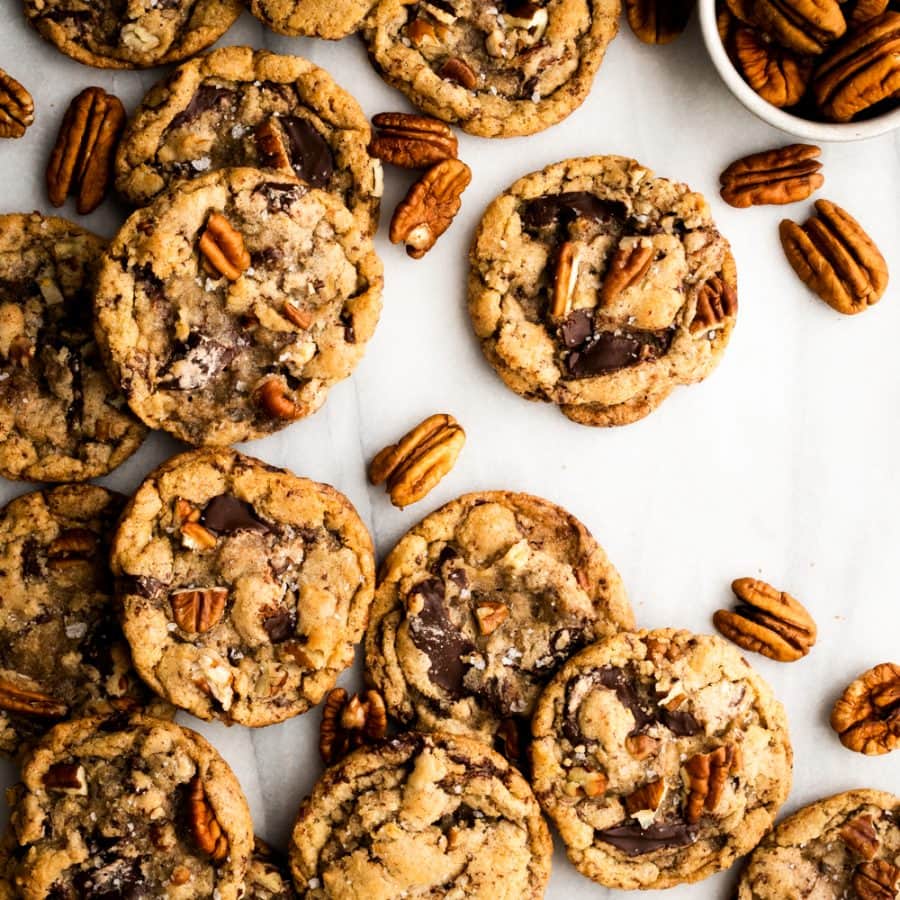 Chewy Pecan Chocolate Chip Cookies
Rich, chewy chocolate chip cookies made with crunchy pecans and chopped dark chocolate all in one bowl. These pecan chocolate chip cookies have crisp edges and chewy centers with an incredible chocolatey, nutty flavor. You and your family will LOVE these cookies!
Ingredients
1/2 cup unsalted butter melted
3/4 cup light brown sugar packed
1/2 cup granulated sugar
1 large egg
1 teaspoon vanilla extract
1 1/2 cup all-purpose flour
1/2 teaspoon baking soda
1/2 teaspoon ground cinnamon
Pinch of salt
1 cup chopped dark chocolate or any chocolate of your choice
1/2 cup pecan halves
Flaky sea salt for garnish
Instructions
In a stand mixer or a large bowl with a handheld mixer, cream butter and sugars. Add the egg and vanilla extract. Mix until smooth and well combined.

To the same bowl, add flour, baking soda, cinnamon and salt. Mix until just combined. Do NOT over mix. Fold in chopped chocolate and pecans.

Using a cookie scoop, form dough into balls (approx. 1.5 tablespoons of dough). Place on a baking sheet and refrigerate the dough balls for, at least, 20 minutes (the longer, the better). You can freeze any leftover dough for future use.

When ready to bake, remove dough from the fridge. Preheat the oven to 350°F. Line a baking sheet with parchment paper and place dough balls on the baking sheet.

Bake for 10-11 minutes until the edges are golden brown. Remove from oven and sprinkle with sea salt. It's ok if they are a little undercooked, they will continue to bake as they cool. Also, if they puff up a bit, they will deflate as they cool. Cool for 5 minutes. Serve and enjoy!
Nutrition
Serving: 1 cookieCalories: 199 kcalCarbohydrates: 25 gProtein: 2 gFat: 10 gSaturated Fat: 5 gPolyunsaturated Fat: 1 gMonounsaturated Fat: 3 gTrans Fat: 1 gCholesterol: 22 mgSodium: 36 mgPotassium: 99 mgFiber: 1 gSugar: 15 gVitamin A: 160 IUVitamin C: 1 mgCalcium: 20 mgIron: 2 mg