These chocolate chip cookies need no introduction really.
They are perfection in every sense of the word. Super nutty in flavor because of the browned butter with a hint of coffee flavor and chocolate.
Chewy edges, soft centers, dark chocolate puddles. I have no words.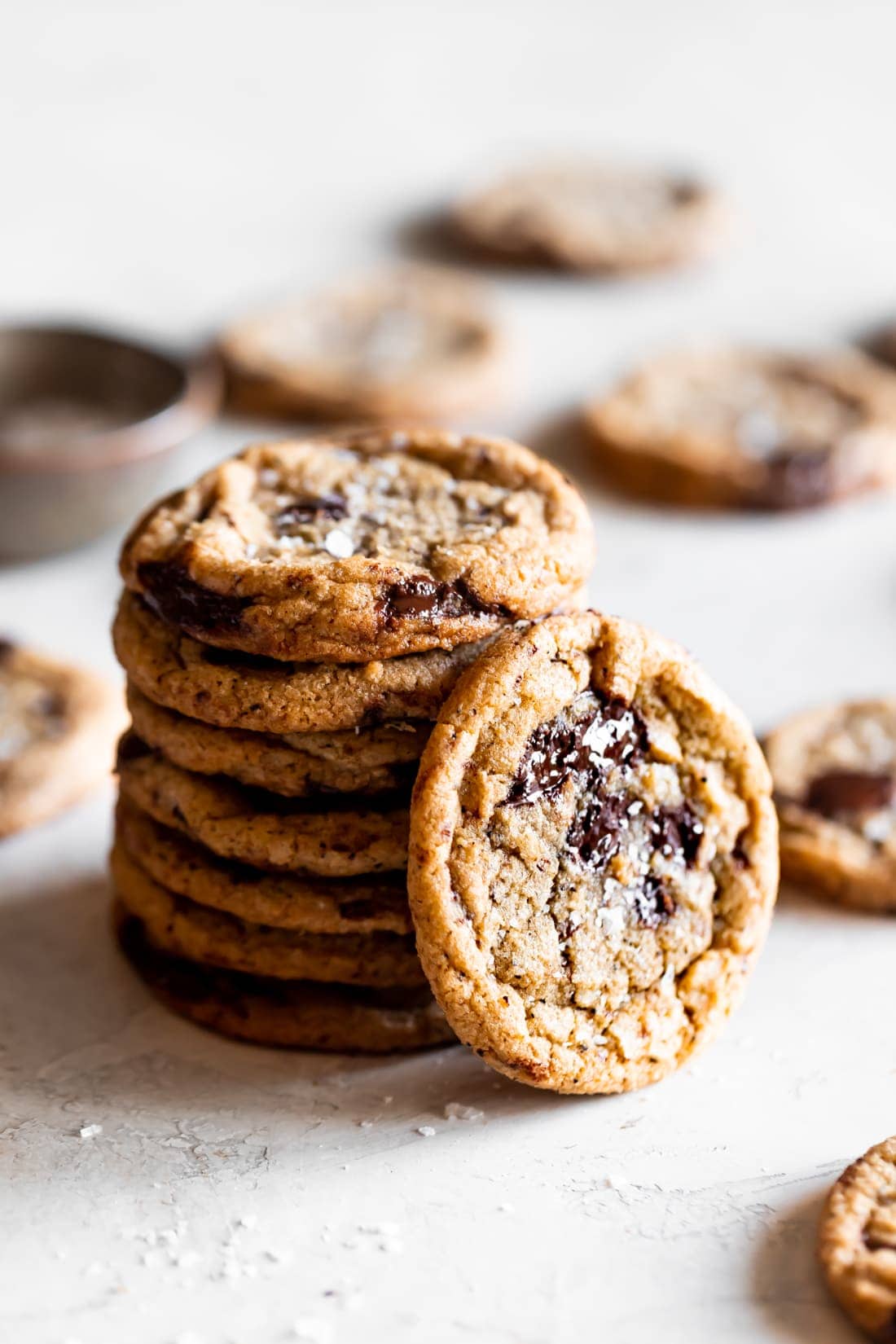 Below, I give you the whole rundown on how to make the brown butter and how to make these cookies from beginning to end.
Get ready to have a new favorite cookie!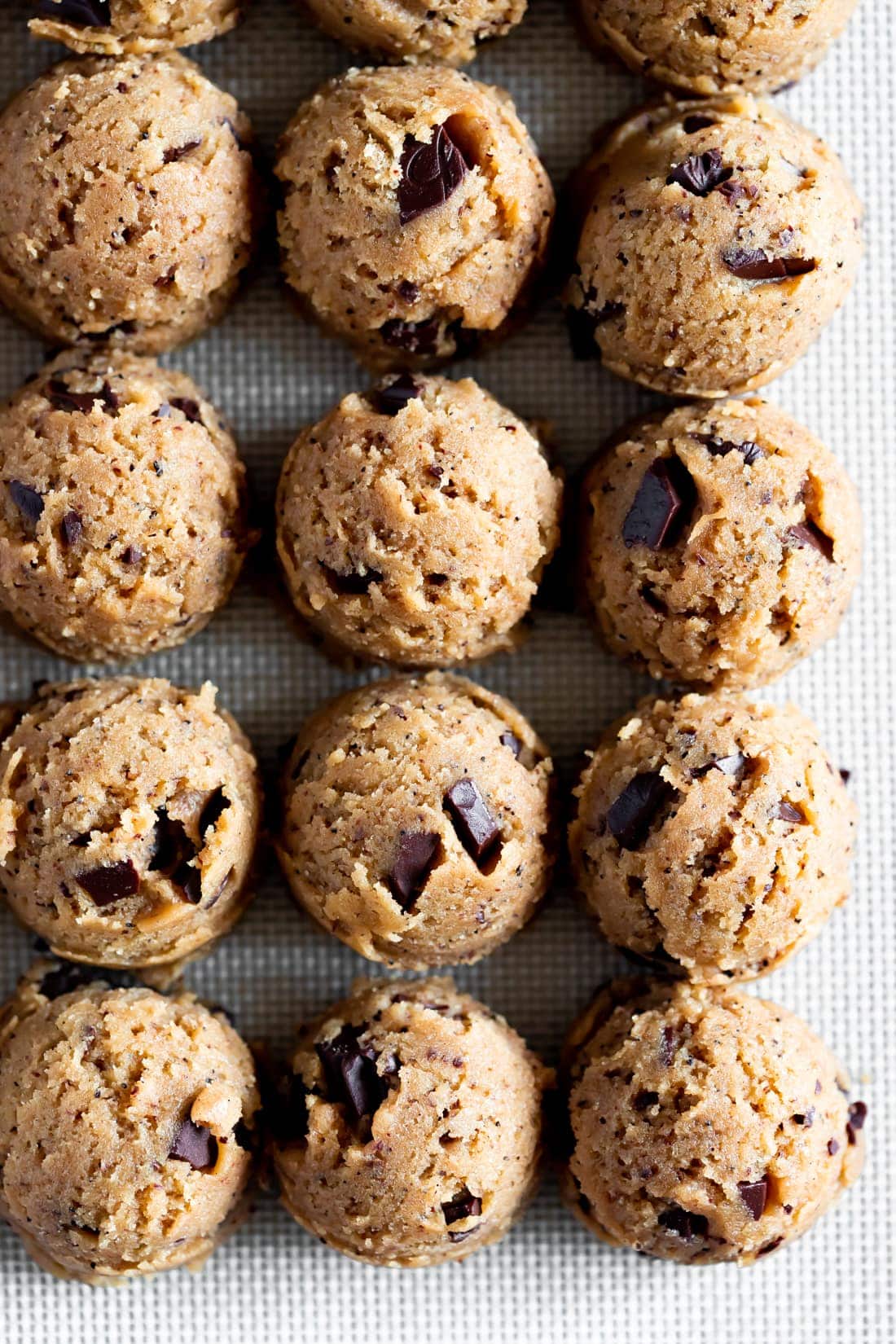 Ingredients You'll Need
Brown butter. Always use unsalted butter as it gives you complete control over the flavor of a recipe except for this recipe, we're browning the butter. More on that later. Browning the butter gives the cookies such a nutty flavor. It's the BEST!
Brown sugar and granulated sugar. Sugar is what keeps cookies soft in general plus when you add more brown sugar than granulated sugar, the cookies will result in an even chewier texture with a caramel-like taste because of the molasses.
Egg. This acts as a binder that binds all the ingredients together.
Espresso powder. Not to be confused with INSTANT espresso powder, those are two entirely different things. Instant espresso is for drinking, espresso powder is for baking and a little bit goes a long way in elevating the chocolate flavors in these chocolate chip cookies.
Vanilla extract and salt. The best flavor enhancers.
All-purpose flour. The most versatile flour that gives these cookies structure. Be careful not to overmix the dough as it may result in pancake-like cookies. Trust me, it already happened to me once. Don't make the same mistake I did!
Baking soda. This acts as the leavener helping these cookies rise a bit without letting them spread too thin.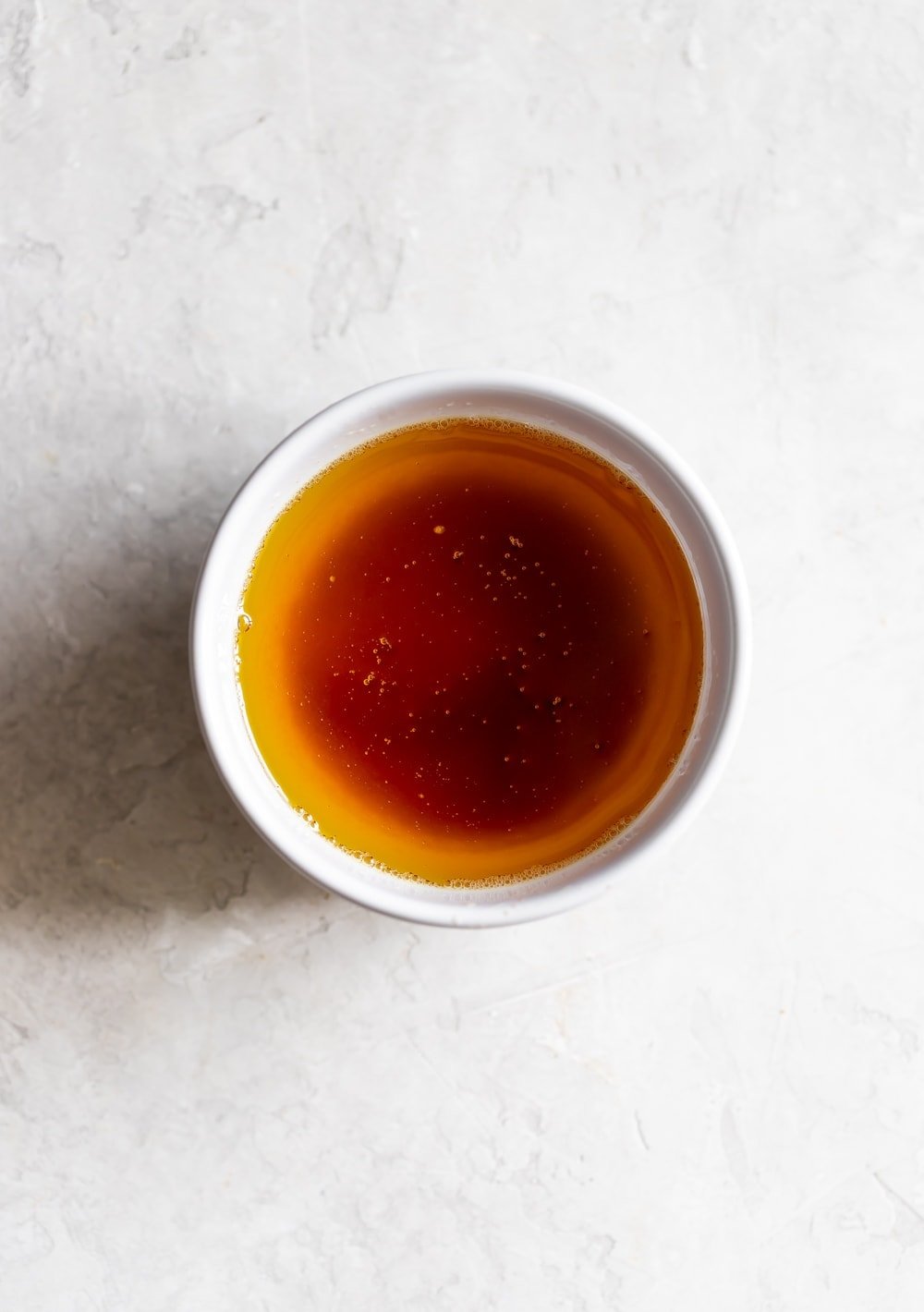 What is Brown Butter?
First things first, let's talk about what exactly is brown butter.
Put simply, brown butter is just butter that is melted in a pan until golden brown. It has a really nutty, caramelized aroma which pairs SO well with chocolate chip cookies amongst other baked goods.
How To Brown Butter For Cookies
Use unsalted butter. Technically, you can use any butter for brown butter however for this recipe I recommend unsalted butter since we're adding salt to the recipe. You don't want these cookies to be too salty.
Make sure the butter is at room temperature. If you use cold butter, you run the risk of burning the butter when you're cooking it.
Careful not to let it burn. Melt the butter in a pan for approximately 5 minutes at medium heat, while stirring, until the butter foams and little brown specks appear. Don't walk away from the pan!
Let It cool. Once the butter turns an amber color and has a nutty aroma, remove it from the heat and transfer it to a small bowl to cool.
Add water or milk. Ok I know this sounds weird but hear me out. When you brown butter, you typically lose a little bit of moisture needed for these cookies so I like to stir in 2 teaspoons of water or milk to the brown butter to make up for that loss.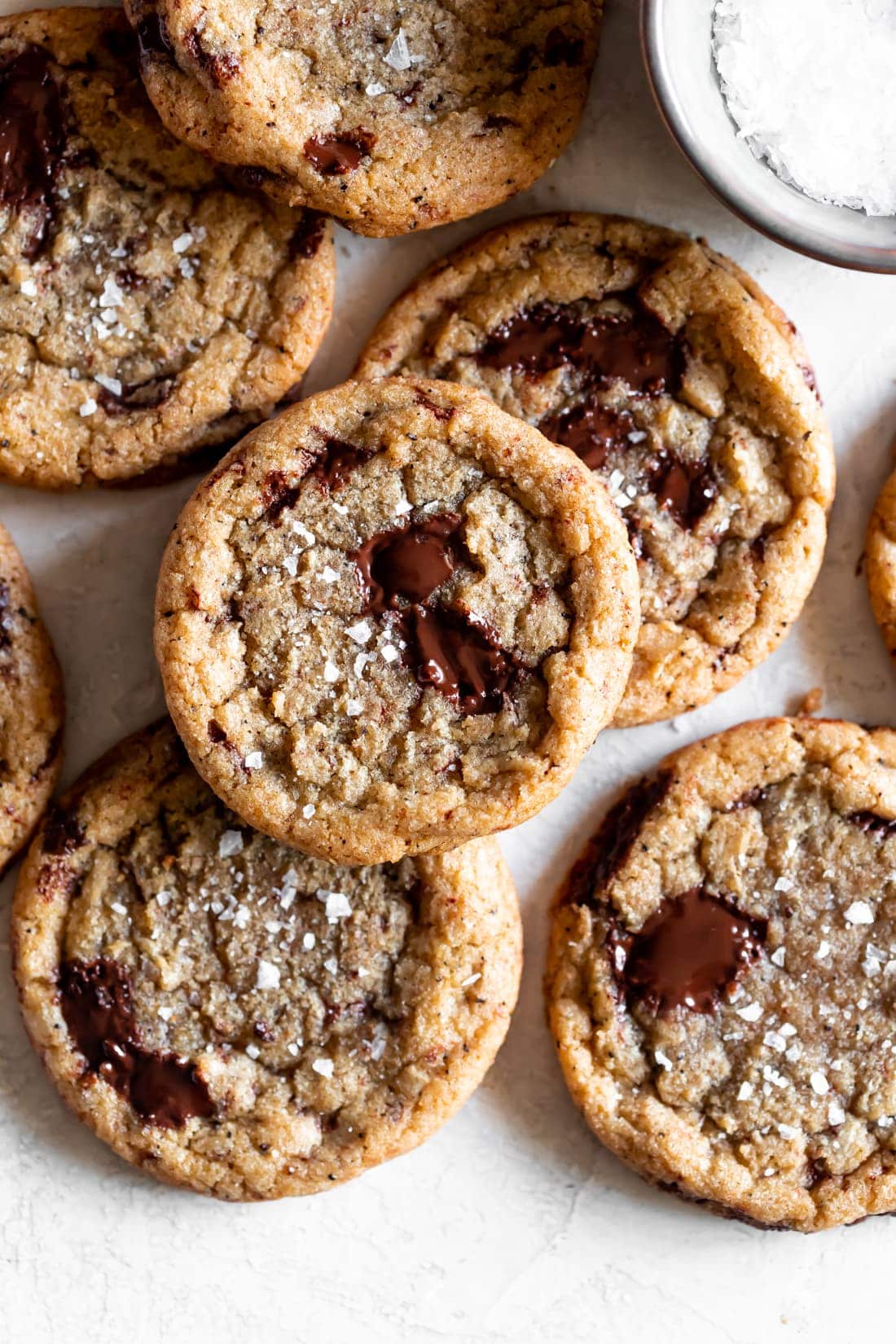 How To Make Brown Butter Chocolate Chip Cookies
Tips For The BEST Brown Butter Chocolate Chip Cookies From Scratch
Follow directions to a T. First, make sure to follow the recipe exactly as it is stated below. Baking is not like cooking; any minimal change may alter the final result.
Don't over mix. Make sure you DO NOT over mix the wet and dry ingredients. It'll let air into the batter and make the cookies go flat.
Baking soda only! Make sure you're using baking soda, not baking powder. Huge difference. If you use baking powder, you may end up with rock hard cookies.
Just chill man. Yes, chilling the cookies in the fridge for at least 20 minutes is annoying but I guarantee the longer you chill the dough, the better the flavor will be.
Underbake them. To keep these cookies soft, make sure you bake them for no more than 11 minutes. You want them to be slightly underbaked. They will continue to cook as they cool anyway however it does help them stay softer for a longer time.
Let them cool. Once you take them out of the oven, let them cool completely before serving. Place them in an airtight container in the fridge for up to a week. When you're ready to eat, just pop one in the microwave for 10 seconds.
How To Store Cookies
Once the cookies have cooled completely, transfer them to an airtight container to retain their soft, chewy texture. They will stay fresh for 1 week at room temperature. You can also freeze them for up to 3 months.
How To Freeze Cookie Dough
Whenever I make a batch of these cookies, I usually freeze half of the batch so I always have cookie dough ready to go in the freezer.
Here's how you can do that too:
Chill the cookie dough balls before freezing. When you form the cookie dough balls, place the cookie dough balls that you want to freeze on a parchment-lined baking sheet. Place the baking sheet in the fridge to chill for 1 hour.
Transfer to a freezer bag and freeze. After about 1 hour in the fridge, remove the baking sheet with the cookie dough balls and make sure they are firm. Transfer them to a freezer bag for storage. They won't stick together if they are chilled/firm.
Bake cookies whenever you want! All you have to do is remove the dough balls you want to make from the freezer bag and bake straight from the freezer. You may want to bake them for 1 extra minute since they are frozen and it will still be delicious! I'd vouch to say they taste even better!
Frozen cookie dough lasts up to 3 months in the freezer.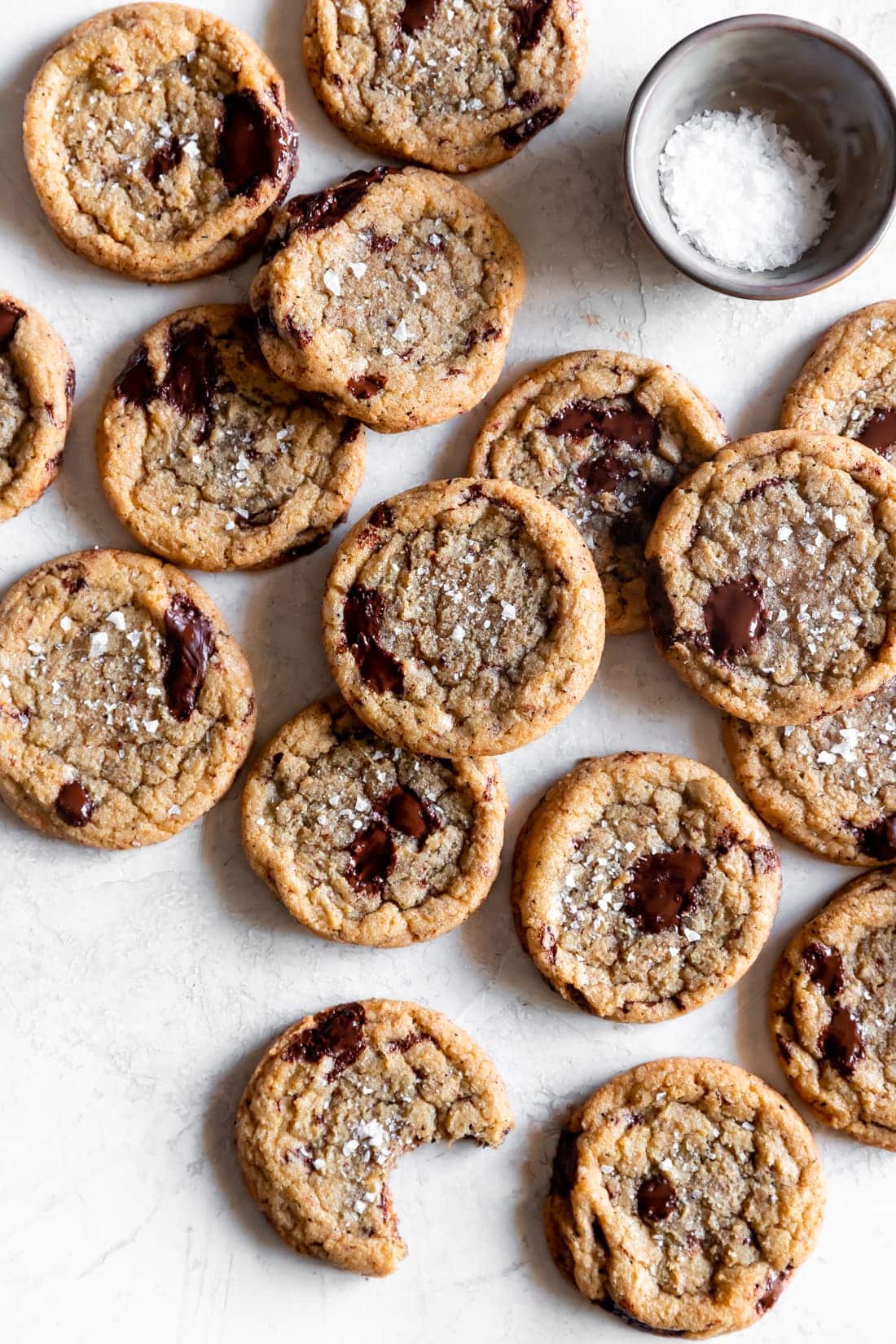 You may also like: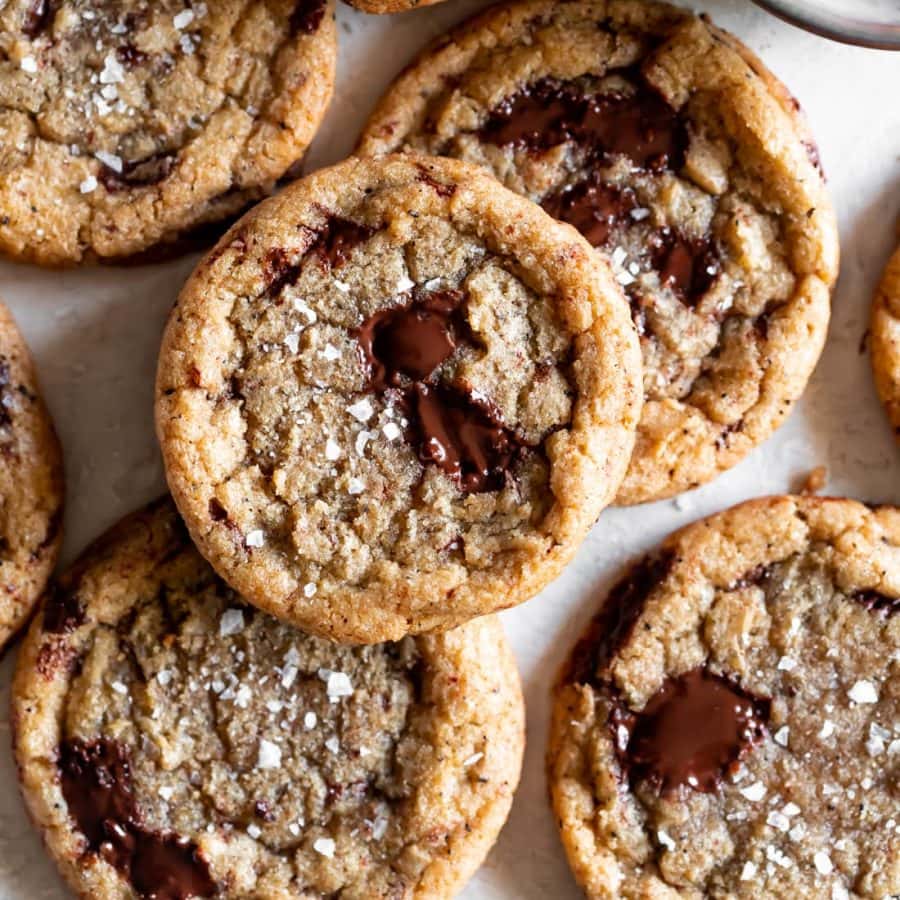 Chewy Brown Butter Chocolate Chip Cookies
Sweet, nutty, rich, and chewy brown butter chocolate chip cookies with crispy edges and soft centers made in one bowl! You and your family will absolutely LOVE making these chocolate chip cookies with browned butter, espresso powder, and chopped dark chocolate. The most delicious chocolate chip cookie you'll ever make!
Ingredients
1/2 cup unsalted brown butter instructions below
3/4 cup brown sugar packed
1/2 cup granulated sugar
1 large egg
1 teaspoon vanilla extract
1 1/3 cup all-purpose flour
1/2 teaspoon espresso powder (do not use instant espresso)
1/2 teaspoon baking soda
1/4 teaspoon salt
1 cup chopped dark chocolate (or any chocolate of your choice)
Flaky sea salt for garnish
Instructions
To make the brown butter, melt 1/2 cup of unsalted butter in a pan over medium heat for about 5 minutes, until the butter foams and little brown specks appear. Be careful not to let it burn! Once the butter turns an amber color and has a nutty aroma, remove it from the heat and stir in 2 teaspoons of water or milk (to make up for the loss of moisture) to the brown butter. Transfer it to a small bowl to cool to room temperature.

In a mixer or a large bowl, mix butter and sugars until combined. Add egg and vanilla extract. Mix until smooth and well combined. To the same bowl, add flour, espresso powder, baking soda, and salt. Mix until just combined. Do NOT over mix. Fold in chopped chocolate.

Using a cookie scoop, form dough into balls (approx. 1.5 tablespoons of dough). Place on a baking sheet and refrigerate the dough balls for, at least, 20 minutes (the longer, the better). You can freeze any leftover dough for future use.

When ready to bake, remove dough from fridge. Preheat oven to 350 degrees F. Line a baking sheet with parchment paper and place dough balls on baking sheet.

Bake for 10-11 minutes until the edges are golden brown. Remove from oven and sprinkle with sea salt. It's ok if they are a little undercooked, they will continue to bake as they cool. Cool for 5 minutes. Serve and enjoy!
Nutrition
Serving: 1 cookieCalories: 178 kcalCarbohydrates: 24 gProtein: 2 gFat: 9 gSaturated Fat: 5 gTrans Fat: 1 gCholesterol: 22 mgSodium: 65 mgPotassium: 89 mgFiber: 1 gSugar: 15 gVitamin A: 159 IUCalcium: 17 mgIron: 2 mg