White chocolate chip cookies made with salted caramel sauce, caramel chips, and white chocolate chips. These cookies are seriously next level!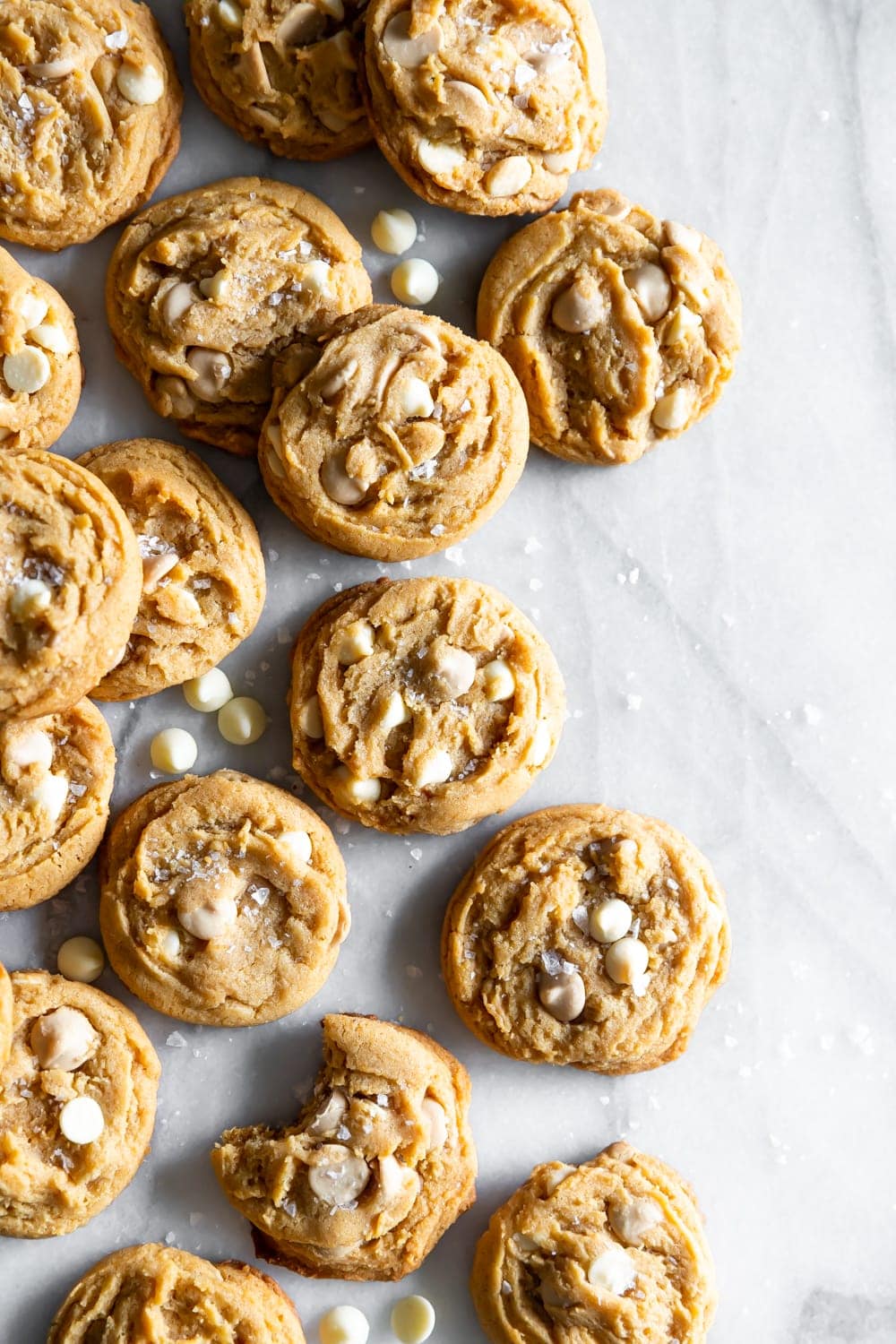 Ok here's the deal. I've made my fair share of cookie recipes in my day and I'm not the biggest fan of white chocolate. But let me tell you… these salted caramel white chocolate chip cookies are the best cookie I've ever made!
I know, I know, that's crazy to say…but the amount of vanilla-y, buttery, salty-sweet flavors that come out of this cookie will make your head explode. They're SO good!
I cannot wait for you to make them!
Ingredients You'll Need
Unsalted butter. Always use unsalted butter as it gives you complete control over the flavor of a recipe.
Brown sugar and granulated sugar. Sugar is what keeps cookies soft in general plus when you add more brown sugar than granulated sugar, the cookies will result in an even chewier texture with a caramel-like taste because of the molasses.
Egg. This acts as a binder that binds all the ingredients together.
Salted caramel sauce. The secret ingredient! I swear adding caramel sauce gave these white chocolate chip cookies the perfect salty-sweet flavor.
Vanilla extract and salt. The best flavor enhancers.
All-purpose flour. The most versatile flour that gives these cookies structure. Be careful not to overmix the dough as it may result in pancake-like cookies.
Baking soda. This acts as the leavener helping these cookies rise a bit without letting them spread too thin.
White chocolate chips and caramel chips. The best vanilla, nutty, salty, sweet flavors!

How To Make Salted Caramel Sauce
You can buy the salted caramel from the grocery store or click here. But if you're like to make it at home, here's how to make the salted caramel sauce. I promise it's super easy to make!
In a saucepan, heat sugar over medium heat, stirring constantly, with a rubber spatula, until it turns amber-colored. Slowly and carefully drizzle in the heavy cream while stirring. Careful as it may splatter. Allow the mixture to boil for 1 minute. Remove from heat and add flaky salt. Let it slightly cool before using. That's it!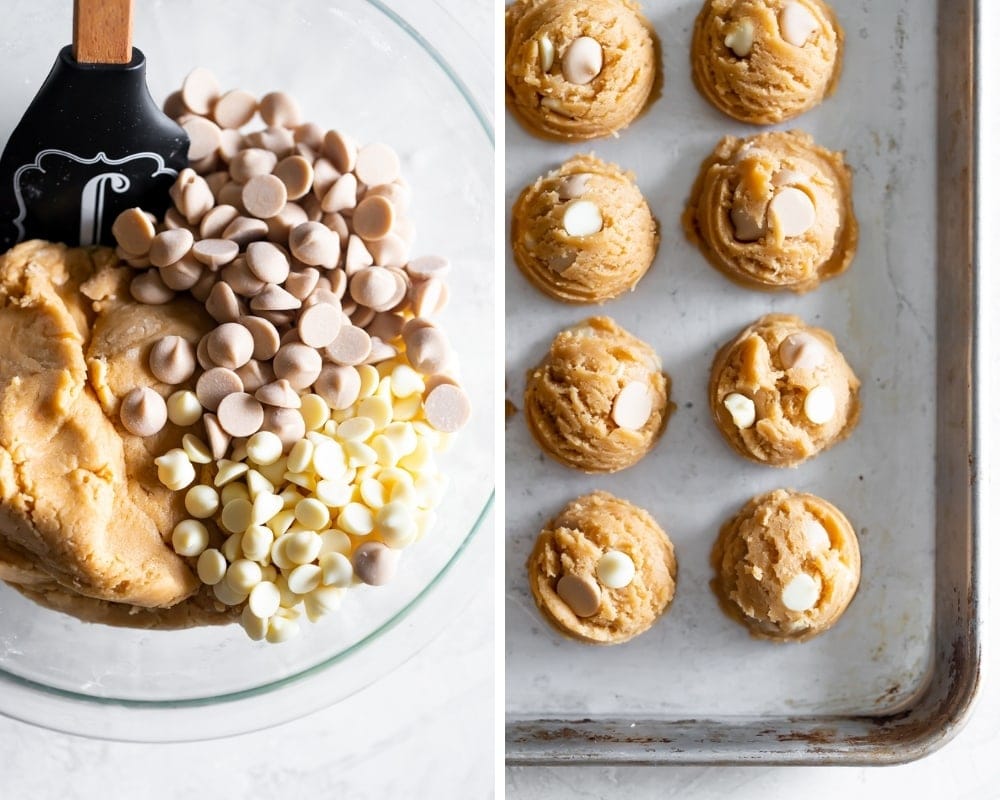 How To Make Salted Caramel White Chocolate Chip Cookies From Scratch
Tips for the best white chocolate chip cookies
Follow directions to a T. First, make sure to follow the recipe exactly as it is stated below. Baking is not like cooking; any minimal change may alter the final result.
Don't over mix. Make sure you DO NOT over mix the wet and dry ingredients. It'll let air into the batter and make the cookies go flat.
Baking soda only! Make sure you're using baking soda, not baking powder. Huge difference. If you use baking powder, you may end up with rock hard cookies.
Just chill man. Yes, chilling the cookies in the fridge for at least 20 minutes is annoying but I guarantee the longer you chill the dough, the better the flavor will be.
Underbake them. To keep these cookies soft, make sure you bake them for no more than 11 minutes. You want them to be slightly underbaked. They will continue to cook as they cool anyway however it does help them stay softer for a longer time.
Let them cool. Once you take them out of the oven, let them cool completely before serving. Place them in an airtight container in the fridge for up to a week. When you're ready to eat, just pop one in the microwave for 10 seconds.
How To Store these Cookies
Once the cookies have cooled completely, transfer them to an airtight container to retain their chewy texture. They will stay fresh for 1 week at room temperature. You can also freeze them for up to 3 months.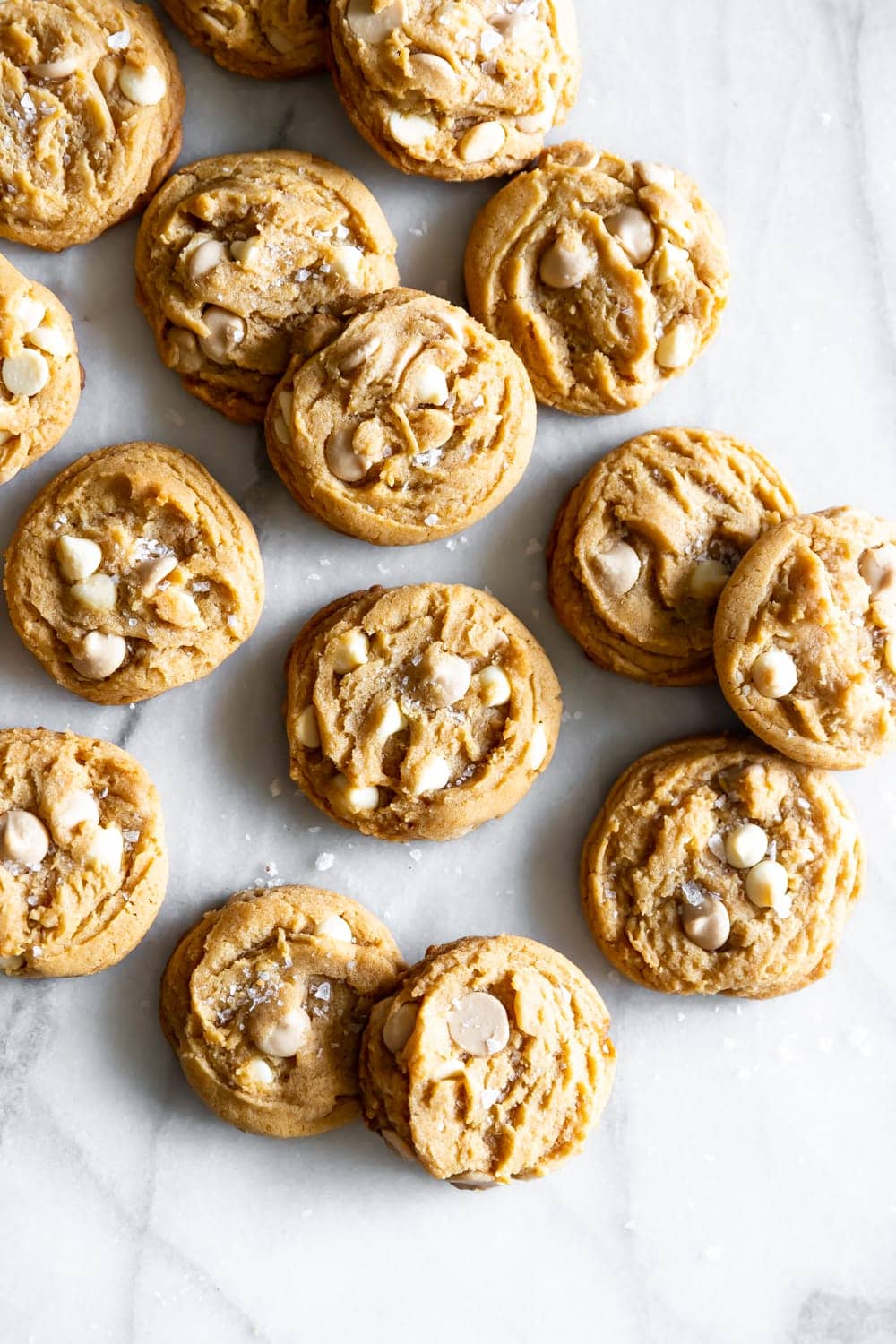 You may also like:
Ingredients
1/2

cup

unsalted butter

,

softened

3/4

cup

light brown sugar

,

packed

1/4

cup

granulated sugar

1

large

egg

1/4

cup

salted caramel sauce

,

storebought or use recipe below

1

teaspoon

vanilla extract

1 3/4

cup

all-purpose flour

1/2

teaspoon

baking soda

Pinch of salt

1/2

cup

white chocolate chips

1/2

cup

caramel chips

Flaky sea salt for garnish
Instructions
If you're making homemade salted caramel sauce, heat sugar over medium heat in a saucepan, stirring constantly until it turns amber-colored. Slowly drizzle in the heavy cream and butter while stirring. Careful as it may splatter. Allow the mixture to boil for 1 minute. Remove from heat and stir in salt then transfer to a jar.

Preheat oven to 350ºF. Line a baking sheet with parchment paper. Set aside.

In a bowl or stand mixer, cream the butter and sugars together until smooth. Add egg, salted caramel sauce, and vanilla. Mix until well combined.

Add flour, baking soda, and salt. Mix until just combined. Careful NOT to over mix or you may end up with flat cookies. Fold in white chocolate chips and salted caramel chips.

Using a medium cookie scoop, form cookie doughs into balls (1 1/2 tablespoons size). Place the cookie dough balls on a baking sheet and freeze the dough balls for 20 minutes.

Bake for about 10-11 minutes. Remove from oven, sprinkle with flaky sea salt. Enjoy!
---
Nutrition Facts
Salted Caramel White Chocolate Chip Cookies
Amount Per Serving (1 cookie)
Calories 166
Calories from Fat 63
% Daily Value*
Fat 7g11%
Cholesterol 24mg8%
Sodium 128mg5%
Potassium 35mg1%
Carbohydrates 26g9%
Protein 1g2%
Vitamin A 189IU4%
Calcium 20mg2%
Iron 1mg6%
* Percent Daily Values are based on a 2000 calorie diet.