This post is sponsored by Bob's Red Mill. All opinions are my own.
If you love chocolate chip cookies, you're going to absolutely LOVE these oatmeal chocolate chip cookie recipe!
I don't know about you but I'm not a fan of oatmeal raisin cookies. Raisins in my cookies? No thank you. That's why I made these oatmeal cookies with chocolate chips instead of raisins. OH YEAH!
For this oatmeal cookie recipe, we're using Bob's Red Mills Old Fashioned Rolled Oats. They are 100% whole grain, non-GMO, high fiber, and kosher. These oats are freshly milled from the highest quality oats available anywhere.
They contain a special type of fiber that is especially good for the reduction of cholesterol called beta-glucan. Beta-glucans also aid in the support of the immune system and can help regulate blood sugar.
I've been using Bob's rolled oats for years. They are my go-to for breakfast and for cookies like these! These oatmeal chocolate chip cookies contain more protein and fiber compared to other cookies. And that's a win in my book!
Ingredients You'll Need
Unsalted butter.
Dark brown sugar.
Egg.
All-purpose flour.
Ground cinnamon.
Baking powder + baking soda + salt.
Chopped dark chocolate. You can add raisins, walnuts, or pecans, if you'd like.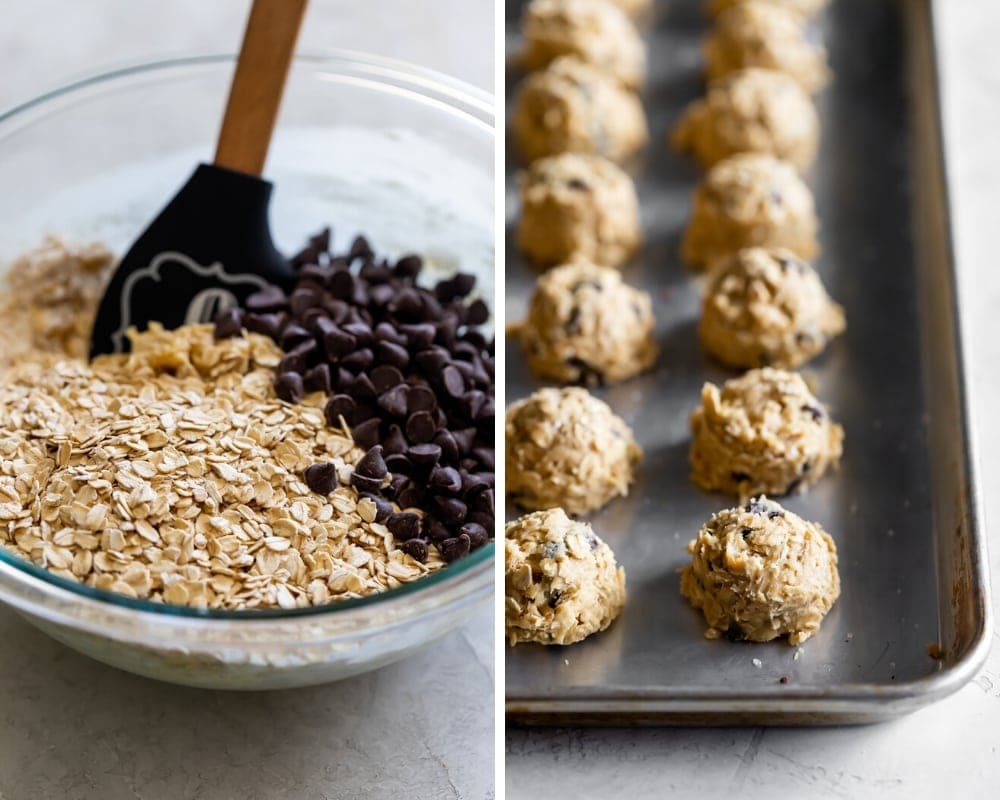 How To Make Oatmeal Chocolate Chip Cookies From Scratch
These cookies taste nutty and sweet. They are slightly crispy on the edges and soft and chewy in the middle. They're perfect!
How To Store Oatmeal Cookies
These oatmeal chocolate chip cookies last 4-5 days at room temperature however you can also freeze any leftovers. Here's how to store these oatmeal cookie dough:
Transfer already baked cookies into an airtight container and place in the freezer for up to 2 months.
If you have leftover cookie dough, form into cookie dough balls and place them on a baking sheet.
Place in the freezer about 1 hour or until the cookies have hardened.
Remove the baking sheet from the freezer and transfer the cookie dough balls to a freezer bag or airtight container. You can keep this cookie dough for up to 2 months.
When you're ready to bake, bring the cookie dough to room temperature then bake as instructed.
Common Questions about Oatmeal Chocolate Chip Cookies
How do you keep oatmeal cookies soft?
It's important you let the cookies cool for 5 minutes after you remove them from the oven. It's ok if they are a little on the raw in the middle, they will continue to bake/harden as they cool. Once they are cool, place them in an airtight container and store them in the fridge to keep them soft.
Why are my oatmeal chocolate chip cookies flat?
If your cookies turn out flat, your butter was melted or you used too little flour. This makes cookies spread, Make sure you use room temperature butter and 1 cup of flour and 2 cups of oats.
Can I substitute quick oats instead of old fashioned in cookies?
In oatmeal cookies, rolled oats will give you a chewier texture while quick oats will be less chewy. I highly recommend old-fashioned rolled oats.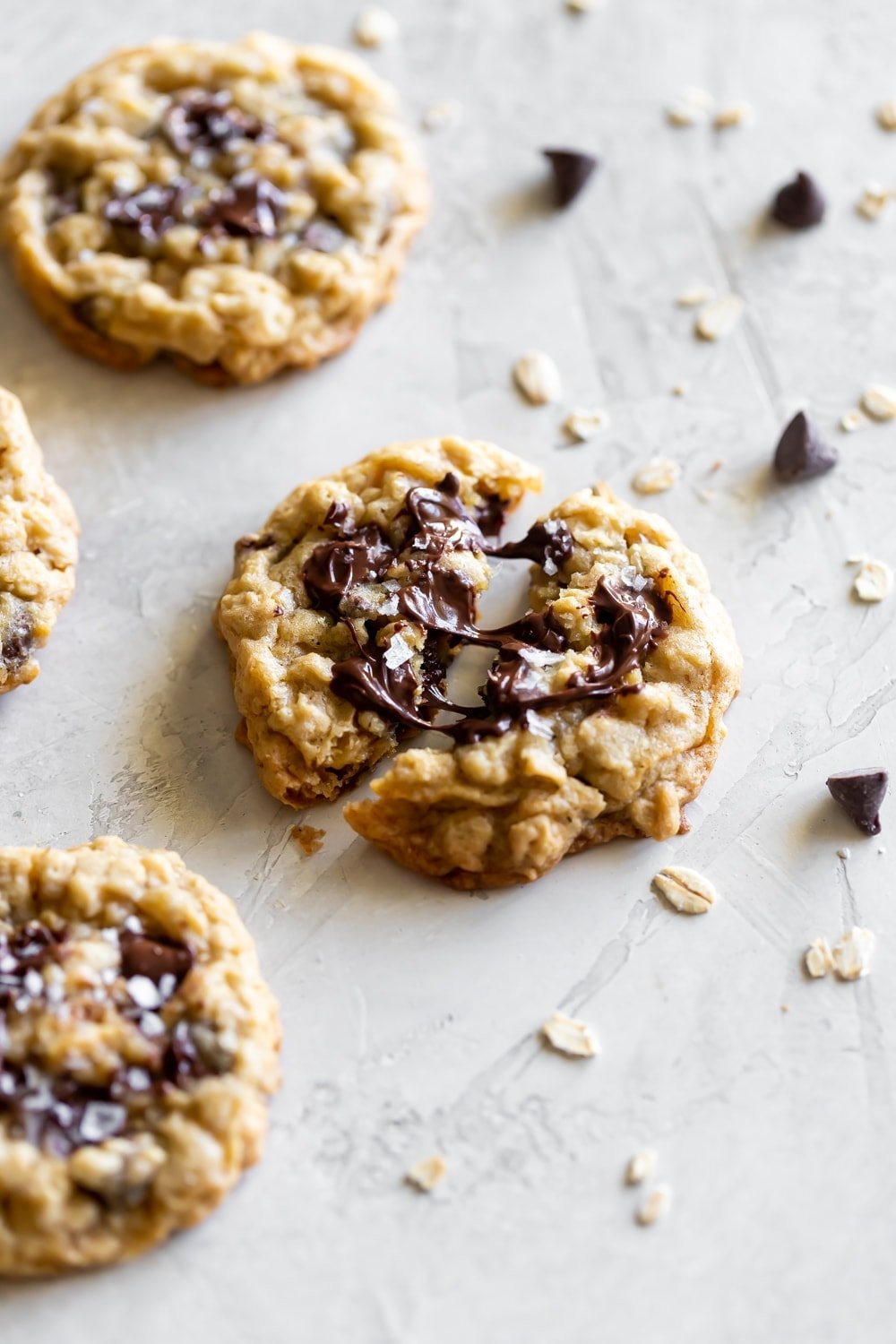 You may also like:
Oatmeal Chocolate Chip Cookies
Soft, chewy oatmeal chocolate chip cookies made from scratch with old fashioned rolled oats and all the best ingredients!
Ingredients
1/2 cup unsalted butter room temp (1 stick)
1 cup dark brown sugar packed
1 large egg
1 teaspoon vanilla extract
1 cup all-purpose flour
1/4 teaspoon ground cinnamon
1 teaspoon baking powder
1/2 teaspoon baking soda
Pinch of salt
6 ounces roughly chopped dark chocolate or dark chocolate chips
Flaky sea salt for garnish
Instructions
In a large bowl or stand mixer, cream butter and sugar. Add egg and vanilla. Stir until well combined.

Whisk in the flour, cinnamon, Bob's Red Mill Old Fashioned Rolled Oats, baking powder, baking soda, and salt. Mix until just combined. Do NOT over mix. Fold in chocolate.

Using a cookie scoop or a tablespoon, scoop dough and form into 1" balls. Place on a baking sheet and refrigerate the dough balls for 1 hour. You can freeze any leftover dough for future use.

When ready to bake, remove dough from fridge. Preheat oven to 350ºF. Line a baking sheet with parchment paper and place dough balls on baking sheet.

Bake for about 10-11 minutes until the edges are golden brown. Remove from oven and let them cool for 5 minutes. It's ok if they are a little on the raw in the middle, they will continue to bake/harden as they cool. Sprinkle with flaky sea salt and enjoy!
Nutrition
Serving: 1 cookieCalories: 167 kcalCarbohydrates: 22 gProtein: 3 gFat: 8 gSaturated Fat: 5 gCholesterol: 48 mgSodium: 66 mgPotassium: 101 mgFiber: 1 gSugar: 11 gVitamin A: 173 IUVitamin C: 1 mgCalcium: 50 mgIron: 1 mg
Thank you Bob's Red Mill for sponsoring this post and a HUGE thank you to all the readers of this blog for all your support! xo