Rich, chewy chocolate hazelnut cookies mixed with crunchy hazelnuts. A delicious salty-sweet treat for any day of the week!
Whenever I'm looking for a really indulgent treat, my mind automatically thinks of these chocolate hazelnut cookies! Picture this: Intensely, rich flavor, soft centers, chewy edges, crunchy roasted hazelnuts… I mean… what's not to like!?
I recently made these chocolate hazelnut cookies for my family and they were a hit!
Let me show you how to make them!
Ingredients You'll Need
Unsalted butter. Always use unsalted butter as it gives you complete control over the flavor of a recipe.
Brown sugar and granulated sugar. Sugar is what keeps cookies soft in general plus when you add more brown sugar than granulated sugar, the cookies will result in an even chewier texture with a caramel-like taste because of the molasses.
Egg. This acts as a binder that binds all the ingredients together.
Dutch-press cocoa powder.
Vanilla extract and salt. The best flavor enhancers.
All-purpose flour. The most versatile flour that gives these cookies structure. Be careful not to overmix the dough as it may result in pancake-like cookies.
Baking soda. This acts as the leavener helping these cookies rise a bit without letting them spread too thin.
Hazelnuts and chopped dark chocolate. Salty, sweet, crunchy, nutty, rich, chocolatey flavors!
How To Make Double Chocolate Hazelnut Cookies
Preheat the oven. You always want to preheat the oven about 20 minutes before baking cookies. You can check your oven temperature with an oven thermometer to make sure it is properly heating up.
Make the cookie batter. In a mixer or large bowl, cream the melted butter and sugars together until smooth. Add the egg and vanilla extract. Mix until smooth and well combined. To the same bowl, add flour, Dutch process cocoa powder, baking soda, and salt. Mix the wet and dry ingredients together until just combined. Do NOT over mix. Fold in the chopped chocolate and chopped roasted hazelnuts.
Form the cookie dough balls. Using this cookie scoop, form the dough into balls. Each dough ball should be 1 1/2 tablespoons of dough. Place them on a baking sheet and refrigerate the dough balls for, at least, 20 minutes (the longer, the better). You can freeze any leftover dough for future use.
Bake these chocolate hazelnut cookies! Line a baking sheet with parchment paper and place dough balls on the baking sheet. Bake for 10-11 minutes until the edges are golden brown. Remove from oven and sprinkle with flaky sea salt. It's ok if they are a little undercooked, they will continue to bake as they cool. Cool for 5 minutes before serving.
Can you substitute regular cocoa powder for Dutch process?
Yes, of course, however, I highly recommend buying Dutch process cocoa powder whenever you make chocolate cookies. Dutch process cocoa powder provides a more intense chocolate flavor which really elevates any cookie recipe! This is the brand I recommend.
The best tips for the perfect chocolate cookies from scratch
Follow directions to a T. First, make sure to follow the recipe exactly as it is stated below. Baking is not like cooking; any minimal change may alter the final result.
Don't over mix. Make sure you DO NOT over mix the wet and dry ingredients. It'll let air into the batter and make the cookies go flat.
Baking soda only! Make sure you're using baking soda, not baking powder. Huge difference.
Just chill man. Yes, chilling the cookies in the fridge for at least 20 minutes is annoying but I guarantee the longer you chill the dough, the better the flavor will be.
Underbake them. To keep these cookies soft, make sure you bake them for no more than 11 minutes. You want them to be slightly underbaked. They will continue to cook as they cool anyway however it does help them stay softer for a longer time.
Let them cool. Once you take them out of the oven, let them cool completely before serving. Place them in an air-tight container in the fridge for up to a week. When you're ready to eat, just pop one in the microwave for 10 seconds.
How to store these chocolate hazelnut cookies
Once the chocolate cookies have cooled completely, transfer them to an airtight container to retain their chewy texture. They will stay fresh for 1 week at room temperature. You can also freeze them for up to 3 months.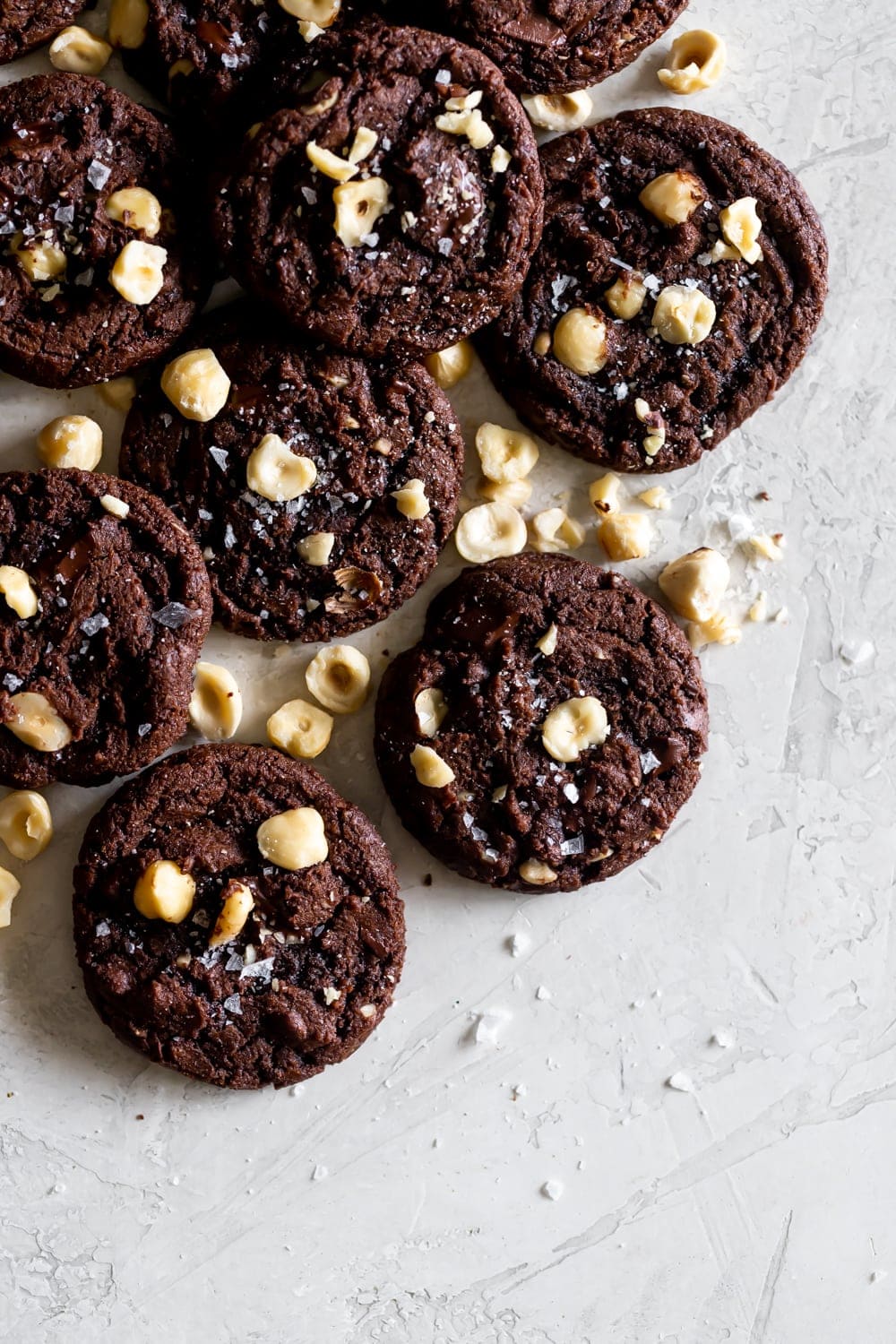 Ingredients
1/2

cup

unsalted butter

,

melted

3/4

cup

brown sugar

,

packed

1/2

cup

granulated sugar

1

large

egg

1

teaspoon

vanilla extract

1

cup

all-purpose flour

1/3

cup

Dutch process cocoa powder

1/2

teaspoon

baking soda

Pinch of salt

1/2

cup

roughly chopped dark chocolate bar

1/2

cup

chopped roasted hazelnuts

Flaky sea salt for garnish
Instructions
In a bowl or stand mixer, cream the butter and sugars together until smooth. Add egg and vanilla. Mix until well combined.

Add flour, cocoa powder, baking soda, and salt. Mix until just combined. Careful NOT to over mix or you may end up with flat cookies. Fold in chocolate chips and chopped hazelnuts.

Using a medium cookie scoop, form cookie doughs into balls (~1 1/2 tablespoons size). Place the cookie dough balls on a baking sheet and freeze the dough balls for 20 minutes.

Preheat oven to 350ºF. Line a baking sheet with parchment paper and place dough balls on the baking sheet. Bake for about 10-11 minutes. Remove from oven, sprinkle with flaky sea salt. Enjoy!
---
Nutrition Facts
Double Chocolate Hazelnut Cookies
Amount Per Serving (1 cookie)
Calories 151
Calories from Fat 72
% Daily Value*
Fat 8g12%
Cholesterol 20mg7%
Sodium 32mg1%
Potassium 86mg2%
Carbohydrates 19g6%
Protein 2g4%
Vitamin A 141IU3%
Vitamin C 1mg1%
Calcium 17mg2%
Iron 1mg6%
* Percent Daily Values are based on a 2000 calorie diet.
You may also like: