With just 3 ingredients, this brown sugar glazed kielbasa recipe will be your favorite go-to appetizer for holidays, dinner parties, or snack time. WARNING: They are quite addictive. All you need is kielbasa sausage, brown sugar, and coca-cola!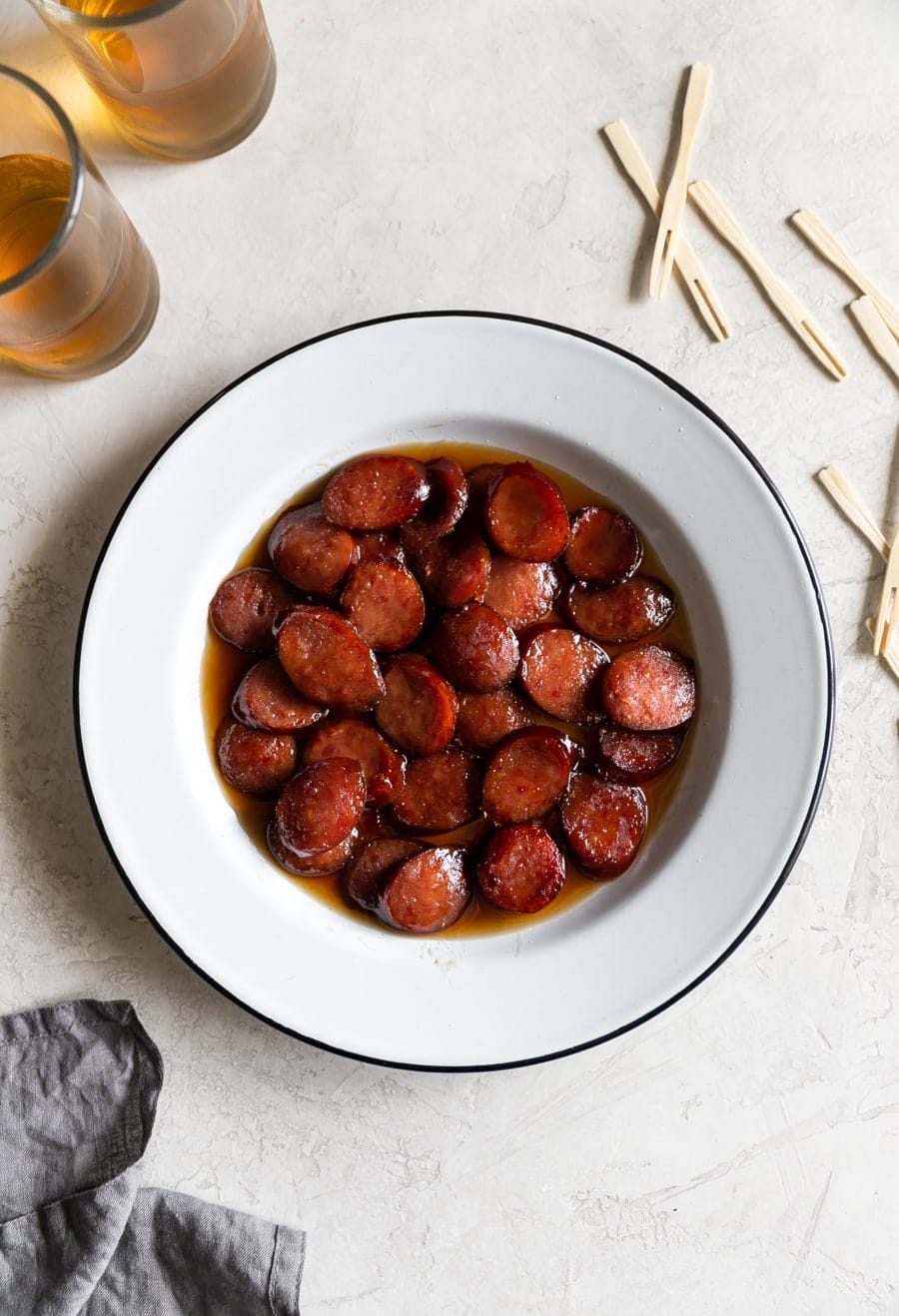 I've been making these bites for years! What started as a little experiment has now turned into a delicious recipe… er obsession. Quite possibly, the recipe I make the most often when I have company over. My friends ask for Brown Sugar Glazed Kielbasa Bites almost every time they come over my house and, even when I go over their house! My friends and I have been affectionately calling them "coke sausage" through the years. Ha!
They are an awesome appetizer and a quick bite to make when you have unexpected company.
Thankfully, they are SUPER easy to make and come together in no time.
Ingredients You'll Need
Only 3 ingredients!
Kielbasa sausage. You can use whichever one you'd like! I use the Hillshire Farm smoked, beef kielbasa rope since it's pretty easy to find at any grocery store.
Coca-cola. You can use root beer or diet coke if that's what you have on hand.
Brown sugar has molasses which is great for flavor and the caramelization of the kielbasa. YUM!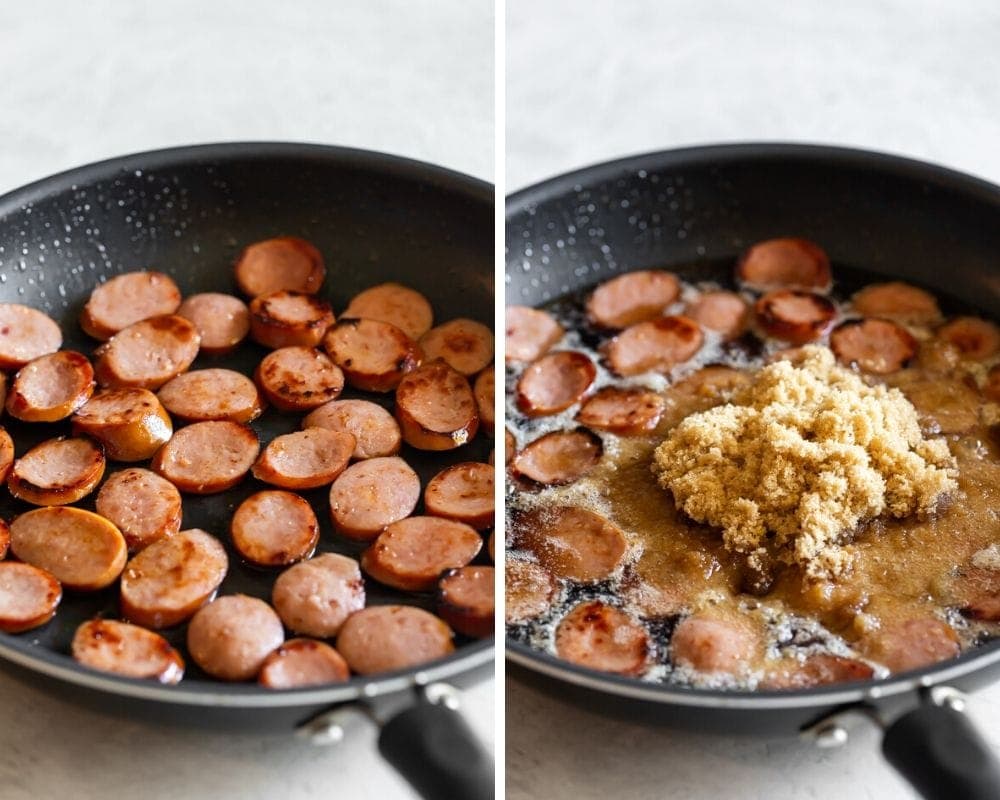 How To Cook Kielbasa
Brown the sausage. All packaged kielbasa comes fully cooked so all you can to do is slice it and add them to a pan to brown. Make sure to slice them the same size, about 1/4-inch thick each, so they can cook evenly.
Add the cola and brown sugar. Once you have browned the sliced sausage, add the coke and brown sugar and bring to a boil.
Simmer until caramelized. Once it starts boiling, immediately turn the heat down and simmer. Not all stoves are created equal. Sometimes it takes 10 minutes, other times it takes 35 minutes. Eyeball the glaze to see when the brown sugar + coke mixture thickens enough to coat the back of a spoon. You know your stove better than I do so use your best judgment here. The caramelization waiting time is really the hardest part of this recipe!
Be careful not to eat them too soon after you transfer them to a plate. Sugar gets HOT. They are definitely hard to resist but you don't want to burn your mouth (speaking from experience here).
I promise you will absolutely LOVE making them (and eating them too!). You too are going to be making these over and over again.
Questions about This Kielbasa Recipe
What goes well with kielbasa?
These kielbasa bites are a great appetizer idea however you can definitely serve them with white rice.
Is kielbasa already cooked?
Yes, most packaged kielbasa comes fully cooked/smoked.
What is the best way to cook kielbasa?
You can grill them or pan fry them after slicing at medium-high heat on the stove for a 2-3 minutes.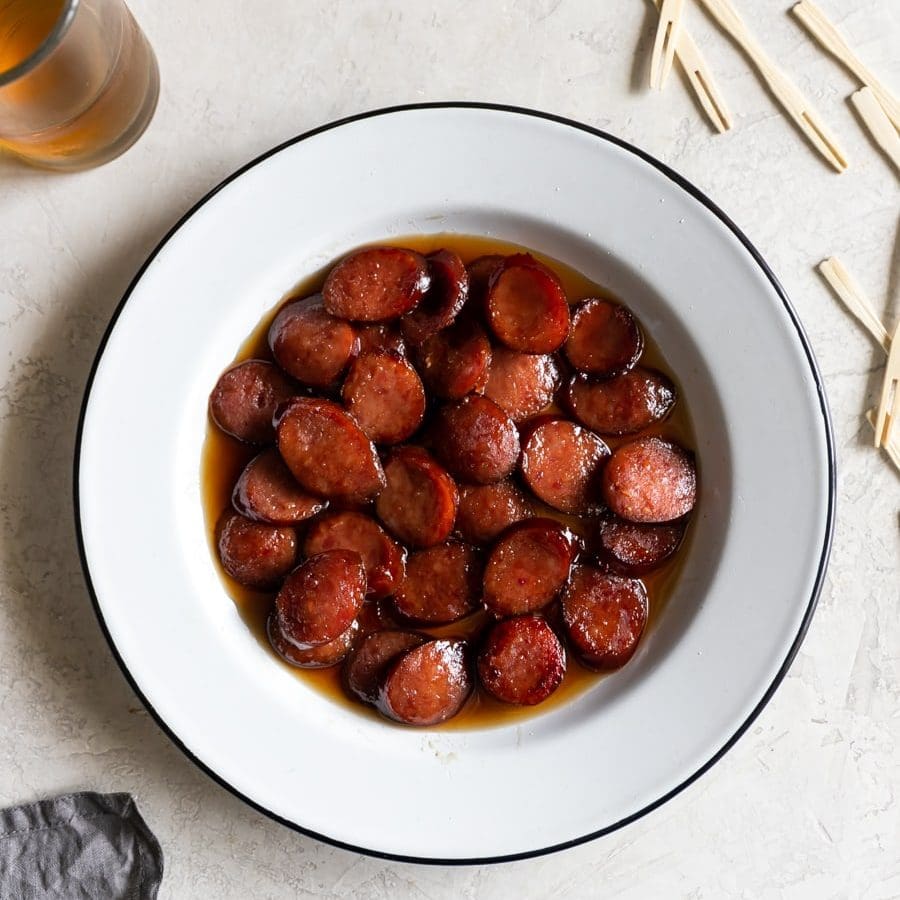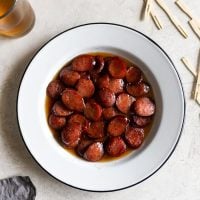 Brown Sugar Glazed Kielbasa (Only 3 Ingredients!)
With just 3 ingredients, these brown sugar glazed kielbasa will be your favorite go-to appetizer for holidays, dinner parties, or snack time. They are quite addictive!
Ingredients
12 ounces fully cooked kielbasa sausage thinly sliced
3/4 cup coca-cola (6 ounces)
1 cup brown sugar packed
Instructions
In a nonstick skillet, add sausage and brown over medium high heat for about 4-5 minutes. Pour coca-cola and brown sugar into the skillet. Bring to a boil then reduce heat to medium low.

Stir and simmer anywhere from 10 to 40 minutes. (All stoves are different. On my stove, it takes about 30 minutes for these to caramelize. I've made these at friends' houses and it has taken 10 minutes. You have to eye ball it. You know your stove better than I do. What you're looking for is a thick, caramelized consistency so keep stirring until it becomes a thick glaze.)

Once the cola and brown sugar mixture become a glaze over the sliced sausages, remove the skillet from the heat. Transfer sausages to a plate and let cool for 10 minutes before serving. The sausages will be VERY HOT, please be careful. Enjoy!
Nutrition
Serving: 1 servingCalories: 168 kcalCarbohydrates: 20 gProtein: 4 gFat: 8 gSaturated Fat: 3 gCholesterol: 20 mgSodium: 254 mgPotassium: 92 mgSugar: 19 gVitamin C: 1 mgCalcium: 19 mgIron: 1 mg
You may also like: