Soft, cut-out sugar cookies topped with a coquito (Puertorican eggnog) icing made with full-fat coconut milk, cinnamon, and rum.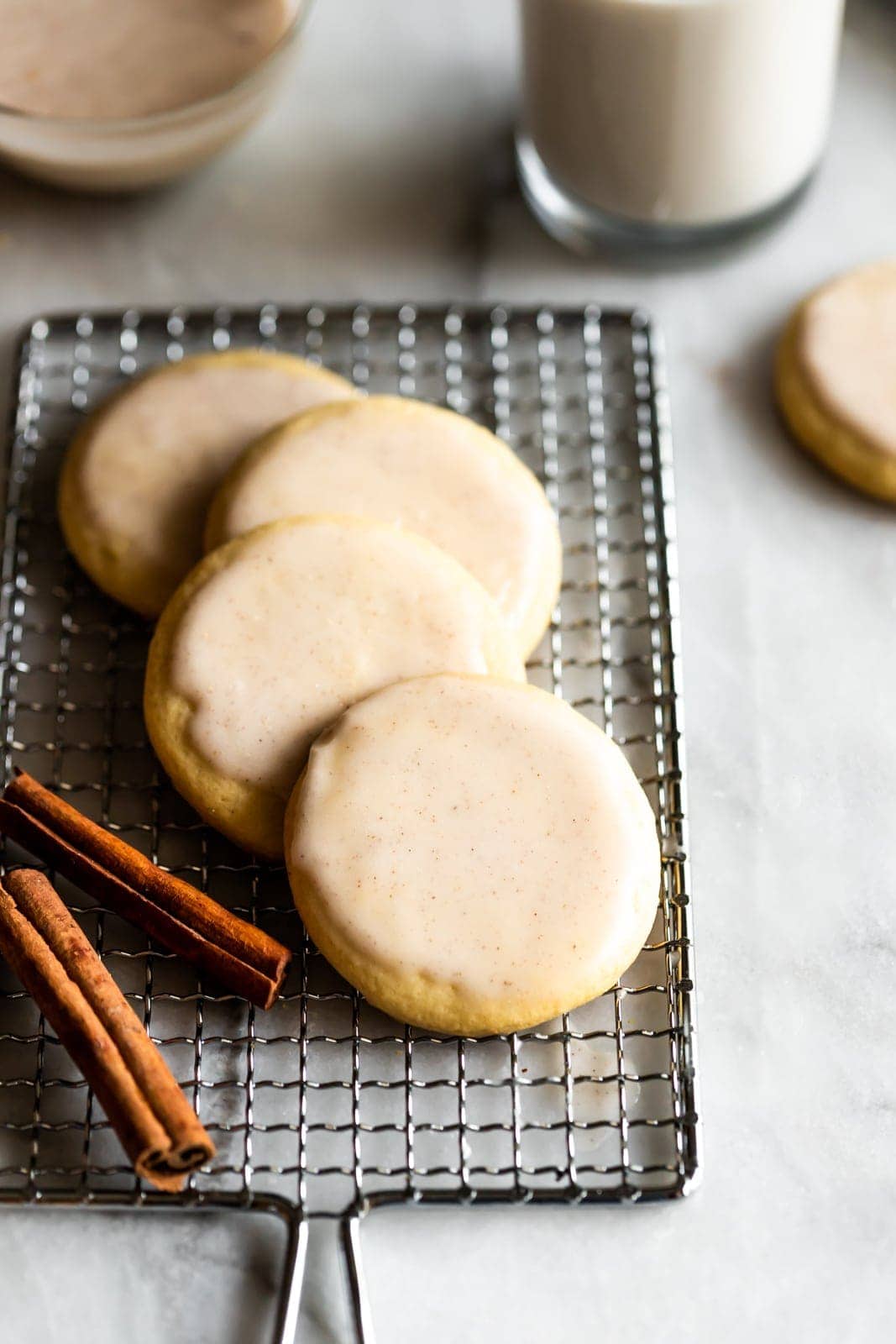 The holidays are all about celebrating. Everyone celebrates differently because we all have our own special traditions. Latinos usually celebrate with lots of food and lots of booze. What can I say, we know how to party.
One of the popular holiday drinks that always reminds me of the holidays is coquito.
What is Coquito?
Coquito (pronounced ko-key-toe) is Puertorican eggnog. Cubans have their own eggnog too called crema de vie, which is also similar to traditional eggnog and coquito but the taste is just not there for me. Sorry, fam. Coquito is creamy and tastes like coconut, cinnamon, and rum. They are similar in texture but coquito is not as thick as eggnog because of all the booze in it. See? Now, that's a party!
For years now, I've made desserts with coquito in it because I love it so much. From coquito donut holes to coquito cheesecake bars, I'm determined to make a new dessert every year with this cinnamon and coconut flavored rum-spiked concoction.
Enter coquito sugar cookies.
How To Make Coquito Sugar Cookies
To be honest, I'm not a big sugar cookie fan. With this coquito icing though, it's truly heaven on earth. The sugar cookies are soft and chewy. Easy to make, thanks to Sally's Baking Addiction's recipe for cut-out sugar cookies. They are the 'roll out dough and cut out shapes' type of recipe. So you don't have to only make round cookies. Feel free to make whatever cookie cutter shape your pretty little heart desires!
What I love about her recipe is that the cookies retain their shape while baking. They also can be made in advance and placed in the freezer for months. All the notes are in the recipe below. She emphasizes on chilling the dough before baking which I know it's a pain. Recipes that require chilling the dough before baking is with a purpose. In this case, chilling the sugar cookie dough prevents them from spreading. No one wants weird shaped cookies, ya know.
The coquito icing however was all from my brain. I wanted a simple icing that wasn't too thick. A drippy icing that was semi-translucent packed with rum, coconut and cinnamon flavors. Basically, I wanted you to get crunk from this cookie. Just kidding. It's not that strong. You can definitely taste the rum but it has a subtle hint of coconut and cinnamon which combined with the soft sugar cookie, well, it's just the perfect holiday cookie.
The recipe below explains it all. If you have any questions, comment below or find me on Instagram.
Can't wait for you guys to make this recipe!
Other Coquito Recipes You May Like: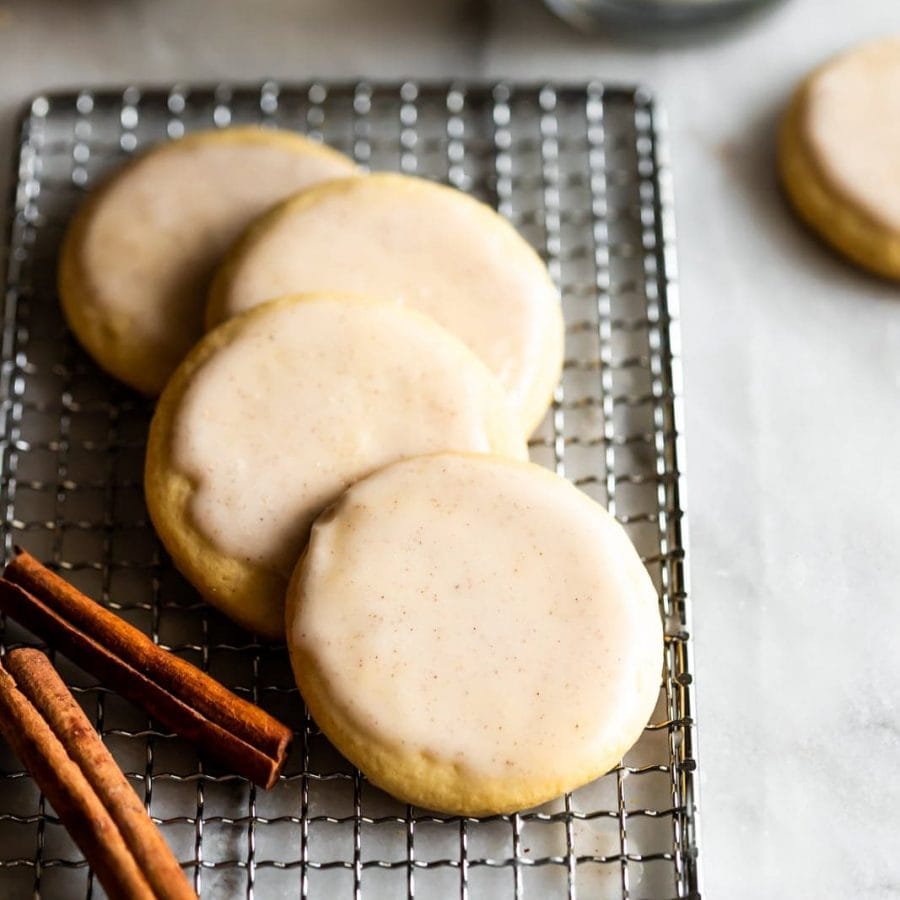 Coquito Sugar Cookies (Puerto Rican Eggnog)
Soft, cut-out sugar cookies topped with a coquito (Puertorican eggnog) icing made with full-fat coconut milk, cinnamon, and rum.
Ingredients
SOFT SUGAR COOKIES
1/2 cup unsalted butter softened
1/2 cup granulated sugar
1 large egg
1 teaspoon vanilla extract
2 cups all-purpose flour
1/2 teaspoon salt
1/4 teaspoon cinnamon
Pinch of nutmeg
1/4 teaspoon baking powder
1/4 teaspoon baking soda
COQUITO (EGGNOG) ICING
1 cup powdered sugar
2 tablespoons full-fat coconut milk
1 tablespoon white rum
1/4 teaspoon cinnamon
Instructions
In a bowl, cream butter and sugar together until smooth. Add egg and vanilla extract. Mix until well combined. Add flour, salt, cinnamon, nutmeg, baking powder, and baking soda. Mix until just combined. You should get a soft dough consistency.

Using a rolling pin or a wine bottle (I mean, whatever works), roll out the dough onto a piece of parchment paper to about 1/4″ thickness.

Place the rolled out dough on a baking sheet then press another piece of parchment paper on top. Transfer the rolled out dough to the refrigerator for 1 hour. Doing this will prevent the cookies from spreading while baking. Do not skip this step.

Preheat oven to 350 degrees F. Line a baking sheet with parchment paper. Set aside.

Remove the dough from the refrigerator. Using a round cookie cutter, make the cookie rounds. Transfer to the baking sheet. Re-roll the remaining dough and continue cutting until the entire dough is used. I got 18 cookies out of this dough.


Bake for 10 minutes. Remove from the oven and cool for 5 minutes before icing. The tops of the cookie should be smooth and the edges crispy and very lightly browned.

To make the coquito icing, mix together powdered sugar, coconut milk, white rum and cinnamon in a bowl. The icing should be drippy and not too thick.

Dip each cookie into the icing, allowing excess to drip off, then place on a plate. Allow the icing to set for 5 minutes before serving. Enjoy!
Notes
These cookies stay soft for 5 days at room temperature.
You can place baked sugar cookies without the icing in the freezer for up to 3 months in an airtight container. If the cookies already have the icing, do not refrigerate.
The dough can be chilled for up to 2 days or placed in the freezer for up to 3 months. Just make sure to thaw in the refrigerator for 1 hour before using.
Sugar cookie recipe adapted from Sally's Baking Addiction
Nutrition
Serving: 1 cookieCalories: 153 kcalCarbohydrates: 23 gProtein: 2 gFat: 6 gSaturated Fat: 4 gCholesterol: 24 mgSodium: 91 mgPotassium: 22 mgFiber: 1 gSugar: 12 gVitamin A: 173 IUCalcium: 8 mgIron: 1 mg