Are you a fan of Chinese food? Me too! I love me some shrimp fried rice. Sweet and sour chicken is also my jam.
But if I was told that I could only order one thing from the menu, it would be an egg roll. Or 3 Ha! Hands down, eggs rolls are THE BEST.
Filled with ground pork and veggies, in a wrapper, and fried to perfection. YUM!
A few weeks ago, I placed an order for Butcher Box so I had ground pork in my freezer.
Butcher Box is a service that curates boxes of grass-fed, no-hormone-added, humanely raised beef, chicken, pork, salmon + sustainable seafood and, they deliver it right to your door. I love getting my box delivered directly to me. There are always specials – like free bacon or free ground beef – you gotta check them out! Click here to find out more info on Butcher Box!
That's when I decided to put it to good use and make these easy to make and packed with umami flavor egg rolls in a bowl!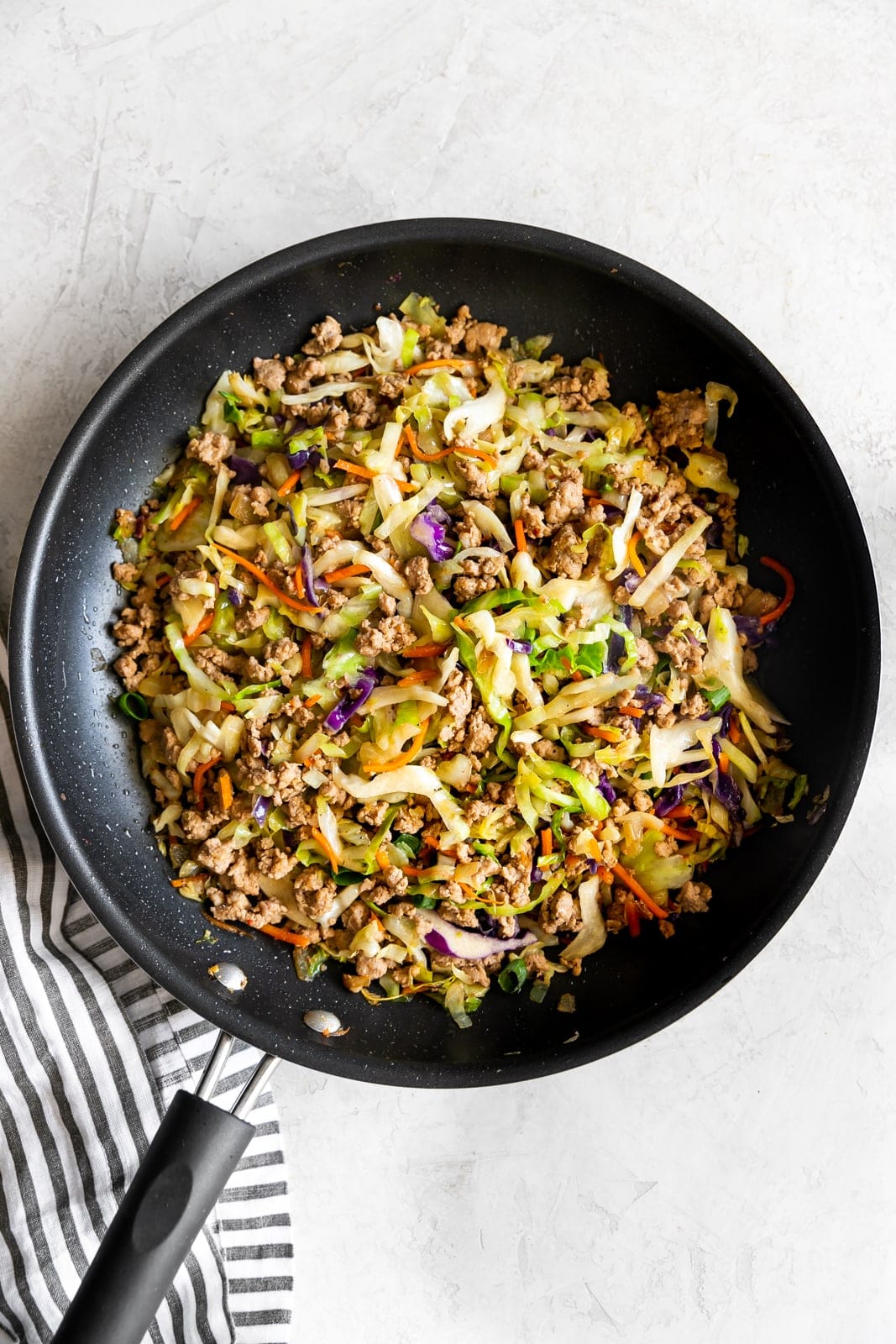 Ingredients You'll Need
Toasted sesame oil. Because YUM! You can sub for olive oil, of course, but sesame oil just tastes so nutty and toasty. *heart eyes*
Garlic + onion. Aromatics!
Ground pork. You can use ground turkey or ground chicken, if you prefer.
Ground ginger.
Low sodium soy sauce. You can also use coconut aminos or tamari.
Rice wine vinegar.
Red pepper flakes.
Vegetables. I used a bag of storebought coleslaw for this dish but you can use shredded green cabbage with matchstick carrots, if you prefer, or whatever you have on hand.
Sliced green onions, sesame seeds, and/or Sriracha. Totally optional but encouraged!
How To Make Egg Roll In A Bowl Recipe
This dish is honestly sooo easy to make!
Cook your aromatics. In a large skillet, heat up sesame oil over medium-high heat. Add and cook onions until translucent, about 1 minute or so, then add garlic.
Add the ground meat. Cook the ground meat for about 5 minutes then add ginger, coconut aminos or soy sauce, rice wine vinegar, and spices.
Finish it off with the cabbage. Stir until combined then add the coleslaw mix. Cook for another 5 minutes or until desired tenderness.
Serve and garnish! Top with sesame seeds, sliced green onions, or Sriracha.
Of course, no one is claiming that this recipe should ever replace actual egg rolls.
The next time, however, that you're craving Chinese food, make this instead! It's a healthy, whole30, keto, low carb and, not to mention, a super easy meal for the dinner or meal prep.
Questions About Egg Rolls In A Bowl
What do I do with the leftovers?
These are best served immediately after cooking. You can store leftovers in an airtight container in the refrigerator for 2-3 days. Reheat on a skillet before serving. I do not recommend freezing.
What to serve egg rolls in a bowl?
I personally would enjoy a bowl of this dish by itself but you may also serve it with rice noodles, broccoli slaw, cauliflower rice, white rice, or quinoa.
Can't wait for you guys to make it!
You may also like: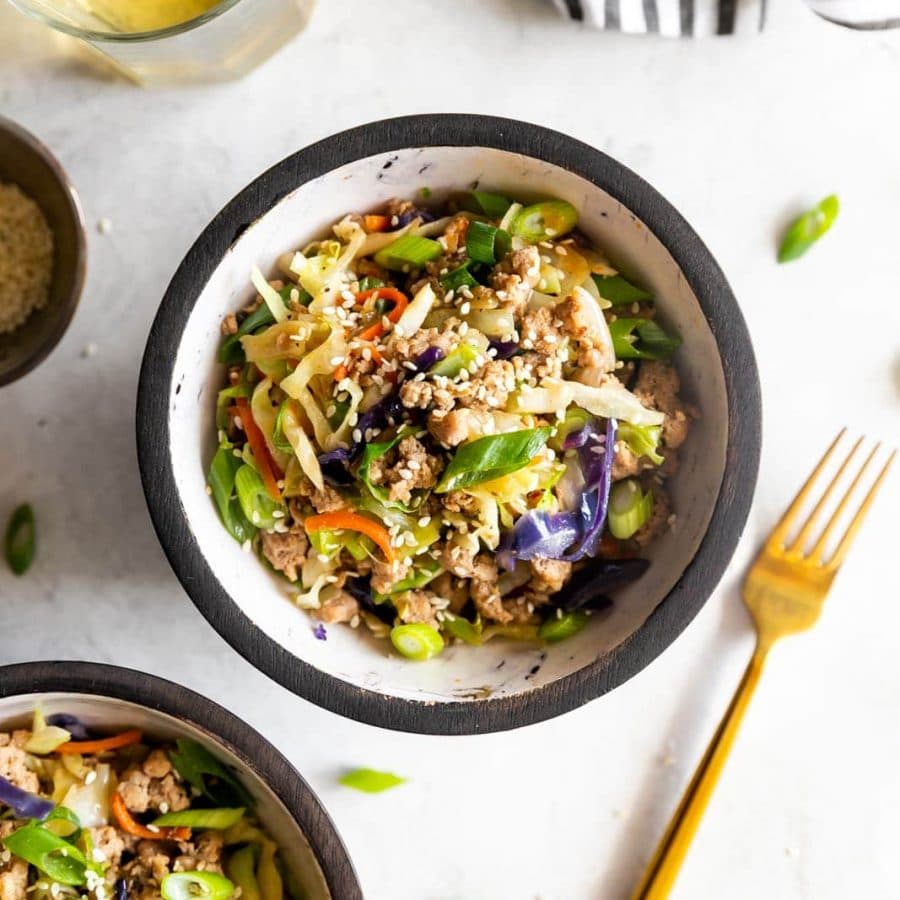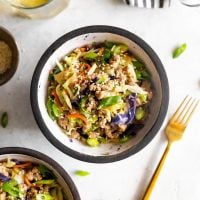 Quick & Easy Egg Roll In A Bowl
A deconstructed egg roll in a bowl made with ground pork, coleslaw, rice vinegar, sesame oil and soy sauce. A perfect 15-minute one-pan meal!
Ingredients
1 tablespoon toasted sesame oil
3 cloves garlic minced
1/2 cup chopped onion
1 pound ground pork (or ground turkey or ground chicken)
1 teaspoon ground ginger
2 tablespoons low sodium soy sauce (or coconut aminos or tamari)
2 teaspoons rice wine vinegar
1 teaspoon red pepper flakes
Salt + pepper to taste
12 ounces coleslaw mix or shredded green cabbage
Garnishes: sliced green onions, sesame seeds, and hot sauce (optional)
Instructions
In a skillet, heat sesame oil over medium-high heat. Add onion and cook until translucent, about 2 minutes. Add garlic and sauté for 30 seconds.

Next, add the ground meat. I recommend ground pork but you can also use ground turkey or ground chicken, if you prefer. Cook for 5 minutes or until no longer pink.

Stir in the ground ginger, soy sauce, rice wine vinegar, red pepper flakes, salt and pepper.

Add the coleslaw mix or shredded cabbage. Cook for another 5 minutes or until desired tenderness.

Transfer to a bowl. Garnish with green onions and/or sesame seeds. Drizzle with hot sauce, if you want some heat. Enjoy!
Notes
Inspired by several recipes on Pinterest
Nutrition
Serving: 1 servingCalories: 300 kcalCarbohydrates: 15.1 gProtein: 19.6 gFat: 18.1 gSaturated Fat: 3.4 gCholesterol: 59 mgSodium: 299 mgPotassium: 197 mgFiber: 0.5 gSugar: 0.7 gCalcium: 30 mgIron: 1.8 mg
Tried it and loved it?
Snap a picture and share it with me on instagram @asassyspoon and by using the hashtag #asassyspoon!