I ADORE SCALLOPS. Well, I actually love all types of seafood. When I polled my Instagram audience a few weeks ago, I was happy to see requests for more seafood recipes.
You guys are my people!
I could honestly enjoy seafood all day, every day. Seafood dinners are easy to make and, when seasoned correctly, TASTE SO GOOD! I know a lot of people feel intimidated by fancy seafood recipes but, today, I'm bringing you one of my favorite easy scallop recipes.
What are scallops and what do they taste like?
Scallops are a type of mollusk. Similar to clams, mussels, and oysters, their interior muscle is surrounded by two shells⁠. They taste sweet with slightly briny flavor and, are super tender and a great source of protein. By the way, I purchased the wild caught sea scallops for this recipe from ButcherBox!
ButcherBox is a service that curates boxes of grass-fed, no-hormone-added, humanely raised beef, chicken, pork, salmon, and sustainable seafood delivered right to your door. I've been receiving my boxes for years now and I have no complaints. They always have specials – like free bacon or free ground beef so you gotta check them out! Click here for more info! [affiliate link]
What is blackened seasoning?
In essence, blackened seasoning is really Cajun seasoning. Blackened is more of a cooking method in conjunction with the seasoning. When you make blackened seafood, you first season the fish with the spice blend, melt butter on a hot pan, and sear on both sides until you achieve a delicious crust.
A simple blackened seasoning is usually made up of smoked paprika, cayenne pepper, brown sugar, thyme, oregano, salt + pepper. Some blends don't have sugar but I find that adding sugar helps to caramelize scallops with a perfect crust. YUM.
This spice blend is smoky, a little spicy, and overall perfectly balanced.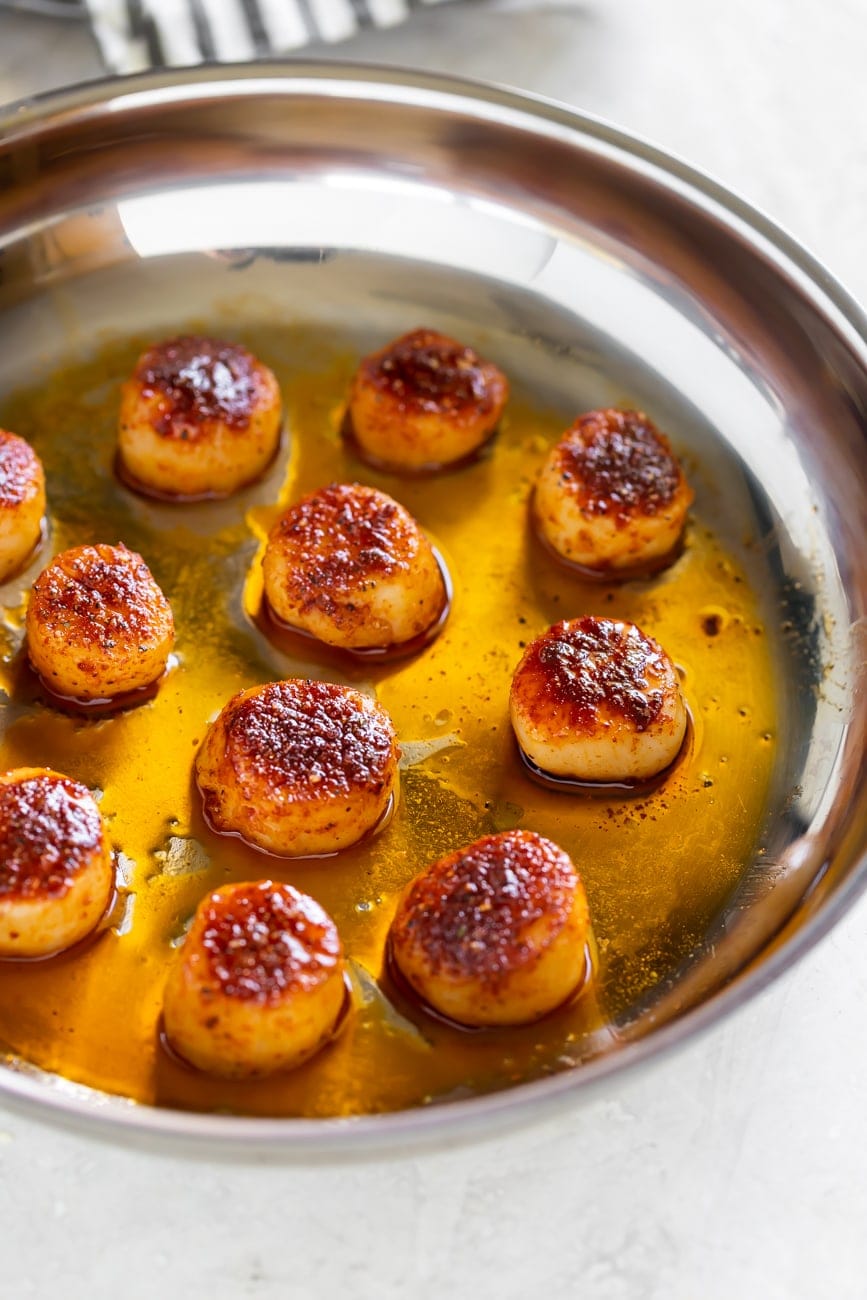 How To Make Pan Seared Scallops
Scallops cook pretty quickly so make sure not to walk away from the stove as they're searing or you run the risk of them burning.
What To Serve with Pan Seared Scallops
These pan seared scallops are the perfect dinner for any busy weeknight. You can serve them with a mashed potatoes, simple salad, white rice, or risotto.
Personally, I love serving it with white rice because all that melted garlic butter goodness gets all soaked. SIGHHHH. It makes for the best easy dinner! Then again, I love rice so much that I'd probably pair it with every meal. My Cuban roots are showing.
Can't wait for you to make this dish!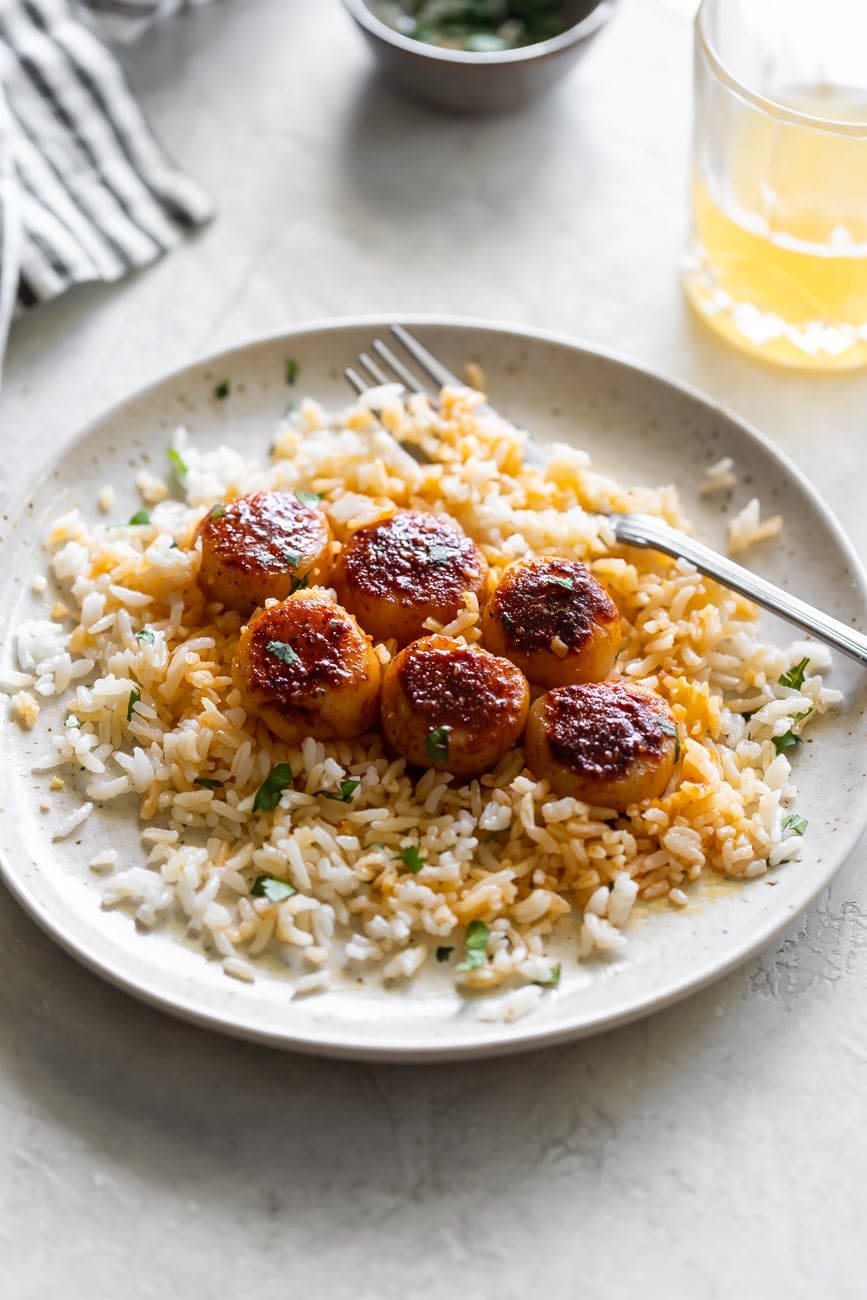 You may also like: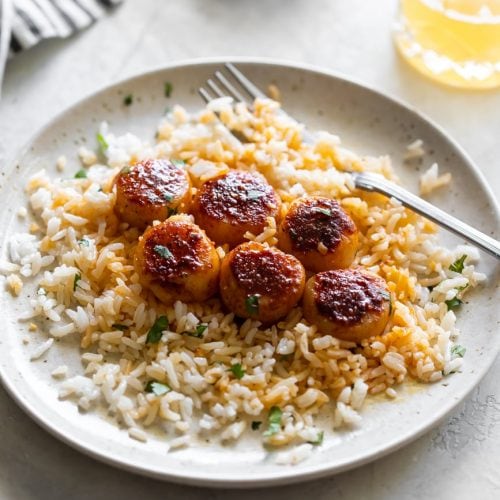 Pan Seared Scallops with Garlic Butter
Pan-seared sea scallops made with blackened spices and garlic butter served over rice. A quick 15-minute flavorful meal for any day of the week!
Ingredients
1 1/2 teaspoons smoked paprika
1/4 teaspoon cayenne pepper or more to taste
1/2 teaspoon brown sugar
1/2 teaspoon oregano
1/2 teaspoon thyme
Salt and pepper to taste (Start with 1/4 teaspoon then taste and adjust as needed)
3 tablespoons unsalted butter melted
4 cloves garlic mashed into a paste
2 tablespoons olive oil or another oil with a high smoke point
1 pound sea scallops
Chopped parsley or cilantro for garnish
Instructions
In a bowl, combine the smoked paprika, cayenne pepper, brown sugar, thyme, oregano, salt, and pepper.

On a clean surface, place the sea scallops and pat them dry with paper towels. Generously season scallops with the seasoning. Set aside.

In a large skillet, heat oil over medium-high heat. Making sure the scallops don't touch (they should be about 1-inch apart from each other on the pan), sear the scallops for 1-2 minutes, undisturbed.

Meanwhile, in another bowl, mix together the melted butter and garlic paste.

Pour the garlic butter sauce on top of the scallops. Flip the scallops then cook for another 1-2 minutes, undisturbed. The scallops are done when they're opaque and have browned.

Remove from the heat and transfer to a plate. Serve with a simple salad, white rice, pasta or risotto. Enjoy!
Nutrition
Serving: 1 serving of scallopsCalories: 165 kcalCarbohydrates: 2.9 gProtein: 4.1 gFat: 15 gSaturated Fat: 7 gCholesterol: 30 mgSodium: 37 mg