A simple 6-ingredient spicy arugula salad made with peppery arugula, shaved Pecorino cheese, pine nuts, red chili flakes, lemon juice and olive oil! Makes for a perfect starter or side.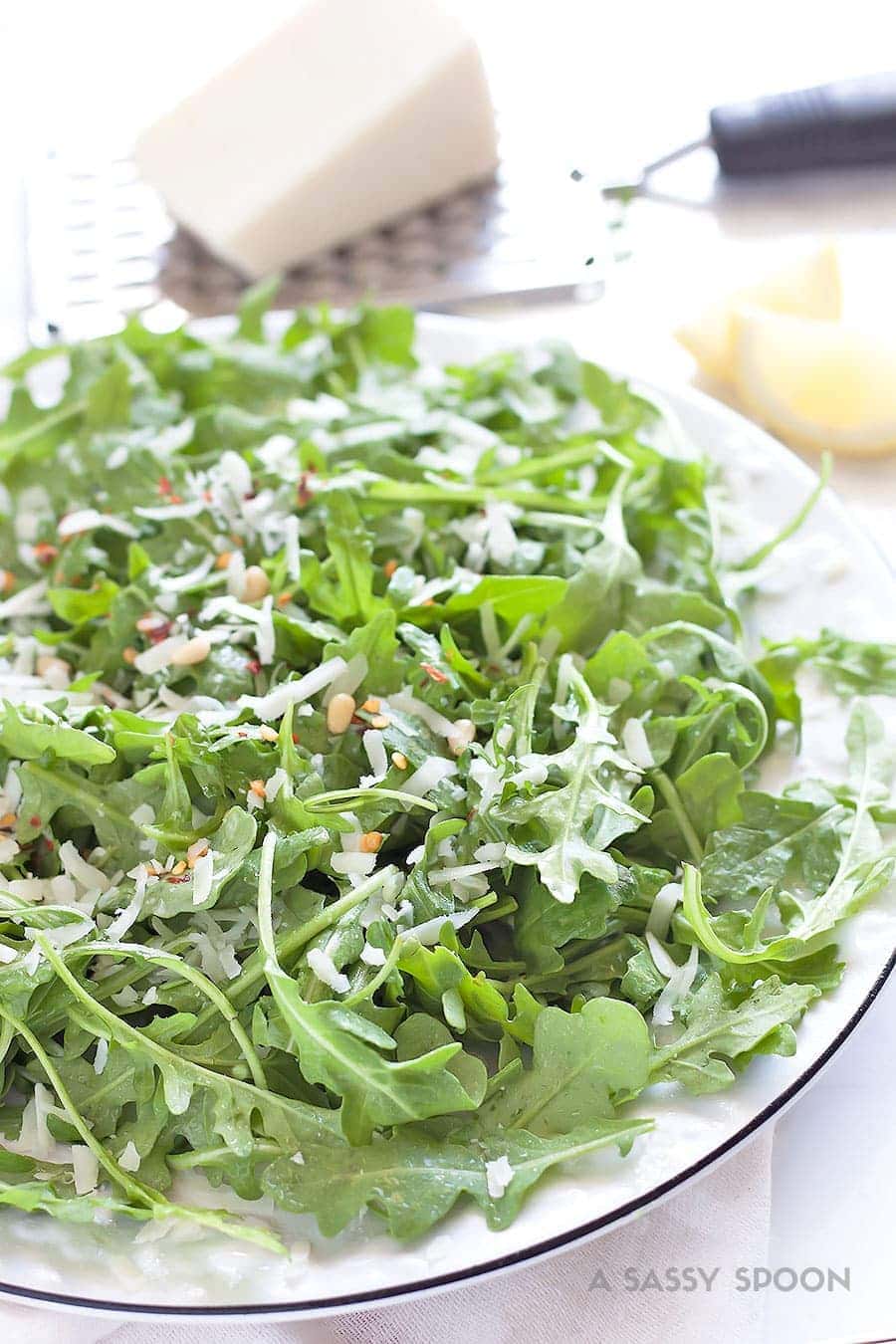 This is one of the easiest salads you'll ever make. Also, one of my favorites!
While in a restaurant, have you ever said to yourself, 'I must recreate this meal at home'? That's what happened to me at La Fresa Francesa. A quaint French bistro with a relaxed boho vibe in Miami (actually, Hialeah which is a few minutes outside of Miami).
Aside from their to-die-for sandwiches and sweet or savory crepes, their salads are pretty on point. I recreated their 'Napoleon Salad' as they call it and it's all I ever wanted it to be. Sigh.
All you need for this Spicy Arugula Salad is 6 simple ingredients:
Arugula
Shaved Pecorino cheese
Red chili flakes
Pine nuts
Freshly-squeezed lemon juice
Olive oil
SO GOOD.
Since my favorite recipes are no recipes (cuz who likes to follow rules anyways!), I've never measured the ingredients for this salad. I just eyeball everything. Drizzle a little olive oil over a bowl of arugula, add red chili flakes and pine nuts, and then top with some shaved Pecorino cheese and lemon juice.
That's it!
This simple, flavorful, and easy-to-make salad is ready in just minutes.
Of course, you can always add more Pecorino. I usually do. You can never have too much! Don't go too crazy with the chili flakes though.
Serve this as a side salad or with chicken or salmon. Unless you're like me and you devour it all by itself! Either way, I'm sure this Spicy Arugula Pecorino Salad will become one of your favorites too!
I hope you make it and LOVE it!
Ingredients
2

cups

arugula

2

tablespoons

extra virgin olive oil

1

teaspoon

red pepper flakes

1

ounce

pine nuts

2

tablespoons

shaved Pecorino cheese

2

teaspoons

freshly-squeezed lemon juice
Instructions
Place arugula in a large bowl. Add olive oil, red chili flakes, pine nuts, and toss until well combined. Finish off with shaved pecorino cheese and lemon juice. Enjoy!
Notes
*The beauty of this recipe is that it needs no recipe. I've never actually measured the ingredients for this recipe but I've given you a starting point. Feel free to add more Pecorino, red chili flakes, pine nuts, or lemon juice as desired.
Inspired by La Fresa Francesa.
---
Nutrition Facts
Spicy Arugula Salad with Pecorino, Lemon and Olive Oil
Amount Per Serving (1 serving)
Calories 235
Calories from Fat 135
% Daily Value*
Fat 15g23%
Carbohydrates 6.9g2%
Protein 2.7g5%
* Percent Daily Values are based on a 2000 calorie diet.
You may also like: