This corn casserole recipe is made with simple pantry ingredients and a drizzle of honey on top for a sweet caramelized glaze.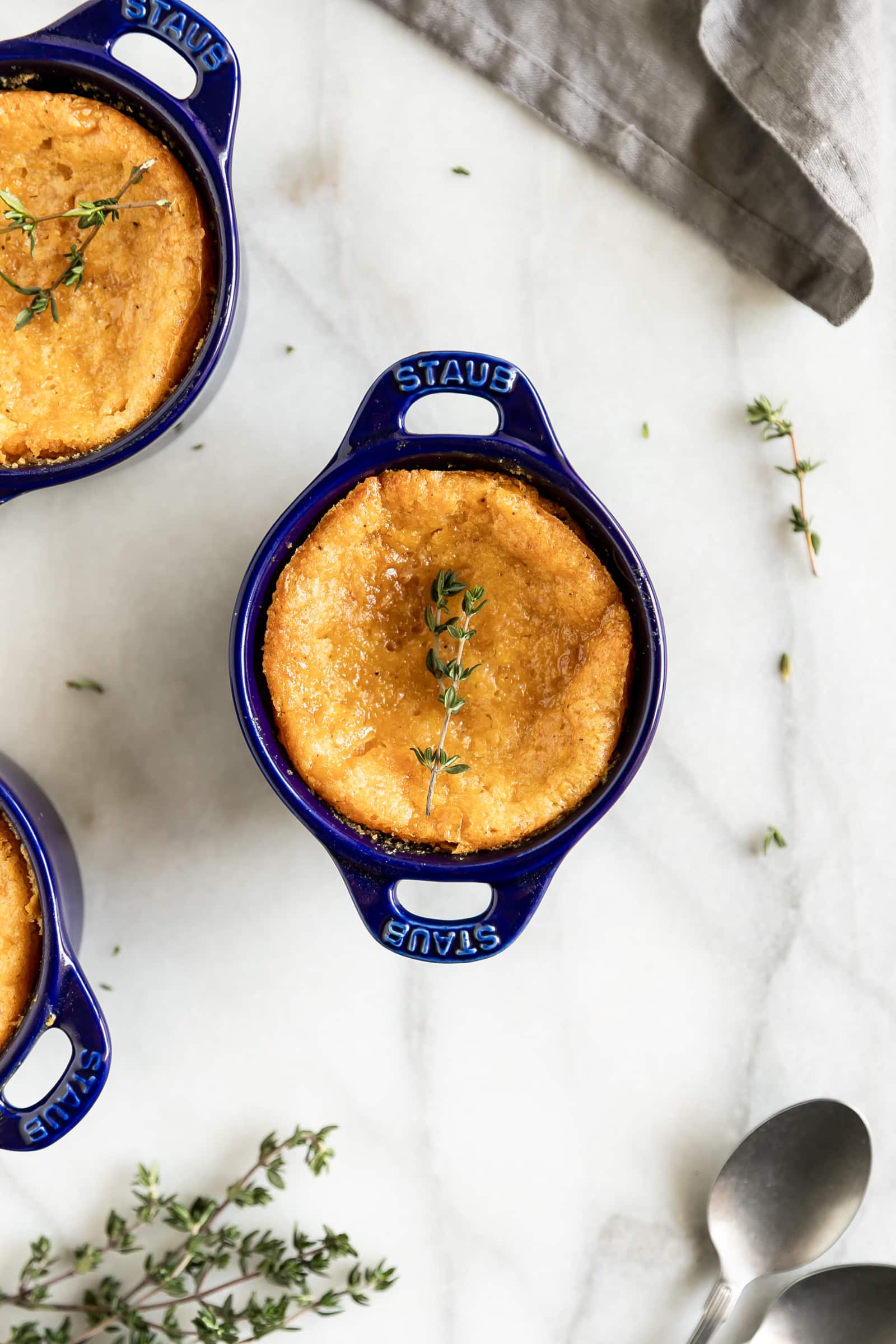 This will be the easiest recipe you'll ever make for Thanksgiving or even for dinner. Heck, I made it for dinner yesterday! To be honest, this wasn't one of the traditional dishes I had when I was young. Growing up, the holidays in a Hispanic family were more about Christmas Eve (Noche Buena) than Thanksgiving. Now that I'm older, I'm definitely all about Thanksgiving! And after trying corn casserole as an adult, I don't want to ever live without it.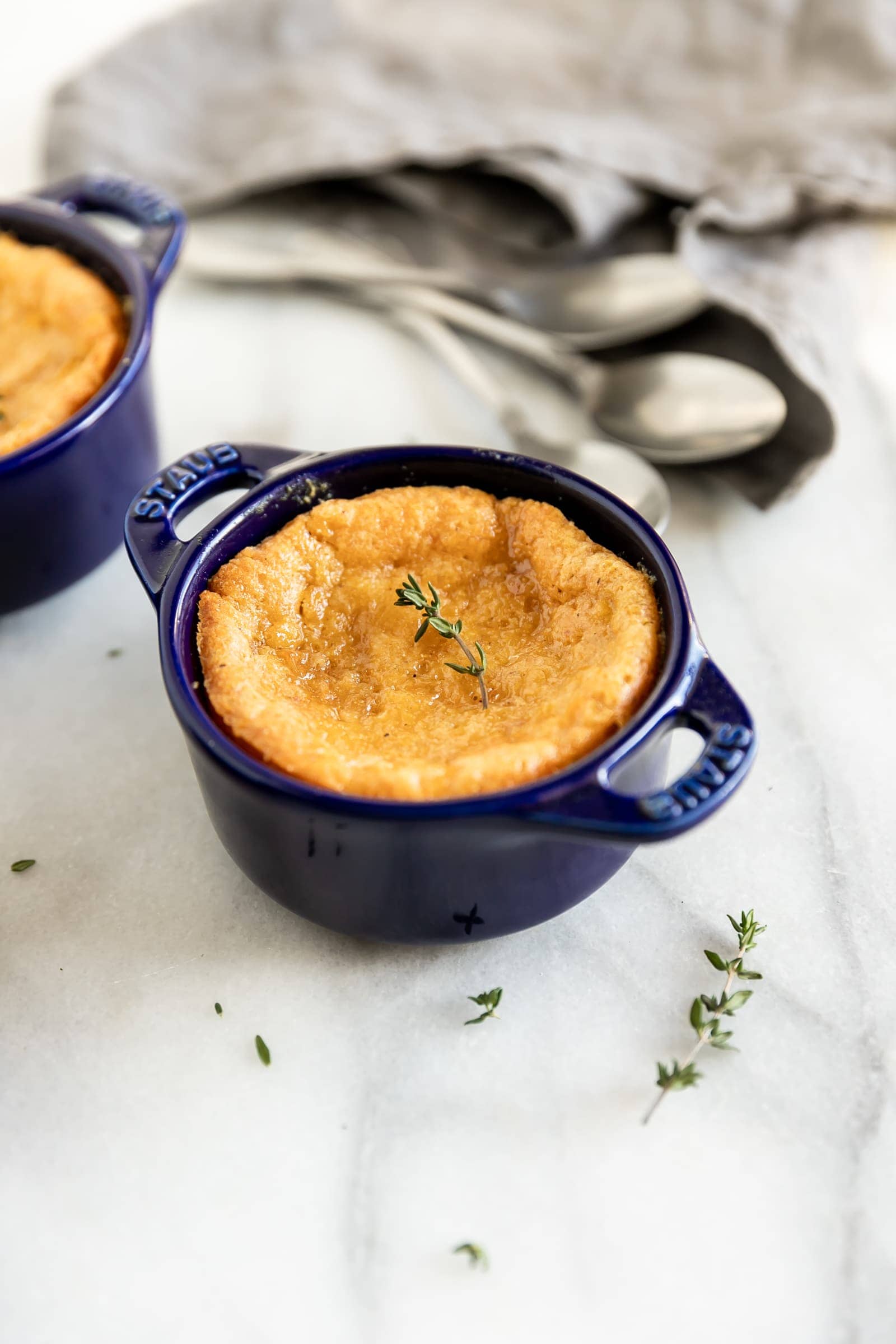 How to Make Easy Corn Casserole
Making this corn casserole recipe is a breeze. So many of my 'hate-to-cook' friends make it for Friendsgiving / Thanksgiving because it's so easy. There are also several variations on the Internets from adding shredded cheese for a cheesy concoction to using cream cheese instead sour cream for a more creamy consistency. Although I did list those variations in the recipe below, I've personally only ever made corn casserole (or corn soufflé) the classic way WITH a delicious secret ingredient.
The rough outline of this recipe is that you get a can of creamed corn and whole kernel corn, sour cream, corn muffin mix, butter, and honey (secret ingredient!). Mix it all together, transfer to a pan or these adorable ceramic cocottes and bake. That's all folks. It's that easy.
Instead of adding granulated sugar to the mix since a lot of recipes call for that, I opted for honey both in the mix and drizzled on top. The drizzle on top gives this casserole such a delicious glaze. It's so good!
The recipe below was developed with ramekins in mind. I liked the idea of dinner guests having an individual portion plus I think ramekins look cute at the dinner table. If you wanted to use a baking dish instead of the ramekins, you can. Just make sure you keep an eye on it while it's in the oven. Insert a toothpick in the middle to make sure it is cooked through before removing it from the oven.
Hope you love it as much as I do!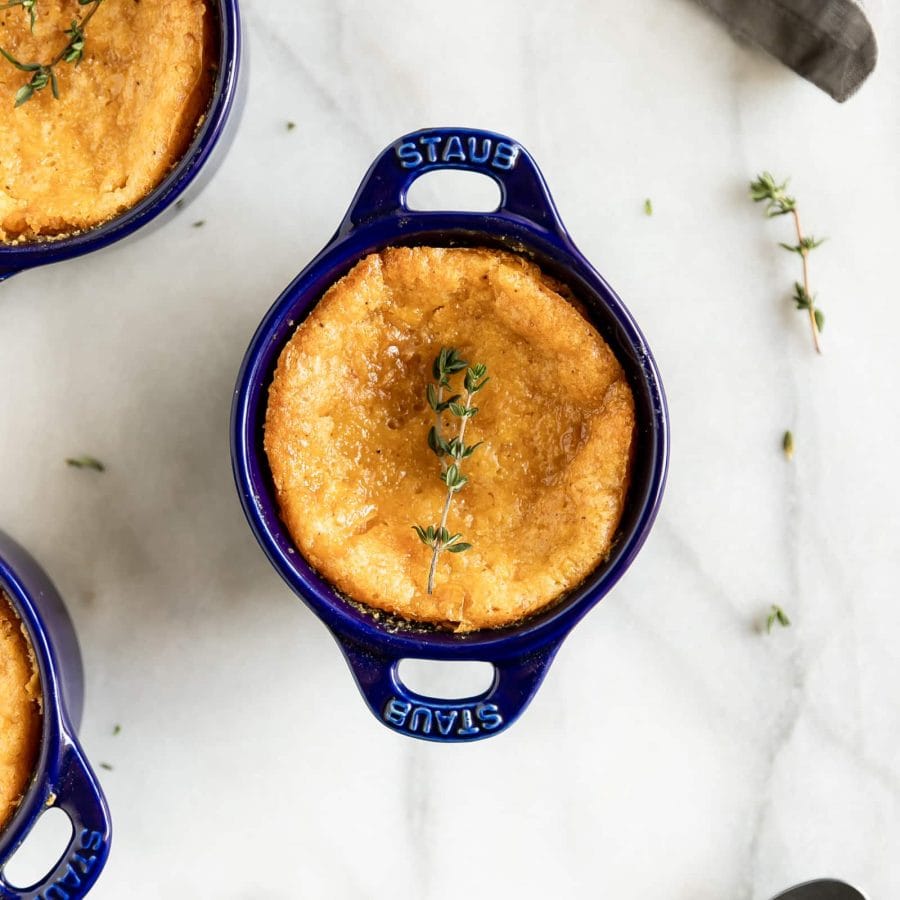 Mini Sweet Corn Casseroles
These easy-to-make mini sweet corn casseroles are made with simple ingredients and a drizzle of honey on top for a sweet caramelized glaze.
Ingredients
1 can whole kernel sweet corn drained (15 oz)
1 can cream-style sweet corn 14 oz
1 1/2 cups cornbread and/or corn muffin mix 8 oz
1/2 cup sour cream (sub for plain yogurt)
1/4 cup melted unsalted butter (1/2 stick; 4 tablespoons)
2 tablespoons raw honey plus more for drizzling on top
Salt and pepper to taste
Optional sliced jalapeños, diced green chiles, red pepper flakes, sliced scallions, shredded cheddar cheese, chopped bacon, chopped cilantro, fried onions on top
Instructions
Preheat oven to 350 degrees F. Spray ramekins with cooking spray. Place them on baking dish for easy baking. Set aside.

In a bowl, add whole kernel corn, creamed corn, corn muffin mix, sour cream or yogurt, butter, honey, salt and pepper. Mix until well combined then transfer to the ramekins, filling each one evenly about 3/4 full.*

Drizzle a bit of honey on top of each ramekins. Bake for 45-55 minutes, or until golden brown. Serve immediately and enjoy!
Notes
*Depending on the size of the ramekin, you can fill 6-8 ramekins with this recipe. I used mini Staub cocottes which are 8 ounces each (0.25 qt) and was able to fill 6 of them with this recipe.
You can use a baking dish instead just keep an eye on it. Insert a toothpick to make sure it is cooked all the way through before removing it from the oven. You can make this recipe the day before and warm it up before serving.
The nutritional info is a rough estimate without the optional toppings.
Adapted from Paula Deen
Nutrition
Serving: 1 ramekinCalories: 223 kcalCarbohydrates: 26 gProtein: 2.5 gFat: 12.8 gSaturated Fat: 8.3 gCholesterol: 30 mgSodium: 289 mgPotassium: 31 mgFiber: 1.1 gSugar: 11.5 gCalcium: 30 mgIron: 0.2 mg
You may also like: