Tender, fall-off-the-bone beef short ribs braised in red wine in a Dutch oven. Easy to make comfort food for any day of the week!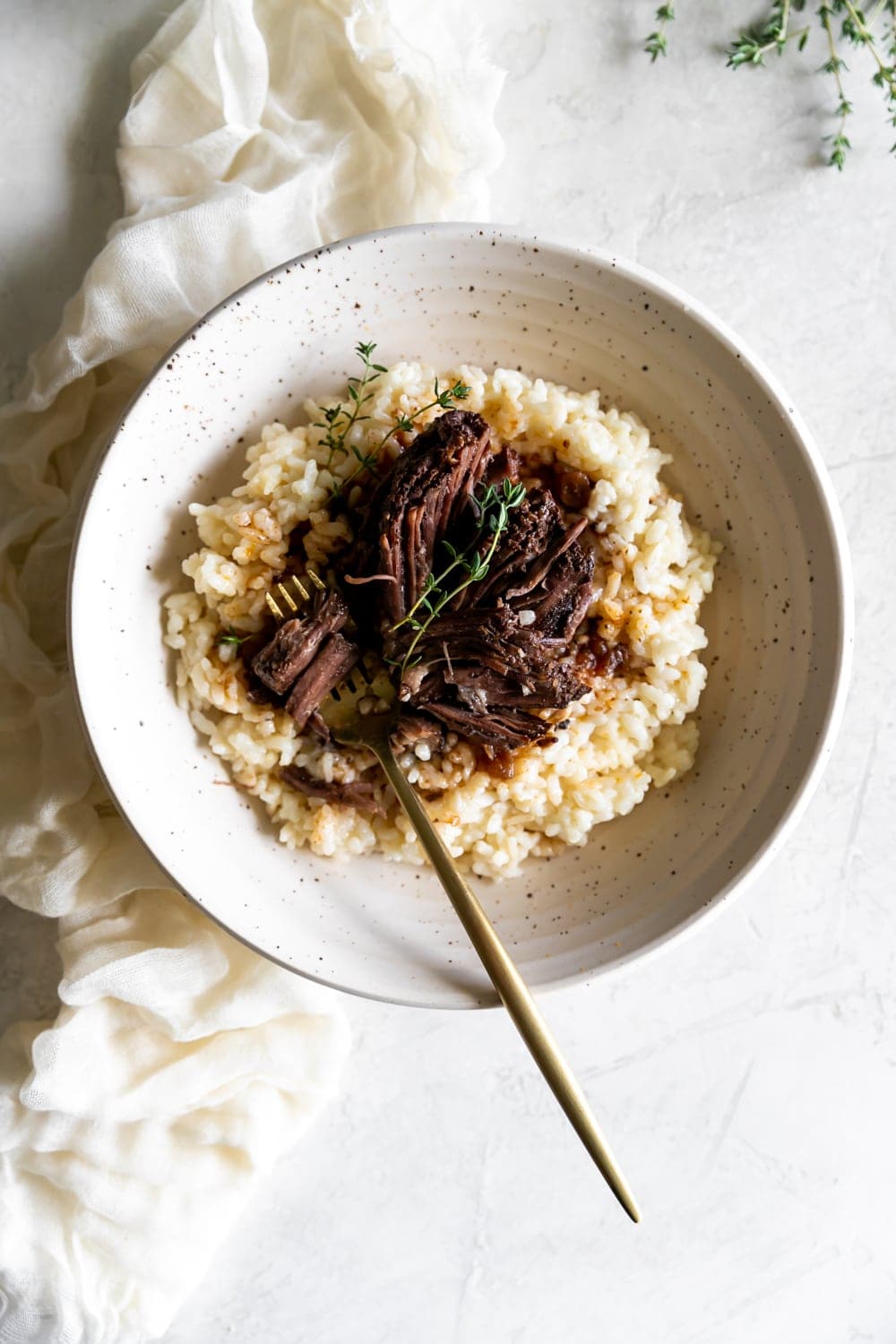 I don't remember the first time I had red wine braised short ribs but I do recall it being love at first sight! I wanted to recreate them at home but was always intimidated by the task.
I'm happy to report however that it wasn't difficult to make them at home at all. On the contrary, these braised beef short ribs practically make themselves in the oven! Let me show you how I made this delicious dish.
Ingredients for Beef Short Ribs
Beef short ribs – This cut is part of the beef chuck. They are meaty and rich in flavor which makes them perfect for braising and slow cooking.
Yellow onion + garlic – The base aromatics for this dish. Several recipes for short ribs use carrots, celery, and peppers as aromatics but I wanted to keep mine simple with just onions and garlic.
Dry red wine – A good option for dry red wine is Cabernet Sauvignon. It doesn't have to be an expensive bottle either. As a matter of fact, when it comes to slow cooking, I always use whatever red wine is leftover in my kitchen or a cheap ($10 or less) bottle of Cab. You really can't tell the difference. Don't waste the expensive stuff!
Beef stock – Along with the dry red wine, I use beef stock to add an even more rich flavor during the braising process.
Tomato paste – Another inexpensive flavor enhancer is tomato paste. That thick, red concentrated tomato flavor is perfect for meaty dishes like this one.
Smoked paprika – Who wouldn't want smoke-dried chilies in their braised short ribs?!
Dried oregano, fresh thyme, bay leaves, salt, pepper – more flavor, flavor, flavor!
How To Make Red Wine Braised Short Ribs
Here's how you make these short ribs in a Dutch oven.
Sear the short ribs. Although we're making these short ribs in the oven, you want to sear them in a Dutch oven first. Well, technically, you can sear them in any pan you want but why dirty any more dishes? Don't forget to season the short ribs first with salt and pepper before you sear them.
Make your red wine sauce. After sauteing your aromatics, you stir in the red wine, beef stock, tomato paste, smoked paprika, oregano, thyme, and bay leaves and bring them to a boil.
Braise in the oven. Once your red wine sauce is ready to go, place your short ribs in the Dutch oven and braise them for about 2 hours. They will be fork tender!
Make the sauce even more rich in flavor! To make this dish even more mouthwatering, remove the lid from the Dutch oven, after 2 hours, and braise for another 30 minutes, uncovered. This will slightly thicken the red wine sauce. Trust me your patience will pay off here!
Remove as much fat as possible. Some recipes call for the fat to be trimmed off the short ribs before braising. I, however, like cooking with the fat. This means you will have to remove the fat from the sauce after cooking so it's not so greasy. So what you can do is carefully transfer the short ribs to a plate then strain the braising liquid. Allow it to cool for 30 minutes to allow the fat to rise to the top. Skim the fat off the top using a ladle and discard.
What sides can you serve with braised short ribs?
I like to serve the short ribs with Parmesan risotto, white rice, or mashed potatoes. Just make sure to spoon the delicious red wine sauce on top.
Can you make beef short ribs in the slow cooker?
Yes, you can make them in the slow cooker but I feel like the slow cooker doesn't get hot enough to really thicken the sauce or braise the meat as a Dutch oven does. I much prefer starting the dish on the stove and transferring it to the oven.
If you're in a pinch or perhaps are unable to make this recipe in a Dutch oven or in the oven, you can sear the short ribs first on the stove and, then transfer all the ingredients to a slow cooker. They should be ready to go in about 6-8 hours on LOW.
Can't wait for you to make this dish!
Red Wine Braised Short Ribs
Tender, fall-off-the-bone beef short ribs braised in red wine in a Dutch oven. Easy to make comfort food for any day of the week!
Ingredients
2 tablespoons vegetable oil divided
3 lbs bone-in beef short ribs
Salt + pepper
1 cup chopped yellow onion
4 cloves garlic minced
2 cups dry red wine such as Cabernet Sauvignon
2 cups beef stock
3 tablespoons tomato paste
1 teaspoon smoked paprika
1 teaspoon dried oregano
8 sprigs fresh thyme
4 sprigs fresh rosemary
2 bay leaves
Instructions
Preheat oven to 350 degrees F. In a Dutch oven, heat oil over medium heat. Season the short ribs with salt and pepper. Place them in the Dutch oven and sear on all sides. Transfer them to a plate. Set aside.

Add onions and cook for 5 minutes until translucent. Stir in minced garlic and cook for 30 seconds. Stir in red wine, beef stock, tomato paste, smoked paprika, oregano, thyme, and bay leaves. Bring to a boil while deglazing the pan. Place the short ribs back into the Dutch oven. Cover with the lid on and place in the oven.

Braise in the oven until the meat is fork tender, falling off the bone, about 2 hours. Remove the lid and cook, uncovered, for another 30 minutes. This will help brown the meat and slightly thicken the sauce.

Remove from the oven. Carefully transfer the short ribs to a plate. Remove as much fat from the sauce as possible. Taste and adjust salt as needed. Serve short ribs with mashed potatoes or risotto. Pour sauce on top. Enjoy!
Nutrition
Serving: 1 servingCalories: 641 kcalCarbohydrates: 13 gProtein: 51 gFat: 33 gSaturated Fat: 17 gCholesterol: 147 mgSodium: 497 mgPotassium: 1324 mgFiber: 2 gSugar: 4 gVitamin A: 524 IUVitamin C: 10 mgCalcium: 65 mgIron: 7 mg
You may also like: