Caprese salad on toast! Cherry tomatoes are roasted until bursting and lightly browned then served with fresh mozzarella on thick, olive-oil-toasted bread. Yes, it's as delicious as it sounds!
Guys, I cannot begin to tell you how delicious these are! Well, I'm sure you can imagine. I mean, if you've ever had a caprese salad, YOU GET IT. A simple caprese salad consists of tomato, mozzarella, basil, olive oil and salt. Sometimes you'll see a drizzle of balsamic glaze but honestly this doesn't really need it. Promise. It's flavorful as-is. Why? Because it's simple. And simple is awesome!
So think of this as a caprese salad on toast!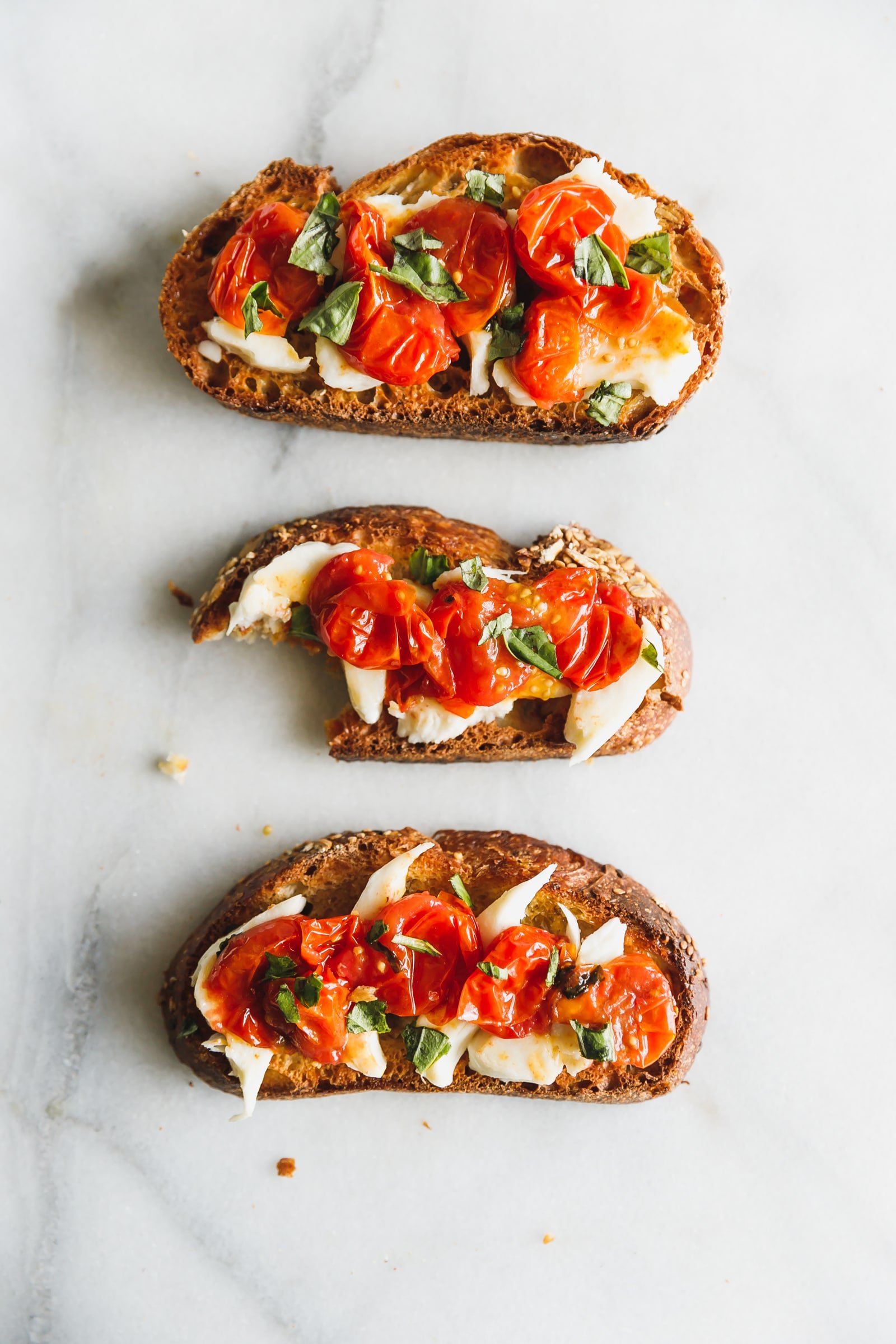 Great Idea for Leftover Cherry Tomatoes
Let's say you bought cherry tomatoes for a salad and then are left with a pint or less of cherry tomatoes, ROAST THEM! Not like Justin Bieber roast them but like roast them the delicious way. Did anyone see the roast of Justin Bieber years ago? Sooo funny.
Whenever I have leftover veggies (or in this case, fruit – tomato is a fruit), I always try to figure out ways to use them up.
Sometimes roasting is a good idea, other times it's blending them up for a smoothie or soup. That's kind of how this recipe came to life. I had leftover mozz and cherry tomatoes from another recipe. So I googled those ingredients and found this recipe. Isn't google the best? I literally google EVERYTHING.
Aside from mozz and cherry tomatoes, I had bread too so of course, I said, LET'S DO THIS. Bam. This recipe was born.
Also PRO TIP: You can totally roast the cherry tomatoes one day ahead and refrigerate them in an airtight container. The following day, just reheat and serve. Perfect app idea!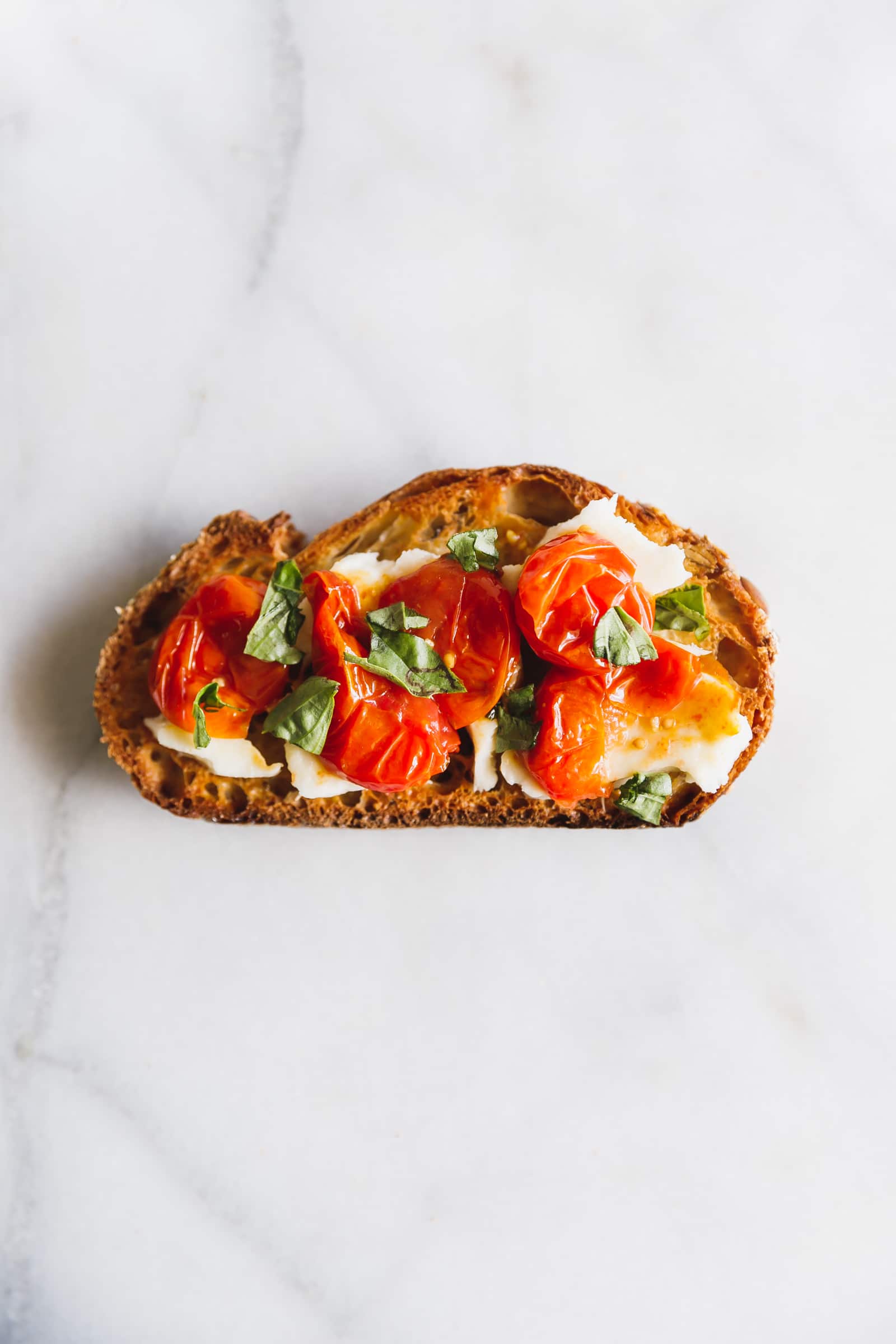 Roasting cherry tomatoes in olive oil and salt adds a ton of flavor to any dish so don't feel limited to the idea that you can only make toast with these ingredients. I made toast. You can use this recipe for anything – snack, as an appetizer, a side dish.
Maybe even turn that toast into croutons and toss everything in an arugula salad! The beauty of recipes is that you can choose your own adventure. I chose toast. And it was the perfect lunch. Now it's your turn.
I hope you make these and LOVE them too!
Ingredients
2

pints

cherry tomatoes

,

halved

4

cloves

garlic

,

minced

1/4

cup

olive oil

1

ball

fresh mozzarella

,

torn into large pieces

Salt + pepper to taste

Thick bread

,

brushed with oil and toasted

Fresh chopped basil for garnish
Instructions
Preheat oven to 350 degrees F.

Toss tomatoes and garlic together with olive oil then transfer to a baking sheet. Sprinkle with salt and pepper. Roast until cherry tomatoes are bursting and lightly browned, about 40–45 minutes. Let cool.

To assemble, add torn pieces of mozzarella on top of toast. Spoon warm tomatoes on top and gently press down so the juices spill over cheese/bread.

Drizzle with olive oil and sprinkle with more salt, if desired. Serve immediately with chopped basil. Enjoy!
Notes
TIP: Tomatoes can be roasted one day ahead. Just make sure to transfer the tomatoes after roasting to a airtight container and refrigerate. The following day, reheat before serving.
Recipe adapted by Bon Appetit
---
Nutrition Facts
Roasted Cherry Tomatoes Caprese Toast
Amount Per Serving (1 serving)
Calories 215
* Percent Daily Values are based on a 2000 calorie diet.