Pulled Pork Yuca Tots with Cilantro Garlic Sauce. Yuca, aka cassava, turned into tots topped with juicy bbq pulled pork and cilantro garlic sauce!
You guys! I've been SO excited to bring you this recipe. You have no idea.
I made tots.
Not just any tots, YUCA TOTS. What are yuca tots? I'm glad you asked! First, let's talk yuca.
Yuca (pronounced YOO-ka), also known as casava, is a starchy root vegetable that has rough brown skin and white flesh.
Basically one of Cuban's favorite carbs after plantains.
Some say that yuca tastes a little lighter in flavor but similar in texture to mashed potatoes when boiled and mashed. I personally don't think yuca tastes like anything unless you add mojo, garlic, salt and pepper which is how we Cubans commonly like to enjoy it. That or fried. Duh right? What DON'T we fry?
Every Christmas Eve, we have yuca with that delicious garlic mojo sauce. OMG YUM. It's a staple on our dinner table. But the best part is that leftovers are turned into yuca fries!
BEST. CHRISTMAS. BRUNCH. EVER.
Fried yuca is da bomb especially with cilantro garlic sauce. In essence, you can say these tots are like mini fried yuca!
I was inspired to make yuca tots after going to a new restaurant here in Miami called, Amelia's 1931. They had yuca tots with pulled pork too and it was DELICIOUS. The same chef from Amelia's is also the chef/owner of one of my favorite restaurants FINKA. I highly recommend both of them!
So let's get on with the recipe!
If you've been a follower of this blog for any period of time, you know that I hate frying in my house. HATE IT.
Fried foods are delicious yeah but the smell of fried foods? Not so much.
I swear the smell lingers for so so long. Then your clothes smell, your curtains, the whole house.
Ugh I hate it.
But for this recipe, I didn't care. I made the sacrifice because you know, I love you. And, I also really wanted to test this out. hehe.
So I used coconut oil (you can use vegetable oil too) and I fried up some tots!
Of course, after boiling and forming the mixture into tots.
Then I had to light a bunch of candles after…I'll link to some candles below for you too.
You're welcome.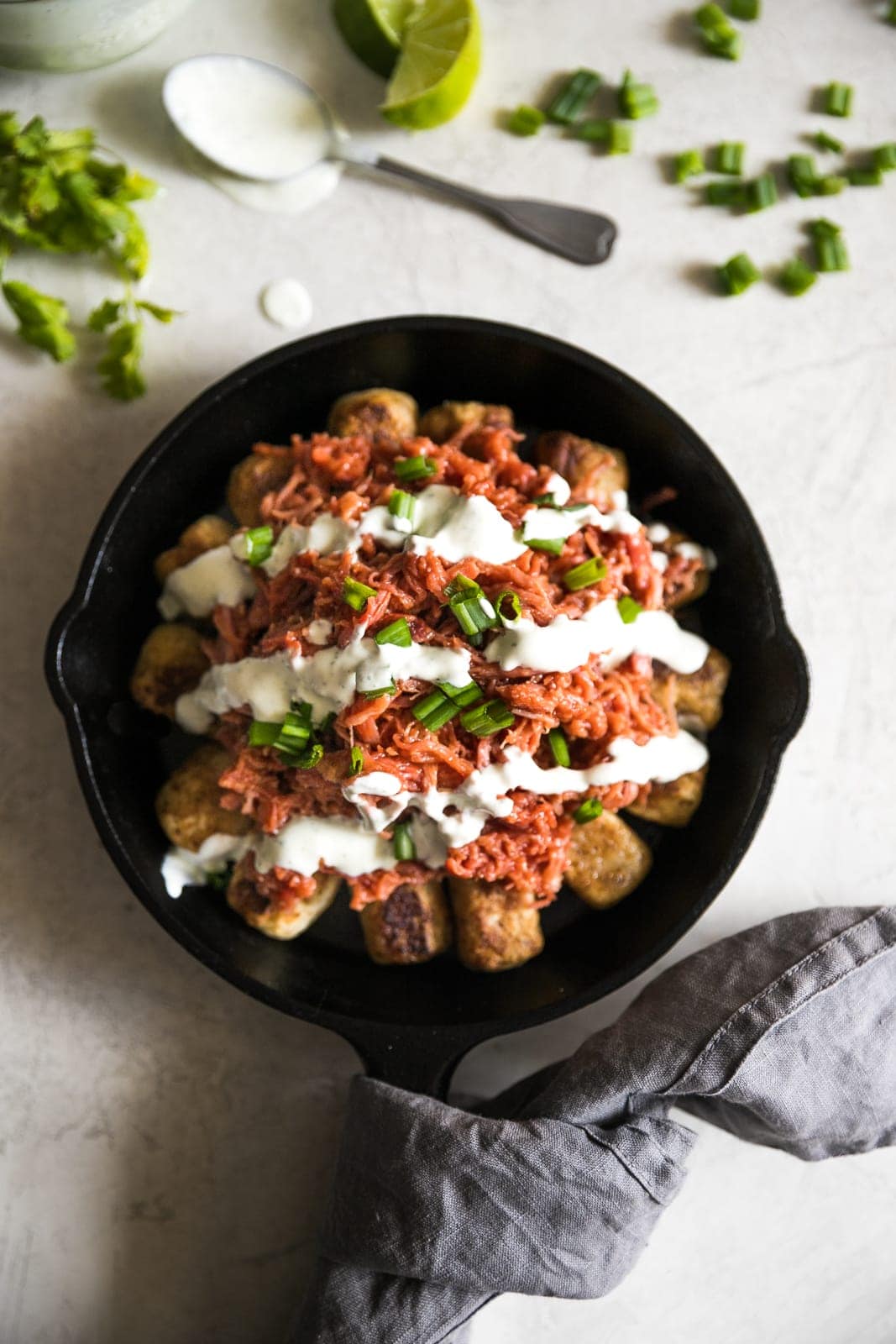 I had some leftover pulled pork in the fridge that I made from this slow cooker bbq pulled pork recipe and cilantro garlic sauce. Duh, I always have that on hand.
How good does that look!?
Feel free to replace "pulled pork" with whatever else you want – shredded chicken, jackfruit, or just enjoy the tots as a side dish.
The beauty of recipes is that you can choose your own adventure!
Hope you make it and LOVE it!
Pulled Pork Yuca Tots with Cilantro Garlic Sauce
Pulled Pork Yuca Tots with Cilantro Garlic Sauce. Yuca, aka cassava, turned into tots topped with juicy bbq pulled pork and cilantro garlic sauce!
Ingredients
2 medium yuca peeled and cut into chunks
1 tablespoon cornstarch
1 teaspoon salt
1/2 teaspoon pepper
1/2 cup melted coconut oil
Cooked pulled pork* store-bought or homemade
2 green onions sliced
Cilantro garlic sauce (or ranch) (*recipe link in notes)
Instructions
In a large pot, place the yuca chunks in about 2 cups water. Bring to a boil and cook until the yuca is fork tender, about 20-30 minutes. Drain then cool slightly.

In a food processor, add yuca chunks, salt, and pepper, and pulse until the yuca is all grated. Form mixture into tots, a tablespoon at a time. This should give you 30-40 tots.

In a large skillet, heat the coconut oil, over medium high heat, fry the yuca in batches, making sure all sides are golden brown. Drain on a paper towel lined plate.

Transfer to a serving plate or mini cast iron. Top with cooked pulled pork, sliced green onions, and cilantro garlic sauce. Enjoy!
Nutrition
Serving: 1 servingCalories: 337 kcalCarbohydrates: 80 gProtein: 3 gFat: 1 gSaturated Fat: 1 gSodium: 611 mgPotassium: 569 mgFiber: 4 gSugar: 4 gVitamin A: 86 IUVitamin C: 43 mgCalcium: 37 mgIron: 1 mg