When you grow up in South Florida, you're sometimes blessed with a mango tree in your backyard. I was one of those blessed people!
To this day, my childhood home still has this mango tree in the backward. This means that whenever mango season comes around, I make ALL the things – mango jam, mango cocktails, and mango milkshakes.
Today, I decided to make this deliciously easy mango salsa!
It tastes SO refreshing, tangy, sweet, with a slight kick. It's SO GOOD.
Why You'll Love This Recipe
Fresh Mango Flavor. This refreshing mango salsa has such a sweet, tangy mango flavor which makes it perfectly balanced with the other 4 ingredients. (Plus, it's so good when added on jerk shrimp tacos!)
Better than Storebought. Duh, right? Nothing beats homemade. Using these simple fresh ingredients makes this the best mango salsa! Way better than if you bought the not-so-fresh version from the grocery store.
Very Easy To Make. Honestly, friends, this sweet and spicy mango salsa comes together with just 5 ingredients in 10 minutes with everyday ingredients you can find in any local grocery store. All you need to do is dice everything up and mix!
Ingredients You'll Need
Ripe, Fresh Mango. Gently squeeze them at the grocery store to make sure they are ripe. You want them to be soft yet firm. That's the perfect ripeness!
Red onion. Sharp, pungent, crunchy. You can use diced white onions if that's what you have on hand. You can also substitute onions completely and use chopped tomatoes and diced red bell peppers making it more like a mango pico de gallo. Yum!
Cilantro. Provides such a bright, fresh flavor! I know some people say cilantro tastes like soap for them (that sux so hard, I'm so sorry!) so you can omit it entirely if you prefer.
Jalapeño. I included 1 diced jalapeño in this recipe but feel free to add more and adjust the heat level as desired.
Fresh lime juice. Adds some tart acidity to the mango salsa. And I know it sounds odd, but you can also use sour orange juice in place of lime juice. It actually tastes delicious!
This squeezer is a handy tool that makes extracting citrus juice a breeze. It juices lemon or limes quickly, with no seeds and no mess.
Step By Step Instructions
In a bowl, add the diced mango, chopped red onion, and minced jalapeño and gently mix together until well combined.
Can I use frozen mango for mango salsa?
Yes! I will always tell you to use fresh mango for all my mango recipes however you can absolutely use frozen mango for this mango salsa.
I recommend thawing the frozen mango completely to room temperature and straining any excess liquid so the mango salsa is not extra watery. You may also have to dice them smaller if the pieces are too big.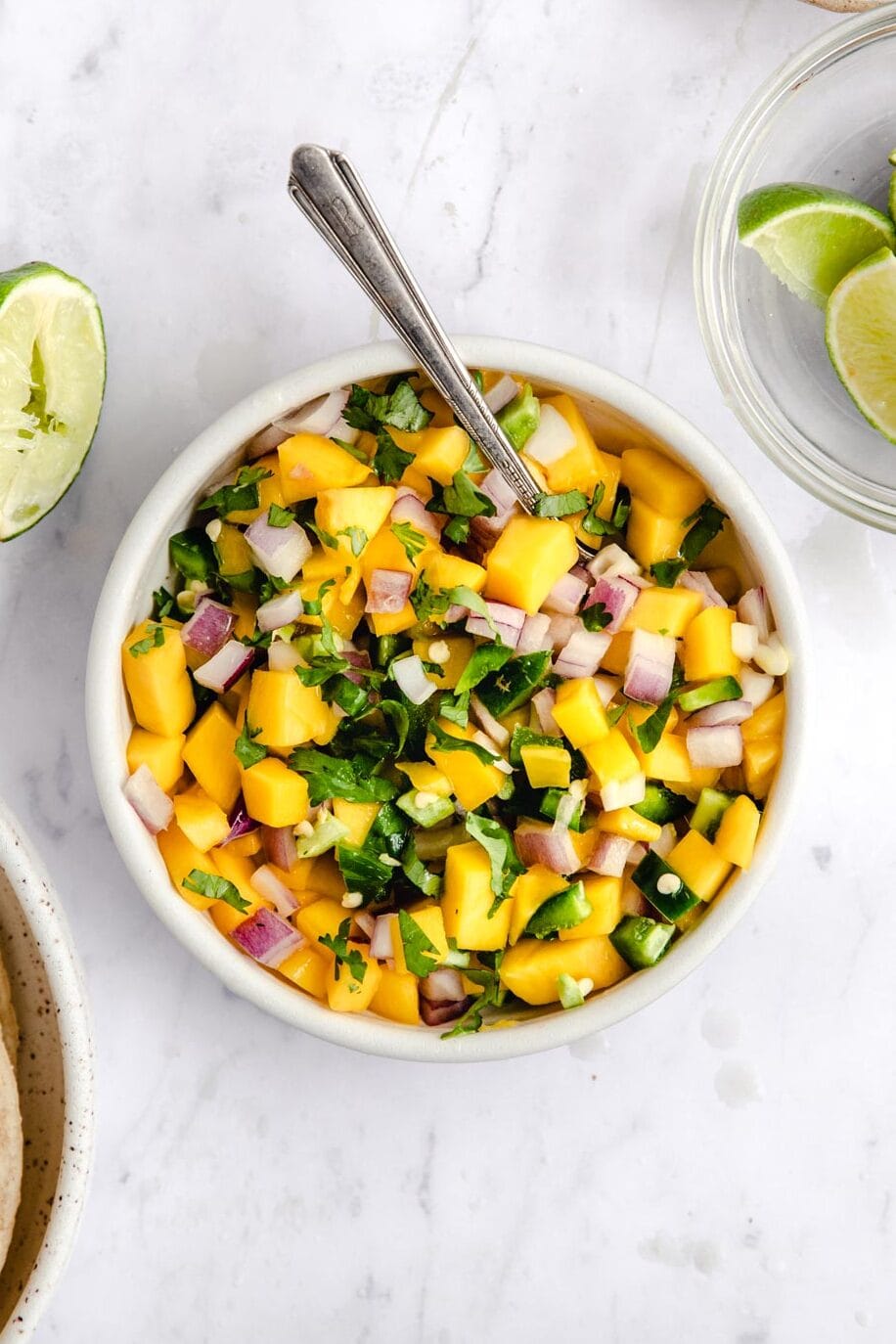 Serving Tips
Use as a topping. You can also serve it on top of grilled chicken, fish, salads, or fajitas.
Storing Tips
You can store the salsa in an airtight container in the fridge for 3-4 days (if it even lasts that long!). If you have any leftovers, you can freeze the salsa in an airtight container for up to 2 months.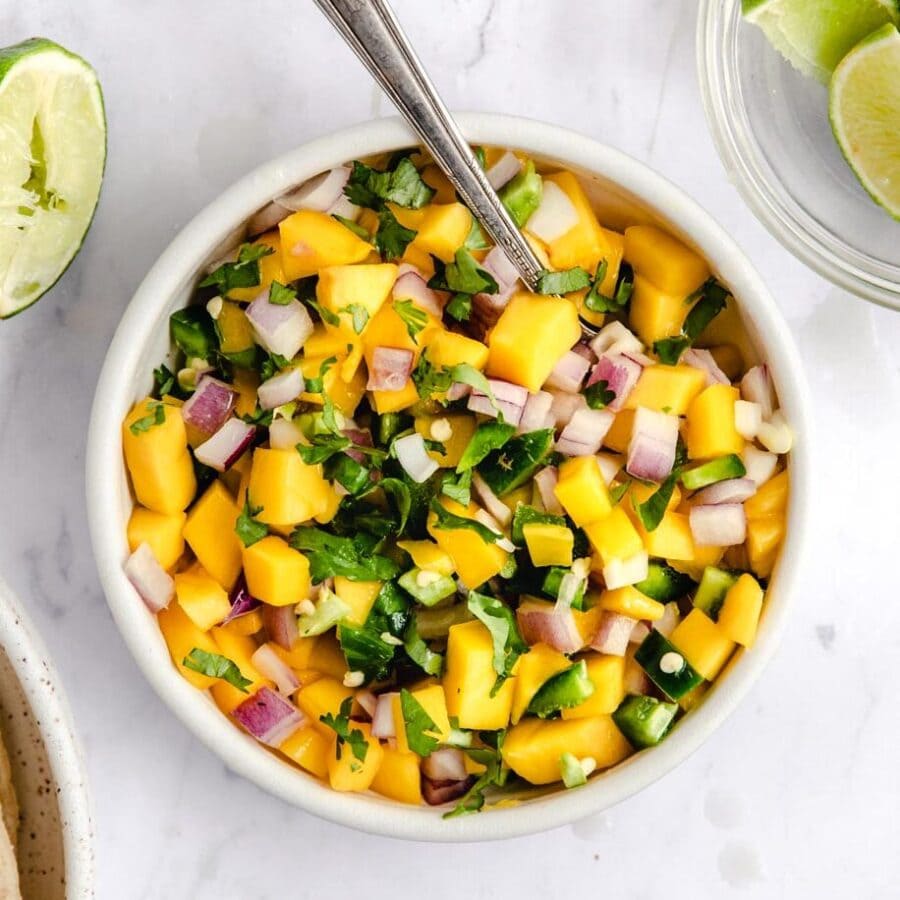 5-Ingredient Easy Mango Salsa Recipe
This easy mango salsa with a spicy kick is just 5 ingredients – fresh ripe mangos, diced red onions, diced jalapenos, chopped cilantro, and fresh lime juice. Perfect for Summer or any day of the week! Serve this sweet and spicy mango salsa with tortilla chips or use it as a topping for grilled chicken, fish, burgers, tacos, and more.
Ingredients
2 large mangos ripe
1 small red onion (1/3 cup chopped)
1/4 cup chopped fresh cilantro leaves
1 small jalapeño minced
1/4 cup fresh lime juice (1-2 limes)
What To Use with Mango Salsa
Instructions
Carefully peel and pit the mangos then dice them into 1/2-inch pieces. 2 ripe, large mangos should result in 2 cups of diced mangos.

In a bowl, add the diced mango, chopped red onion, and minced jalapeño. Mix together until well combined.

Squeeze fresh lime juice over the mango salsa and garnish with chopped cilantro. Serve with chips or as a topping for tacos. Enjoy!
Nutrition
Serving: 1 servingCalories: 44 kcalCarbohydrates: 11 gProtein: 1 gFat: 1 gSaturated Fat: 1 gSodium: 2 mgPotassium: 140 mgFiber: 1 gSugar: 9 gVitamin A: 671 IUVitamin C: 27 mgCalcium: 12 mgIron: 1 mg